Have you heard horror stories of dark Scandinavian winters that never seem to end? Don't despair! If you visit Copenhagen during the colder and darker months, you'll find that it's actually rather pretty. What's more, there are still plenty of things to do – from ice skating and winter bathing to visiting magical festive markets.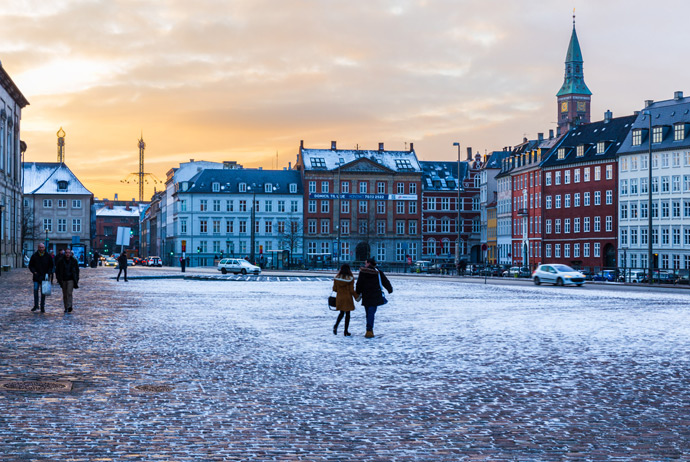 Getting acquainted with winter in Copenhagen
In Denmark the clocks switch to wintertime at the end of October, serving as a reminder that it's time to get the happy lamp out – it'll soon be dark and cold.
In the depths of winter, the sun rises at around 8.15am and then starts setting again before the clock has even hit 4pm. It's a big change compared with the middle of summer, when the city is blessed with around 17 hours of sunlight every day.
You shouldn't let winter's lack of daylight discourage you, though; the bright part of the day can still be sunny and quite pleasant, especially at lunchtime. It can rain a lot, but it isn't always grey and wet.
Winter in Copenhagen usually lasts for about four months from November to February, with December and January being the coldest months. Temperatures can sink below zero, but it's rare for the mercury to slip below -10c.
Copenhagen does slow down and get quieter in those months, but the Danes are not hibernating – they're just busy with heartwarming winter activities.
You've probably heard of the concept of hygge, that untranslatable word which encompasses the feeling of being cosy, having a good time, being surrounded by friends and family, or simply relaxing at home with a good book or a favourite playlist. If you walk the streets one evening and find that no one's around, that's because everyone is cosying up, keeping warm and enjoying the great indoors.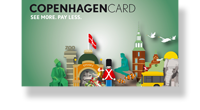 Is the Copenhagen Card worth buying?
Read this guide to see how much you could save during your trip!
What to see and do in winter
There are certain things that you can only experience in Copenhagen during winter.
Outdoor activities
Visit the Tivoli amusement park
Every year, the amusement park Tivoli Gardens selects a special theme for its winter season, which starts in mid-November and lasts until the end of December. Expect lots of fairy lights and decorations, plus Christmas markets, special events and the usual fun rides and attractions.
Adult tickets (around 120 DKK) can seem a little expensive, especially when you find out that the entry fee doesn't include access to the rides. If you decide to splash out, allow yourself a few hours to explore and really get your money's worth.
Check out Copenhagen's Christmas markets
By the third week of November decorations are strung up all over the city and the Christmas spirit is in full swing. Right in the city centre near Strøget, the Højbro Plads Julemarked is bursting with trees, lights and other Christmas paraphernalia. You can browse the stalls for little knick-knacks and handmade gifts or simply enjoy a cup of mulled wine (gløgg) and a cinnamon bun.
Other Christmas markets include the waterfront option at Nyhavn and the Hans Christian Andersen Christmas market at Axeltorv. If you're looking for a more alternative option, head over to the Oriental-inspired Christmas market in Freetown Christiania. And, if you're more interested in food than presents, head to the Meatpacking District in Vesterbro, which hosts a special Christmas food market each December.
Go ice skating
One of winter's true silver linings, ice skating is a great way to mingle with the good people of Copenhagen.
The skate rink in front of Frederiksberg Have is probably the best destination for a little fun on the ice, whether it's your first time on skates, or you're looking to impress with that backwards skating technique you've not used in a decade. Admission is free and skates are available to rent for around 50 DKK.
Take a dip outside (yes, really)
You saw it coming! It's impossible to discuss winter in Scandinavia without mentioning this peculiar pastime which the locals seem so fond of. It works pretty much the same way as summer bathing, except that in some locations (thank goodness!) you have the possibility to warm yourself up in a sauna afterwards.
There are three bathing areas and a sauna at Sydhavnen (also known as the South Harbour). It's just south of the city centre. Alternatively, try the spectacular Vinterbad Bryggen.
Indoor activities
If the last suggestion sent shivers down your spine, here are a few things you can do while enjoying the central heating. Winter is a great time to visit some of the Copenhagen attractions that you skipped in the summer because you wanted to lie down in the park with a Carlsberg.
Visit a museum or gallery
Taking place in mid October, Copenhagen Culture Night is a stepping-stone between autumn and the colder, darker months of winter. This action-packed night sees many of the city's museums, cultural venues and other quirky locations hosting special exhibitions and events. A pass for the night will cost you around 90 DKK, and you'll then get free access to all of the participating venues.
If night-time visits are not your thing, some museums in Copenhagen are free to visit during the day. There are also plenty of smaller galleries and exhibition spaces to discover throughout the city. Visit the Meatpacking district in Vesterbro for a look around the V1 gallery, Gallery Poulsen and the Bo Bjerggaard gallery as well as the virtual reality lab Space10.
There are more ideas for cheap and free cultural attractions in this guide.
Go to the cinema
Twice a month the Danish Film Institute screens Danish films with English subtitles – perfect for squeezing a bit of Nordic culture in while relaxing in a comfy chair in one of the city's main cinemas, Cinemateket. Tickets cost around 75 DKK.
Husets Biograf hosts special nights, obscure screenings, debates and film quizzes. Tickets cost from 20–100 DKK, depending on the type of event.
CPH:PIX, Copenhagen's feature-film festival, has recently moved its dates from April to October/November. It offers discounted tickets for students, but also puts on plenty of free events and screenings.
Visit the library
The Black Diamond Library, located by the waterfront, is an impressive modern construction with a spacious and bright interior. You can find an archive of Danish poet Søren Kierkegaard's manuscripts here, along with a giant fresco by artist Per Kirkeby.
Catch up on the latest international press with its great selection of newspapers and magazines, or have a nap on one of the cosy sofas while deadline-pressed students type away on their laptops nearby.
Go shopping
Shopping in Denmark is expensive, but luckily discounts and special offers start before Christmas, with the official sales starting right after the big day and lasting until the end of January.
Recently, Denmark has also given Black Friday a shot – let's see if the tradition sticks! Most of the fashion stores are gathered around the main pedestrian street, Strøget. Otherwise, try the two big department stores: Magasin and Illum.
Eating and drinking in winter
Although these two activities take place all year round, in winter they are taken to a different level. After all, you have to keep warm, right?
Something that all Danes definitely look forward is the new festive drinks that come with the changing of the seasons. While summer brings cold beers and chilled rosé, winter is welcomed with warming gløgg, snaps and special Christmas beer.
Most Northern European countries have their own version of mulled wine and Denmark is no exception – with the tasty addition of raisins and almonds to the red wine and spices. Most bars will have a big pot of the hot beverage steaming away on their counters during winter, as will most markets and outdoor stands.
Another important addition to the winter drinking menu is the infamous 'Christmas brew', or julebryg. It's a dark, strong beer produced by Carlsberg and released on the first Friday of November, known as J-dag. On this magnificent day, glasses of the beverage are handed out for free and merry drinkers can be seen gathered on the streets in Santa hats and elf outfits.
It's not all about booze though. While the snaps has an honorary place at the Christmas dinner table (along with special snaps-drinking songs), food is also very important during the winter. A typical festive menu includes roast pork, caramelised potatoes and pickled red cabbage.
Last but not least, you may encounter risengrød (a cinnamon rice porridge with lots of butter), æbleskiver (round pancakes served with powdered sugar or jam), or some yummy gingerbread biscuits. Most of these foods can be found in regular supermarkets or at the Christmas markets mentioned above.
They are many fun Danish Christmas traditions based around eating, such as the julefrokost (or Christmas lunch). It's mostly celebrated with colleagues or friends and may descend from a fairly civilised meal to complete debauchery. If you're invited to one, you may be asked to bring a few small presents to play pakkeleg – a game involving dice where you literally have to steal the presents from other people across the table.
Christmas itself is celebrated with family on the 24th of December, while New Year's Eve is the time to meet up with friends and watch the fireworks on the street at midnight. Note that most shops and public places will be closed on the 24th, 25th and 1st of January, so take our advice and stock up on hangover food well before that.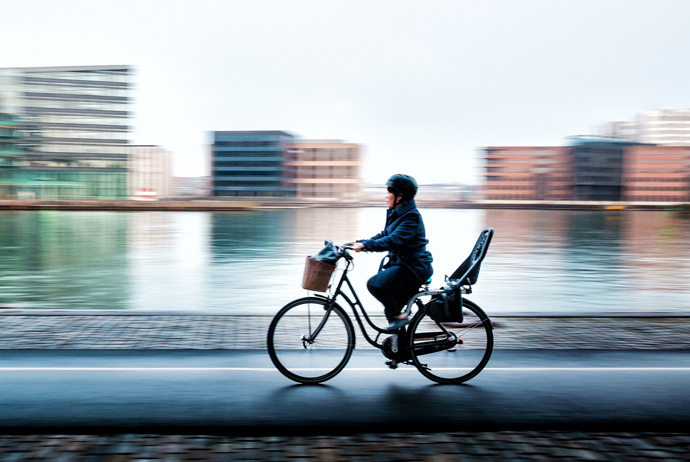 Getting around the city in winter
Copenhagen is known as one of the world's great cycling cities, and that doesn't stop when winter arrives. You might think that biking in winter is a crazy idea, but the Danes are still at it even during the occasional snowstorm.
If you get the courage to do as the locals do, be careful: it can get very slippery. It's also much darker during winter, so make sure to have your bike lights on. You can read more tips for cycling in Copenhagen here.
When you pack for your trip, remember your knitwear and warm clothing, as well as a good waterproof coat. You'll often see Danes biking around in a sort of rain poncho, which is a good protection come rain or snow. They're available to buy pretty much anywhere, from cheap see-through 'plastic bag' versions to much flashier designer ones.
Staying in
Don't feel too guilty if you've planned an outing but decide to stay in just because the weather is appalling. Danes love the indoors as much as the outdoors, and there's something nice and romantic about being warm and cosy as the wind blows a gale outside. To enjoy like a true Dane, light a few candles and snuggle up under a nice warm blanket.
Accommodation in winter
Prices at hostels, hotels and Airbnb rentals tend to get a little higher in the run up to the Christmas season, so try to book a long way in advance if you can. New to Airbnb? You can get a discount here.
If you fancy visiting in January, February or early March, you may be able to find some great last-minute deals on places to stay. Check sites like Booking.com for availability, or start by reading our guide to the city's best cheap digs.
Like what you've been reading? Get our best tips by email!