Denmark's early history will be forever entwined with the Vikings – those red-haired warriors in horned helmets who wielded axes as they pillaged their way across land and sea, forging an empire.
A lot of that is made up, of course – the Vikings never wore horned helmets and for the most part, they were actually quite a civilised bunch. But those myths have done wonders for Viking tourism in Denmark, and there are actually lots of intriguing sights to check out in and around Copenhagen.
You'll find plenty of evidence of the Vikings' legendary rule within easy reach of the capital, including castles, burial mounds, rune stones, ships and treasure (some of it presumably still under the ground, waiting to be discovered). These are some of our favourite Viking sites near Copenhagen!
National Museum of Denmark
Copenhagen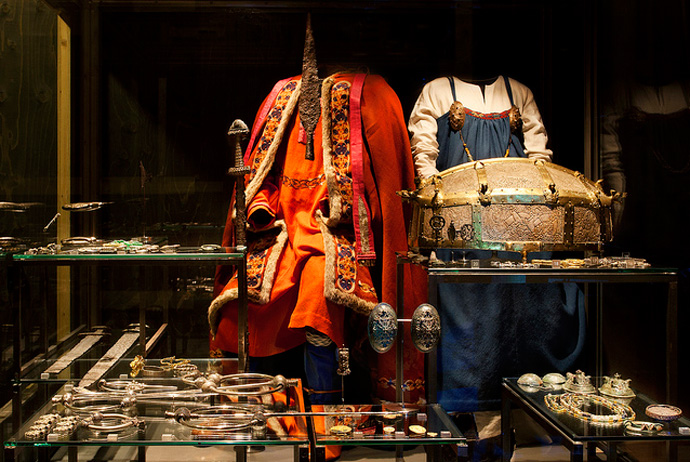 Right in the middle of Copenhagen, the National Museum (Nationalmuseet) is a great first stop if you want a nice introduction to the Vikings and the enormous influence they once held over this region.
The museum houses a huge collection of relics from the Viking Age such as tools, weapons, clothing and silver. There are also gold treasures, including the Tissø Ring necklace, which weighs 1.8kg and has a 32-centimetre diameter. There's also a collection of massive rune stones that were once used to praise and remember dead family members.
A day ticket is about 95 DKK for adults and admission is free for those aged 18 and under (you'll also get free admission with the Copenhagen Card). Note that the museum is closed on Mondays, except in July and August.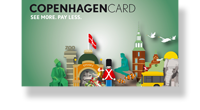 Is the Copenhagen Card worth buying?
Read this guide to see how much you could save during your trip!
The Viking Ship Museum
Roskilde
An nice, fun day trip from Copenhagen, Roskilde's Viking Ship Museum is a must-see for history buffs. The big highlight here is a fleet of five impressive Viking ships, known as the 'Skuldelev' ships, which were painstakingly reconstructed after being pulled out of the Roskilde Fjord in the 1960s.
The vessels had been deliberately sunk in the 11th century to form a blockade in a channel just north of Roskilde (the capital of Denmark at the time) and to prevent enemy naval attacks. They are typical of Viking shipbuilding, with overlapping planks of wood, a single mast, and curved bows.
During construction of the museum itself, a further nine ships were discovered – including the remains of a 36m-long warship. The museum also has a boatyard where boatbuilders make full-scale reconstructions of extremely old boats. In summer, you can experience life as a Viking by setting sail on one of the traditional boats. There's no motor, of course, so be prepared to row!
Roskilde is a 25-minute train trip west of Copenhagen (you can buy tickets on this website). The museum is about a 20-minute walk or 15-minute bus ride north of the train station. Entry to the museum is around 90–130 DKK, depending on the time of year. Kids go free.
Land of Legends
Lejre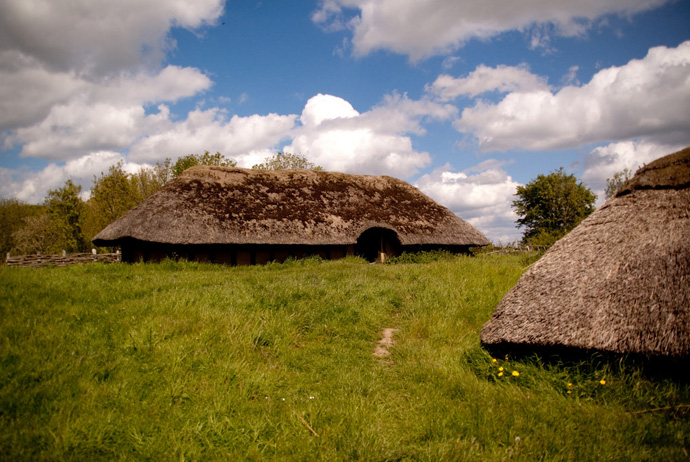 A 10-minute-drive southwest of Roskilde is the town of Lejre, home to the open-air attraction known as Land of Legends (Sagnlandet). It's mostly aimed at kids, who love travelling back to Viking times, dressing up and exploring a series of reconstructed settlements and houses from the Iron Age, Stone Age and Viking Age.
There's also the option to row a boat on the lake, visit trade workshops of yesteryear or watch the animals grazing freely – the site's home to a whopping 43 hectares of fields and forests. The park isn't open every week so it's definitely worth checking the website before setting off. Tickets are about 160 DKK for adults and 105 DKK for children (they're valid for an entire year, allowing you to return as many times as you like).
Borgring Viking fortress
Køge
Uncovered by archaeologists in 2014, Borgring is a 'ring fort' that provides new clues about how the Vikings lived. Visit the site, which is around 45km southwest of Copenhagen, and you could catch archaeologists excavating the fortress – it's around 100m in diameter and is almost perfectly circular.
The fortress is believed to be part of the network of defensive structures built during the reign of Harald Bluetooth at the end of the tenth century. (Yep, the Bluetooth technology on your phone is named after him – ever noticed how that logo looks like a Viking rune?)
The fortress is open from June to August, although 2018 could be the final year of excavations. Admission costs around 45 DKK and it's a 35-minute drive southwest from Copenhagen (or 90 minutes by public transport).
A brief history of Vikings in Denmark
The Viking Age spanned about 300 years, from the late 700s to the mid 1000s AD. The country of 'Denmark' was first named in the year 965, towards the end of that period – you can still see that first mention today on King Harald Bluetooth's carved rune stone, which stands a couple of hours' drive west of Copenhagen in Jelling, Jutland.
The same stone also mentions the country's conversion from Nordic religion to Christianity. The 'Jelling Monuments', as they are known, are a bit of a trek from Copenhagen – you'll probably need to hire a car if you want to make it there and back within a day.
Trelleborg Viking fortress
Slagelse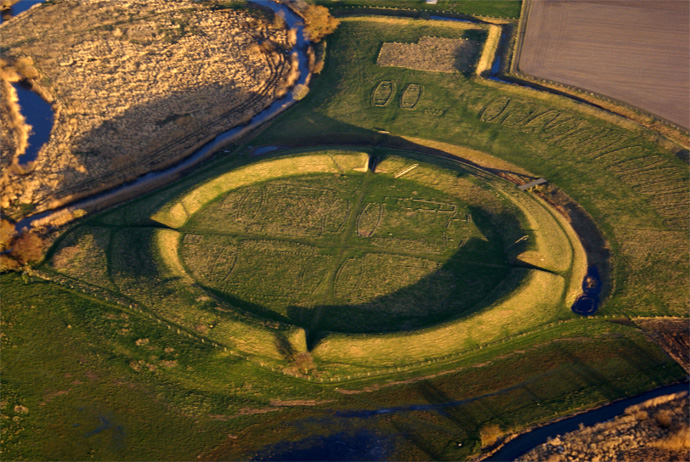 Another of Harald Bluetooth's circular fortresses is Trelleborg, near Slagelse in western Zealand. The ruins are still easy to distinguish, especially considering how old they are, and there's also a museum here, which shows off some of the treasures that have been discovered in the area.
The fortress is about an hour's drive from Copenhagen, or two hours on public transport (the journey involves several trains and buses). Entry is free – not bad, considering this place could one day be listed as a World Heritage Site – but the museum and ruins are closed from November to March.
The Viking Museum
Ladby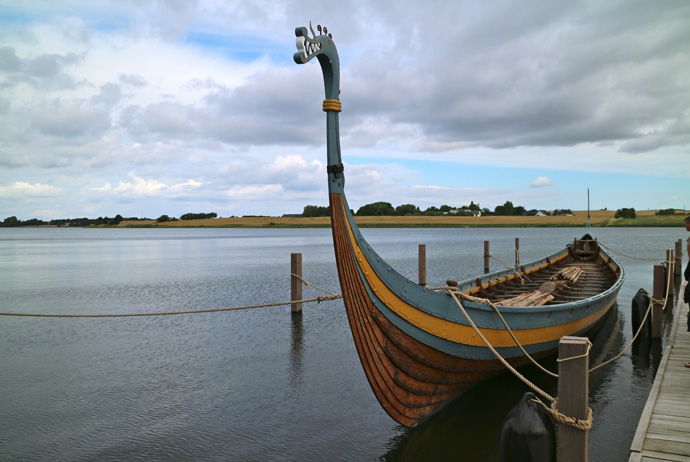 Located on the island of Fyn, this museum is home to Denmark's only ship grave from the Viking Age. The 21m-long ship was dragged ashore in about 925 AD and then buried with the 'Ladby King', along with some of his lavish possessions and his horses and dogs.
Visitors can step inside the burial mound to view the imprint of the ship, the original anchor and the chain, plus some animal skeletons. If you're driving from Copenhagen you can get there in less than two hours. Entry is around 70 DKK for adults (kids go free).
Want to join a tour?
If you're staying in Copenhagen and would rather a join a tour to see some Viking sites, this one-day-trip is a great option. You'll get the chance to see old Viking ships and reconstructed models at the Viking Ship Museum in Roskilde, and can also see 'newer' monuments like Kronborg Castle (Elsinore Castle in Shakespeare's Hamlet).