If seeing the northern lights is high up on your bucket list, Sweden is a very good place to start. Without a shadow of a doubt, it's one of the best countries on Earth for aurora spotting.
Of course, it helps that large chunks of the nation are far enough north to make light shows a regular occurrence. But there are other reasons for picking Sweden. It's easy to reach by air, it's safe to travel around, and it has lots of interesting sights to take in as you search for the perfect aurora.
Another thing is the weather. We can hardly claim that northern Sweden is warm but thanks to the effect of the Gulf Stream it does tend to be a little milder than lots of other places where the lights are visible (Siberia and Canada, for example).
Sweden is also cheaper to visit than some of its Nordic neighbours, which makes it possible to see the lights without spending a fortune on accommodation, food and transport – and who can argue with that?
Where to see the northern lights in Sweden
Usually, the northern lights are only visible in Sweden's northern reaches. The closer you get to the so-called 'auroral zone'– a band that stretches around the globe around 2000–3000km from the magnetic pole, which shifts over time – the better your chances of seeing something amazing overhead.
So where should you go? The good news is that huge tracts of northern Sweden fall within the sweet spot where the northern lights appear fairly regularly.
Exactly where you're able to see the lights depends on a whole range of conditions, including everything from the amount of solar activity to the weather overhead. Now you're probably hoping for place names.
Well, the big chunk of the country that stretches north from roughly Jokkmokk to the northern border with Norway is usually considered the best area of Sweden for watching the northern lights, with regular displays overhead throughout the winter.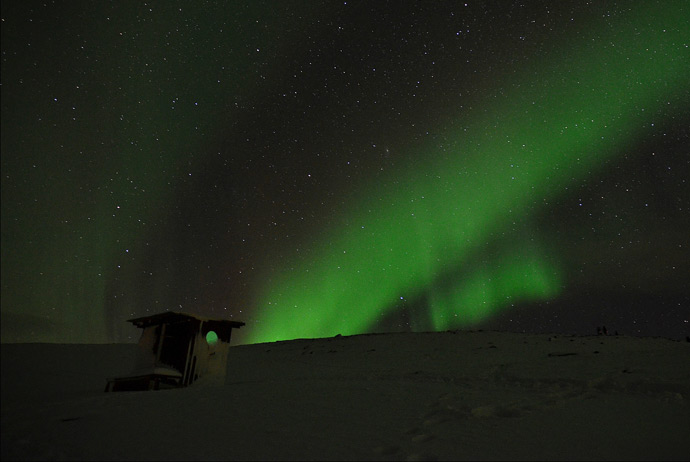 It is possible to see the northern lights much further south than Jokkmokk, however, and during periods of particularly high solar activity, it's not unheard of to see the aurora as far south as Stockholm and Gothenburg.
These events are pretty rare, though, and planning an aurora-spotting trip to anywhere in southern Sweden is probably a bad idea.
One thing that's always worth bearing in mind: just because you take a trip to the far north of Sweden, it doesn't mean that you're guaranteed to see the northern lights.
It's very possible to spend a whole week in Lapland during winter and still not see anything (trust us on this one – we've done it).
If it's cloudy overhead, you won't see anything, no matter how bright the lights are shining. And even if it is completely clear, there's no guarantee that there will be any solar activity.
Tours to see the northern lights
If you're looking for an organised tour to see the northern lights, this barbecue dinner and northern lights tour is hard to beat. Accompanied by an experienced guide and photographer, the tour is run in small groups and gives you the chance to view the stars and the milky way (plus hopefully lots of stunning aurora) in the beautiful Abisko National Park.
You can start the tour in Abisko, or be picked up from Kiruna and taken out to the national park, where you'll sit round a campfire and (hopefully!) enjoy the spectacle.
Meanwhile, this awesome reindeer sleigh and northern lights trip near Kiruna lets you combine aurora hunting with a beautiful sleigh ride pulled by reindeer as you ride through the spectacular winter scenery, followed by a warm meal round a campfire.
Or opt for husky-sled northern lights tour, where you'll be pulled by team of dogs into the wilderness in search of the lights. Warm gear and an experienced guide are provided, so buckle up and off you go
And, if you're really hungry after all that snowmobiling, you can watch the lights (if you're lucky!) while enjoying a traditional Lapland dinner of reindeer souvas and cloudberry dessert round an open fire in a forest hut.
If you have the time and money to spare, this 6-day wildlife and northern lights tour packs in pretty much everything you could want. It includes a northern lights safari and gives you the chance to spot wild reindeer and moose, go dog-sledging and sleep under the stars in a traditional Sámi tent.
For those reasons, you should be wary of any tour company telling you that you will definitely see the lights, or that the place they want to send you to is better than any others.
Some places in Sweden are known for having clear skies, which always improves the likelihood of seeing something, but the Swedish weather is notoriously fickle and you should treat any claims of 'guaranteed clear skies' with a big old pinch of salt.
The truth is that a lot comes down to luck. But that does add an element of suspense, and there are a few things you can do to improve your chances – not least picking the right time of year to visit.
The best places to see the northern lights in Sweden
As we mentioned above, there are opportunities for spotting the aurora borealis right across northern Sweden.
You definitely do not need to pay to go to a special aurora camp or a purpose-built viewing facility (though you may think it's worth it if you want to learn more about the phenomenon). Here are some of our favourite free places for seeing the lights in Sweden.
Abisko
The little outpost of Abisko is about as far north as you can get in Sweden, and in recent years it's become a real mecca for aurora spotters. It is probably the single best place in Sweden for an aurora-focused holiday.
Abisko lies in a rain shadow, with the tall mountains here tending to keep the clouds at bay. This makes clear nights and decent displays a very definite possibility.
And it lies 90km from the nearest city, surrounded by a protected nature reserve, so there's little light pollution.
A whole industry has grown up around seeing the lights, and the largest hostel here is now firmly on the backpacker radar. It offers private rooms and is a great choice whether you're travelling with friends or taking a family holiday.
There's even a Sky Station here for viewing the aurora, with an outdoor terrace, full-length windows, look-out tower and expert guides and equipment on site.
It claims to be the best place in the world to watch the lights and while this should be taken with a pinch of salt, it is true some form of nocturnal light activity can be seen here most nights.
However a night visit to the Sky Station, including chair lift and a guided tour will set you back a hefty 995 SEK, so you may prefer to head to our favourite free spot (it'll save you cash, too).
Alternatively, you could stay at the Abisko net Hostel and Huskies. As its name suggests, this hostel is based at a husky farm where you can see the dogs at home and head out on a husky sled to search for the lights. The hotel also has a nice terrace with mountain views.
Kiruna
High up in the Arctic Circle, Kiruna is Sweden's most northerly town, and so is well-placed to get good views of the northern lights.
It's geared up as a base for northern lights viewing, with plenty of tours and activities available, including dog-sledding, snowmobiling and skiing.
On the outskirts of town, the Aurora Dome has two luxury domed tents with transparent roofs – perfect for viewing the lights from the comfort of your bed!
Alternatively, the good-value SPiS Hotel & Hostel is a stylish budget option right in the centre of town, and close to the bus station.
However, since Kiruna is a large industrial town you have to be quite a long way out of town to escape the light pollution, so you may prefer to stay somewhere smaller out of town.
The Sami village of Jukkasjärvi , for example, is just a twenty-minute drive east, but far enough away from Kiruna's bright lights to get great views.
With an icy river running right past it, Jukkasjärvi is home to the famous original Icehotel. If you've got deep pockets you may want to splash out and stay here, but you don't have to be a paying guest to wander through the village itself or admire the lights dancing above the river.
Luleå
Less than a hundred miles south of the Arctic Circle, the lively university city of Luleå sits on the banks of the Gulf of Bothnia. It's waterside location means that you can easily get into the Luleå archipelago for good views of the lights from October through to March.
First Camp Arcus-Luleå has good-value wooden cottages in the woods at the water's edge, so is a good bet for viewing the lights.
Porjus
Some 30 miles north of Jokkmokk in the Arctic Circle, the small town of Porjus lies on the banks of the river Lule surrounded by woods and between two national parks, Muddus and Stora Sjofallet.
All this means that there's very little light pollution and great opportunities for viewing the northern lights. The village also has a small downhill ski slope and plenty of Nordic skiing trails, if you want a little more activity.
On the outskirts of Porjus, the Arctic Colours Northern Lights Apartments has four apartments in a great location right by the waterfront. There are webcams set up in the apartments linked to a university in Japan, so you can check out the weather conditions and solar activity before you arrive.
The apartments have their own restaurant plus a communal sauna from where you can watch the lights. They can also arrange husky and snowmobile trips and lend out skiing equipment to guests.
Riksgränsen
Sweden's northernmost ski resort lies high up inside the Arctic Circle right by the Norwegian border. With lakes, mountains and empty wilderness on its doorstep it's not only one of Sweden's top ski resorts for both downhill and off-piste tracks, but there's a good chance of seeing the northern lights here too in winter.
Three miles from the centre of Riksgränsen, the Katterjokk Turiststation is right by the Katterjåkkliften ski lift for easy access to the mountains.
It has good-value accommodation in bunk-beds, family rooms and simple apartments, plus a sauna and sun terrace for admiring the views.
Alternatively, there's the upmarket Niehku Mountain Villa, with cosy stylish bedrooms, woodburners, mountain views and a wellness centre.
Tärendö
Tiny Tärendö has all the makings of a good aurora-viewing spot. It's small, which means there isn't much light pollution and it's also incredibly flat, which means the skies here feel enormous.
Time it just right and you'll be able to see the lights reflecting in the Kalix River (Kalixälven), which flows right past. The comfortable Arctic River Lodge sits right at the river's edge, with its own private beach.
Torneträsk
Sweden's sixth largest body of water, Lake Torneträsk is a wild and wonderful place high up in the Arctic Circle. Just south of the lake lies the Abisko National Park, a large area of wilderness that's claims to be Sweden's best place for northern lights spotting.
The main community along the lake is Abisko (see above) which sits towards the northern end of the lake, but there are plenty of places where you can be completely on your own with nature.
This lovely self-contained wooden cabin in the tiny hamlet of Björkliden, has views of the lake and mountains from its terrace and is a great spot for viewing the lights.
The wild
As long as you're prepared for the cold, nothing beats seeing the northern lights from one of Swedish Lapland's wilderness areas. Whether you're staying in a rustic log cabin or camping wild, this experience is hard to beat – but you will need to plan carefully and take proper precautions.
What's the best time of year to see the northern lights?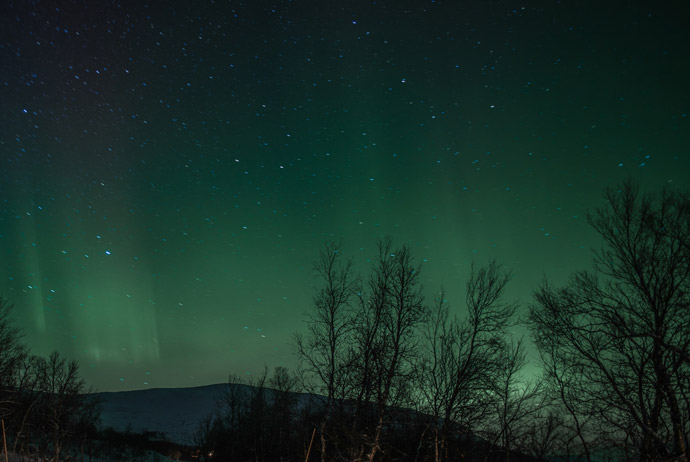 Aurora season in the north of Sweden runs roughly from the end of September until the start of April. To put that another way: the northern lights are (theoretically at least) visible in Swedish Lapland any time of year that it gets properly dark at night.
However hard you try, there isn't much chance of seeing the northern lights any time between May and August, when the sun barely sets at all in northern Sweden.
Even at the start and end of the summer, when the sun finally starts slinking below the horizon for a couple of hours each night, the sky will probably be too light to really identify any wisps of aurora.
Arrive in northern Sweden in the depths of winter, when the sky barely brightens at all and the sun is down around the clock, and the chances for seeing the lights are greatly improved. More darkness means more opportunities for aurora spotting.
However, you should bear in mind that if you visit northern Sweden in late December or early January, you'll be extremely limited in terms of the other activities you can enjoy.
No one wants to go hiking or dog sledding when it's dark around the clock and cold enough to make your eyelashes turn to icicles.
TOURS AND ACTIVITIES IN SWEDENMORE TOURS
If you're hoping to narrow it down, the absolute best time of the year for seeing the northern lights in Sweden is probably on either side of the winter. These shoulder seasons – late-September to early November, and March to April – provide a good mix of light and dark.
That means you'll have plenty of time to try and spot the northern lights at night, but will also be able to get out and about during the day, admiring the beautiful scenery, which will almost certainly be very snowy.
Visiting at those times of year will also help you to miss the main Christmas rush, when prices for hotel rooms tend to shoot up. You'll also miss the worst of the freezing temperatures.
You can still expect the weather to be very chilly though, especially at night, so make sure you dress in layers (there's more on that below).
And to make things easy, here's a simple chart to help you work out when you've got the best chance of seeing the northern lights in Sweden.
| | |
| --- | --- |
| Month | Chances of seeing the lights |
| January | High chance |
| February | High chance |
| March | Moderate chance |
| April | Moderate chance |
| May | Low chance |
| June | No chance |
| July | No chance |
| August | Low chance |
| September | Moderate chance |
| October | Moderate chance |
| November | High chance |
| December | High chance |
When to step outside
If there's a good amount of solar activity, it could be possible to see the northern lights as soon as it gets dark in the evening. In our experience the best displays have always occurred a little later (usually in the final hour before midnight) but your results may vary.
If you don't mind getting a very early start, or staying up all night, there's also a chance that you could see something in the hours before dawn.
There are a couple of things you can do to avoid standing around in the snow with frozen fingers, waiting for something to happen.
The first is to find a window with a clear view of the sky, and wait for the lights to appear. This will only work in very dark, rural areas though – to see the lights at all, you need to remember that artificial light is the enemy, and that you should try to get as far away from it as you can.
The second thing you can do is to make use of one of the free online aurora alert services, which let you know when large solar storms are expected to reach Earth.
We've had some very good experiences with the aurora alerts from Soft Serve News – follow them on Twitter to get free general alerts about solar activity, or you can pay a few dollars to get personalized alerts.
Usually there's enough warning for you to wrap up, head outside and get to a nice dark spot before the show begins.
Even with a good alert service, you should expect to wait a while to see the lights. If you're lucky it'll be minutes, but it may take much, much longer for the aurora to appear.
And when to stay indoors
Of course, even with the most reliable alert systems, there are times when you simply don't want to leap out of bed and venture into the cold.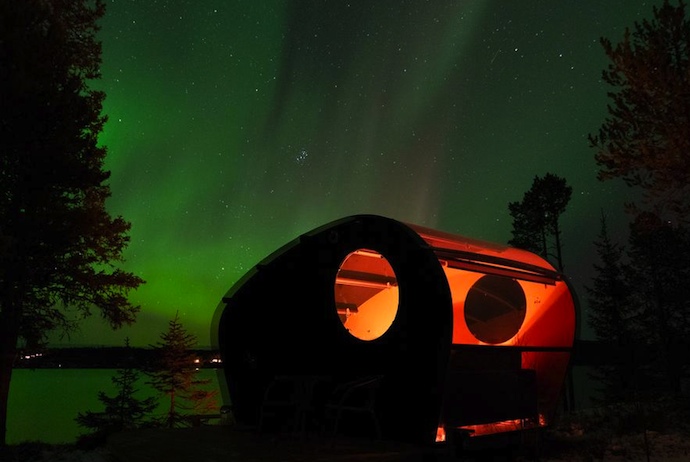 And one of the best ways of seeing the lights from the comfort and warmth of your own room is to stay in a glass-roofed cabin, or a tent with a transparent roof.
The Peace & Quiet Hotel in Jokkmokk has fabulous self-contained glass cabins perched on the waterfront, with a wooden deck and panoramic views of the lake and the skies.
Or, try the self-contained glass-roofed cabins at the Aurora Mountain Lodge, just outside the tiny community of Lannavaara. Surrounded by woods, lakes and grassland, it's in the middle of nowhere, so there's no light pollution to dampen the spectacular light display.
And if you don't mind being outdoors, but don't like the cold, how about watching the lights from the warmth of an outdoor hot tub? The spa at Camp Ripan in Kiruna has a large outdoor hot tub, so you can stay warm and see the lights at the same time.
What the northern lights look like
The types of aurora that appear in Sweden take many forms, and what you end up seeing (and hopefully photographing) will depend on a whole range of factors – from the intensity of the solar activity overhead, to the place where you happen to be.
However you look at it, a campsite on the edge of a mirror-smooth lake, hemmed in by tall mountains, is probably a much better spot than some inner-city car park.
The actual lights take many forms. The most common sort that you'll spot is a pale green arc that appears to hang high in the air – sometimes it's tricky to know whether it's really visible, or if you're just imagining it.
At the other end of the scale, you'll see intense curtains of multi-coloured light dancing from one side of the night sky to the other, with wispy trails of green and red light spinning off towards the horizon.
Regardless of the colours you end up seeing (green is the most common, but deep reds and blues are not unheard of), nothing quite prepares you for your first glimpse of an intense aurora.
It really is one of those moments when everything else stops being important and you just think… wow. Suddenly, all that travelling and waiting around in the cold feels worth it.
What to pack for a trip to see the northern lights
The northern lights are a natural occurrence that you should never have to pay to see (apart from the obvious cost of getting to Sweden in the first place). However, there are a few things you can buy in advance to make the experience more enjoyable. Here are some things worth taking with you from home.
Fresh batteries

Whichever type of camera you're using, bear in mind that batteries tend to run out faster in cold weather. You may decide it's worth buying a spare camera battery, just in case the first one loses juice as the aurora starts picking up.
Remember to pack spare batteries for your head torch (see below), too – most models take regular double-A batteries like these.
A decent headlamp
Why would you need a head torch if you're not going potholing? Well, if you're trying hard to take nice pictures of the northern lights, the last thing you want is to be holding onto a torch.
It's a very good idea to get a headlamp with a red light (we use this one). Unlike regular white light, a soft red light will preserve your night vision and let you enjoy the lights at their best.
A solid tripod
Taking crystal-clear pictures of the northern lights requires more than a steady hand; no matter how carefully you press that shutter button, there will still be a bit of shake.
The solution is to pack a good-quality tripod. You could go for an expensive option like this top-end beast but we've had very good results with a much cheaper Gorillapod. Remember to use the self timer when taking pics – that way there will be no movement at all.
Warm clothes
When you're standing still in the snow waiting for the northern lights to appear, you will lose heat quickly. You can improve your comfort levels a lot by taking time to dress properly. Start with a good thermal base layer on the top and bottom halves of your body.
This will help to wick moisture away from your skin and keep the heat in. After that, layer up with a fleece and some light trousers (just make sure they're not cotton).
Then add a snow- and wind-proof layer: the easiest option is to grab a pair of snow pants and a decent ski jacket. Finish off the look with some good gloves, some waterproof boots, and a wooly hat. Snug!
Good travel insurance
Sweden is a safe place but our advice is very simple: you still need travel insurance. A good policy can make a world of difference if things go wrong when you're in the middle of nowhere watching the northern lights.
The best policies also offer trip cancellation cover, so that you could get the money for your tour back in the event that you have to cancel because you or a close relative falls ill. For lots of different reasons we recommend World Nomads – you can get a quote below:
FAQ
Is 2022 a good year to see the northern lights?
The sun has an 11-year solar cycle which can be measured by the number of sunspots. The more sunspots that are visible the more solar activity is taking place, so the brighter and more long-lasting the aurora borealis will be.
We have been in the solar minimum part of the cycle (which means fewer sunspots), but from the end of 2020 onwards the activity started to gradually ramp up and should reach a peak in 2024/25 (the solar maximum).
However, even with fewer sunspots visible, provided you're in the right place at the right time, you've got a perfectly good chance of seeing the light show.
Do the northern lights happen every night?
Well, they can do. They actually happen all year-round, but of course to see them, you need darkness and clear skies. And the truth is that they are unpredictable – even with dark skies and no clouds they can't be guaranteed.
Do the northern lights always come the same direction?
Yes, they almost always start in the north. So if you're out hunting, look northwards and you'll catch them as they first appear.
Can I see the northern lights in Stockholm?
The northern lights do make the odd appearance in Stockholm, but it's rare. The capital is quite a long way south of the Arctic Circle and so sightings are not common – and you'd need a very clear night, with no cloud cover to get a good view.
Also, since it's a large city, if the aurora does appear visibility tends to be poor due to light pollution. You're much better off heading to the north of Sweden, for good views.
See also:
Guided tours in Swedish Lapland
Dog sledding in Sweden
Seeing the northern lights in Norway

TOURS AND ACTIVITIES IN SWEDENMORE TOURS