From the start of June until the second week of July, it's possible to see the midnight sun across large parts of northern Sweden. The golden rule is that if you want a clear view of the sun as the clock strikes midnight, you need to be near (or ideally north of) the Arctic Circle.
The further towards the North Pole you go, the greater the number of days when the midnight sun is visible. So in Jokkmokk, which is just north of the Arctic Circle, the sun can be seen at midnight for 32 days in a row. Way up high in Abisko, you can expect a whopping 56 days without a single hint of darkness.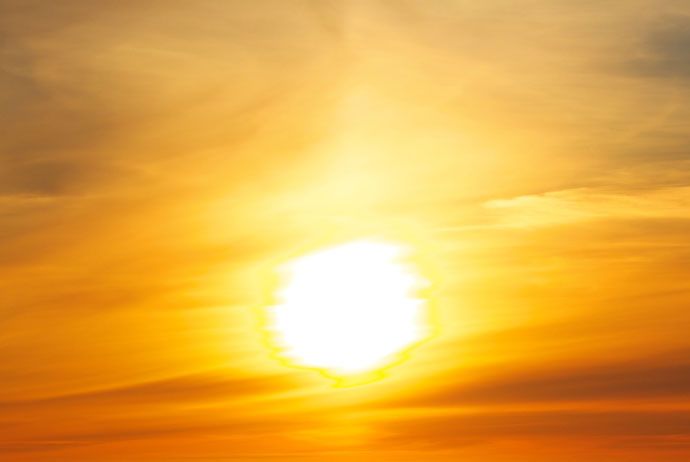 What does the midnight sun look like?
In terms of sheer wow factor, seeing the midnight sun isn't really in the same league as seeing the northern lights. But it is still memorable – kind of like watching a sunset and sunrise happen all at once, and being slightly jetlagged at the same time.
Your eyes will be telling you it's 6pm or 7pm, but the clocks (and closed-down shops) will confirm that a new day is just beginning.
For a few magical hours the sun hangs low in the sky, creating great conditions for photography; it's a far bigger window of soft light than the usual 'golden hour' you get before sunsets further south. At this time of year you'll also notice that the locals, starved of sun all winter, suddenly seem quite sprightly.
Where to see the midnight sun
You should be able to see the midnight sun pretty much anywhere above the Arctic Circle, as long as there aren't any valleys or mountains blocking out the views. That said, a big part of the fun is being able to say that you did some crazy outdoor activity while all your friends back home were tucked up in bed. Here are some of the extra-special places in Sweden that offer unusual midnight sun experiences.
Abisko
Why Abisko?
This tiny little Arctic outpost is one of the world's best places for spotting the northern lights. But during the summertime, your chances of seeing them are practically zero. That's because it stays light for around eight solid weeks. This surplus of sunlight can make it tricky to sleep (definitely bring an eyemask) but it does give you more time to explore the excellent hiking trails that snake away from Abisko and into the flower-speckled countryside.
Where to stay
Try the warm and welcoming Abisko Guesthouse, or Abisko Turiststation, which is well geared-up for outdoor activities.
When is the midnight sun visible?
Late May to mid July (56 days)
Gällivare
Why Gällivare?
Gällivare isn't much of a destination in its own right but it does have a very good ski resort on its doorstep. There's little chance of snow when then midnight sun is visible, but the ski resort is located high up on a hill with incredible views of the surrounding forests. A café at the top of the ski slopes stays open late during midnight sun season, serving waffles and hot coffee.
Where to stay
Cosy cabins and run-of-the-mill hotel rooms provide somewhere to stay at the ski resort itself. For comfy accommodation in the town centre, try Gällivare Bed and Breakfast.
When is the midnight sun visible?
Early June to mid July (40 days)
Jokkmokk
Why Jokkmokk?
Jokkmokk is one of the southernmost towns in Sweden that can still offer a few weeks of midnight sun. It's also connected to places further south by the scenic Inlandsbanan railway line – climb aboard for a whistle-stop ride through the green heart of Sweden. The town also has a rich Sami heritage and makes a comfortable base for exploring the nearby national parks.
Where to stay
Our favourite place to stay is the vermillion wooden house known as Jokkmokks Vandrarhem. If you'd rather sleep under canvas try Jokkmokk Camping Center but as it'll be bright around the clock, you will almost certainly need to wear an eye mask (or stick your head under the pillow) to get any decent rest.
When is the midnight sun visible?
Early June to early July (32 days)
Björkliden
Why Björkliden?
Travel north of Abisko along the E10 and you'll soon reach Björkliden, a small winter resort that transforms into a base for caving, fishing and hiking during the summertime. Perhaps coolest of all, you can also play a spectacular 18-hole golf course here – in midnight sun season, it's open right around the clock.
Where to stay
One option is to base yourself in Abisko and make the drive to Björkliden each day (it's only 20 minutes or so). Otherwise, there are rooms, cabins and dorm beds up for grabs at the resort itself. You can get up-to-date rates on Booking.com.
When is the midnight sun visible?
Late May to mid July (around 56 days). The golf course opens at the start of July, provided that all the snow has vanished, and stays open until September when the weather begins to turn.
Umeå
Why Umeå?
Umeå isn't far enough north to see the full midnight sun, but at the height of summer an eerie twilight still replaces proper night-time darkness, making this big, northern city look even prettier than usual. If you fancy it, Umekajak runs midnight kayak tours off the coast nearby – these leave from just south of town at Holmsund every Friday night from July to August.
Where to stay
Comfort Hotel Winn is a good, modern option right in the centre of Umeå, complete with its own sauna. You can check the latest rates here.
When is the midnight sun visible?
It isn't really, but you'll hardly be short on daylight – expect between 19 and 21 hours per day in June and July.
Riksgränsen
Why Riksgränsen?
Riksgränsen is a special kind of ski resort. Here you can ski or snowboard under the midnight sun – or at least you can in late May, before the snow has a chance to completely disappear. The resort is right up in the northwest corner of Sweden, close to the border with Norway.
Where to stay
Rooms, cabins, dorms, and apartments are available to rent at the resort. It's a bit of a journey from the nearest Swedish settlement of any size (Abisko) so you'd do well to get a room at the resort if at all possible. Prices are here.
When is the midnight sun visible?
Late May to mid July (around 56 days).
Need more tips? Check out our main Lapland guide.