For many people visiting the far north of Sweden, a dog sledding tour is one of the highlights of their trip.
And it's true: there's a LOT to love about whizzing through a pristine snowscape with a pack of friendly sled dogs.
Kiruna is easily one of the best places in all of Swedish Lapland to start your sledding adventure, with tonnes of tourist-friendly amenities on its doorstep. Here are some tips and tour recommendations to get you started!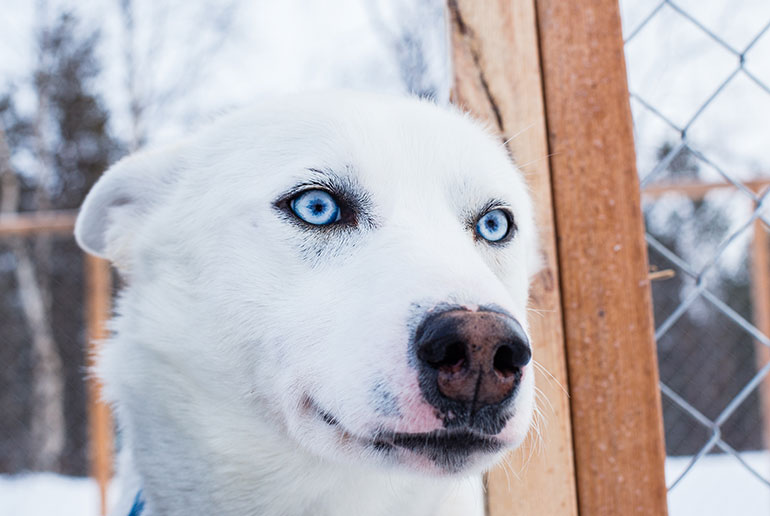 Why is Kiruna such a great place for dog-sledding?
Let's be blunt: Kiruna isn't a beauty spot in its own right. Rather, it's a large-ish, industrial-looking city that's best known in Sweden for its enormous iron ore mine.
However, the area around Kiruna is stunningly beautiful. The frozen mountains and river valleys remain almost pristine, and they're just perfect for dog-sledding adventures, with plenty of beauty spots to stop at for photos, snow angels and story telling around the campfire.
You're also within easy reach of other big Swedish Lapland attractions such as the world-famous Icehotel.
Not only that, but Kiruna has two big advantages over other places that offer sled tours in Swedish Lapland.
Firstly, there are direct flights and overnight train services from central Stockholm (handy if you're short on time).
And secondly, the city has a surprisingly good selection of places to stay, from cheap-ish hostels to high-end hotels that cater to a mix of Nordic businesspeople and international tourists.
When is the best time to go dog sledding in Kiruna?
Snow can fall in Kiruna pretty much all year round, and it's not unheard of to get flurries in September or even June.
That said, for the best chance of a decent covering of snow, you'll need to visit between late October and April. Most Kiruna dog sledding tours operate between those two months.
Daylight should also be a major consideration when planning a trip to Kiruna. While December and January are very chilly, with an extremely high chance of good snow, they are also extremely dark months with barely an hour or two of useful light per day.
So if you're keen to see the local scenery in all its glory (and still have a good chance of snow for your dog sled tour) our advice is to aim for the shoulder months of October, November, February and March.
What to expect on a dog-sledding tour in Kiruna
Most dog-sledding tours start with meeting the sled dogs at their kennels and getting a briefing from your guide, who will run through all of the basic safety instructions.
Normally you'll ride for a while and stop for food somewhere in the wilderness – in most cases it's a simple, traditional meal cooked over an open fire. Opportunities for chatting on the actual sleds are quite limited, so this can be a fun way to meet with other participants.
Longer tours can last for several days and include accommodation, musher training and other activities like ice fishing or snowmobiling.
For most tours, it's possible to arrange to be picked up or dropped off from your hotel or Airbnb.
How much does dog sledding cost in Kiruna?
Just like in Tromsø, Scandinavia's other big dog-sledding hub, husky tours in Kiruna can be expensive.
A half-day tour that allows you to drive the dogs yourself usually starts are around 2000 SEK (approx 200 USD) per person.
However, there are also more affordable options available, such as shorter tours where you get to meet the dogs and experience a shorter sled ride, usually just as a passenger rather than a 'musher'.
So, is it worth the money?
Kiruna's dog sled tours certainly ain't cheap but for most visitors this is a once-in-a-lifetime experience that is definitely worth the cost.
Not only do you get to experience the thrill of dog-sledding through magical scenery, but there's also a good chance you'll be able to combine the tour with other bucket list activities like seeing the northern lights. Some tours like this one actually combine dog sledding with aurora spotting!
4 of the best dog sledding tours in Kiruna
Having a hard time deciding which dog sled tour to book? Here are four of our favourites, including morning, afternoon and evening sessions that each offer something totally unique.
See the northern lights from your dog sled
Setting out from Kiruna in the evening, this epic northern lights tour is something truly special.
After getting to know the dogs, you'll learn how to steer your own sled through the darkness (don't worry, the snow brightens things up a lot more than you'd expect).
Because it's dark, you'll have a very good chance of seeing the northern lights on clear nights – and whatever happens, you'll wrap up the tour with a hot drink around the campfire and some traditional Swedish fika.
Start the day with dog sledding
Early riser? This self-drive tour might be just what you need.
Heading out in the morning, you'll have a full five hours to practice mushing. Along the way, you'll stop for hot soup and sandwiches in a Nordic tipi. There's even a chance you'll spot some of the local wildlife – from elk and reindeer to arctic hares.
Not a bad start to the day, and you'll be back in town in plenty of time for a lazy afternoon and dinner.
Sled into the sunset
For a mix of day and night sledding, try this option instead.
Departing from Kiruna in the afternoon, it's a slightly shorter tour than the morning version mentioned above.
There's less chance of seeing wildlife, but you'll get to experience the wilderness in the daylight and then see the sun set over the snowy horizon. Of course, once it's dark, there's the potential for some aurora-spotting too!
Head far beyond the city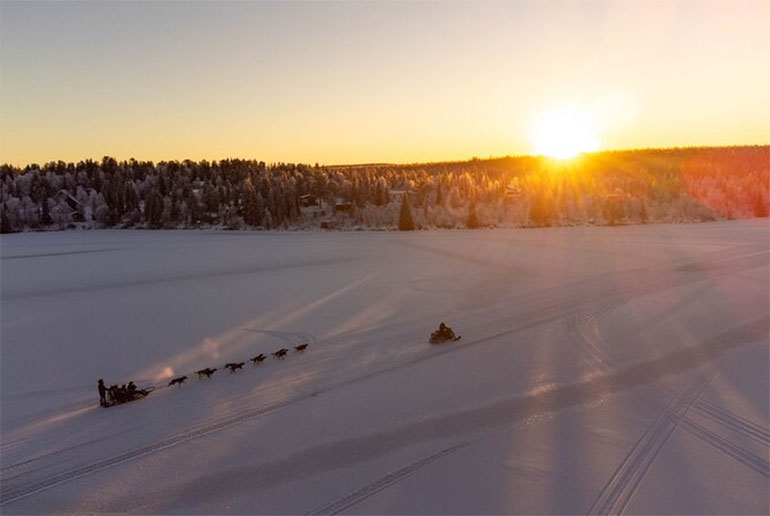 With free, early morning pick ups from lots of handy hotels in downtown Kiruna, including Camp Ripan and Scandic Ferrum, this sunrise husky tour actually gets going around 17km outside of town.
The sleds on this tour seat up to 4 people at once, making it a good option for families or small groups who aren't too worried about driving the sled themselves, and just want to enjoy the experience.
Frequently asked questions
Still not sure whether to book your tour? These questions and answers should help!
Is dog-sledding a traditionally Swedish thing?
Some tourism websites claim that the Sami people, the region's indigenous people, have a long tradition of using sled dogs for transportation and hunting. This isn't true (Sami people traditionally used reindeer, not sled dogs) and dog sled tours were first imported in the 1980s to try and bring more tourists to the area.
Is dog-sledding cruel in Sweden?
Dog sled tours aren't actually that controversial in Sweden, at least from an animal welfare standpoint.
All of the companies that offer dog-sledding tours in Kiruna are held to high standards of animal welfare, and normally you can find information about their policies and commitments on their individual websites.
In our experience, Swedish sled dogs seem genuinely happy, at least once they are out on the ice and snow. But of course, there's still a wider question about the ethics of using huskies for entertainment, so it's important to do your own research and make an informed decision.
What should you bring on a dog-sledding tour in Kiruna?
When preparing for a dog-sledding tour in Kiruna, it's important to dress warmly and bring appropriate gear for the cold weather. You'll need warm clothing, including a hat, gloves, and sturdy boots. It's also a good idea to bring a camera to capture the stunning scenery, as well as some decent filling snacks to keep you going during the tour.
See also:
Dog sledding in Sweden
10 of the best dog sledding tours in Tromsø
Kiruna snowmobile tours

Like what you've been reading? Get our best tips by email!