Everyone knows that Scandinavia is expensive to visit and live in. Coming from pretty much anywhere else in the world, you'll find most things pricier to buy in Scandinavia and the Nordic countries.
But, not everything costs the same in all the Scandinavian countries, and things that cost more in one may be cheaper in others. So, which country is the cheapest to visit, and which country will really blow your budget?
We've put together a guide to how much you can expect to pay for a selection of typical things in Norway, Sweden, Denmark, Finland and Iceland.
Accommodation
Transport
Food and drink
Sightseeing and entertainment
Basics
Cultural highlights
Tourist attractions
Seasonal pricing
Visas and entry requirements
Prices in the Nordic countries: 5 things to know
All five Nordic nations use different currencies
Norway and Iceland are the most expensive countries to visit
Sweden and Finland are more affordable, but still expensive compared with most European countries
Public transport is surprisingly cheap wherever you go
Sweden is usually cheaper for food and Denmark for drink
Accommodation
None of the five Nordic countries are cheap for accommodation, especially if you opt to stay in hotels in the popular capital cities like Stockholm or tourist destinations like Tromsø, where demand for places to stay can exceed supply.
Iceland in particular is very pricey when it comes to accommodation, with hotel rooms in Reykjavík costing about a third more than in the other Nordic capitals.
However, most of the larger cities have a decent supply of budget-friendly hostels and Airbnb rentals that can help keep the costs down in the cities.
And, of course, once you get out into the countryside there's no shortage of simple guesthouses, campsites and mountain refuges that are perfect for those travelling on a budget.
Accommodation prices in the Nordic countries (approx)
| | Norway | Sweden | Denmark | Finland | Iceland |
| --- | --- | --- | --- | --- | --- |
| Dorm in a city hostel | 350–600 NOK | 360 SEK | 260–350 DKK | 25–50 EUR | 4500–8000 ISK |
| Double room in a budget hotel | 1350 NOK | 900–1000 SEK | 900–1000 DKK | 60–80 EUR | 10,000–20,000 ISK |
| Double room in a luxury hotel | 2500+ NOK | 3000+ SEK | 2500+ DKK | 280+ EUR | 45,000+ ISK |
| One-bed Airbnb apartment | 600–1500 NOK | 800–1800 SEK | 450–1200 DKK | 160 EUR | 17,000–30,000 ISK |
Transport
Public transport is generally good in the Nordics and not that expensive, especially in the main cities.
Many Nordic bus and train services are subsided to encourage people to use them rather than cars. Our guide to getting around Scandinavia has tips on how to travel around cheaply!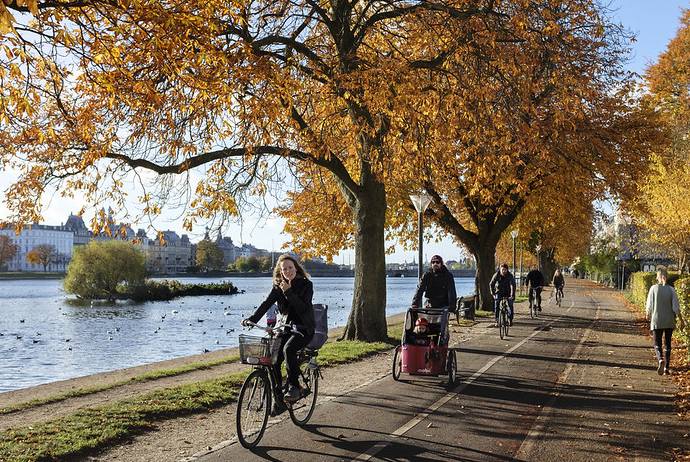 In rural areas, however, although buses and trains are reasonably priced services may not be that frequent, so you may have to resort to hiring a car and paying for pricey petrol.
Of course, the cheapest way of getting around is by bike, a popular form of transport in all the Nordic countries. Many Scandinavian cities run publicly funded bike rental schemes, so that you can rent a bike for a nominal fee (or sometimes even for free!)
| | | | | | |
| --- | --- | --- | --- | --- | --- |
| | Sweden | Norway | Denmark | Finland | Iceland |
| Day ticket on city transport | Stockholm 165 SEK | Oslo 121 NOK | Copenhagen 160 DKK | Helsinki 9 EUR | Reykjavík 2200 ISK |
| Intercity train | Stockholm to Gothenburg 195–700 SEK | Oslo to Bergen 379–1400 NOK | Copenhagen to Aarhus 142–429 DKK | Helsinki to Oulu 36–96 EUR | Reykjavík to Akureyri (bus) 11,000–18,000 ISK |
Food and drink
Nordic cuisine is all the rage at the moment, but it won't come as any surprise to find that it's not very cheap. In fact, eating and drinking out pretty much anywhere is expensive in all five of the Nordic countries.
However, there are ways to keep the cost of food and drink down. First and foremost is to do as the locals do and buy your food at a supermarket or market and cook it at home or have a picnic, if the weather allows.
International budget supermarkets, such as Aldi and Lidl, as well as home-grown chains, sell good quality food at reasonable prices.
And if you do want to eat out, you'll find it much cheaper to have your main meal at lunchtime, when many restaurants, even the more upmarket ones, offer a set menu or dish of the day. It's a good chance to try some hearty local cooking without breaking the bank.
As for alcohol, well that's pricey wherever you go. Iceland, Sweden, Finland and Norway all have state-run liquor shops that have a monopoly on sales of wine, spirits and strong beer.
The exception is Denmark, where alcohol can be bought in any supermarket or kiosk and so is much cheaper.
Add to this the fact that Denmark makes one of world's best-selling beers and you can pick up a decent can of local beer at a supermarket in Denmark for a bargain 5 DKK!
| | | | | | |
| --- | --- | --- | --- | --- | --- |
| | Sweden | Norway | Denmark | Finland | Iceland |
| Meal for two (mid-range restaurant) | 800 SEK | 1000 NOK | 800 DKK | 80 EUR | 12000 ISK |
| Meal for two (high-end restaurant) | 1500 SEK | 1600 NOK | 1500 DKK | 140 EUR | 25,000 ISK |
| Bottle of beer in supermarket/bottle shop | 15 SEK | 35 NOK | 5–10 DKK | 3–5 EUR | 360–500 ISK |
| Bottle of wine in supermarket/bottle shop | From 80 SEK | From 125 NOK | From 75 DKK | From 12 EUR | From 2500 ISK |
| Draught beer in a bar | 70 SEK | 90 NOK | 55 DKK | 7 EUR | 1200 ISK |
Sightseeing and entertainment
Well, the good news is that all five Nordic countries are known for their stunning scenery and wonderful natural attractions, which don't cost a penny to enjoy.
Hiking, wild swimming in lakes, campfires on the beach and watching out for the northern lights are just some of the free nature-related activities that are available to all in abundance in Scandinavia.
However, getting to some of the most popular dramatic outdoor attractions can be pricey, and indulging in any of the wow-factor activities such as husky-sledging or reindeer rides won't come cheap.
So, it pays to plan ahead and do the maths when it comes to working whether it's cheaper to get to some of the more remote dramatic natural sights by public transport, or on one of these awesome guided tours.
Of course, when the weather's bad you'll need some indoor entertainment so we've given prices below for cinema tickets and admission fees for a top city centre museum.
Sweden
Norway
Denmark
Finland
Iceland
City centre walking tour (2–3hr)
450 SEK
350 NOK
300 DKK
48 EUR
6800 ISK
Two cinema tickets
300 SEK
300 NOK
240 DKK
25–30 EUR
3650 ISK
Capital city museum/attraction
Vasa Museum 170 SEK
Bygdøynes museums 380 NOK
Tivoli Gardens 155
DKK
Suomenlinna Museum 8 EUR
Viking Saga Museum 3600 ISK
Entrance to a nightclub
150–250 SEK
0–200 NOK
0–150 DKK
5–20 EUR
Usually free (unless there's live music)
Basics
And, of course, whenever you go away you need to factor in those little extras that can quickly add up to one of those "How have I spent that much?" moments.
Things like phone calls, internet access, sim cards and sundries such as buying a bottle of bottle of water in a supermarket, or stopping for a coffee can quickly mount up.
The good news for EU citizens is that Finland, Sweden, Iceland and Denmark are all covered by EU data-roaming regulations meaning that phone calls, texts and internet access on your mobile will cost no more than they do at home.
UK citizens will need to check with their network provider – some companies offer free data roaming in the EU, others don't. If yours doesn't, it may be worth switching networks.
As Norway is not in the EU, mobile phone charges there will depend on your individual phone network, so check the policy of your network provider beforehand.
If you're visiting from outside the EU, it will almost certainly be cheaper to buy a local sim card for your trip.
| | | | | | |
| --- | --- | --- | --- | --- | --- |
| | Sweden | Norway | Denmark | Finland | Iceland |
| Sim card | 60 SEK | 100 NOK | 30–50 DKK | 5 EUR | 1000–2000 ISK |
| Bottle of water | 18–25 SEK | 27 NOK | 19.50 DKK | 1.60 EUR | 290 ISK |
| Cup of coffee in a café | 40 SEK | 45 NOK | 37 DKK | 4 EUR | 620 ISK |
So which is the cheapest Nordic country to visit?
Well, there's no simple answer to this, as some things cost more in one Scandinavian country but are cheaper in others.
Norway, for example, has the reputation for being one of Europe's most expensive countries, and it's true that eating out, drinking out (especially alcohol) and staying in hotels will make a big hole in your budget.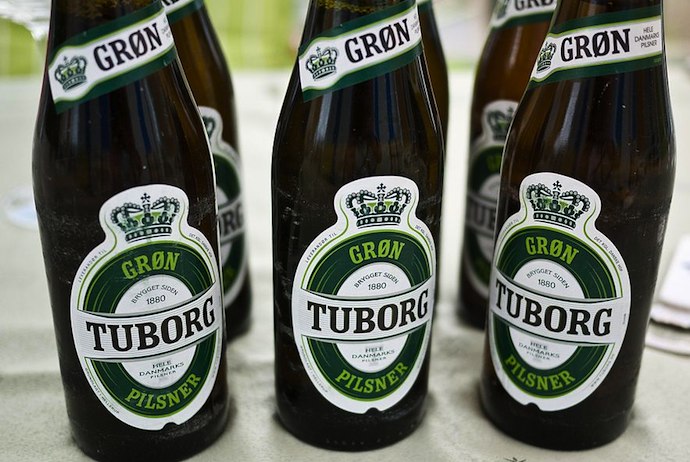 However, transport in Norway is generally reasonably-priced, especially if you can book your train tickets in advance, and staying in Norwegian hostels can also be surprisingly affordable.
Compared to Norway, Sweden is considerably cheaper, but will still seem pricey to most Europeans, for things such as accommodation and eating out. Prices in Finland are generally on a par with Sweden, or perhaps slightly cheaper.
As for Iceland, well, the bad news is that it's currently ranked as one of Europe's most expensive countries to visit. And you certainly don't want to find yourself buying a round at a bar here!
The good news is that you can find some reasonably-priced Airbnbs if you travel off-season, and entrance to night clubs is usually free!
So what about Denmark? Well, if you're heading out into the countryside to camp and cook for yourself, Denmark is probably one of the cheaper of the Nordic countries to visit.
And if you want to chill out with an ice-cold beer (which, let's face it, is one of the best things about a holiday), then Denmark wins hands down.
However, if you're planning to stay in Copenhagen, and eat in swanky New Nordic restaurants, you'll find Denmark more expensive than Sweden.
For more detailed info on the costs of visiting Copenhagen and Stockholm, see our guide to Copenhagen vs Stockholm: which is best to visit?
But on balance, we think think that the least expensive of the Nordic countries to visit are Finland and Sweden.
Cultural highlights
And of course, the cultural aspects of each county are often very cheap, or even free. In Denmark, for example, you can experience their famous hygge culture very cheaply, by settling into a cosy café for an hour or two with a coffee tasty cinnamon bun for under £10.
The main reason to visit Iceland and Norway is for their spectacular scenery and geography. You can climb a volcano in Iceland, and swim in a thermal pool, or hike up a mountain in Norway for amazing views of the fjords for free.
In Sweden, you can enjoy the midsummer celebrations for free, and in Finland you can swim in one of the many lakes and warm up in a sauna afterwards – all for free, or for very little cost.
Tourist attractions
If you want to see the sights however, you'll certainly have to pay – and often the cheapest way to see all the main sights in a short time is on a guided tour.
In Copenhagen, a bike tour is a great way to take in the main sights, including the Little Mermaid, Nyhavn and the Amalienborg Royal Palace.
In Stockholm, you're better off taking a boat tour, and seeing sights such as the Old Town and Djurgården from the water.
In Norway, a cruise on the fjords is not-to-missed, such as this full-day boat trip from Bergen to Flam along the Sognefjord.
A ride on a husky sled in Lapland is one of highlights of a trip to Finland, such as this husky sleigh adventure, with the chance of seeing the northern lights too.
In Iceland, whale-watching and a trip to a thermal spa such as the Sky Lagoon, are the big ticket items, and both well worth the money.
Seasonal pricing
When you travel can have a huge impact on the cost of your trip, particularly in regions like Scandinavia which have distinct high and low tourist seasons.
Summer (June–August) is always be more expensive for accommodation and travel in all five Nordic countries. However, in Lapland, Christmas is also high season, especially if you're planning to visit Father Christmas or go northern lights hunting.
Prices also rise during public holidays or local festivals, such as Sweden's midsummer or Denmark's Sankthansaften. It's worth checking in advance to see if your trip coincides with a local festival or celebration: click here for more on Sweden's public holiday and festivities.
Visas and entry requirements
Visas can add to the cost of a trip, but the good news is that none of the Nordic countries require UK or US citizens to have a visa, provided you are not working there or staying longer than 90 days.
Canadian and Australian citizens can also visit Scandinavia visa-free for up to 90 days.
See also:
The cost of living in Norway
The cost of living in Sweden
The cost of living in Denmark
How to visit Iceland cheaply
Like what you've been reading? Get our best tips by email!