Visiting the Icehotel in Jukkasjärvi is one of the absolute highlights of a trip to Swedish Lapland.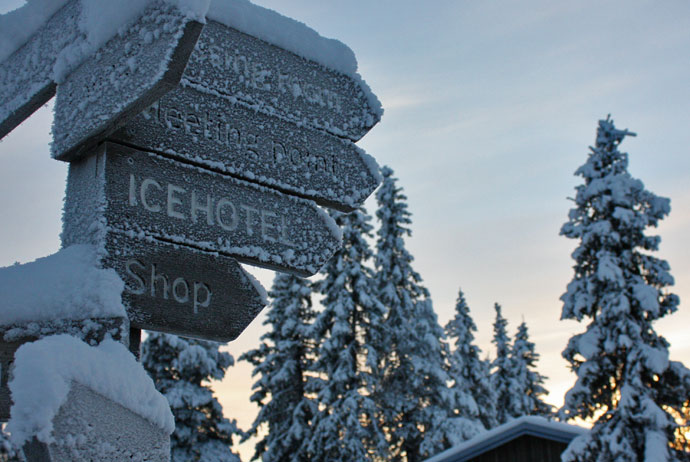 For many people a journey to this living art project, which melts each spring to be rebuilt again in the winter, is a bucket-list experience matched only by seeing the northern lights and going mushing with a pack of huskies – both of which you can actually do near the hotel.
But for budget travellers, there is a glaring problem: trips to the Icehotel cost a helluva lot of money.
As we write this article, holiday companies in the UK are charging in excess of £1000 (12,000 SEK) for a three-day trip to the Icehotel.
Per person, that is – and that's before you even start adding up the cost of dogsled tours and other fun activities you'll want to try when you arrive.
Needless to say, if you're travelling as a couple, you won't come home from your short trip to northern Sweden with much change from around £2500. Unless, that is, you do things slightly differently.
Here's our guide to seeing the Icehotel on a budget.
When is the Icehotel open?
Work starts on the Icehotel in October using ice that was harvested the previous winter (it's stored in big warehouses onsite).
The hotel is opened to the public in December and then stays open until the melt starts – usually in early April.
If you are visiting in summer, you can stay in the purpose-built Icehotel 365, which has ice rooms and art suites available all year round.
Whether or not that takes away some of the magic really is a matter of personal opinion, but at least you now have the option to visit the Icehotel all year round.
Whether you opt for the original winter-only rooms or the year-round Icehotel 365, you can keep prices down by staying one night in an ice room, followed by a night in a 'warm' room.
After a night in an ice room, you may want to cosy up in these standard ensuite hotel rooms with Scandinavian decor and enjoy a bit more comfort, though admittedly less wow-factor, than in the spartan ice rooms.
Check prices for all rooms on Booking.com.
What to wear at the Icehotel
Bearing in mind that the average temperature in the Icehotel is -5 C, you will want to come equipped with suitable clothing.
For outdoor activities, the hotel lends out snowsuits, boots, gloves and a balaclava, but you will need to bring thermal underwear, warm socks and a hat, plus an extra fleece or jumper for indoors.
Although reindeer skins and warm expedition-style sleeping bags are provided in the ice rooms, the hotel recommends that you wear your indoor clothing in bed, too!
The ice rooms are only available for guests from 6pm to 10am, but the nearby heated Riverside Lobby building is open and staffed 24 hours a day with bathrooms, showers and lockers to keep your belongings in.
Where is the Icehotel?
The Icehotel is located in a small, historic village called Jukkasjärvi, deep inside the Arctic Circle in Swedish Lapland.
All things considered, Jukkasjärvi is surprisingly easy to reach. The hotel itself is just off the long, straight road that runs through the middle of the village, right beside the Torne River.
How do you get to the Icehotel?
If you want to get to the Icehotel cheaply, your first target should not be Jukkasjärvi but Kiruna, Sweden's northernmost city.
It's around 17km to the west of the Icehotel and has very good transport connections with the rest of Sweden.
There are a few different options for getting to Kiruna – we'll assume you've already arrived in Sweden.
Fly direct from Stockholm: quick but pricey
During the Icehotel's winter season, there are direct, daily flights from Stockholm to Kiruna's airport.
Norwegian and SAS both have planes operating this route, so you may be able to find cheap seats – though in our experience, ticket prices rarely drop.
If you do manage to find a good deal and want details of how to get to and from Kiruna Airport, see our Kiruna guide.
Take the train to the Icehotel: slow but scenic
Night trains take around 16 hours to get from Stockholm's Central Station to Kiruna. They're comfortable and warm, and can be great value if you book ahead online. 
However, you'll need to balance any cost savings with the fact that you'll be losing time – and probably spending money on snacks and beer along the way.
Plane and train combo: the compromise
If you want a solution that balances cheap fares with time spent travelling, consider mixing a quick domestic flight with a train journey on to Kiruna.
You may find that by flying to another destination in northern Sweden first, and then taking the train, you can save a lot of money and still get to enjoy some snowy scenery along the way.
Luleå, Gällivare and Skellefteå all have airports and reliable train connections north to Kiruna.
Getting to the Icehotel from Kiruna
Whichever of the above options you go for, the next step is to take the bus from Kiruna to Jukkasjärvi.
It's a 30-minute ride and, as we explain in our Kiruna guide, the bus stops right outside the Icehotel. The fare? A very reasonable 47 SEK.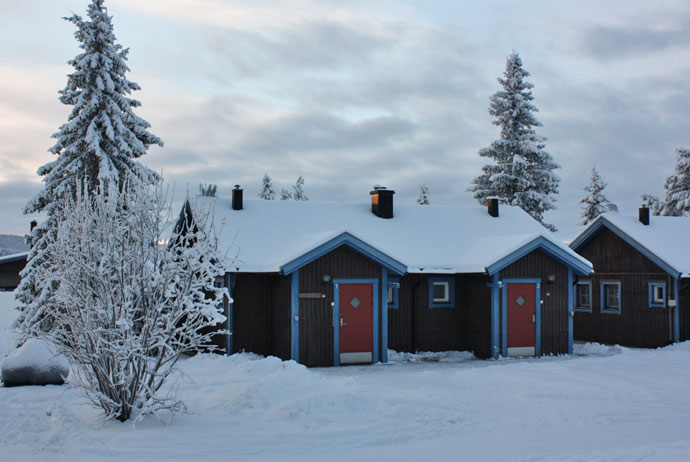 Where to stay near the Icehotel
Let's be totally honest – if you want to stay inside the Icehotel, it will be expensive.
Bear in mind that you're competing with wealthy folks from all over the world for what is a very limited amount of space (there are only around 60 ice rooms available at any one time, and the original, icy part of the hotel is only open for a few months each year).
To give you an idea of prices, rates for the cheapest 'cold' doubles at the original Icehotel – known as 'ice rooms' – start at around 6,600 SEK per night.
Proper art suites, the carefully sculpted rooms you've seen in the glossy travel magazines (pictures here), begin at around 8,000 SEK. Low season icy art suites in the year-round Icehotel 365 start from around 4,000 SEK.
Because of the high prices and limited availability, many people visiting the Icehotel on package tours have just one night in the cold rooms before transferring to the 'warm' part of the complex, which has fairly standard hotel-style rooms.
These rooms will set you back about 2,150 SEK a night. Whichever one you decide to go on, it's worth shopping around (you may find deals on sites like Booking.com).
So how do you keep it cheap?
You may decide that you simply cannot visit the Icehotel without sleeping in the thing, which is completely understandable. But it is possible to get a good feel for the place without actually staying the night.
As a day visitor, you can look round the ice art exhibitions and grab a drink at the Ice Bar in the Icehotel 365. Tickets cost SEK 295 from mid-April to the end of November.
There's no advance booking. You just buy your ticket at the main reception, and parking is free.
Buses running between the Icehotel and Kiruna are reliable, so you should be able to base yourself at one of the cheap hostels there and do the Icehotel as a day trip.
The last bus service back to Kiruna leaves at around 6.15pm (at the time of writing there were no buses on weekends). See our Kiruna transport guide for more details.
What about activities near the Icehotel?
If you've made it all the way to Jukkasjärvi and the Icehotel, you'll probably want to go dogsledding, snowmobiling, or on a northern lights tour.
You can also find out about the local Sami culture, on a foraging and traditional dinner trip, or on a reindeer tour. Alternatively, just hole up at the hotel and do an ice-sculpting class.
This fabulous snowmobile and northern lights tour combines two of our favourite activities in one trip.
You can be picked up from either Kiruna or Jukkasjärvi, and you'll be taken out into the wilderness to the camp in Poikkijärvi.
Here, expert guides will kit you out in all the warm gear you need for a fun snowmobile trip over the crisp, white landscape.
And you'll be far away from any light pollution so, provided it's a clear night, you'll have a good chance of viewing the spectacular northern lights too. Then, you can warm up with some Swedish fika – coffee and a tasty cake.
Alternatively, this northern lights tour from Kiruna takes you out into the countryside near Abisko where you'll meet the native Sami in a traditional laavu (a Sami tent).
Sami guides will tell you tales of Sami life and legends, while you eat a barbecue dinner round the campfire – and look out for the spectacular northern lights.
And for the ultimate in cute, you won't want to miss this bucket-list husky trip. There are two options available.
You can either sit back on the sled and enjoy being pulled along by huskies, or you can learn how to drive the dogs yourself and take control of the reins yourself.
Pick-ups are available from both Kiruna and the Icehotel.
How much does a DIY Icehotel trip cost?
So, we've looked into how much you would spend on a two-night, three-day stay at the Icehotel itself and how much you could save by doing a DIY version.
The Icehotel recommends that you spend just one night in an ice room, and any other nights in a warm room in the year-round hotel, so we've calculated the price of a night in each.
For our DIY version, we've picked the cosy Husky Lodge Hostel just outside Kiruna, with its own on-site husky farm!
| | |
| --- | --- |
| Icehotel | |
| One night in an ice room, including breakfast | $635 |
| One night in a warm room, including breakfast | $200 |
| Transfer from the train station | $26 per person |
| Husky tour | $330 |
| Ice dinner at the hotel restaurant | $100 |
| Total | $1291 |
| | |
| --- | --- |
| DIY at the Husky Lodge Hostel | |
| Two nights in a double room, including breakfast | $290 |
| Taxi into town | $20 |
| Husky tour | $135 |
| Dinner at a budget restaurant in Kiruna | $35 a head |
| Return bus from Kiruna to Icehotel ($10) plus day entry ($28) | $38 |
| Total | $518 |
So, by doing it yourself, staying in Kiruna and visiting the hotel on a day-trip, you can save almost $800 on a two-night trip.
Don't forget insurance – even if your trip has already started!
It's no good visiting the Icehotel on a budget if you don't have adequate travel insurance. Even though Sweden is safe, we strongly recommend getting a decent policy in place for your trip.
It really can make a world of difference if you lose your valuables or get involved in an accident.
For lots of different reasons, including the fact that they will cover you even if your trip has started, we recommend World Nomads. You can get a quote below.
See also:
How to see Swedish lapland on a budget
Where to stay in Swedish Lapland
Seeing the northern lights in Sweden