Summer has finally arrived in Scandinavia, and there's no better way to soak up the sunshine than by hanging out with friends and family at one of Sweden's colourful festivals.
Whether you want to dress up like you're from the Middle Ages, ogle at classic American cars, rave in a quarry or put flowers in your hair and dance around a maypole, there's a Swedish festival to keep you happy in 2017. Use our guide to plan a perfect summer of fun.
Sweden Rock Festival
Sölvesborg, southern Sweden
June 7th–10th
Rock and metal fans won't want to miss Sweden Rock Festival, which sees more than 80 bands performing across five separate stages. The festival also has a cracking location near the sea. Big names appearing this year include Aerosmith, Scorpions, Apocalyptica and Primus.
Summerburst Festival
Gärdet, Stockholm
June 9th–10th
Summerburst is one of Sweden's most popular festivals, welcoming around 30,000 fun-loving dance fans every year. The Stockholm event is a great way to start off the summer, with big-names like Justin Bieber on hand to whip the crowds into a frenzy.
Classic Car Week
Rättvik, Dalarna
July 31st–August 6th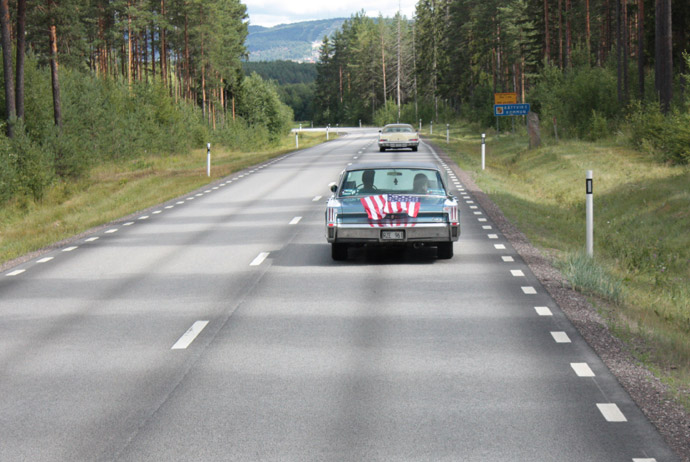 Classic Car Week celebrates its 26th anniversary in 2017. The event is about old cars, sure, but it also reflects Sweden's fascination with all things retro and American. Join in the fun and apart from seeing extremely well-polished vintage cars, you'll have the chance to browse antiques markets, attend rockabilly concerts and stuff your face with popcorn at drive-in movie screenings.
Bråvalla Festival
Norrköping
June 28th–1st July
As Sweden's largest music festival, Bråvalla brings together megastars from the worlds of pop, rock, indie, metal and EDM. This year, famous artists making the trip to Norrköping include The Killers, Linkin Park and The Chainsmokers… not forgetting Swedish legend Håkan Hellström. There's more info on the festival here.
Skankaloss
Gagnef, Dalarna
July 6th–8th
If you like your music festivals intimate and arty, try Skankaloss. Located in Gagnef, Dalarna, it attracts around 1,500 happy campers each year, as well as a carefully curated collection of indie and alternative artists. It's a unique festival with beautiful people gathering in a picturesque forest, where you can swim in a lake by day and dance to your heart's content by night.
Way Out West
Gothenburg
August 10th–12th
Way Out West is an inner-city music festival with a difference: all the food served is meat-free and there's not actually any camping. Instead of partying in tents after dark, folks tend to go out on the town, where clubs and bars run special events.  There's a decent mix of rock, electronica and hip hop at the festival itself, all wrapped up in a beautiful setting – the event takes place in Slottsskogen, right in the middle of Gothenburg. This year's acts include The XX, Lana Del Rey and Major Lazer.
Stockholm Pride
Stockholm
July 31st–6th August
Scandinavia's largest pride festival lasts a whole week, attracting more than half a million people. There's a parade, of course, but you can also visit 'Pride House' (inside Stadsteatern Kulturhuset in the city centre) to see seminars, workshops, exhibitions, art and films. Meanwhile, 'Pride Park' (at the Östermalms IP sports arena) is the place to go for a bit of shopping. There's more info here.
Midsummer
Nationwide
23rd June
Along with Christmas and New Year, Midsummer is Sweden's biggest excuse for fun and merrymaking. In 2016, Midsummer's Eve falls on Friday 23rd June. See our detailed Midsummer guide for tips on where to see traditional celebrations and how to make the best of the festivities – from dancing around the maypole to drinking copious amounts of snaps.
Peace and Love Festival
Borlänge
July 6th–8th
This festival began in 1999 as a reaction to world violence. The idea is to spread peace and love, just like the name suggests, but the music is also top notch – grab a ticket to spend a weekend letting your positive energy flow while dancing to the likes of Canned Heat, The Hellacopters and Icona Pop.
Gothenburg Culture Festival
Gothenburg
August 16th–20th

Göteborgs Kulturkalas is a big, city-wide event that attracts more than 1.5 million visitors each August. There are more than a thousand different things to do at the festival, which covers art, literature, film, music and theatre – and it's all completely free.
Medieval Week
Visby, Gotland
6th–13th August
Fancy watching a medieval-style jousting competition, or dressing up like a knight? Then head to Medeltidsveckan in the medieval town of Visby. It's a week-long history-themed extravaganza featuring a medieval market, fire shows and themed theatrical performances. Most of the action happens in Visby itself, but there are other events taking place around Gotland during the festival.