The Gothenburg Archipelago is made up of more than 20 islands, dotting Sweden's western coastline. Each island has its own particular character and charm, but all of them offer a peaceful respite from city life.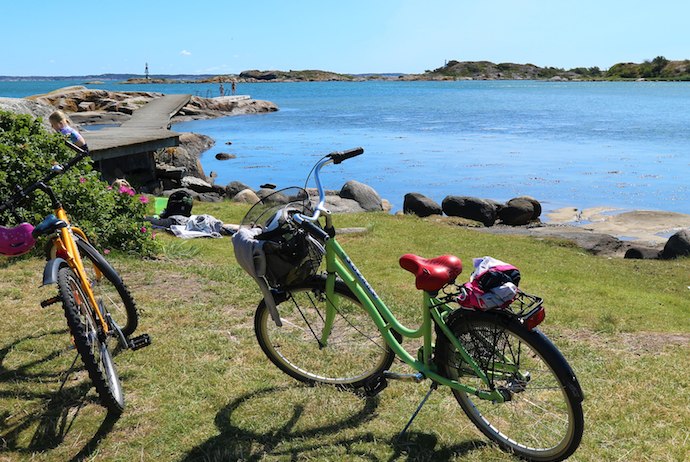 Many of the islands can easily be explored on a day trip from Gothenburg. But, if you have the luxury of time, it's worth staying overnight or doing a spot of island-hopping. Here's our pick of the best five islands to visit!
Hönö
Hönö island lies in the northern archipelago, with Hönö Klåva harbour acting as the island's main hub.
You can get your bearings and a bird's eye view of Hönö and neighbouring islands from Hönö Vattentorn, a water tower and observation deck on Utsiktsvägen, a 10-minute walk north of Hönö Klåva.
Or you can simply chill out on Jungfruviken beach, a 25-minute walk from Hönö Klåva and the perfect place for a dip and a picnic.
There's loads of other fun stuff to do on this island, with boat trips being the main draw.
From spring to early autumn, you can go crab or mackerel fishing, set sail on a seal safari or cross over to the island of Vinga, a windswept outcrop that's home to a pretty lighthouse.
Late autumn is the best time for lobster fishing. Both Hönö Boat Trips and Kastor Boat Trips run day trips, but they are popular, so book in advance.
If you fancy spending a night or two on Hönö, Hotel Trubaduren has sea-facing rooms with patios, while its sister Klovabo Hostel is a cheaper alternative in the same great location.
Popular restaurants Tullshuset, Franses and Lilling Cottage are all located nearby too.
Getting to Hönö
Ferry 297 runs year-round approximately every ten minutes at peak time from Lilla Varholmen in Gothenburg to Hönö Pinan Färjeläge, taking around 12 minutes.
In summer (18 June – 18 August) the Hönötrafiken ferry from Stenpiren in Gothenburg runs approximately four times daily to Hönö Klåva, taking about an hour.
This seasonal service is not included in the Västtrafik network so you'll have to buy tickets separately: one way journeys cost about 95 SEK.
Is the Gothenburg Pass worth buying?
Read this guide to see how much you could save during your trip!
Vinga
Gothenburg's westernmost island, Vinga, is just 1km long and 500m wide, so it can comfortably be explored on foot.
A short walk from the harbour brings you to its picturesque lighthouse, built in 1840. Nearby, a small path leads to a quiet bathing spot.
For a bit of history, visit the Evert Taube museum, dedicated to the life and work of the musician who was born and raised on Vinga in the late 19th century.
Getting to Vinga
Hönö Boat Trips and Kastor Boat Trips run three-hour trips from Hönö, with a ninety-minute stop on Vinga. Look out for seals along the way.
From Gothenburg, the best way to get here is on a guided tour with Stromma or a Rib ride with Event Yacht Charter. Both depart from Lilla Bommen harbour in the city.
Tours to the Gothenburg Archipelago
If you'd rather not travel independently, there are some great guided tours to the archipelago from downtown Gothenburg. Try this
two-and-a-half-hour guided trip
, which takes you past Älvsborg Fortress. Or jump on this
half-day tour to Vinga
, with a full hour to explore the island at your own pace.
Styrsö
The main appeal of Strysö, in the southern archipelago, is its beaches to chill on and wooded forests to hike in.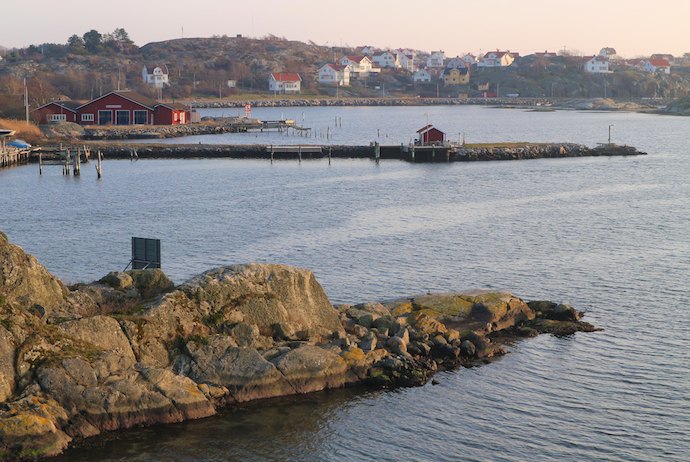 The sandy beach at Brattenbadet, near the Styrsö Bratten harbour, is popular with families, while Stora Ros, the island's highest point, provides stunning 360-degree panoramic views of the entire archipelago. It's just a 25-minute walk north of Strysö Skäret harbour.
If you're feeling hungry, grab some Swedish pastries from Café Obergska near Strysö Bratten harbour, or stop off at Pensionat Styrsö Skäret for fresh local seafood accompanied by seasonal produce from its garden.
It's a great place to stay overnight too, with scenic sea views. From here, it's just a 15-minute walk north to the bridge over to Donsö island (see below), where you'll find a bigger selection of places to stay.
Getting to Styrsö
Ferries 281 and 282 run roughly hourly from Saltholmen to Styrsö Bratten harbour, taking about 25 minutes. Ferry 281 also runs a stopping service, which calls in at Styrsö Skäret harbour after about 15 minutes.
Getting to the Gothenburg Archipelago
The archipelago is divided into two main sections: known as the northern and southern archipelagos respectively.
The southern islands are car free, and best explored on foot or by bike. They are closer to Gothenburg and, with more public ferry options, much easier to access.
Whichever option you go for, getting to the islands is part of the fun – hop on a ferry and enjoy great views along the way.
Ferries leave throughout the year from various ports in Gothenburg, and they're included in the Västtrafik public transport network. A 90-minute ticket costs 28 SEK, a one-day pass 135 SEK, and a three-day pass 270 SEK.
Although the islands can be visited anytime, summer is the best time to explore the archipelago. If you do go out of season, check ahead; some shops and restaurants close outside summer, or have limited operating hours.
Donsö
Connected to neighbouring Styrsö by bridge, Donsö is known for its distinctive rows of fisherman's huts painted in Falu red paint near the harbour.
If you fancy a swim, head to the beach at Lökholmen island, a 15-minute walk east of the harbour, where you can jump into the sea from a jetty deck.
In early August, Donsö comes alive with its annual harbour party, Donsö Hamnfest. Vendors take over the red cabins along the harbour, while water games and live music add to the atmosphere.
If you fancy staying, the Isbolaget hotel has sea views, and its restaurant serves up tasty affordable seafood dishes. Or try the quaint Donsöhus Bed and Breakfast, 300m from Lökholmen island.
Getting to Donsö
Ferry 281 from Saltholmen runs approx hourly from Gothenburg, taking about 20 minutes.
Brännö
One of the southern archipelago's liveliest islands, Brännö has plenty to do even if the weather is not kind.
You can visit the Bränno Lagårds Museum to learn about the island's history and pick up some second-hand books, or try your hand at sewing leather and buy local lambskin souvenirs at Brännö Lammskinn & Ull.
The nearby Bränno Värdshus, dating back to the early 1900s, is a great spot to indulge in some homemade pastries.
And if you need some exercise after that, head across the footbridge to explore the Galterö island nature reserve with its grazing sheep.
The best time to visit Brännö is on a Thursday in summer, when you'll see the island at its most vibrant. It's known for its free jetty dances with live music at Brännö Brygge (June to mid-August every Thursday 7.30–10pm).
The Brännö Varv Café & Bar is a popular chill-out spot with music performances in summer and a B&B if you want to stay the night.
Getting to Brännö
Ferry 283 leaves from Saltholmen hourly bound for Brännö Rödsten harbour (near Brännö Varv Café & Bar), while ferry 282 leaves Saltholmen six times a day bound for Brännö Husvik harbour (near Brännö Brygge).
The journey to Brännö Rödsten takes about 20 minutes and the trip to Brännö Husvik takes about 50 minutes.
See also:
Day trips from Gothenburg
Gothenburg travel guide
Getting around Gothenburg
Guided tours in Gothenburg
Like what you've been reading? Get our best tips by email!