We love a good-value hotel here at Routes North, but sometimes even cheapskates like us want to be treated like kings – and there's nowhere better to splash the cash than at one of these plush Swedish castles. Thanks to the nation's long history and the sheer amount of space that the countryside has to offer, there's no shortage of grand old buildings you can sleep in.
Before you start dreaming of moats, drawbridges and suits of armour, bear in mind that the Swedish word for castle – slott – is often used to describe manor houses, stately homes and other kinds of fancy country residences. We've whittled down the list to a handful of the best places, including a former monastery, a mini Hogwarts lookalike, and a romantic hideaway that you can reach using Stockholm's subway system.
Södertuna Slott, Gnesta
Manicured gardens? Lake views? Lavish dining rooms? Södertuna Slott has all the right ingredients for a fairytale stay in a Swedish castle. It's also just a 90-minute drive from Stockholm.
The castle's close proximity to the capital means that it's a popular venue for weddings and conferences. However, there are elegant rooms and suites available to rent by the night, and you definitely don't need to be a bride or groom to stay.
There's been some sort of manor or castle here for centuries but the current building dates back to the 1700s. It's been adapted a fair bit since and guests who stay here can make use of a modern spa and an indoor pool. There's also space for tennis, boules and biking in the grounds. If it's chilly enough, you can even go skating on the lake.
Thorskogs Slott, Västerlanda
There's a bit of a Hogwarts vibe about this magnificent manor house, located around 40km north of Gothenburg. It's set among English gardens, right alongside the Göta Älv river, and has tall towers reaching towards the sky. When you get your first glimpse of the castle you'll understand how it's managed to attract world leaders including George Bush (the first one) and the former British prime minister John Major.
The rooms in the main building are exactly what you'd expect, having seen the outside: think chandeliers, dark wooden furnishings and neatly striped wallpaper. Some rooms have four-poster beds. Other, less palatial rooms are dotted around the estate in a series of outbuildings.
Whichever type of room you go for you'll have easy access to Svartedalens nature reserve, where there are loads of opportunities for walking, canoeing and lake swimming.
Örenäs Slott, 
Glumslöv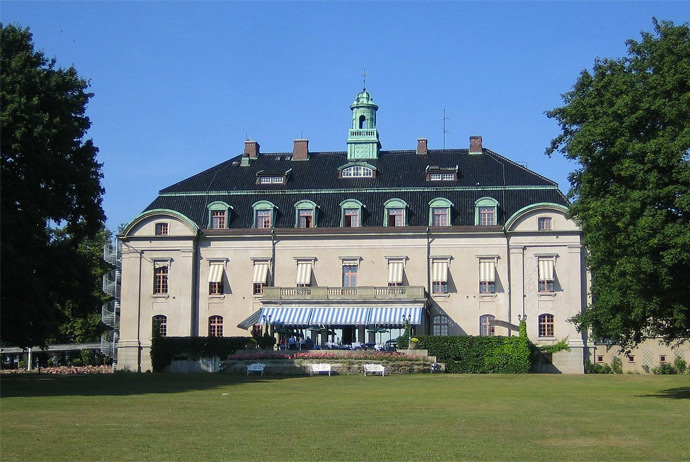 Overlooking the stretch of water that separates Sweden from Denmark, this huge Baroque-style building dates back to 1918 – making it one of the nation's newest castles. It's roughly halfway between Helsingborg and Landskrona in southern Sweden – or around a 40-minute drive from Malmö along the coast.
The castle cost about a million Swedish kronor to build (you won't even get a tiny flat in Stockholm for that much money today) and the grounds were decorated with tropical plants, some of which are still there today.
After decades of private ownership and a brief stint as a haven for refugees during WWII, the castle was turned into a hotel. It now has an outdoor pool, a flashy restaurant and a gym, plus modern rooms and suites spread across two buildings – for the full luxury experience go for one of the regal options in the actual castle, rather than one of the plainer rooms in the annex.
Åkeshofs Slott, 
Bromma
As far as we can tell, Åkeshofs Slott is the only castle hotel you can reach using Stockholm's subway system. It's just south of Bromma Airport and is around 20 minutes from the city centre by subway train. Despite this it offers a surprisingly sleepy welcome, with mature trees edging the narrow road that leads to the castle. Beyond that, there's a huge nature reserve set around a lake.
Step past the castle's pale yellow façade and you'll see glass chandeliers, panelled wooden doors and tiled chimney breasts – some of the atmospheric public areas also have murals painted on the walls.
Rooms-wise it's a choice between singles and doubles; they're all light and airy with wooden floors and private bathrooms. If you feel the urge you can sweat it out in the sauna, or chill out down in the wine cellar, which offers whisky-tasting sessions.
Bäckaskog Slott, Fjälkinge
Sandwiched between two scenic lakes in Skåne and around an hour's drive east of Lund, Bäckaskog Slott is a former monastery with roots going back as far as the 13th century.
Nowadays it's one of Sweden's more affordable castle hotels. And while it isn't quite dripping with luxury in the same way as the other places listed here, it's still pretty swish – and the sprawling redbrick building, which features a big open courtyard, is still an impressive place to spend the night.
The cheapest rooms are actually in an annex near the main building. To stay in the main part of the castle you'll have to pay a little extra, but as a bonus you'll get views over the water or the leafy parkland that surrounds the hotel. If you fancy getting the living daylights scared out of you, you can time your visit to coincide with one of the candlelit ghost tours, which take guests all the way to the top of the castle's tower.
Nääs Slott, nr Tollered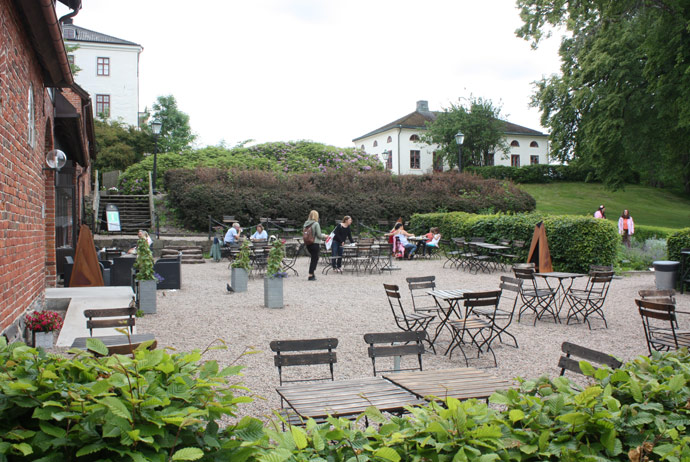 If you're looking for a fancy place to stay near Gothenburg, Nääs Slott is a great option. This is one of the country's best-preserved 19th-century houses, offering guided tours during the day and some bright, airy rooms to sleep in at night.
Set among rolling gardens and with water all around, the manor house feels a whole world away from Gothenburg's industrial sprawl – but in reality, it's fairly easy to reach even with public transport. There are shops and restaurants in the two nearest villages, Floda and Tollered.
Other useful guides
– Planning a honeymoon in Sweden
– Boat hotels in Stockholm
– Visiting the Icehotel on a budget
– The best luxury hotels in Gothenburg