If you've already made the trip to Copenhagen, there's not much stopping you from heading even further north, all the way up to Oslo, Norway.
With enough spare time and money, it's definitely worth trying to squeeze both of these amazing Scandinavian capitals into one trip.
While the journey can be time consuming, the Copenhagen to Oslo route is surprisingly easy – and it can be ridiculously beautiful, depending on how you go about it.
Here are the main options:
By bus
By train
By ferry
By air
By car
Why make the trip?
Oslo is a gorgeous coastal city known for its green spaces and lively arts scene – and there's some breathtakingly beautiful nature on the city's doorstep.
Travelling to Oslo isn't really feasible as a day trip from Copenhagen; it's best if you have at least a few days set aside for the trip.
There's around 600km between the two cities – quite a distance, even by Scandinavian standards – and there's no simple bridge connecting the two cities like with Copenhagen and Malmö, so if you're travelling overland you'll have to go the long way round.
There are five different transportation options to choose from when it comes to travelling between Copenhagen and Oslo. The cost and the amount of time you spend travelling will depend on which one you go for.

By bus
If you're on a tight budget, taking the bus between Copenhagen and Oslo is a solid option.
There's a direct route between the two cities, starting at Ingerslevsgade in Copenhagen and ending up at Oslo's bus terminal Gallerian, right in the city centre.
Two main bus providers operate this route: Vy Bus4You and Flixbus. Both run comfortable buses, with toilets onboard, plus free wifi and electrical sockets for charging your devices.
For a one-way trip, the bus usually costs between 240–300 DKK (though you can pay up to 560 DKK if you're booking last-minute at peak time) and takes between eight and nine hours.
Both companies offer day and night options (if you're really on a budget you might consider sleeping on the bus, instead of paying for another night at a hostel).
Vy Bus4You offers three to four departures a day, while Flixbus offers between one and four direct departures each day (the frequency is greater at the weekends).
Since both companies use dynamic pricing, fares will depend on how many tickets each company has sold on each service – sometimes Vy Bus4You has lower fares, sometimes Flixbus.
Check both websites for the cheapest option at the time you want to travel and, as always, book as far as possible in advance for the lowest fares.

On the Vy Bus4You website, remember that Copenhagen will probably be spelled the Swedish way (Köpenhamn) when you try to book your ticket.
Flixbus has the option to translate and pay for your ticket in pounds sterling, but if you're already in Denmark and want to pay in local currency, Copenhagen will be spelt the Danish way (København).
Alternatively, you can ride this hop-on hop-off bus which goes around the Classic Copenhagen Route.
Is the Oslo Pass worth buying?
Read this guide to see how much you could save during your trip!
By train
The train ride between Copenhagen and Oslo is broken into two parts and takes about eight and a half hours in total, with a change of trains in Gothenburg, Sweden, en route.
While the train ride is a comfortable, scenic and reliable journey, it's more expensive than taking the bus or driving.
Three connecting trains a day leave Copenhagen (two at the weekends) for Gothenburg, where you have to change trains (with a wait of around an hour) for Oslo.
You can of course overnight in Gothenburg if you prefer, continuing on to Oslo the next morning – this guide has some ideas for unusual things to do there.
The cheapest way is to book a ticket from Copenhagen to Gothenburg (around four hours), which costs from 265 DKK non flexible) with Oresundstag.
Then buy a ticket for the second leg of the journey, from Gothenburg to Oslo (also around four hours) with entur.no, which costs from 199 NOK non flexible (which is around 140 DKK).
You can book tickets all the way through with Oresundstag, but this tends to cost more, around 900 DKK each way. As the prices tend to increase the closer it is to the departure date, it's always a good idea to book in advance.
The Copenhagen to Oslo ferry
DFDS Seaways operates a direct overnight ferry most days of the week between Copenhagen and Oslo.
The experience of being aboard the ferry as it crosses the Kattegat Sea and then the Skagerrak Strait is pretty cool, but bear in mind that it does take a whopping 17 hours.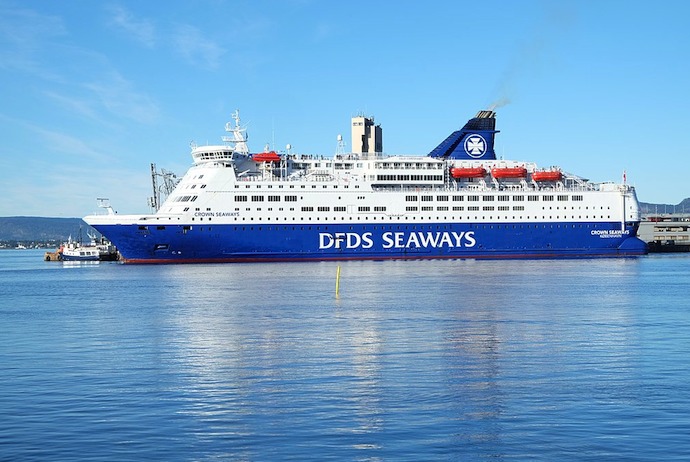 Prices depend on the type of cabin you choose and also the season during which you are traveling, but this option is usually a little cheaper than flying, especially if you factor saving a night's accommodation.
Fares for a bunk in the cheapest inside cabin, booked in advance, start at around 520 DKK per person.
Copenhagen to Oslo mini-cruise
If you're just looking for a short trip to Oslo, DFDS Seaways also offers mini-cruises at certain times of the year, which include return overnight crossings and give you six and a half hours in Oslo – enough time for a whistle-stop tour of the city.
Check out our Oslo guide to find out what you can see and do in Oslo in six hours.
Low season advance fares for the return trip on the DFDS mini cruise from Copenhagen to Oslo including the cheapest inside cabin start from a bargain 415 DKK.
.
By air
Flying is definitely the fastest way to travel between Copenhagen and Oslo, with a flight time of only about one hour. SAS runs the most flights daily between the two cities, though Norwegian tends to be cheaper.
Again, due to dynamic pricing, if you book well in advance you can get low season no-luggage fares from as low as 300 DKK – though you'll pay nearer 1000 DKK if you book close to the departure date and want to travel at peak times.

Driving between Copenhagen and Oslo
You can always rent a car and drive between Copenhagen and Oslo. This option is faster than the ferry, bus and train and offers you the leisure of going at your own pace and stopping along the way to marvel at your beautiful surroundings.
It's also just great to have a car in Oslo once you get there – especially if you want to try head out of the city and explore more of Norway once you're there. Check out our guides to exploring the Oslofjord and ski spots near Oslo.
The fastest route by car is a 600km drive, taking around seven hours with a few tolls along the way.
Head over the Öresund bridge into Sweden (details here) and keep going north on the E20 until you reach Gothenburg. Then, take the E6 towards Oslo.
Where to stop on a Copenhagen to Oslo road trip
There are plenty of places to stop en route during the journey from Copenhagen to Oslo. A good first stop is Helsingborg, about an hour and a quarter out of Copenhagen.
This scenic coastal city in Sweden sits across the Øresund Strait from its Danish counterpart, Helsingør home to Hamlet's castle, Kronborg.
Some two and half hours beyond Helsingborg, Gothenburg, Sweden's second city is definitely worth a stop or, better still, an overnight stay.
If you have any spare time, it's definitely worth visiting some of the islands in the Gothenburg archipelago.
For more on Gothenburg's delights read our guide on why we think the city is even better than Stockholm!
From Gothenburg it's just three hours and fifteen minutes straight drive to Oslo.
Or you could make a little detour off the main road to explore the pretty seaside town of Fjällbacka, best known as the location of the Fjällbacka murder detective novels by Camilla Läckberg.
Ferry and car option
A second option is for those who have a lot of time and really want to take in the sights. From Copenhagen it's a 480 km, five-hour drive to Fredrikshavn in northern Denmark, following the E20 west/E45 north.
When you reach the port you can take your car on the DFDS ferry bound for Oslo, a journey of around ten hours.
The overnight ferry leaves at around midnight (5–7 times a week) from Fredrikshavn Port, crossing the Skagerrak Strait and heading up into the fjords with heavenly views of the Norwegian coast, arriving in Oslo the next morning.
The one-way cost for two people and a car starts from around €70 with the no-frills 'economy' option.
Find a cheap rental car
To book a rental car before your trip starts and to pick it up when you arrive, use the form below. It'll search loads of local providers to find you the best deal.
What's the best way to travel from Oslo to Copenhagen?
So, what's the best way to get from Copenhagen to Oslo? Well, that depends mostly on how much money and time you have.
The fastest way, clearly, is to fly and it's not always that much more expensive than going overland if you can book in advance and are travelling low season.
The cheapest way is the coach, but probably the most comfortable is the train. It also has the advantage of going from city centre to city centre and is, of course, the most environmentally friendly choice.
If, however, you've got plenty of time, driving from Copenhagen to Oslo can make a fun road trip, allowing you to stop off en route and explore the towns, villages and coastline of three different countries.
What about passport checks between Sweden, Denmark and Norway?
Depending on how you decide travel, the journey between Copenhagen and Oslo may take you over the Denmark-Sweden border and the Sweden-Norway border.
While passport checks between Sweden and Denmark are patchy, the Swedish police do still make ID check on vehicles and people entering Sweden, so always have your passport on you when travelling between countries (or at least a valid ID if you are a resident of a Nordic state).
Border security isn't a huge concern between Sweden and non-EU Norway, but again always keep your passport on you, just in case the transport authorities decide to do a random check.
FAQ
Can you take a train from Copenhagen to Oslo?
The simple answer is yes, but there's no direct train. The journey take about eight-and-a-half hours and involves a change of trains in Gothenburg.
Is the train from Copenhagen to Oslo scenic?
It certainly is! The first part of the journey takes you over the iconic Oresund bridge from Copenhagen to Sweden then runs along the Kattegat sea to Gothenburg.
From there, the train crosses into Norway running through the Norwegian countryside then following the Oslojord into Oslo itself.
Is there a Copenhagen to Oslo night bus?
Yes, both Vy Bus4You and Flixbus run night buses on the Copenhagen to Oslo routes, with buses running most nights.
Flixbus night buses leave Copenhagen at around 9.30pm arriving in Oslo at 6.15am the following day, with extra buses at the weekend that leave at 12.20am arriving at 9.10am.
Vy Bus4You buses tend to leave Copenhagen around 10–10.30pm arriving 6–6.30am the following morning.
If you don't mind snoozing upright on a coach seat, taking the night bus can be an economical way to travel as you'll save on a night's accommodation and get to Oslo first thing in the morning.
 How far is it from Copenhagen to Oslo?
It's about 600km. The scenic six-to-seven-hour drive crosses three countries and one of Europe's most iconic toll bridges.
 How long is the ferry from Copenhagen to Oslo?
The overnight ferry from Copenhagen to Oslo takes around 17 hours.
See also:
Getting from Copenhagen to Malmö
A guide to Oslo's best hostels
Free things to do in Oslo
Getting from Oslo airport to the city centre
7 of the best Airbnbs in Oslo 
Is the Oslo Pass worth buying?