Per capita, Sweden has one of the highest rates of coffee consumption in the world. Not convinced? Just walk down almost any street in Stockholm and you'll see the evidence.
Although Starbucks is conspicuous by its almost complete absence, innumerable branches of Swedish chains like Wayne's Coffee and Espresso House sit alongside an impressive array of independent cafés, all devoted to slaking Stockholmers' world-leading thirst for the black stuff.
With quantity comes quality: it's not hard to find an excellent cup of joe in the Swedish capital. But if you want your caffeine fix to be truly memorable, you have to find a café that really stands out from the crowd. Happily, Stockholm is peppered with a great selection of unusual venues where you can indulge in that most untranslatable of Swedish experiences: the fikarast. Here are a few of our favourite cafés in Stockholm.
Caféspårvagnen
Tram 618 sounds like it might be a hipster haunt on Södermalm. In fact, it's exactly what its name suggests: a carriage on the old tramline (7N) that runs between Norrmalmstorg and Djurgården. You might have to wait a little while for it to arrive, but once you see it, you'll be happy.
Board the carriage with the big coffee cup on its roof — yes, really — and take a seat in one of Stockholm's cosiest, quaintest, and most charming cafés. Place your order, sit back, and enjoy the view as you trundle along Strandvägen, over the bridge towards Nordiska Museet, and around Djurgården's leafy byways.
For those who like to savour their hot beverages and cinnamon buns, the view might start to feel a bit repetitive: the line is fairly short, so you're quickly on your way back to where you started. You also have to pay a small charge (35 SEK for adults) to take the ride, but for such a unique experience, we think it's well worth the money.
Caféspårvagnen
Tram no. 618, Djurgårdslinjen 7N
Departs from Norrmalmstorg (Norrmalm)
Mar–Dec only; times vary from day to day and throughout the year; see djurgardslinjen.se for details.
★ SUGGESTED DISCOUNT
Save with the Stockholm Pass
Get up to 50% off at Stockholm's top attractions, including the Vasa Museum, SkyView Stockholm and The Viking Museum, plus discounts on some of the city's best boat trips.
Rosendals Trädgårdskafé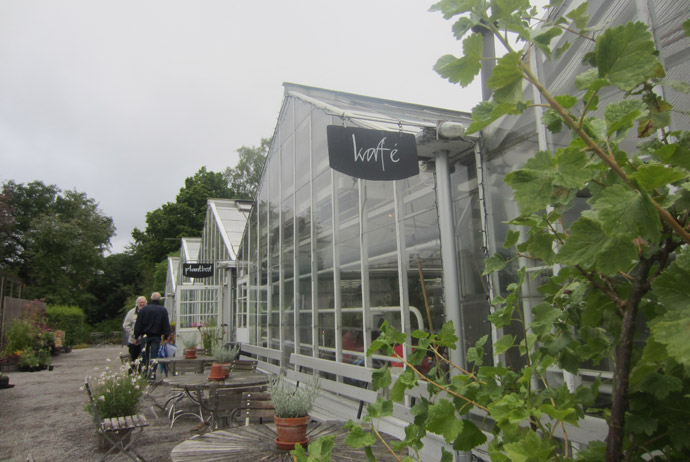 Stockholm's coffee culture may be shot through with a strong streak of environmental friendliness, but few cafés can rival Rosendals Trädgårdskafé for commitment to the ecological cause.
Along with a garden centre, a farm shop and an artisanal bakery, this café forms part of the Rosendals' Garden Foundation: specialists in biodynamic farming practices, and suppliers to some of Stockholm's finest restaurants.
The fruits of the Foundation's labour feature heavily on the café's menu, and can be enjoyed in an idyllic rural setting in the depths of Djurgården. It's easily the city's ultimate eco-café, but it doesn't really feel like it's in a city at all.
Stiftelsen Rosendals Trädgård
Rosendalsterrassen 12
Djurgården
Feb–Mar & Oct–Dec: Tues–Sun 11am–4pm
Apr: Tue–Sun 11am–5pm
May–Sept: Mon–Sun 11am–5pm
Café Sten Sture
Gamla Stan offers visitors ample opportunity to dig deep into Stockholm's history — literally. Many of the old town's bars and restaurants spiral far down into the underground, but few boast a backstory as haunting as Café Sten Sture. Two hundred years ago, this subterranean lair was a bona fide dungeon.
Sten Sture has also enjoyed spells as a monastery and, during the First World War, a military arsenal. At one stage secret passages connected its 700-year-old vaults to the Royal Palace. Nowadays, in its current incarnation as a café, it wears its history on its labyrinthine walls.
Many of those who venture down its stone steps for their fika are tourists, but the cavern at the bottom is spacious enough to cater for all.
Café Sten Sture
Trångsund 10
Gamla Stan
Mon–Sun 10am–9pm
Grillska Husets Restaurang & Café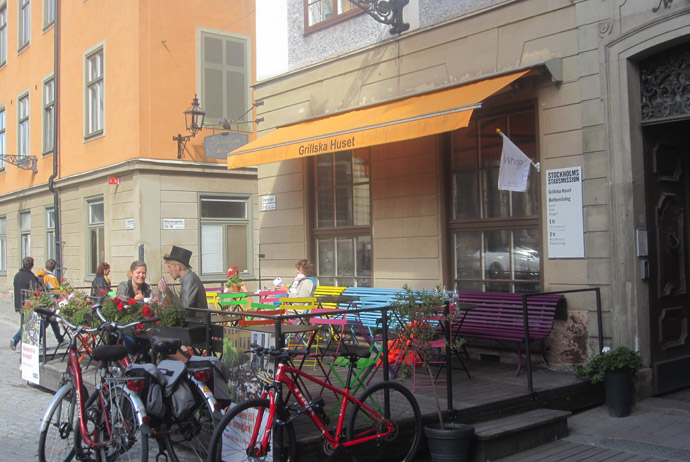 In a square dominated by the Nobel Museum and with fellow café Chokladkoppen for company, Grillska Huset is easily missed. It shouldn't be. The café's stunning first-floor interior courtyard and award-winning semlor (cream-filled buns) make it a worthy addition to any tour of Stockholm's oldest neighbourhood—and that's before one considers its most remarkable feature: its owners.
Grillska Huset is run by Stockholms Stadsmission, a non-profit organisation devoted to improving the lives of people who have slipped through the gaps of Sweden's social safety net. The café is living proof of their dedication — so while tourists swirl in and out of its more famous neighbours, why not pop into this place and show your support for a proper Stockholm institution?
Grillska Huset
Stortorget 3
Gamla Stan
Mon–Sat 9am–9pm, Sun 10am–9pm
Mälarpaviljongen
Even in a very gay-friendly city, Mälarpaviljongen is particularly popular among the LGBT community. And although Stockholm has many lakeside establishments, few extend onto the water with quite such elegance as this one.
Located in a tranquil spot along Kungsholmen's picturesque waterfront, Norr Mälarstrand, Mälarpaviljongen has a curiously Mediterranean vibe thanks to its large outdoor areas, creative lighting, and sleek pontoon bar. Stay there long enough and you might just be tempted to make your next coffee an Irish one.
Mälarpaviljongen
Norr Mälarstrand 64
Kungsholmen
Mon–Sun 11am-late (weather dependent)
Mellqvist Kaffebar
If you were walking along Hornsgatan in Södermalm sometime around the year 2000, you might have glanced through the broad windows fronting Mellqvist to see a bespectacled forty-something journalist diligently typing away on his laptop. What you wouldn't have known was that the man was Stieg Larsson, and that his first novel would eventually become a literary phenomenon: The Girl with the Dragon Tattoo.
Mellqvist wasn't just a favourite hangout for the author of the Millennium Trilogy; it was also popular with his characters, Mikael Blomqvist and Lisbeth Salander. Do as the locals do (fictional or otherwise) and pay this very modern attraction a visit — maybe with a copy of David Lagercrantz's The Girl in the Spider's Web for company.
Mellqvist Kaffebar
Bysistorget 6
Södermalm
Mon–Fri 7am–6pm, Sat & Sun 9am–6pm
Map of unusual cafés in Stockholm