When people visit Stockholm for the first time, they often wonder which island they should stay on. If you're in the same… erm… boat, then head over to our big neighbourhood guide, which makes it easy to decide which part of town to stay in. If you want to stay on the water, rather than on dry land, this is the article for you.
Small boat or big yacht?
There are more than half a dozen quirky boat hotels moored up in the Swedish capital, with options ranging from small, brightly painted vessels to fairly plush yachts with their own bars and restaurants. Prices vary quite a bit depending on the level of comfort you want and the exact room you go for, but it's possible to spend a night on the water for less than 400 SEK.
You can choose to stay in a private suite with its own flat-screen TV and free wifi, or save cash by sharing a simple dorm with other travellers. Whichever option you go for, staying on a boat is a great way to get a feel for Stockholm's scenery – and you'll have the added bonus of being gently rocked to sleep at night by the movement of the water.
Some of the 'boatels' listed here look out over impressive landmarks like Stockholm's city hall. And all of them are within walking distance of the city centre. Ready? Then let's sail!
Af Chapman
Stockholm's most famous floating hostel is a beautiful sight, and a bit of a local landmark – indeed, its tall masts grace postcards and calendars sold across the capital. The elegant 19th-century sailing ship was built in the UK back in 1888, and has been moored here in Stockholm since the 1940s.
Not only is the boat good looking, but it has one of the most spectacular locations in Stockholm, with views stretching across the water from Skeppsholmen to the fairytale buildings of the Old Town. It's only a quick stroll from here into the centre of busy Norrmalm – and you don't have to walk far to find some of Stockholm's best museums.
There's a good mix of cabins on board, including singles, twins and doubles, some with their own bathrooms. The atmospheric dorms sleep up to six people at a time and are perfect for folks who want to stick to a strict budget. It can feel a bit cramped inside, but when it's sunny you get to chill out on the wooden deck up top, imagining what it would have been like to travel the world on the ship. There are dorms on dry land, too, where you'll also find a pool table and a café selling snacks and drinks.
★ SUGGESTED DISCOUNT
Save with the Stockholm Pass
Get up to 50% off at Stockholm's top attractions, including the Vasa Museum, SkyView Stockholm and The Viking Museum, plus discounts on some of the city's best boat trips.
Ånedin Hostel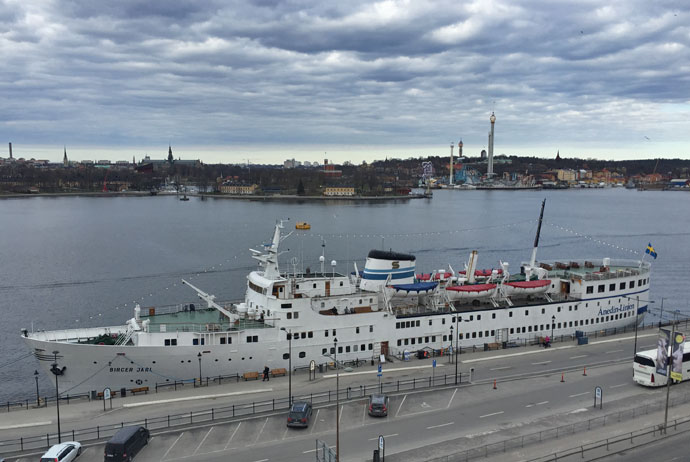 Another cheap-ish option, Ånedin Hostel has a great location on the northern edge of Södermalm, close to Stockholm's Old Town. It doesn't have the same impressive masts and rigging as Af Chapman (see above) but it sure is a quirky place to spend the night, with narrow, wood-panelled corridors leading to small and cosy cabins.
The 1950s cruise ship used to make trips all the way to the Åland Islands in Finland, but has been operating as a hostel since 2013. Wander around its six decks and you'll find a buffet restaurant and a 'sky bar' with views over the water. The cheaper cabins on offer here are windowless and have shared bathrooms, while more luxurious options come with their own en-suites.
If you leave the boat in the morning and find that it's disappeared by the afternoon, don't worry – the captain still runs occasional sightseeing trips out into the Stockholm Archipelago. As a paid-up hostel guest, you'll get to join for free.
Mälardrottningen
Standard cabins aboard the Mälardrottningen boat hotel are extremely compact, but that doesn't detract from the sense of history that's soaked into this 1920s ship. It was once the world's largest diesel-fired yacht, and used to be owned by Barbara Hutton, who was one of the richest women in the world.
While the boat's smallest rooms have bunk beds and tiny en-suite bathrooms, the larger cabins offer waterfront views – albeit through small, circular portholes. Some of the really top-end options here are nearly as spacious as regular hotel rooms.
One of the main reasons to stay aboard Mälardrottningen is the location – it's in a lovely, peaceful spot off Riddarholmen. It's a five-minute walk from the Old Town and has marvellous views across the water to Stockholm's city hall. Other perks include a restaurant, a deck bar and a baking-hot sauna. Ahhh.
M/S Monika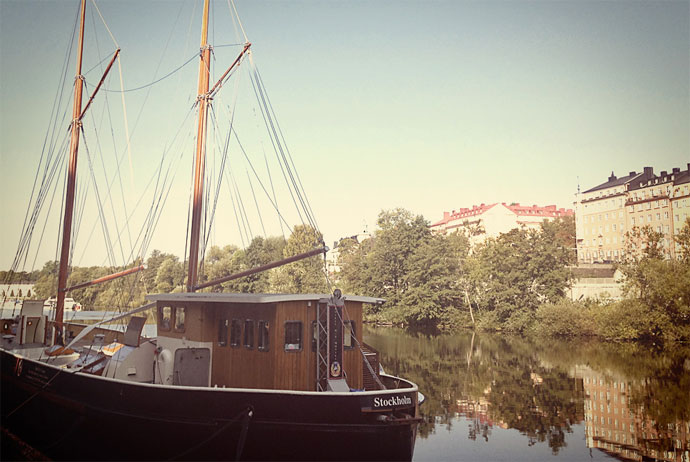 If you want a boat hotel that's a little more intimate but still has a nice maritime theme, try M/S Monika. There are only three rooms aboard this little sailing boat, which was built in 1908 and now bobs around off Kungsholmen's northern shore.
A couple of the cabins have bunk beds, while the room at the front of the boat has a proper double bed and its own en-suite bathroom. All three rooms are available to rent individually but if there's a big enough group of you, you can hire the whole boat.
There are some nice extras on offer here, including free wifi and breakfast. DVDs are available to borrow, too – just in case you tire of the lovely views.
Rygerfjord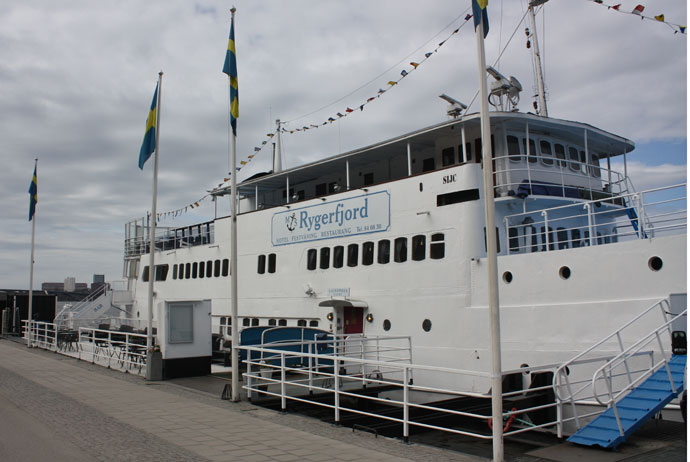 There are 150 beds squeezed onto the decks at Rygerfjord, a 1950s boat from Norway that now acts as a floating hostel. It's one of several boats anchored off Södermalm's northern edge, and has views across the water to the Old Town and the city hall.
There aren't any shared dormitories here – instead, guests stay in compact cabins with flat-screen TVs and small portholes. Some of the rooms have private bathrooms, while others share facilities.
One of the best things about this place is the lovely terrace up on top of the boat, where you can soak up views of Stockholm. There's another outdoor seating area on the path beside the boat's entrance, and you can eat classic Swedish food in the boat's comfy wood-panelled restaurant.
Den Röda Båten
The 'red boat', a combined hostel and hotel near Rygerfjord (see above), is actually spread across two handsome boats: one white, one red.
The red one is a wonderfully rustic place to spend the night, with a warm and cosy reception area that has yellowy glass windows and lots of dark wood. Hostel rooms here are in snug, compact cabins. They're aligned along a narrow red corridor below deck and have shared facilities outside the rooms.
If you want a more luxurious experience you can go for one of the nautical-themed rooms in the white boat, which is moored up alongside. These come with their own bathrooms and in-room TVs, and breakfast is included.
Log Inn
This casual hotel is set aboard a steam ship known as Kronprinsesse Märtha. It's seen a fair bit of action since it was built in Norway in 1929 – it helped to rescue passengers from a sinking German ship in the 1930s, and wound up as a floating casino in the Netherlands during the 1980s.
Today it offers basic, compact rooms with their own bathrooms, as well as a buffet-style restaurant with waterfront views. The 'seaside bar' serves pizzas, salads and snacks.
Floating hotels and hostels in Stockholm