Stockholm's cosy cafés do a roaring trade before lunch, luring in bleary-eyed customers with steaming-hot coffee and sugar-topped cinnamon buns. There are so many of these places dotted around the Swedish capital that – quite honestly – you'll never have trouble getting an early morning snack or a much-needed caffeine fix.
However, some places go a little bit further than coffee and pastry, turning out the kinds of delicious breakfasts that'll leave you ready for anything. We've included a few in this guide to Stockholm's best breakfast joints. And to help you find your way, we've added them all to the map below.
Want an all-you-can-eat deal? Just about all of the big international hotels allow non-guests to pay for access to their breakfast buffets.
Greasy Spoon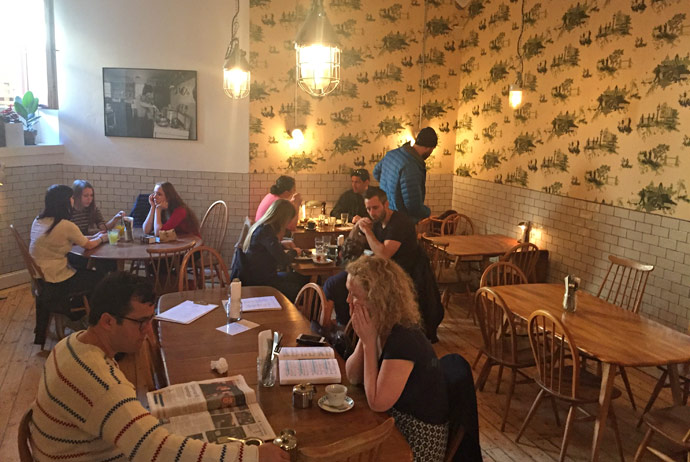 Endlessly popular and for very good reason, Greasy Spoon is probably Stockholm's best spot for a reasonably priced breakfast or brunch.
If the name conjures up thoughts of chipped mugs and unsightly builders' bums, think again – this is a slick new take on the classic British café, with herringbone floors, London-themed wallpaper and a jukebox spinning cool tunes.
Apart from the usual cakes and coffees, there's a menu packed full of breakfast-y goodness, including pancakes, muesli and a hearty full English (a veggie version is available). Budget travellers might want to stick to the cheap and tasty porridge, which comes with blueberries, raspberries and honey-roasted pecans. Morning after the night before? The friendly English-speaking staff can knock you up a Bloody Mary.
There's one big downside to this place: it gets extremely busy on weekends. You can't reserve a table, so our tip is to go as early as your tired head allows.
Greasy Spoon
Tjärhovsgatan 19
Södermalm
Mon–Fri 8am–4pm, Sat & Sun 9am–5pm
★ SUGGESTED DISCOUNT
Save with the Stockholm Pass
Get up to 50% off at Stockholm's top attractions, including the Vasa Museum, SkyView Stockholm and The Viking Museum, plus discounts on some of the city's best boat trips.
Coffice
If you're in Stockholm on business then there's nowhere better to start the day than Coffice – it's basically a café combined with a very casual office, which just happens to have a selection of tasty breakfast items available for sale. There are sandwiches, snacks and fruit juices, along with strong, ethically sourced coffee.
The wifi is fast and free, and if you're planning an important meeting you can rent out one of the café's small private rooms for an hour or two. Even if you're not working in Stockholm, Coffice is still a good place to go for breakfast – for one thing, you'll almost certainly be surrounded by locals, rather than fellow visitors.
Coffice
Tjärhovsgatan 5
Södermalm
Mon–Fri 7.45am–6pm, Sat 10am–6pm, Sun 10am–5pm
Nybrogatan 38
To get an early morning taste for Östermalm's pricey dining scene without any of the financial commitment consider a trip to Nybrogatan 38.
This slick bar-restaurant – done up with white-tiled walls and a shiny steel-topped bar – is often full to bursting at lunch and dinner. But it also does a big range of breakfasts, from freshly baked croissants and classic Swedish knäckebröd to Greek yoghurt with fresh berries. American pancakes are also on the menu, and there's a whole list of healthy extras you can throw on top.
Another nice touch here is that if you order a regular coffee you'll get a whole pot, rather than just a cup. Go on a Thursday morning and there's even live jazz music to accompany your breakfast. Expect to pay around 100–120 SEK per person, including coffee or tea.
Nybrogatan 38
Nybrogatan 38
Östermalm
Mon–Fri 7.30am–midnight/1am, Sat & Sun 10am–midnight/1am
Vete-Katten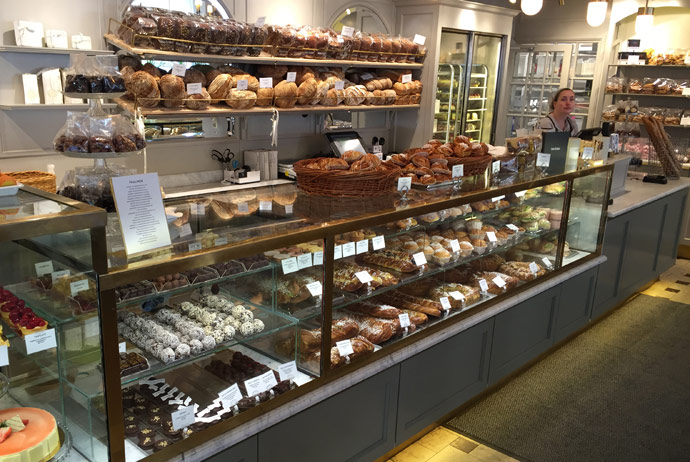 Vete-Katten has been open since 1928 and is still one of the city's best patisseries, filling its polished glass cabinets with a mouth-watering range of brightly coloured confections. The fancy dining room here is a bit of a Stockholm institution and it still looks great on a sunny day, when light floods through the big glass-panelled doors.
You don't need to come here to fika – there's a whole load of options for early morning eating, including tasty rolls, freshly chopped fruit and vitamin-packed smoothies. Last time we visited, staff said they were planning a bigger and better breakfast menu, so watch this space.
Vete-Katten
Kungsgatan 55
Norrmalm
Mon–Fri 7.30am–7.30pm, Sat & Sun 9.30am–6pm
Urban Deli
With a crowd made up of hipsters, bloggers and well-to-do young parents, Urban Deli is most famous for its sourdough hotel (you can read about that here) and its luxurious fish dishes.
However, this bistro-cum-deli also serves up some reasonably priced breakfasts. It's pretty simple stuff: coffee, freshly pressed juice and sandwiches made using bread that was baked just around the corner. On weekends from 11.30am there's a more elaborate brunch, featuring eggs, cooked breakfasts and even boiled lobster. Cocktails optional.
Urban Deli
Nytorget 4
Södermalm
Daily 8am–11pm/midnight
City Konditoriet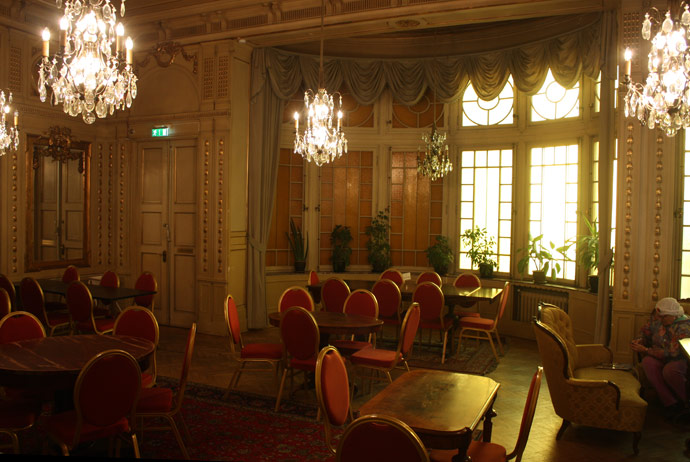 The breakfast offering at City Konditoriet isn't exactly groundbreaking but this place is all about the setting – it's three floors up from street level in a beautiful old ballroom, which itself is tucked inside a beautiful old townhouse.
It's a weird feeling to eat cheese sandwiches in a room where 1920s Stockholmers once swung their hips to jazz music, and the lofty ceilings, gilded mirrors, shimmering green wallpaper and old fashioned furnishings make this one of the city's most unusual breakfast options. The prices are reasonable, and the friendly staff seem only too happy to chat about the building's history.
City Konditoriet
Adolf Fredriks kyrkogata 10
Norrmalm
Mon–Fri 9am–6pm, Sat 10am–6pm
Map of breakfast places in Stockholm
Need more tips? Download our free Stockholm guide!