Sooner or later when you're travelling across Sweden, you'll come across snus. This moist tobacco product is sold in pretty much every convenience store and supermarket, and if you look closely enough you'll spot signs of it everywhere you go.
Locals can be seen shoving lumps of brown stuff under their top lips after their meals, and tiny teabag-like pouches of snus seem to show up everywhere, whether discarded on the street or blocking up pub urinals.
For outsiders, the whole idea of snus – complete with brown teeth and sore gums – can seem a little bit… gross. But for many in Sweden it's a part of daily life (stats show that as many as one million Swedes, or around 10% of the population, use snus regularly).
Snus delivers a strong nicotine kick, with many first timers getting a bit jittery after 10 minutes or so. Despite this, snus is widely considered to be a healthier (but still addictive) alternative to smoking.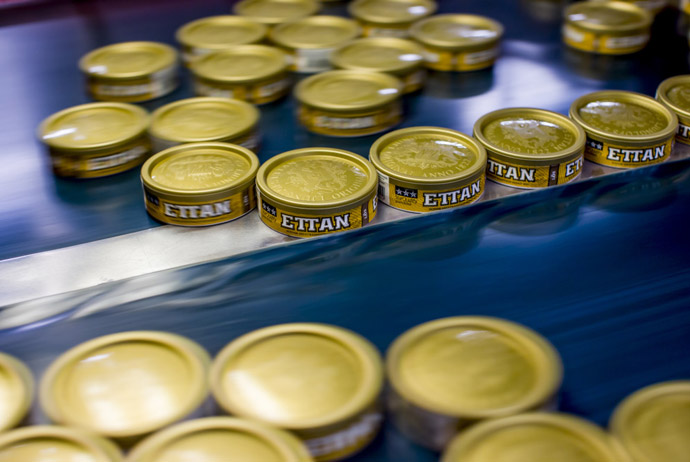 Because of a special dispensation, Sweden is the only place in the EU where snus can be bought and sold legally. So if you want to give it a try, there's really nowhere better (just bear in mind that A, it's addictive and B, you might not be able to get hold of it back home).
There are lots of different types of snus to try, and manufacturers often incorporate natural flavours like bergamot, citrus, juniper or liquorice to keep their products interesting. You'll find snus in regular shops like 7-Eleven, but there are also several specialty shops in Stockholm that offer a wider range of snus-related products. A handful of artisan shops also let you try different types of loose snus and even mix your own blend. Here are some good snus joints in Stockholm!
Snus and Match Museum
Djurgårdsslätten 51, Djurgården
For an educational afternoon and to learn all about the history of snus, make your first stop the Snus and Match Museum within Skansen (admission is free when you buy a ticket for the open-air museum).
Here, you can get the lowdown on different snus production techniques from the 1700s right up until the modern day. You'll learn about the two snuff kings Johan Adolf Boman and Jacob Fredrik Ljunglöf, who dominated the snus industry in the 1800s. Check the museum's online calendar, as each week there are regular events teaching visitors how to pair snus with beer, and how to mix their own snus.
★ SUGGESTED DISCOUNT
Save with the Stockholm Pass
Get up to 50% off at Stockholm's top attractions, including the Vasa Museum, SkyView Stockholm and The Viking Museum, plus discounts on some of the city's best boat trips.
Swedish Match Store
Kungsgatan 3, Norrmalm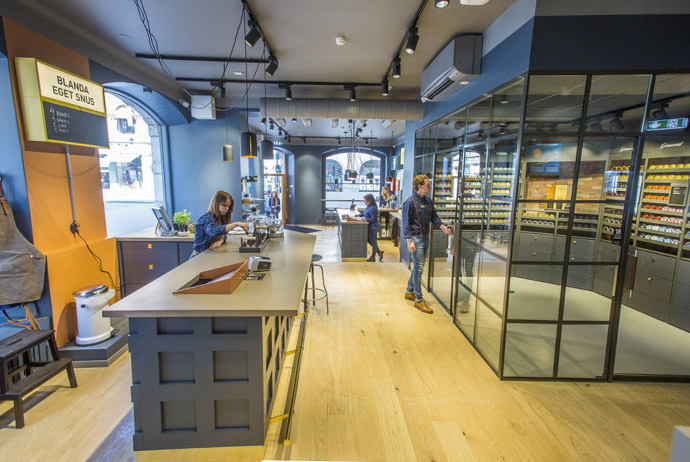 Owned by the Swedish tobacco giant Swedish Match, this place in Norrmalm is an exhibition and boutique rolled into one. Staff will assist you in mixing and tasting your own creation, or let you choose from an assortment of ready-made snus offerings.
If you're really keen, you can even join a two-hour course covering the history, production and tasting of snus, including four doses of loose snus that you can take home – a nice option if you'd like some unusual Swedish souvenirs to take home with you. There's even a cafe onsite where you can lounge around with coffee and snus in the summer.
PGW Mosebacke
Hökens gata 8, Södermalm
Catering for Sweden's two biggest addictions, PGW stocks everything you need for home brewing and cocktail-making, plus all types of pipes, tobacco and snus. Handily located near Slussen, this is where local connoisseurs go to pick up snus sheets and loose-leaf tobacco, plus high-grade snus from brands such Kungssnus, Prillan and Haninge Snus.
Mulles Snus
Björns Trädgårdsgränd 3, Södermalm
Mulles Snus specialises in artisanal, hand-crafted snus. They offer a handful of different flavours, each with an old-fashioned variant. With this old-school snus, potash is added to the blend as an acidifying agent – apparently this was a favourite ingredient back in the day lending unique 'bite' to the snus.
Kungstobak
Kungsgatan 68, Norrmalm
Claiming to have Stockholm's largest assortment of tobacco products, Kungstobak is a one-stop-shop for all things snus. Whether you're craving spearmint, melon or raspberry flavours, or brands like Crafted Kardus, Kapten and Offroad, Kungstobak most likely has something to match your mood. Look out for the extra-strong Thunder brand snus – one bizarre-sounding variety of this comes with 'energy drink' flavouring. Mmm-mmm!
Map of snus shops in Stockholm