From the rolling dunes in the south to the Arctic Circle at the tip of the Gulf of Bothnia, the Swedish coast has beaches galore.
They range from wild windswept dune-backed strands to white-sand beaches with blue waters and a Mediterranean-like charm that, on a summer's day, may make you forget that you're in Scandinavia.
So here are some of our favourite beaches in Sweden to explore this summer.
Skanör-Falsterbo, Skåne
Dotted with candy-coloured bathing huts, the wild, sandy beaches of the Skanör-Falsterbo peninsula spill into gorgeously blue waters.
In Sweden's far south, this area is a peaceful little hideaway, where high dunes and pine trees shelter the coastal woodlands.
Locals come to the beaches here for a walk or picnic, with the dunes breaking up the long stretches of sand into secluded coves. Even at the height of summer, it's easy to feel like you've got the whole place to yourself.
How to get there
Skanör-Falsterbo is around 30km south of Malmö. From Malmö Centralstation, take a Pågatågen or Öresundståg train to Malmö Hyllie station: from here bus #300 takes you straight to the beach.
Where to stay
Hotell Gässlingen is an elegant upmarket option with a beautiful spa, just a ten-minute walk from the beach.
Sandhammaren, Skåne
Another Skåne favourite, Sandhammaren, sits at the southernmost tip of Sweden. Expect big blue skies – and plenty of white sand leading down to the Baltic Sea.
With crystal-clear waters, grassy dunes and clean white sands, Sandhammaren almost feels like a Caribbean beach on a hot sunny day – though, of course, the temperature of the water tells you it's most definitely Sweden, not Saint Lucia!
Sandhammaren has been voted Sweden's best beach several times, though the currents here can be dangerous, and the waters offshore are known as Sweden's biggest graveyard for shipwrecks.
How to get there
Sandhammaren is about an hour's bus ride southeast from Ystad: take bus #322 from Ystad station. If you're travelling from Trelleborg, take bus #190 from Trelleborg C station to Ystad, then change onto bus #322: the trip takes roughly 2 hours and 30 minutes in total.
Where to stay
The Löderup Strandbad Hotell is a laid-back, family-style hotel between Ystad and Simrishamn, with gorgeous sea views and great food.
Böda Sand, Öland
Off Sweden's southeast coast on the island of Öland, Böda is a sandy, shallow beach that attracts families throughout the long summer break, when life in Sweden seems to slow down considerably.
At two miles long, Böda is one of Sweden's longest sandy beaches, and when the weather is good enough there are plenty of fun water sports and beach activities on tap.
You can rent jet skis and pedaloes, play beach football or leap into the water from a large inflatable floating pontoon – and there's no shortage of cafés, snack stalls and ice cream kiosks for when you need to refuel after all that activity.
How to get there
From Kalmar C station, take bus #101, then it's a 15-minute walk from the bus stop to the beach. If you're driving, take Route 136 from Kalmar across Kalmar Strait to Öland, then join Route 137 up to Böda: the drive takes around 90 minutes.
Where to stay
The Böda Sand Beach Resort has cabins, cottages and beach houses to rent plus camping pitches for tents, caravans and camper vans. It's a lively place with a spa, pool, beach bars and a buzzing après-beach scene.
A nice alternative is the nearby Böda Hotell, a mile or so from the beach.
Stenshuvud, Skåne
The white sands of Stenshuvud beach are surrounded by the imposing, lush woods and hills of Stenshuvud National Park, in Österlen.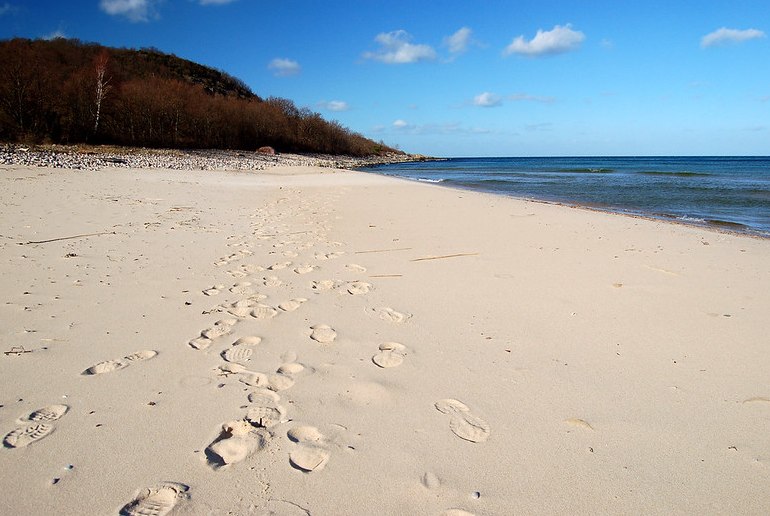 Sweden's most southerly national park is home to this lovely stretch of sandy coastline, almost 20km long.
With plenty of marked hiking trails, it's a great place for walks, picnics or, on a sunny day, just chilling on the beach and admiring the view.
How to get there
The easiest way to get to Stenshuvud is by car, which also gives you the flexibility to explore the area's natural beauty once you get here. It's a 50-minute drive from Ystad, and an hour's drive from Kristianstad.
Where to stay
Svabesholms Kungsgård Bed & Breakfast is a beautiful B&B with a relaxing vibe, a short walk from the national park.
Laholmsbuktens Strand, Östergötland
On Sweden's west coast, one of the country's longest beaches, Laholmsbuktens Strand stretches for 12km along the gently curved Laholm Bay, from Båstad in the south to Halmstad in the north.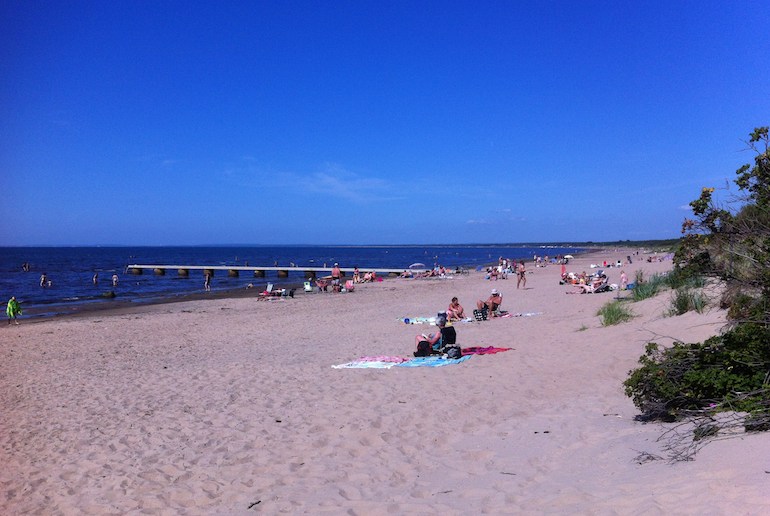 A popular spot for wind- and kite-surfers, it has a chilled small-town feel, with red, wooden beach huts hidden amongst the grass behind the beach.
How to get there
From Halmstad or Båstad, it's just 20 minutes by car to Laholmsbuktens Strand.
Where to stay
A clever mix of art deco styling and contemporary architecture, the elegant Hotel Riviera Strand sits right on the beach, surrounded by woods.
Tylösand, Halland
The nicest way to approach Tylösand beach is along the Prins Bertils Stig walking trail, a leafy path that stretches from Halmstad for 18km through coastal forests, past stone quarries and rocky cliffs.
You don't have to walk, of course – you may want to just head straight there and relax on the golden sandy beach sheltered by tall patches of sun-bleached grass.
How to get there
If you're not walking along the picturesque Prins Bertils Stig, take bus #3 or #19 from Halmstad Österskans: then it's a 10-minute walk from the bus stop.
Where to stay
The upmarket Hotel Tylösand sits on top of the dunes, with a luxury spa – and is a great spot for a sunset cocktail.
Den Blå Lagunen, Stockholm
Just a short drive from Stockhom in Ekerö municipality is Den Blå Lagunen (the Blue Lagoon), a beautiful inland lagoon.
Surrounded by forests with Lake Mälaren to the north, the lake's gorgeous turquoise waters and crescent-shaped sandy beach are popular with in-the-know locals.
How to get there
From central Stockholm, take the T-bana (metro) to Brommaplan, then change onto bus #311: the lake is about a 10-minute walk from the bus stop. Alternatively, it's a 50-minute drive from the city.
Where to stay
Den Blå Lagunen is a perfect day-trip destination, so most people stay in Stockholm and head out here for the day – check here for some great places to stay in the city.
See also:
Sweden on a budget
Five of the best islands to visit in the Stockholm archipelago
The best Swedish islands: our top 12