Beautifully sited on the island of Lovön, overlooking the waters of Lake Mälaren, Drottningholm Palace is a must-visit sight less than an hour away from central Stockholm. Among all of the great day trips you can take from Stockholm, this is one of the best.
Built in the 17th century by father-and-son architects the Tessins, the palace is beautifully preserved – it's home to grand formal rooms and is surrounded by lovely landscaped gardens.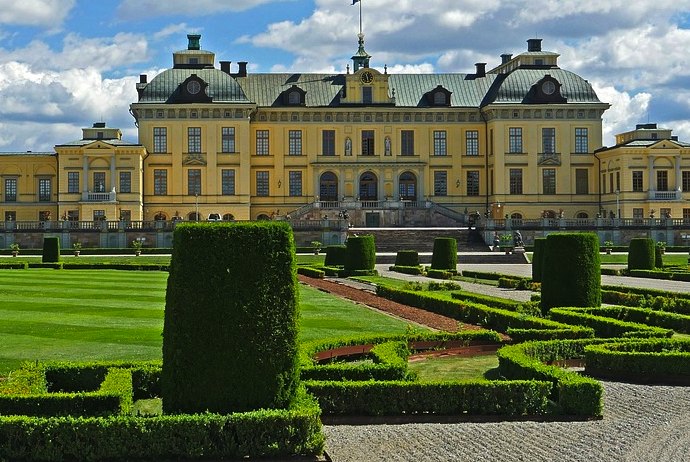 Why you should visit Drottningholm
Quite simply, it's beautiful! A Unesco World Heritage site, Drottningholm Palace is Sweden's best-preserved royal castle. While the southern wing is still home to the Swedish royal family, the rest of the palace and the grounds are open to the public to look round – and it's certainly worth a visit to marvel at its ornate furnishings and décor and the impressive gardens.
Drottningholm was modelled on the palace of Versailles. Although smaller than its French counterpart, it certainly has its fair share of grand rooms to admire, and you can easily spend a couple of hours wandering through in amazement.
Highlights include the plush Baroque bedchamber of Queen Hedvig Eleonora, plus opulent state rooms hung with glittering chandeliers and decorated with embroidered and silk walls.
Leave time, too, to explore the beautiful grounds, where there's a private theatre and an elaborate Rococo Chinese pavilion. The landscaped park includes an attractive mix of formal gardens, classical fountains and water features as well as more natural parkland and waterside walks.
★ SUGGESTED DISCOUNT
Save with the Stockholm Pass
Get up to 50% off at Stockholm's top attractions, including the Vasa Museum, SkyView Stockholm and The Viking Museum, plus discounts on some of the city's best boat trips.
When is the palace open?
Opening hours vary throughout the year and it's a bit of a journey from the centre of Stockholm, so we'd recommend checking ahead before you set off.
As a general guide, the palace is open on weekends from November–March (roughly 10am–4pm) and then  daily during the shoulder months of April and October. From May to September, the palace is open every day with longer hours of around 10am–5pm. Drottningholm also opens every day over the Christmas/New Year period from about 10am–4pm.
Other parts of the estate are only open at set times of the year (the Chinese Pavilion, for example, is open daily from May to September between around 11am–5pm). The estate park has free access and is open 24 hours a day, all-year round.
The Palace or parts of the palace may close occasionally throughout the year, for royal receptions, so do check the palace website before you go.
How much does it cost to get into the palace?
There are various different tickets options that combine entrance to the palace with the Chinese Pavilion and/or the theatre. But for basic admission to the palace alone, expect to pay around 130 SEK for adults (June–August 140 SEK); and 65 SEK (June–August 70 SEK) for students and children aged 7–17 years.
For a combination ticket including all three attractions (only available from May to September), expect to pay around 290 SEK for adults; 170 SEK for students; and 100 SEK for children aged 7–17 years.
Forty-five minute guided tours of the palace cost an extra 30 SEK (free for under 18s), with tours in English taking place from October to April at 11.30am & 1.30pm, and from May to September at 10.30am, 11.30am, 1.30pm & 3.30pm.
How to get cheap tickets
Holders of the Stockholm Pass get free admission to all three of Drottningholm's attractions, plus a free boat trip from central Stockholm to the palace (April to October only). There's more info on getting the Stockholm Pass in this guide. This discount card includes free admission to lots of the city's other attractions, so might be worth a look if you're staying for a while.
How to get to Drottningholm Palace
The quickest and cheapest way to get to Drottningholm from central Stockholm is to take the T-bana (metro) green line 17 to Brommaplan. Just outside the T-bana station, you'll find the Brommaplan bus terminal from where several buses depart to Drottningholm, including blue buses #176 and #177, and red buses #301 or #312. The whole journey from Central Station in downtown Stockholm takes around 40 minutes.
However, by far the most scenic and pleasant way to arrive is by boat. If you have a Stockholm Pass and are visiting in the summer, an hour-long scenic boat trip along Lake Mälaren to the Palace is included with the pass. If you don't have a Stockholm Pass, you can book the boat trip independently with the boat company Stromma. Boats leave regularly from Klara Malarstrand in Stockholm and cost around 230 SEK return (115 SEK for 6–15 year olds).
Alternatively, you can drive, which takes 20–40 minutes from the city centre, depending on the traffic. And if you're feeling really brave (or broke), you can rent a bike and cycle there in under an hour, though the cycle path runs alongside a busy road for most of the way and isn't particularly pleasant.
Tours to Drottningholm Palace
If you'd prefer to join a guided tour from Stockholm, there are several all-inclusive options on offer. From April until September, you can join this four-hour tour from Stockholm. It includes a quick tour of some of the city's main landmarks, before continuing on to Drottningholm, where you'll have a couple of hours to explore the grounds.
Alternatively, local company Stromma offers lunch or dinner cruises to Drottningholm in the attractive dining rooms on one of its restored historic ships, the S/S Drottningholm or the M/S Prins Carl Philip. If you really want to push the boat out, you can treat yourself to an upmarket tour that includes a two-course dinner on board the boat, plus tickets to an opera at the Drottningholm theatre (starting at 1445 SEK).
See also: 
Day trips from Stockholm
Is the Stockholm Pass worth buying?