There are enough centrally located sights and activities in Stockholm to keep you occupied for a week or more. Sometimes, however, you just want to leave the big city behind and get a quick taste of the 'real' Sweden.
These day trips from Stockholm are all easily achievable with public transport – leave early in the morning and you'll be back downtown in time for dinner.
Uppsala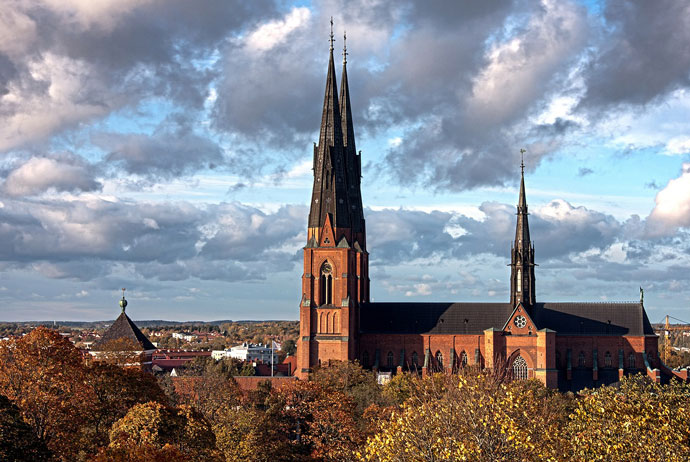 One of the oldest cities in Sweden and with a university that's been around for more than 530 years, Uppsala is just 40 minutes from Stockholm by train. On a day trip from the capital you'll have time to check out Domkyrkan – the biggest cathedral in all of Scandinavia – and the university's splendid Carolina Rediviva Library, which is stacked wall to wall with books.
Another reason for visiting Uppsala is to take a peek around its castle, which played a crucial role in Swedish history and is now home to three museums.
Getting there
Regional trains depart from Stockholm's central station, taking around 40 minutes to reach Uppsala (the station is in the centre of town). See our main Stockholm guide for more information on taking the train.

Skogskyrkogården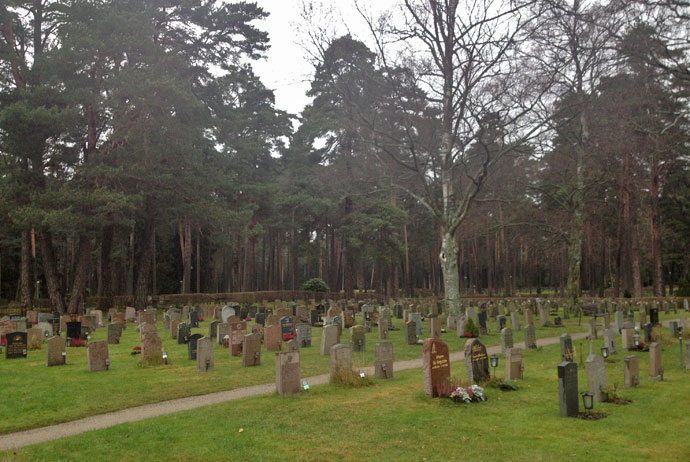 Okay, so this one isn't exactly far from Stockholm's city centre, but it still makes an excellent half-day trip. Skogskyrkogården (the woodland cemetery) is a World Heritage Site – impressive considering that, having been founded in the early 1900s, it's far younger than most other places recognised by Unesco.
Why should you go? To walk among the huge pine trees, interspersed with row after row of low headstones, and to see the architectural beauty of a place that was designed to help mourners at a difficult time of their lives (processional routes around the vast park were specially designed to evoke feelings of hope and reconciliation). More prosaically, Skogskyrkogården is the final resting place of the actress Greta Garbo – if you want to see her grave, it's at plot 12A.
Getting there
From Gamla Stan in the centre of Stockholm, take the green tunnelbana (subway) line towards Farsta Strand and get off at Skogskyrkogården. The journey takes around 15 minutes, and the park's main entrance is just around the corner from the subway station.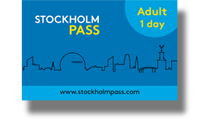 Is the Stockholm Pass worth buying?
Read this guide to see how much you could save during your trip!
Västerås
Although plenty of tourists fly to Västerås (cleverly, the airport is branded as Stockholm Västerås), few stick around to see the sights. However, this small-ish city around 100km northwest of the Swedish capital is a pretty place to explore, with higgledy-piggledy cottages edging the river that runs through its centre. We think it's one of the best side trips from Stockholm.
In summertime, the beaches that skirt Lake Mälaren are perfect for a dip. Johannisberg, around 6km southwest of the city centre, is one of the easiest spots to reach.
Otherwise you might fancy making the trip to Anundshög, Sweden's biggest burial mound. Some nine metres high, it dates back to around 900 AD. Around the site you can also see a collection of standing stones arranged – in ancient Scandinavian style – to resemble ships.
If you decide to spend the night in Västerås there are a couple of interesting places to stay, not least the local silver mine, which has a (very expensive) suite 155m below ground level.
Getting there
Frequent trains (roughly every half an hour) connect Stockholm's main train station with Västerås. The journey takes around an hour.
Boda Borg Oxelösund
For a completely different kind of day tour, head for Boda Borg in Oxelösund, around two hours from central Stockholm. At this fun activity centre visitors try to solve a series of mental and physical challenges (if you've ever seen The Crystal Maze, you'll know what we mean).
The tasks, which include trying to escape from a fake prison cell, are completed in small teams of three to five people, calling for plenty of teamwork and a bit of lateral thinking.
Getting there
Boda Borg is around 120km southwest of Stockholm. Note that you should reserve a place – don't just turn up. The easiest option is to drive, but it is possible to get there and back in a day using public transport. Take the Flixbus service from City Terminalen in Stockholm to Nyköping's bus station, and then change to bus 715 for the final, 30-minute journey to Oxelösund. Get off at Oxelögatan; Boda Borg is a short walk to the east.
Nyköping
Nyköping might seem like an odd place to visit on a day trip from Stockholm, but if you're flying home from nearby Stockholm Skavsta (it's just ten minutes away from Nyköping by road) then it's worth having a look around the city.
Chief among Nyköping's sights is the medieval castle known as Nyköpingshus, which now houses museum exhibits. If you're here during summer, we'd suggest making the trip out to the city's guest harbour – it's a popular stopping-off point for wealthy Swedes on yachting holidays, and has boats and bikes available for rent.
Getting there
Hourly train services run from Stockholm's central station, taking an hour to reach Nyköping. Arriving into Stockholm Skavsta Airport? Jump on LänsTrafiken bus 515 just outside the terminal – the journey to Nyköping takes 15 minutes.
Tom Tits Experiment
If you're travelling with kids and fancy leaving the city behind, but would still rather avoid a long trip away from Stockholm, consider visiting Tom Tits Experiment. Around 30km southwest of Stockholm in Södertälje, this strangely named complex is full of interactive science experiments, and will keep inquisitive kids occupied for a few hours. There's plenty of fun stuff for adults too – see our guide to exploring Stockholm with kids for more information.
Getting there
Tom Tits is easy to reach with public transport. Ride the train from Stockholm's central station to Södertälje Centrum and then start walking north. You'll reach the science centre after around 10 minutes.
Drottningholm Palace
Perhaps the single most popular day-trip destination from Stockholm is Drottningholm Palace. This isn't the Swedish king's official residence (that title is given to Kungliga Slottet in central Stockholm), but it is where he spends most of his time.
Built on an island, the palace itself shares space with carefully tended baroque gardens and a theatre that was built way back in 1766, and is still in use today. You can tour the grounds and palace (apart from the bit the royal family inhabit) all year round, though opening hours are limited to weekends during the winter. There's more on visiting the palace from Stockholm in this guide.
Getting there
In summer, touristy lunch cruises leave from Stadshuskajen near Stockholm City Hall, taking around an hour to reach the palace. Return tickets that include admission to the palace and grounds are also available. A cheaper, less scenic alternative is to take the T-bana (subway) to Brommaplan. Once there, change to bus 176 or 177 and get off at Drottningholm.
Stockholm Archipelago
Regardless of the time of year, a quick day trip into the Stockholm Archipelago is the perfect way to escape the city. There are thousands upon thousands of islands to explore, but to reach most of them you'll need a lot more than a single day (a private yacht would be useful too). Luckily there are plenty of options within easy reach of the city centre. Here are a couple of our favourites:
Vaxholm
The fact that the little island of Vaxholm is so easy to reach by boat (and indeed road) means that it can get very busy. Even so, it's packed with pretty wooden buildings and places to eat and drink, and provides a gentle introduction to the wider archipelago. There's also an impressive fort just offshore, which houses a museum. In summer, water taxis make the trip between Vaxholm and the fort every 15 minutes.
Getting there
Waxholmsbolaget boats leave from Strömkajen in the centre of Stockholm, arriving at Vaxholm Hotellkajen around 75 minutes later.
Grinda
A little further out into the archipelago and with more of a relaxed feel, despite its popularity with Stockholmers, Grinda has some excellent beaches. The majority of the island is given over to rocky forest, but there's also a hostel and campsite for overnight stays.
Getting there
To reach Grinda, take the same service that's bound for Vaxholm (see above). The total journey time is around two and a half hours.
Bonus option: Finnhamn
Finnhamn is a bit too far from Stockholm to reach comfortably on a day trip, but it's worth considering if you want to spend just one night out in the archipelago. The forested island is beautifully serene and is crowned by a cosy hostel. There's a sauna available for hire by the water's edge – otherwise there's little to do here except wander along the woodland trails and enjoy the isolation of being far out among the islands.
Getting there
Boats run by Waxholmsbolaget leave from Strömkajen in the centre of Stockholm. Allow around 4–5 hours for the journey.
Birka
Easily reached by boat on a day trip from Stockholm, the preserved Viking settlement of Birka is a must if you like history.
The village sits on the island of Björkö in the middle of Lake Mälaren, and served as an important trading hub between the ninth and tenth centuries. As well as an excellent museum, which provides a good introduction to Viking activity in the area, Birka is home to a Viking village with reconstructions of typical dwellings.
Getting there
Strömma runs boat tours to Birka from the quay near Stockholm City Hall, including entry to the museum and a guided tour of the site. May–September only.
Helsinki
It's not really doable as a day trip (unless you fly), but it is possible to make a quick ferry journey from Stockholm to Helsinki and back.
Viking Line boats leave Stockholm in the late afternoon, arriving in Helsinki the following morning. After a day in the city, you can re-embark the ferry for the overnight trip back to Stockholm. Book far enough in advance and prices aren't too bad at all – we were quoted €35 for a return trip in October.
Side trips from Stockholm to see the northern lights
Being able to see the northern lights in Stockholm is an extremely rare occurrence. You could feasibly take a day trip to the far north of Sweden to see the aurora, but it would involve taking a domestic flight very early in the morning from Stockholm to a northern city such as Luleå, Gällivare or Kiruna, and then heading out into the countryside for some proper dark skies. Even then, there's no guarantee that you'll see any lights before your flight back to Stockholm (it could be cloudy, or there could simply be a shortage of solar activity).
The best advice is to allow at least a few days in the north of Sweden to maximize your chances of seeing the aurora. Kiruna and Abisko both make excellent bases. Here's our full guide to seeing the northern lights in Sweden.
Like what you've been reading? Get our best tips by email!