If you only have time for one big attraction in Stockholm, make it the state-of-the-art Vasa Museum, which was purpose built to house a magnificently well-preserved 17th-Century warship. There's really not anywhere else quite like it.
The museum's story begins way back in 1625, when the Swedish king ordered four large, heavily armed warships to help fight his enemies on the other side of the Baltic. Three and a half years later, the first ship – Vasa – set sail from Stockholm on its maiden voyage. Then, after 1300 metres, it sank.
Centuries passed. But in 1956 an amateur archaeologist struck gold, discovering the galleon some 32 metres beneath the surface in a busy shipping lane. The muddy sea floor had begun to swallow the boat, but its wooden hull remained remarkably intact. What followed was a super high-tech salvage operation and in 1961 – after 333 years below water – Vasa was brought back to the surface.
The Vasa Museum was built to house the boat and has a few special features that aren't immediately obvious to visitors. The humidity inside the museum is strictly controlled to help protect to the ship's fragile wood, for example. And the ground floor, where visitors enter, is designed to be at exactly the same height as the boat's original waterline.
The sheer size of the ship is impressive: it's 69 metres long, nearly 12 metres wide and, with its masts and rigging, more than 52 metres tall. Only a few parts of the boat needed to be replaced before it went on display – 98% of what you see today is from the original. The museum's walkways provide views of the ship from almost every imaginable angle, including glimpses into its cavernous interior.
Galleries around the edge of the museum describe life at the time of the ship's construction and – most importantly – reveal why the boat went down. (Its flawed design made it ridiculously top-heavy, and there was barely enough ballast on board to cope with a light breeze).
Some of the craftsmanship on the Vasa is incredibly detailed, however, like the richly carved sculptures that decorate the ornate stern, and the gun ports that were designed to reveal wooden lion heads when opened, intimidating enemies. A scale model of the Vasa, positioned alongside the actual ship, shows how it might have looked when it set sail (researchers say parts of it were painted in bright reds and golds).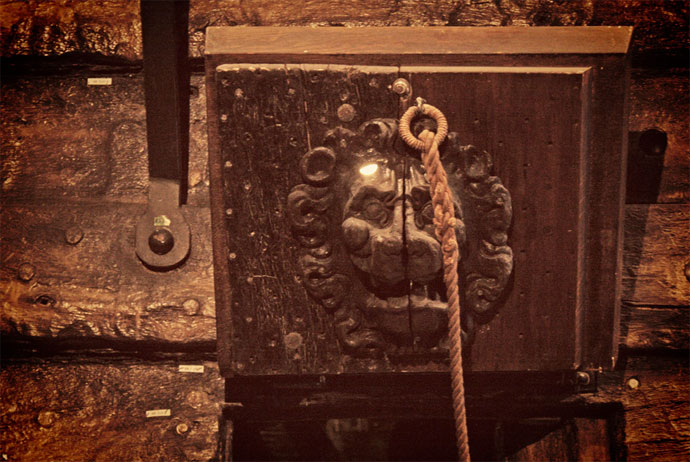 Other highlights here include a pair of very well preserved cannons, and a section that looks at the hardships of life aboard other Swedish warships. Expect to spend an hour or two looking around.
Vasa Museum entrance fee
130 SEK. On Wednesdays between Sept–May, admission after 5pm costs 100 SEK.
Getting there
The easiest option is to take a tram from Sergels Torg (in Norrmalm) towards Waldermarsudde. Get off at Nordiska Museet/Vasamuseet. You'll find more on using the tram in our guide to getting around Stockholm.
Vasa Museum Stockholm
Galärvarvsvägen 14
Djurgården
Stockholm
+46 851 954 800
vasamuseet.se
June–Aug daily 8.30am–6pm; Sept–May daily 10am–5pm. Late opening until 8pm on Wed.
Like what you've been reading? Get our best tips by email!