With its dramatic snow-clad mountains, deep blue fjords, lush meadows and orchards, the countryside around Bergen is a paradise for hikers.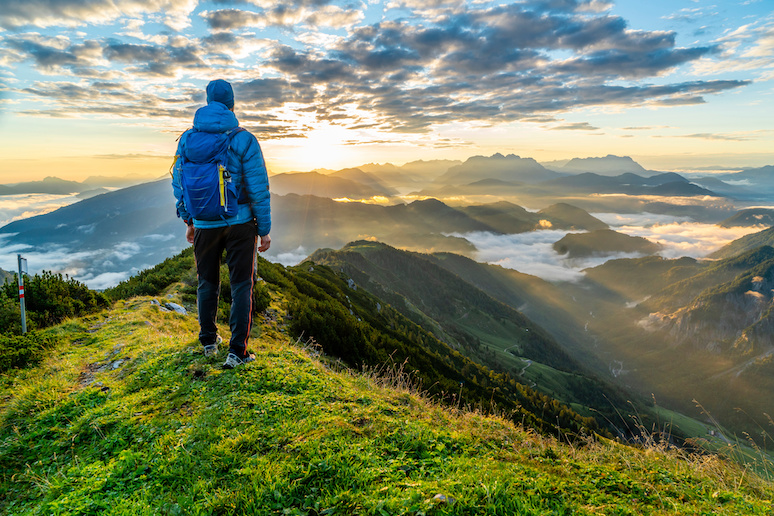 Here we'll look at some of the best hikes near Bergen, dig deep into the practicalities and explain why Bergen should be on every outdoor enthusiast's bucket list.
Why go hiking near Bergen?
First and foremost, the unspoilt scenery and the amazing views makes Bergen one of the best places to go hiking in Norway.
There are few places in the world that can offer walkers the drama and the views that the mountains, fjords and landscapes around Bergen can.
But it's not just hardcore hikers that Bergen appeals to. The region's hikes and trails vary from easy strolls that are suitable for families, children and couch potatoes to more challenging full-day hikes for experienced walkers.
Using Bergen as a base also gives you access to some of Norway's most beautiful fjords, and it's got a great range of tours and trips to help you explore the area or have fun on an extreme sport adventure.
Check out our post for some of the best fjord tours from Bergen.
There are plenty of things to do in Bergen for non-hikers, including including fjord tours, boat trips and the attractive Bryggen (old town) to explore. Read our post for ideas of 25 free and cheap things to do in Bergen.
Our top 3 hiking tours near Bergen
Climbing the Sandviksfløyen path to the Sandviksfløyen viewpoint is one of Bergen's most popular hikes. This three-hour guided hike leaves from the city centre and takes you past beautiful mountain lakes with great views over the city and fjords.
Exploring the path and mountain scenery above Mount Fløyen is a must-do trip in Bergen. This half-day guided hike starts with a steep uphill trek, then explores the beautiful paths and unspoilt countryside above Bergen.
Or why not choose a mystery trip that guarantees stunning sea-to-summit scenery and mountain views? This tour starts in Bergen, but the destination is decided according to the weather and where the group wants to go. Possible destinations include Mount Hananipa, Mount Bruviknipa and Mount Arnanipato.
Top hiking routes near Bergen
There are plenty of hiking routes near Bergen to suit all levels of ability, from beginners to serious mountain walkers.
So whether you want a challenging mountain climb or just a gentle fjord-side stroll, here are some of the best walks near Bergen.
Blåmanen
One of the seven mountains that surround Bergen, Blåmanen is 554 metres high and provides spectacular views from its summit.
This challenging full-day walk takes in the summit of Blåmanen, Lake Storevatnet, Lake Rundemansdiket, the top of Mount Rundemanen and Mount Fløyen.
If you'd rather do the trip with a guide, this tour takes in Blåmanen, the Fløyen funicular, the Vidden trail and includes lunch in a mountain hut.
Length
The hike is only 10km is length, but due to the steep terrain, you should allow several hours to do the walk. You'll also want to factor in enough time to rest and enjoy the views.
Difficulty
Challenging. You need to have a decent level of fitness and some experience in mountain hiking to tackle this route.
Some of the terrain is rugged and it has an ascent of between 20 percent and 40 percent, with an average of 36 percent.
Tysnes Island
The island of Tysnes is south of Bergen, and has several walking routes of varying lengths and difficulties.
The island's summit, Tysnessåto stands 752 meters high and the hike up here takes in beautiful views towards Bjørnafjorden and the Folgefonna Glacier.
To get to Tysnes from Bergen, it's a 30 minute drive to Halhjem where you can get a ferry to Våge on the island, which takes about 35 minutes.
Length
The summit can be approached from a variety of starting points depending on how long a hike you want. The quickest route to the top is from Myrdal, which takes around an hour if you're fit!
Difficulty
The Myrdal route is the shortest and steepest route up the to summit, and requires a reasonable level of fitness. Less experienced walkers may prefer to start at Dalen, Skaret or Solheimsdalen for a longer, but less challenging walk.
Håøytoppen at Frekhaug
This popular walk up to the Håøytoppen follows an old military road past grasslands, and even has beaches where you can stop off and swim en route.
Although the summit is only 171 metres high, the views from the top are impressive on a clear day, taking in the islands of Askøy, Sotra and Fedje and the mountains of Vaksdal and Os.
The hike starts from the car park at Flatøy, a 35-minute drive north of Bergen.
Length
The round-trip up to Håøytoppen and back is just 6km, and can be easily done in around two hours.
Difficulty
This is an easy hike in summertime across soft ground and well-trodden paths, though waterproof boots are recommend as the ground can be soggy.
The walk is suitable for children, families and those with little hiking experience.
Fjellveien
The Fjellveien path runs along a ridge above Bergen and gives great views of the towering mountains above and the town and fjord below.
It's a pretty path that runs through woods, past mountains streams and through the pretty Sandviken district with its charming white wooden houses.
To access the path, you can either walk steeply uphill from Bryggen in central Bergen, or you can avoid the hill and take the Fløyen funicular – get off at the mid-way stop.
Length
The path is 4.5km long. You can either just walk the track one-way then cut back down to the city, or walk it both ways in a couple of hours.
Difficulty
Although steep to get to, once you're on the path it's an easy walk, perfect for beginners and families. The track is generally a wide pedestrian gravelled path that is also popular with runners.
Once you're on the path, it's quite flat with just a few steps and rougher stretches.
Fløyen to Øvre-Eide
The hike from Fløyen to Øvre-Eide is a beautiful walk that starts from the top of the Fløyen Funicular and ends up at a lovely family-run farm in Øvre-Eide, where you can visit the animals and sample some homegrown Norwegian dishes.
Passing through a mountain landscape of forests, lakes and streams, the path ascends to the summit of Mount Sandviken then follows the valley of the old mail route between Trondheim and Bergen.
Length
The path is around 9km long, and takes about three hours to walk. You can either walk it both ways or get a bus or taxi back into Bergen at the end (around a 10-minute drive).
Difficulty
The entire walk is on gravel roads, so the conditions underfoot are good, but you'll need a good level of fitness to tackle the ascents.
Dronningstien
One of Norway's most beautiful walks, Dronningstien is also known as the Queen's Path, as it was the favourite hiking trail of Norway's Queen Sonia.
In the Hardanger district, east of Bergen, the path has spectacular views over the Sørfjorden, mountains and parts of the Folgefonna Glacier. It's a varied trail that takes in lush orchards, dense forests and high mountain terrain.
Length
The path is 16km long and takes a good 6–9 hours to walk. Shuttlebus Hardanger can provide bus transport to drop you off at the beginning and pick you up at the end of the walk.
Difficulty
This is a strenuous path with an ascent of over 1100 metres, so it's not suitable for beginners or those with any physical issues. You'll need a good level of fitness to tackle it.
Can you hike near Bergen all year?
Summer is the main hiking season around Bergen, with May to September being the most popular months.
Some of the higher trails and paths, such as the Queen's Path can only be walked from July to mid-September, while other more low-lying paths are accessible from April to November.
Some paths, such as the Fjellveien, can be tackled in winter on skis or snowshoes. Generally speaking if you want to hike in winter, you're best off going with a good guide, who'll check the weather conditions and provide all the gear you need.
Is hiking near Bergen safe?
Hiking near Bergen is safe provided you are properly prepared and well-equipped. If you're going out without a guide, always tell someone where you are going and when you expect to be back.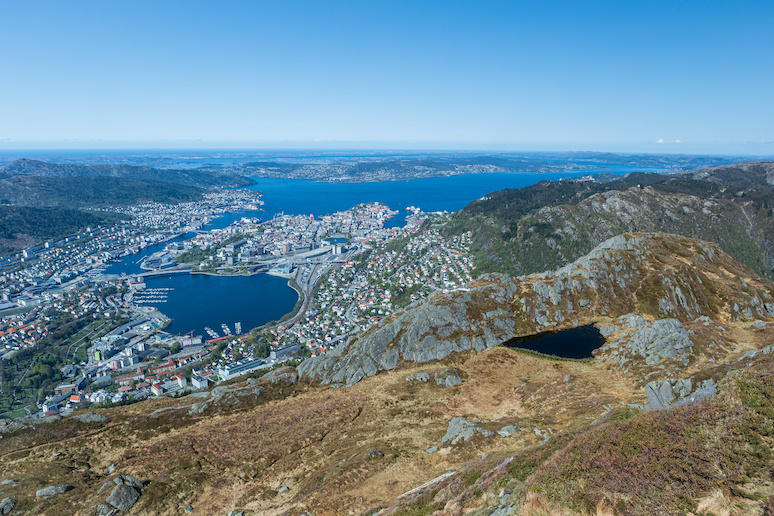 Ideally, hike with a friend or a guide, so that someone can go for help if needed. And take local advice about the conditions in the mountains, as the weather can be very different from Bergen.
The weather can change very quickly even in the height of summer, so make sure you have adequate clothing.
Even if it's sunny when you set out, you may well have rain and strong winds while you're walking so bring layers and waterproof clothing.
Essential gear for hiking near Bergen
Sturdy waterproof walking boots
Waterproof jacket
Warm hat, gloves and scarf
Sun tan lotion, sun hat and sunglasses. The sun can be blinding and strong if its does come out!
Water
High-energy snacks
A phone
A map
Can you camp wild near Bergen?
Wild camping is allowed in open country all over Norway, provided you follow a few basic common sense rules. For the lowdown on the do's and don'ts of pitching a tent, read our ultimate guide to Camping in Norway.
But if you prefer a bit more comfort, there are several lovely campsites near Bergen, where you can pitch up with a tent or camper van, or rent a cabin or cottage.
We love the Solneset Farm campsite, about 20km east of Bergen, with rooms and plenty of space to pitch a tent.
It has animals, hammocks by a lovely lake, a barbecue area, a sauna, and there's a great hike from the farm to Bergen over Mount Ulriken.
About 15km south of Bergen, the long-established Grimen Camping sits on the shores of Lake Grimevatnet, with its own beach and garden and mountains views.
It has pitches for tents and camper vans as well as a few cabins to rent. The site is well located for access to hiking trails plus kayaking and canoeing on the lake.
See also:
Visiting Bergen on a budget
Exploring the fjords with a fjord card
10 of the best places to stay in Bergen