Norway is home to some of the last unspoiled natural wonders in Europe, with scenic landscapes just about everywhere you look. If you're interested in getting away from it all on a long-distance hike, you'll be spoiled for choice in Norway. There are incredible walking trails all across the country.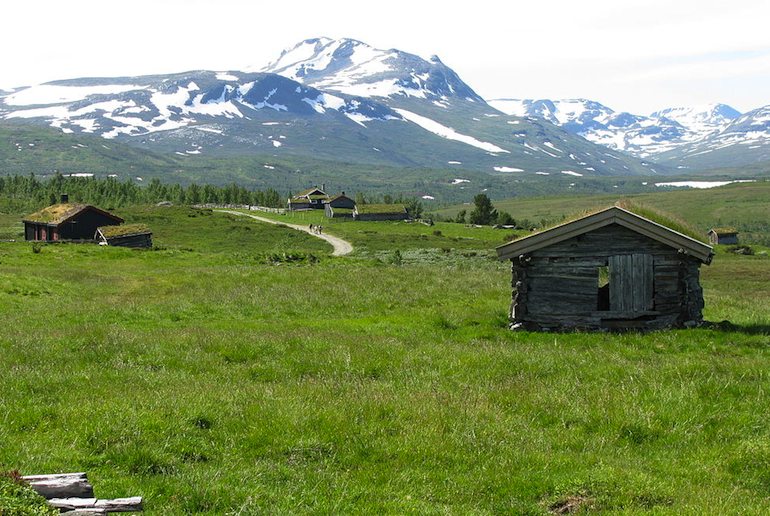 Hiking is a favourite Norwegian past time, which means that most trails are in excellent condition and on longer routes there are often good accommodation options to choose from.
Read on for some of the best long-distance hikes in Norway, including trails that usually take several days to complete with huts to stay in along the way.
Trollheimen Triangle Route
One of Norway's most popular hiking areas, Trollheimen is a beautiful valley in central Norway that's surrounded by mountain ranges.
Located in the counties of Møre og Romsdal and Trøndelag, the Trollheimen Triangle is a route that connects three mountain lodges – Gjevilvasshytta, Trollheimshytta and Jøldalshytta. Each side of the triangle takes around 8 or 9 hours to hike and the path is considered relatively challenging, so bring strong boots.
The route begins at Gjevilvasshytta, which can be reached via a public bus from the town of Oppdal. From here the trail takes you through pine and birch forests and past crystal blue lakes for 21km (around eight hours' walking), to Trollheimshytta.
If you're looking for an extra challenge, you can add in a round trip from Trollheimshytta to Snota, one of Norway's finest summit hikes.
From Trollheimshytta the triangle continues to Jøldalshytta, which takes around seven hours to complete. The final leg is the path back to Gjevilvasshytta: it's the most gentle part of the trail – a walk of about 6–7 hours.
The Jotunheimen Trail
Jotunheimen literally translates as "Home of the Giants" in Norwegian and when you start the hike you'll soon see why. This mountainous region of southern Norway covers an area of roughly 3,500 square kilometres and is home to 29 of the country's highest mountains.
Starting in Gjendesheim, the Jotunheimen Trail takes you across the famous Besseggen Ridge with its breathtaking views over Gjende and Bessvatnet lakes. This 14km-long hike takes around 7–9 hours, and is a very demanding trail, recommended for experienced hikers only.
The bus from Oslo to the trailhead at Gjendesheim takes around six hours, but it only runs from June to late September.
Rondane Triangle Route
Established in 1962, Rondane is Norway's oldest national park. It covers a vast area of more than 950 square kilometres and boasts ten peaks above 2000 metres.
The park stretches across a unique barren landscape with rocks encrusted with lichen – and look out for wild reindeer along the hiking trail.
The designated hiking route in Rondane is known as the Triangle Route and takes around five days to complete. Each day covers roughly 10km and there's accommodation at the end of each stage in Rondvassbu, Dørålseter, Bjørnhollia and Spranget.
The hike is graded easy to medium, with the most demanding part of the trail being between Dørålseter and Bjørnhollia where the incline is quite steep.
The route begins in the national park at Spranget, which can be reached by direct train from Oslo to Otta, then a bus from Otta to Spranget.
The Østerdalen Path
The Østerdalen Path is an old pilgrimage route dating back to the early Middle Ages.
Stretching over more than 315 kilometres, this peaceful path winds through lush wild valleys, meadows and forests and can take up to eleven days to complete, depending on your levels of fitness and determination.
The majority of the path is fairly easy to walk, as it covers mostly flat, low-lying areas in the valleys, and there are plenty of huts where you can spend the night along the way.
There are two access points for the path, one comes in from the west in a town called Rena, and the other from the east at the border with Sweden. We recommend starting at Rena, as it's easier to reach by train from Oslo. From Rena, the Østerdalen path continues all the way up to Trondheim.
Finnskogleden Trail
The Finnskogleden Trail is a 13-day hike that takes you from Morokulien through the Finnskogen forest to Søre Osen. As its name implies, this route was used by the Finnish immigrants who settled in the Finnskogen forest in the early 1600s.
Unlike other mountainous hikes in the rest of Norway, the Finnskogleden Trail is relatively flat and heavily forested, which means you may well spot a moose or two. The total distance from start to finish is around 240km.
There is accommodation available at each stage of the trail, including Håvilsrud, Mitandersfors, Lebiko, Øyermoen, Askosberget, Røgden, Løvhaugen, Röjden, Medskogen, Haldammen, Bråten, Håberget and Søre Osen.
However, some of the cabins are unattended without supplies, so you'll need to bring your own food. The trailhead at Morokulien can be reached from Oslo by train in around two to three hours.
Nordkalottleden
Finally, if you're looking for a really challenging hike in the north of Norway – and have plenty of time – then look no further than the Nordkalottleden.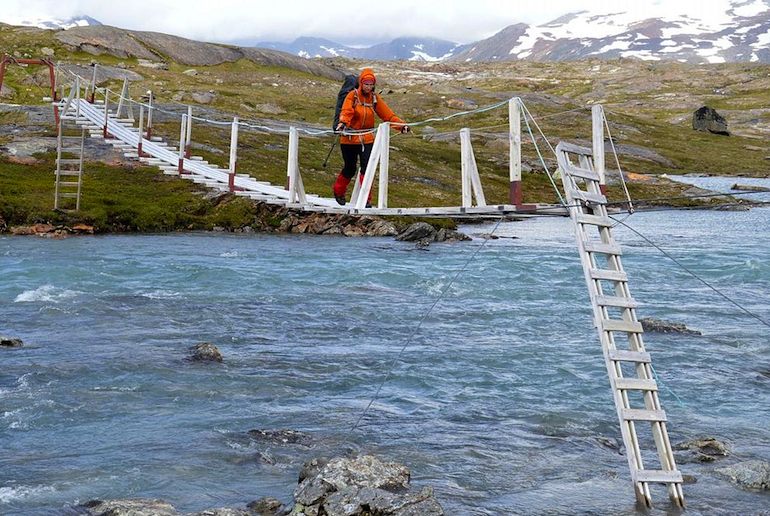 This trek, also known as the Arctic Trail, spans a total length of 800km. It starts and finishes in Norway, but takes you through parts of Sweden and Finland too, zigzagging across the borders a total of 15 times.
The trail starts in Sulitjelma and ends in Kvikkjokk, and it takes around 45 to 50 days to complete. Along this hiking trail, you will witness everything the Norwegian landscape has to offer from dense forest to snowy mountain ranges and tranquil lakes.
Whilst there is plenty of accommodation along the Nordkalottleden route, large parts of this trail are very desolate and careful planning is needed before going.
Hiking in Norway: when to go
The best time to go hiking in Norway is between mid-July until late September, when the days are longer and the temperatures higher. During the winter months, snow and ice can also make many hiking trails inaccessible.
In warmer low-lying and coastal areas, the hiking season can sometimes extend from May until October. Check out our post on the best time to visit Norway here.
Hiking huts in Norway
The brilliant part about hiking in Norway is not just the stunning landscapes, but also the excellent infrastructure in place for hikers.
Around the country, you'll find hundreds of huts and cabins that are run by the Norwegian Trekking Association (DNT). The huts range from staffed lodges to self-service cabins.
Although the self-service cabins are cheaper and come with a gas stove and kitchen equipment for cooking, you'll have to carry your own food with you.
Planning a hike? Get insured
Whilst hiking in Norway is generally a safe activity, it's vital to have adequate insurance, particularly if you're planning a long-distance trip through the more remote regions.
Shop around to find a policy that suits your requirements and get a few quotes. Make sure, too, that your policy covers any adventure sports or activities that you plan to do. We recommend World Nomads – you can get a quote for your trip below.
See also:
Eight great hiking tours in Norway
Norway's best national parks
The best hiking trails in Sweden
Like what you've been reading? Get our best tips by email!