Are you looking to get away from it all? Do you want to escape from the city and head off the beaten track? Well, Scandinavia's a great place to hole up in a remote cabin or out-of-the-way campsite.
With miles and miles of untouched scenery and a small population, the Scandinavian countries are perfect for getting back to nature.
There are plenty of places where your nearest neighbour is several miles away and you can look out of your cabin and see nothing but nature – or maybe the odd deer or pony.
So, whether you're after a remote log cabin in Sweden, a stylish designer hideway in Denmark, a cosy yurt beside a fjord in Norway, or a traditional lakeside cabin in Finland, we've picked some of our favourite away-from-it-all accommodation.
Fjordside yurt, Norway
You can't get much closer to nature than these Sami yurts that sit right on a private beach. The Flo Lofoten Eco Escape has specially built yurts that are traditional in style, but have modern additions such as wooden decks and windows, so that you can lie in bed at night and look at the stars.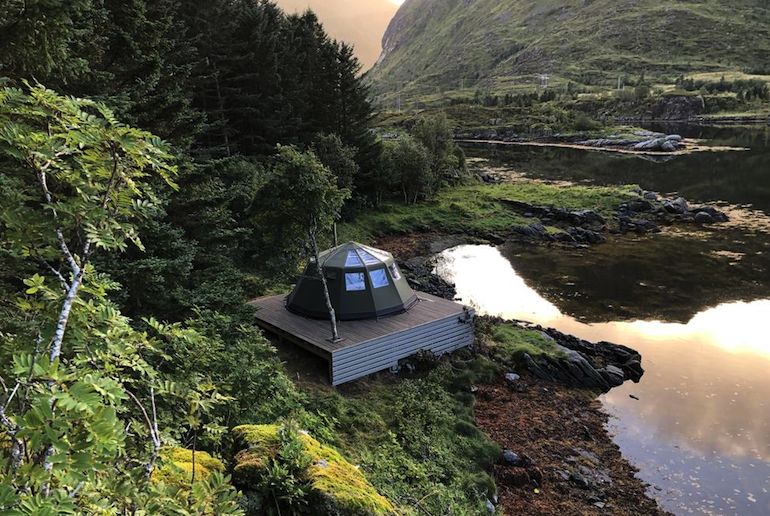 And of course, they are very cosy with wooden floors, a wood-burner and thick duvets to keep you warm. But it's the location that is the real draw. On the southern coast of Vestvågøy, in the Lofoten islands, it's a real escape-from-it-all place, surrounded by mountains and sea.
There are great hikes nearby, you can go horse-riding across the island, fish for salmon in the sea and barbecue on the beach – and in winter there are good ski trails nearby.
Lakeside cabin, Sweden
With two lakes on its doorstep and surrounded by woods, this traditional Swedish cottage in Kronoberg county is a wonderful place to get away from it all.
It has a lovely garden with views of the lake and no neighbours nearby, so you really can enjoy the peace and quiet.
With two lakes to choose from, you can swim from sandy lake beaches or jetties, and go boating or fishing – and it's not far from Swedish south coast if you prefer a dip in the sea.
Stylish summer house on an island, Denmark
This beautiful summerhouse on the island of Orø in the Isefjord is decked out with Danish designer chic and has wonderful views across a grassy meadow to the sea. With four terraces so that you can make the most of the sun at any time of the day, it's the perfect place to escape the city and relax.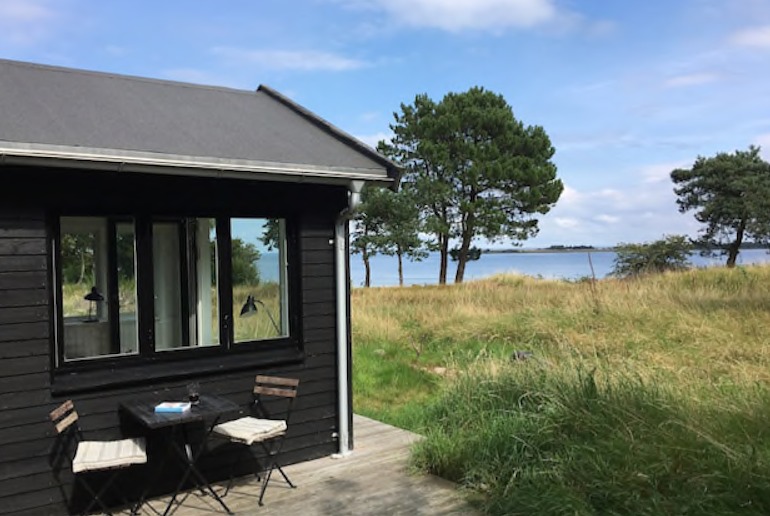 The island is separated from the mainland by a six-minute ferry ride, and has just one supermarket and a church. So, you'll just have to fill your days with lying in the hammock, swimming at the beach or exploring the pretty island by bike.
Riverside cottage in the woods, Finland
If you're looking for a remote hideaway in Finland, this comfortable wooden riverside chalet is tucked away in the woods, some four miles from the nearest small town of Luosto.
Called Räkkipirtti, the cottage boasts lovely views over the nearby river Kitinen from its terrace and great walking and cycling in the surrounding countryside.
It also has its own sauna and an outdoor fire pit room in the garden, plus plenty of ski trails in winter.
Hot tub cabin, Iceland
The ultimate away-from-it-all destination, Iceland has plenty of remote cabins and back-to-nature lodges. Looking out over a lake, the "Nest in the West" is a peaceful cabin on Iceland's west coast surrounded by greenery, a rugged landscape and mountains.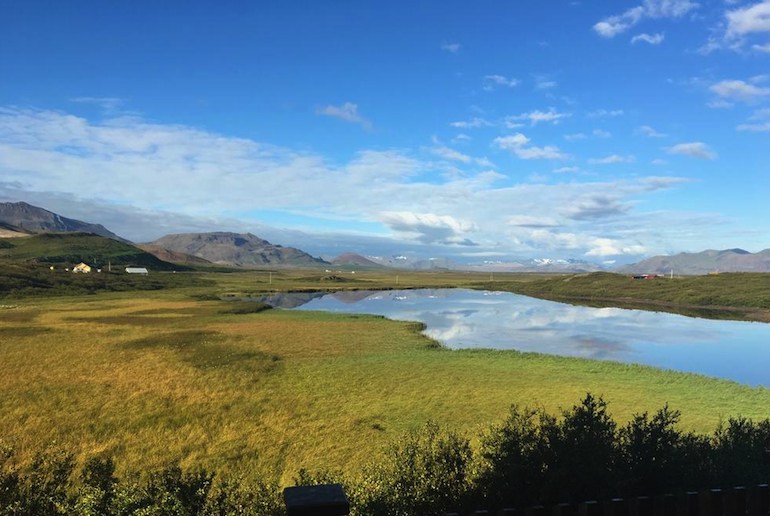 There are great hikes nearby and after a good day's walking or cycling, you can chill out in the large outdoor hut tub with views over the lake and mountains.
The well-equipped cabin is about five miles from the nearest shop, and accessed along a gravel track. But once here, you may well not want to leave – just settle down onto the large terrace, watch the local birdlife and look out for the northern lights.
Fabulous fjord cabin, Norway
The contemporary glass-walled wooden Aurora Fjord Cabins sit right on the edge of the Lyngen Fjord, with stunning views of the sea and mountains.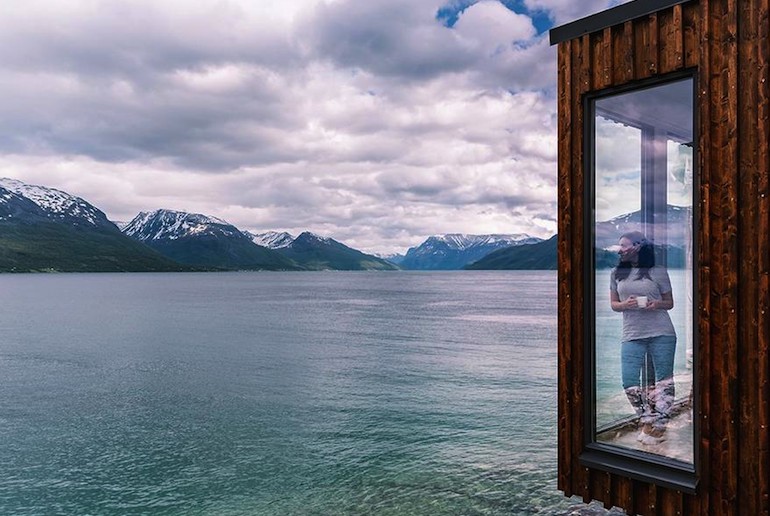 There's no light pollution so you can watch the northern lights from the comfort of your cabin – and in daylight you're more likely to see seals basking in the sea below than other humans.
You may not be completely on your own here – there are 10 cabins in total – but the remote location tucked away on the shores of the fjord on Norway's rugged north coast is unbeatable.
The cabins are a picturesque two-hour drive from Tromsø, and seven miles from the nearest supermarket, though there is a handy whisky distillery on the doorstep.
Chalet in the dunes, Denmark
In a quiet cul-de-sac, just 200 metres from the beach, this grass-roofed chalet is tucked away behind the dunes and blends into the surrounding landscape.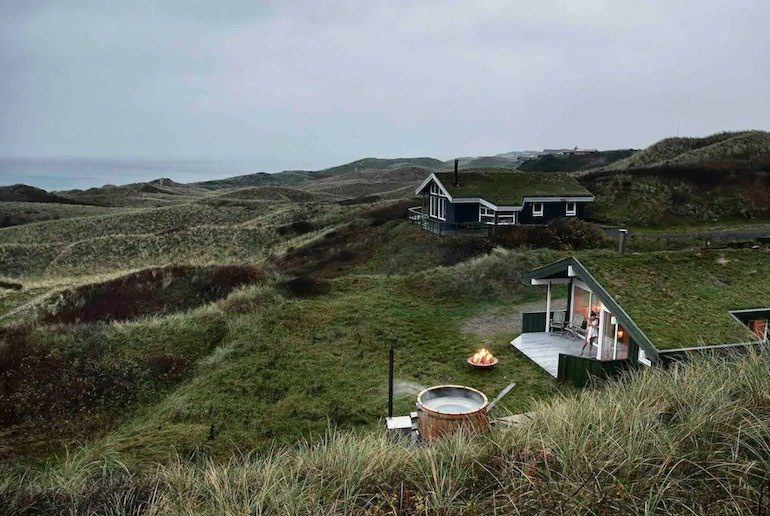 It does have some neighbours, but they are far enough away that you can use the outdoor hot tub in peace or relax on one of the terraces with a glass of wine.
The cabin itself is cosy inside, with a woodburner and large wall-to-ceiling windows so that even on cold a day you can hole up and look out onto the windswept waves at sea.
See also:
10 of the coolest airbnbs in Scandinavia
The best places to stay in Norway
Unusual places to stay in Denmark