Of course, the exact location of Santa's North Pole workshop is top secret.
But the good news is he's set up satellite offices at several locations in Scandinavia and the Nordic countries.
All of these spots are worth a visit for more than just Santa, so if you're considering a Christmas-themed trip to the top of the world, plan on giving yourself a few days, at the very least.
You'll need time to visit the big man, drive a dogsled, take a reindeer ride, do some skiing, warm up in the sauna, and even get some Christmas shopping done while you're at it.
Here are some of the best places to see Santa in Sweden, Norway and Finland.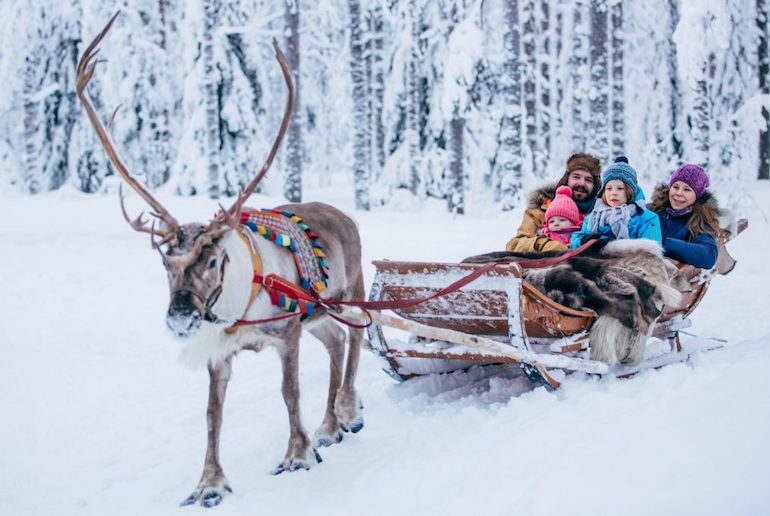 Rovaniemi, Finland
As any Finn will tell you, Santa is Finnish.
And while perhaps a few Swedes and Norwegians would beg to differ, thanks to the fact that Lapland also stretches through their countries, there's no question that Finns do Christmas very, very well.
Santa's most visited 'official' residence is Santa's Village in Rovaniemi, Finland, right on the Arctic Circle. If you're looking for the full-on, magical Santa experience, this is it.
Santa's Village has a charming 'office' set up, where Santa meets his visitors.
It's free, you don't need an appointment and, naturally, Santa speaks perfect English, so no worries there. After your visit, you can go for a reindeer sleigh ride, a dog-sled ride and, of course, shop and eat.
You can also post letters in the official North Pole post office where they'll be stamped with the official Arctic Circle postmark. No matter the time of year, if you put your letter in the special red post box, it'll be held for Christmas delivery.
Mrs. Claus has a house at the holiday village, too, complete with singing elves and cookies.
And, you can step over the actual Arctic Circle which cuts right through the village. It's all a little touristy, some might even say kitsch, but it's a fun, memorable experience – and not just for the kids.
Once you're here you may as well take advantage of everything else that Finnish Lapland has to offer, including snowmobile tours, husky-sledging , hiking trips, sauna and hot-tub experiences, frozen waterfalls and, of course, the northern lights.
There are plenty of tours available from Rovaniemi, including this northern lights by snowmobile trip, this reindeer and husky farm trip where you can drive a sleigh pulled by reindeer and, for the hardy, this ice-fishing and ice-floating trip.
The dog-sled experience at Santa's Village is budget-friendly, quick, and surprisingly beautiful, so don't miss it, especially if you don't have the time or funds for a full or half-day sled excursion elsewhere.
Getting there
Rovaniemi, the de facto capital of Finnish Lapland, is a ninety-minute flight from Helsinki, and there are direct flights from abroad in season.
The most festive way to get here, though, is on the Santa Express Night Train from Helsinki, which takes about twelve hours.
Once you arrive, you can rent a car, catch a taxi, or pick up the Santa Village Express Bus, which circles between the airport, the train station, downtown Rovaniemi and Santa's Village.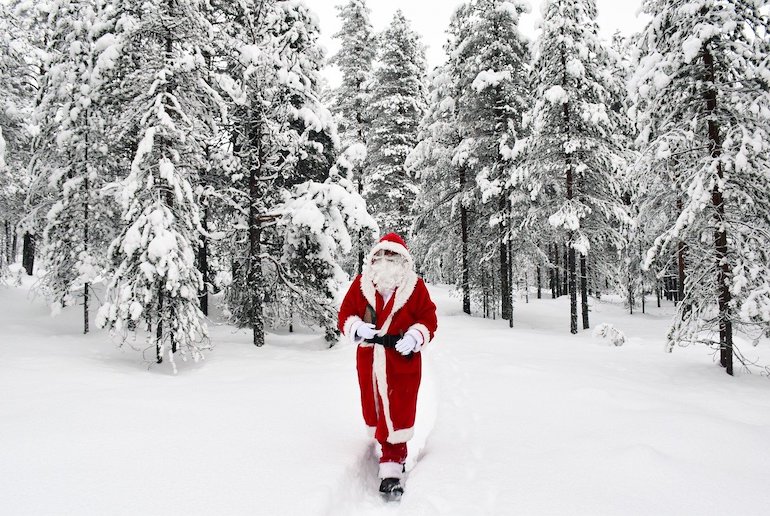 Where to stay: It's worth paying a little bit extra to stay right in the heart of Santa Claus Village – these classic cabins come with a private sauna – and Father Christmas is just a two-minute walk away.
Santaworld (Tomteland), Sweden
For a much more low-key Santa experience, head to Santaworld in Gusunda, central Sweden.
This Santa destination is, well, very Swedish. Instead of what many might consider "traditional" holiday fare, expect a Swedish fairy-tale experience with actors roaming the grounds in costume –including Santa and Mrs Claus.
Swedish characters such as trolls, witches and dragons mingle with the elves. It's very geared to small children, with carriage rides, pedal boats and plenty of magical places for kids to let off steam.
Plays are performed throughout the day, involving Fairytale Land being saved from the Troll King – these can be challenging if you don't speak Swedish or know the fairytales, but there are a few English performances, so look out for those.
And there are plenty of other things to do too, including meeting Santa's reindeer and other animals, plus Juleljus, the dancing Christmas tree, and Dusty the living snowman.
The best part of Santaworld is interacting with the characters, who speak English and are unforgettably delightful. And of course, Santa, who is as low-key and friendly as the rest of his friends.
Getting there
The nearest airport to Santaworld is Mora airport, about 15km away. Buses are possible from Sweden's major cities, but a car is really the best option – it's about a 4hr-drive from Stockholm.
Where to stay: A short walk from Santaworld, the Gesundaberget Lodge & Stugby has quad rooms for families, plus a sauna and children's playground. There's also skiing to the door, and they can sort out ski gear and lift passes.
Drøbak, Norway
Don't tell the Finns, but the Norwegians have their very own 'official' home of Santa, Drøbak, a small, charming, former maritime village about 35km south of Oslo.
There's a post office where you can send postcards with an official Santa postmark, and the tourist office has a permanent exhibition of 250,000 letters to Santa from all over the world.
Santa is in residence here over the festive season, and occasionally out of season too: you can check the exact dates here. The Julehuset (Christmas House), a huge Christmas-themed store where it's always Christmas, is open all year round.
And when you've had enough festive fun, Drøbak also has a small aquarium or you can take a ferry over to the Oscarborg Fortress.
Getting there: You can get to Drøbak in less than an hour from Oslo by car, bus or ferry. DrøbakGetting there: You can get to Drøbak in less than an hour from Oslo by car, bus or ferry.
Where to stay: Just five-minutes walk from the Julehuset, the Reenskaug Hotel has comfortable rooms in a historic building right by the Oslofjord.
See also:
Christmas tours in Scandinavia
Christmas in Sweden
The best Christmas markets in Scandinavia
Like what you've been reading? Get our best tips by email!