Did you know that Denmark is one of few countries in the world that doesn't have a proper national day?
Some people consider it to be Grundlovsdag (Constitution Day) on June 5th, though most Danes feel more of a surge of national pride when the bonfires are lit on Sankthansaften – Saint John's Eve.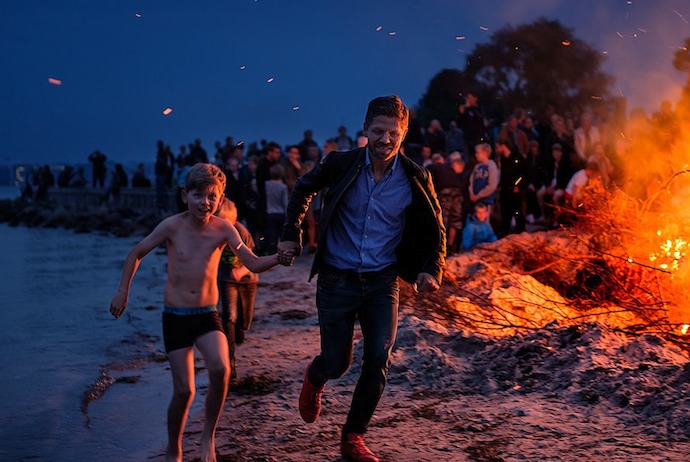 What is Sankthansaften?
The tradition of Sankthansaften is best described as a merger between the Sankt Hans celebrations (to commemorate John the Baptist) and the June Solstice, also known as midsummer in other northern European countries like Sweden, where it's also a big deal.
Historically the midsummer celebrations in Denmark were connected with pagan rituals, then later re-interpreted and adapted to fit with Christian traditions.
Today the celebrations are a mix of pretty much everything. But, for most people, it's simply an evening of friends and family topped with plenty of hygge around a glowing bonfire.
When is Sankthansaften?
Sankt Hans (Saint John) was born exactly six months before Jesus, so the Day of Sankt Hans is officially June 24th.
But according to Nordic tradition, celebrations always take place the night before, which means that June 23rd is Sankthansaften (just as Christmas is celebrated on December 24th in Denmark, instead of the 25th).
Sankthansaften: celebrations and customs
For hundreds of years, midsummer has been a good excuse for partying, singing and drinking – traditions that continue to this day. The Day of Sankt Hans was a public holiday until 1770, though this is no longer the case today.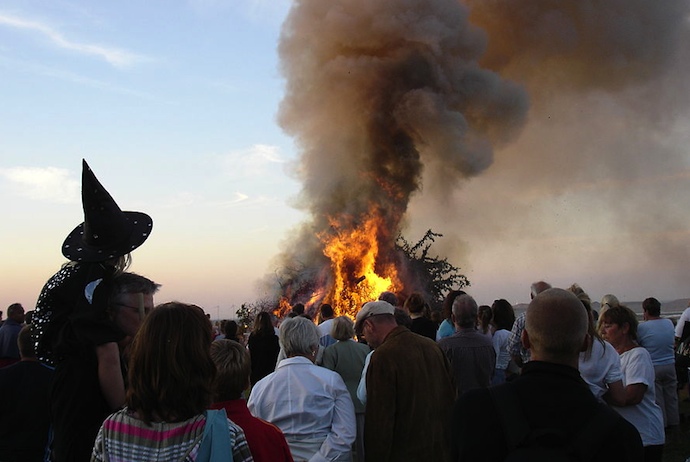 Although most Danes have to work the following day, Sankthansaften is still widely celebrated throughout Denmark, as people gather around bonfires at public events or with family in their own garden (weather permitting).
Historically the day was associated with symbolism, magic and superstitions. Since the 1920s, bonfires have been topped with a puppet resembling a witch to symbolise the burning of all things evil.
Sometimes the witch-puppet on the bonfire has built-in fireworks (yes really), making it sound like she's screaming in the flames.
Sankthansaften is a family event, of course. But it's also a horrifying nod to the days when women were accused of witchcraft and burned alive at the stake.
On a brighter note, some legends claim that the witches are set free when they burn and then fly to 'witch mountains' on their broomsticks. Bloksbjerg (Brocken) in Germany is one of the best known witch mountains.
Suddenly Santa Claus doesn't sound that crazy, right?
Sankthansaften celebrations in Denmark: what to expect
Today celebrations tend to be about good old Danish hygge. And for most public events, the recipe is the same.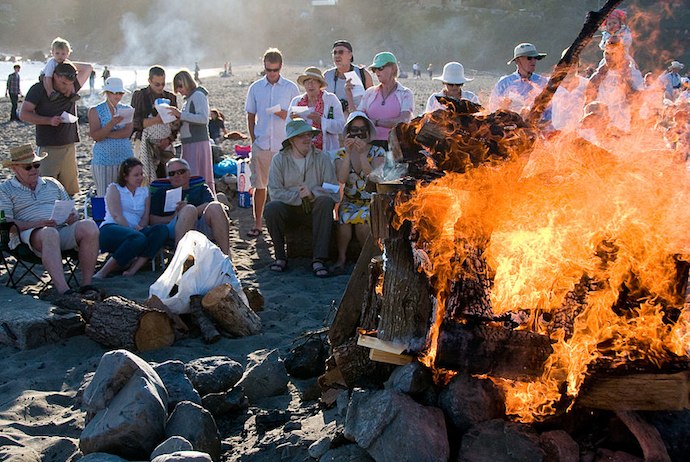 There's often a speech by a local celebrity, followed by lighting the bonfire and singing the traditional midsummer song, 'Midsommervisen', which was given a modern twist by the pop band Shu-bi-dua in 1980.
The bonfire is usually lit around 10pm, if the weather permits. And some bigger events may culminate in a proper fireworks display at midnight.
The 2020 festivities will be rather more muted than most years. Gatherings of more than 50 people are banned in Denmark at the moment, so most of the larger celebrations and public bonfires have been cancelled.
This means that many Danes will be celebrating at home this year with friends and family or at smaller, more low-key outdoor gatherings.
Some may head to the nearest beach and light a bonfire of their own to sit round with a few friends.
Where to celebrate Sankthansaften in Denmark
As well as bonfires, many churches around the country also hold special Sankt Hans services, and some put on their own events afterwards.
Public Sankthansaften celebrations can also be found almost everywhere, usually arranged by city or town councils, sports clubs or other local institutions. Most are free to attend, and you can buy food at some, or bring your own.
Here are some great places to experience Sankthansaften on June 23:
Copenhagen
Tivoli Gardens
Central Copenhagen's legendary amusement park is a great place to experience Sankthansaften (you can get skip-the-line entry tickets here). Once you've paid the entrance fee, you're free to enjoy all the activities inside the park.
This year, there will be no bonfire, but there are live theatre performances for smaller children throughout the day, a pantomime in the evening and a magical light show by the lake at 10.30pm.
Bakken
The iconic Bakken at Klampenborg, just north of Copenhagen, is one of the world's oldest amusement parks. It's free to enter (rides cost extra) and is an excellent place to enjoy a family-friendly Sankthansaften.
NB: This year (2020) the Sankthansaften celebrations at Bakken have been cancelled, but they hope to back with full festivities again next year.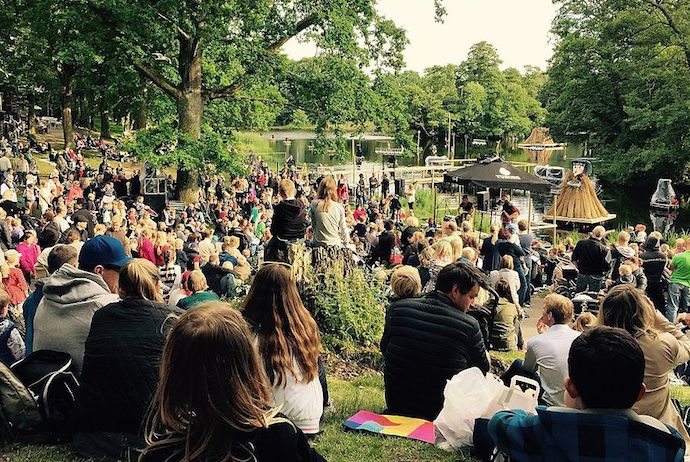 Bryggen
Entertainment, workshops for kids, concerts and a floating bonfire are the main elements of the Sankthansaften celebrations at Bryggen in Copenhagen's inner harbour.
NB: This year (2020) the Sankthansaften celebrations at Bryggen have been cancelled.
Aarhus
Friheden
Aarhus' own Tivoli park, Friheden (The Freedom), is a popular place to celebrate Sankthansaften in Denmark's second city. The entrance fee includes a full day of theme park rides, concerts and a floating bonfire.
NB: This year (2020) Friheden Park is closed for Sankthansaften, but will re-open on June 25th.
Universitetsparken
Join students and locals for a lively Sankthansaften at Universitetsparken, Aarhus University, north of the city centre. Grilled food, concerts and DJ tunes playing 'til the early hours. What's not to like?
NB: This year (2020) the big celebrations for Sankthansaften at Universitetsparken have been cancelled, but some small low-key events may be allowed in Aarhus: check here for the latest updates. Alternatively, you can simply stroll along the beach and look out for any bonfires lit by small gatherings of friends and family.
Fyn
Odense
Many Sankthansaften events take place around the fairytale city of Odense on Fyn, but most locals gather at the huge traditional bonfire in the meadow of Fruens Bøge.
Surrounded by green, its celebrations include speeches, free concerts and plenty of food and drink stalls.
NB: In 2020, most of the Sankthansaften festivities have been cancelled on the island of Fyn, including the bonfire at Fruens Bøge in Odense.
Kerteminde
The only Sankthansaften celebrations taking place on Fyn this year are in the small harbour town of Kerteminde, some 20km east of Odense.
Here, there will be two Sankt Hans bonfires, one on Nordstranden beach and one in the garden of the Johannes Larsen Museum.
See also:
Christmas in Denmark
Midsummer in Sweden: a 2019 guide
Sweden's best summer festivals