It's true: daily life in Scandinavian countries can be expensive, especially if you're visiting from another part of the world. And Norway might just be the most expensive Scandi nation of them all.
Visitors from almost all other countries will find food and drink (and alcohol in particular!) to be very, very pricey. However, there are other things – like transport and some types of accommodation, for example – that aren't quite as bank-breaking as you might expect.
We've come up with a handy guide to how much you're likely to pay for all the basics and essentials, whether you're just in Norway on a brief city break or looking to live here for good.
Accommodation
Food prices
Public transport
Alcohol and tobacco
Sightseeing and tours
Entertainment
Staying in touch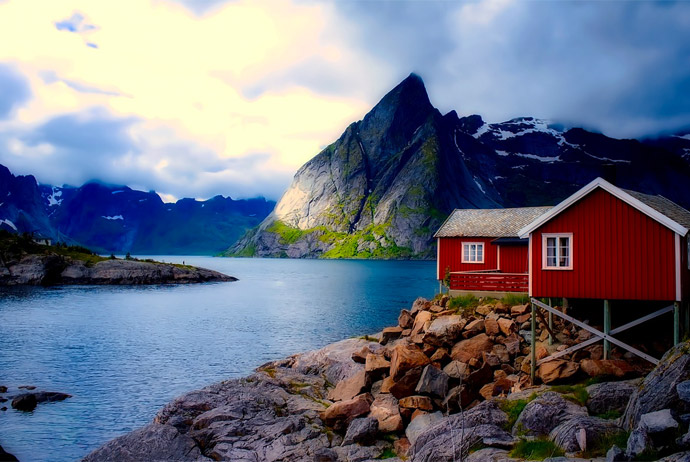 It goes without saying that all the prices we've included here are approximate and subject to small fluctuations, but we'll keep an eye on them over time and make sure they're updated if they change considerably.
Accommodation costs in Norway
The sky's the limit, of course, when it comes to hotel accommodation and if you're pushing the boat out at a swanky Oslo hotel in peak season, or one of these fancy rentals, you'll have no problem blowing upwards of 2000 NOK (around US $235) a night.
For those on a budget, however, Norway has an excellent network of good quality hostels, while good-value guesthouses and Airbnbs can be found in most parts of the country. An added bonus is that these usually have kitchen facilities so you can save money by cooking at home.
And if you have some flexibility as to when you travel, it will make a big difference to the price you pay. Many of the smarter, city hotels reduce their rates at weekends and during the summer, when most business people are on holiday.
| | |
| --- | --- |
| Short-term | Price per night |
| Hostel bed in a shared dormitory | 250–400 NOK |
| Double room in a budget hotel | 600–1000 NOK |
| Double room in a luxury hotel | 2000–3000 NOK |
| One-bedroom rental via Airbnb | 600–1500 NOK |
| Long-term | Rent per month |
| One-bed apartment (city centre) | 12,000 NOK |
| One-bed apartment (suburbs) | 10,000 NOK |
| Buying | Approx cost |
| One-bedroom apartment (city centre) | 3m–5m NOK |
| One-bedroom apartment (suburbs) | 2m–4m NOK |
Food prices in Norway
The cheapest way to eat in Norway, of course, is to buy food at a supermarket and cook it for yourself. However, it would be a shame not to eat out a few times and sample at least some of the country's fantastic cuisine.
The cheapest way to do this is to go at lunchtime, when many restaurants serve a good-value lunch menu. Or try the daily lunch special at one of the simple self-service kafeterias that locals frequent.
Alternatively, if you're staying at a good hotel or hostel, a good tip is to fill up at one of the all-you-can-eat breakfast buffets.
| | |
| --- | --- |
| Supermarket products | Price |
| Litre of milk | 18 NOK |
| Loaf of bread | 30 NOK |
| Local cheese | 100 NOK per kilo |
| 12 eggs | 40 NOK |
| Bottled water (1.5l) | 20 NOK |
| Restaurants | Price |
| Two-course meal (mid-range restaurant) | 250–300 NOK |
| Two-course meal (high-end restaurant) | 400–600 NOK |
Public transport prices in Norway
Norway has a comprehensive and efficient public transport system. Train and bus fares are fairly reasonable, especially when you consider some of the distances involved (and the challenging landscape which calls for seemingly endless tunnels and bridges).
Flying to some of the more far-flung reaches from cities like Oslo can be expensive, so you'll need to plan ahead to have any chance of getting a good deal.
Oslo's city transport is also reasonably priced, or if you're on a really tight budget, do as the locals do and cycle.
Where to buy travel tickets
Finding the best prices for your journeys within Norway can involve a bit of trial and error. But there are a few sites worth starting with. For train tickets, try the ACP Rail website, which lets you book in English and gives you the option to have e-tickets sent straight to your phone.
You should also keep an eye out for Minipris advance tickets at nsb.no, which give hefty discounts off long-distance fares. You can buy them 90 days before you travel, and they are limited in number, so the further in advance you can buy them the better chance you have of getting a bargain.
Lots of Norway's best long-distance bus journeys are covered by Nettbuss (Vy). The coaches all have their own toilets, plus free wifi and handy plug sockets for charging your gadgets.
| | |
| --- | --- |
| City transport | Price |
| Oslo 1 zone (single ticket) | 36 NOK |
| Oslo 1 zone (24hr ticket) | 108 NOK |
| Oslo 1 zone (30-day ticket) | 750 NOK |
| Long-distance transport | Price |
| Train Oslo–Bergen (single) | 300–1000 NOK |
| Train Oslo–Trondheim (single) | 400–1200 NOK |
Alcohol and tobacco prices
Although it's widely served in bars and restaurants, booze is very heavily taxed in Norway and for many budget travellers it's just too expensive to drink much more than the beer or odd glass of wine.
Beers with an alcohol content of less than 4.75% can be bought in local shops and supermarkets, but wines, spirits and any stronger beers are only sold in the state-run Vinmopolet shops (see this page for a list of locations). Stores close by 6pm on weekdays, and only stay open until 3pm on Saturdays. Oh, and Vinmonopolet is always closed on Sundays.
The cheapest wine at Vinmopolet starts at a not unreasonable 90 NOK, but spirits, such a bottle of Bushmills Irish whisky, will set you back around 470 NOK.
| | |
| --- | --- |
| Alcohol | Price |
| Bottle of wine at Vinmopolet | 95 NOK |
| Bottle of beer at Vinmopolet | 40–60 NOK |
| Bottle of whisky at Vinmopolet | 400–500 NOK |
| Draft beer at a bar | 55–60 NOK |
| Cocktail at a club | 130 NOK |
| Tobacco | Price |
| Packet of 20 cigarettes | 100–120 NOK |
| Snus | 80 NOK |
Sightseeing and tour prices
There's no shortage of sightseeing tours available in Norway, and they can definitely save you time and hassle if you're in a hurry.
However, it can be cheaper to do things yourself using public transport and by buying tickets for shorter tours individually. It's possible to enjoy a lot of the same sights that appear on the popular Norway in a Nutshell tour, for example, by doing things under your own steam (this guide shows you how!).
Boats tours around Norway's watery cities such as Oslo, can be fun, and usually come with a commentary, but you'll often find that the public ferry follows a similar route, taking in the same sights, but for a much cheaper fare. There are other ideas for Oslo tours on this page.
| | |
| --- | --- |
| Sightseeing | Price |
| Classic Norway in a Nutshell tour (24hr) | 3000 NOK |
| Oslo Pass (includes 30+ attractions; 24hr) | 445 NOK |
| Fjord cruise from Bergen (3hr) | 650 NOK |
| Dog-sledding in Tromsø (4hr) | 1890 NOK |
Entertainment and going out
Going out can be expensive in Norway. Some clubs charge an entrance fee of around 100 NOK (though this may include a free drink), while others are free – but don't forget to factor in the exorbitant cost of drinks once inside.
Sports and activities can be pricey, too, but if you have your own skates there are plenty of outdoor ice rinks in winter that you can use for free. There are lots of events to enjoy throughout the year – check out our Norway calendar to see what's on!
| | |
| --- | --- |
| Entertainment | Price |
| Gym membership (one month) | 400–600 NOK |
| Tennis court hire (1hr) | 200–400 NOK |
| Cinema ticket | 120–150 NOK |
Staying in touch with people back home
Data roaming charges depend on your individual phone provider and the country you're visiting from. So while some phone deals will provide free data roaming, while others don't. If you're visiting from another European country, remember that Norway isn't in the EU – read the small print and make sure you don't get stung!
If your provider does apply high roaming charges and you're staying in Norway for a while, it may be worth buying a Norwegian sim card – you can get the lowdown on finding a good deal on this page.
| | |
| --- | --- |
| Staying in touch | Price |
| Norwegian sim card | Around 100 NOK |
| Pre-paid calls within Norway, per minute | Around 1 NOK |
See also:
Free things to do in Oslo
The best places to stay in Norway

Like what you've been reading? Get our best tips by email!