One of highlights of any trip to Scandinavia is watching the northern lights, a stunning display of colours that play across the dark skies in swirls of green, purple, blue and yellow.
Venture north of the Arctic Circle in winter and you have a decent chance of seeing this phenomenon on a clear night. But which Scandinavian country has the best views? And how can you increase your chances of a sighting?
Here's our guide to all you need to know about the northern lights and where in Scandinavia is the best place to see them.
What are the northern lights?
When to visit
Where to go
Which country is best?
Recommended tours
What are the northern lights?
Also called the aurora borealis, or the polar lights, the northern lights are a natural display of coloured light caused by solar winds.
Particles in the upper atmosphere are hit by high energy electrons causing the lights in the sky to swirl around. If you're in the right part of Scandinavia and the conditions are just perfect, you'll enjoy an unforgettable show.
When is the best time to see the northern lights?
Statistically the most solar activity takes place in the springtime (March and April) and the autumn (September and October).
But of course, it needs to be dark to see the lights, so you'll have probably have a better chance of seeing them during the long dark nights from November to February.
And you often get better views when it's cold because the skies tend to be clearer, with less cloud cover. So to a certain extent, the further north you are in winter, the better the views tend to be.
Where to see the northern lights in Scandinavia
The lights are visible right across the northern reaches of Scandinavia, in a wide arc that stretches from western Norway, right through Sweden and into northern Finland.
There's no 'best place' to see them, but each country has its own charms, as well as unique tours and places to stay which can add a new twist to the aurora-spotting experience.
Just bear in mind that you almost certainly won't be able to see the northern lights in the big Scandinavian capitals like Stockholm and Oslo. Denmark is also too far south to offer any decent light shows.
Tips for seeing the northern lights in Scandinavia
You can see the northern lights in Sweden, Norway and Finland, but not Denmark
Visit between October and March for the best chance to see the aurora
Norway has the most spectacular scenery, but can be expensive to visit
Sweden and Finland both offer quirky accommodation, from igloo-style cabins to hotels made of ice
Consider joining a guided tour if you want to improve your chances of seeing the lights
Norway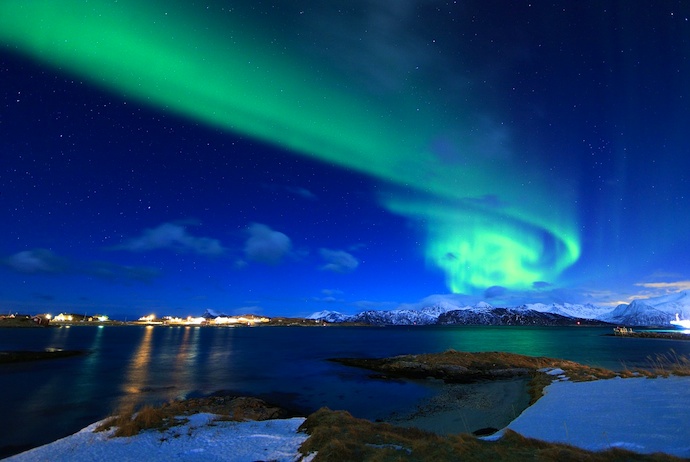 Norway is a great place to visit if you want to see and photograph the northern lights, thanks to the nation's spectacular coastal scenery – on this front, at least, no other Scandinavian nation can really compete.
One obvious downside is the high cost of living in Norway. Even basics can like food and accommodation can add up quickly, so it pays to plan ahead – check out these tips for saving money in Norway!
The chances of seeing much activity in the country's capital Oslo are quite small, so you'll have to head up to northern Norway. Anywhere north of Bodø in winter is usually a good bet.
The city of Tromsø is very much geared up for northern lights viewing with plenty of tours and activities available to help you get the best glimpses of the natural phenomenon.
Of course, you can head out on your own, but standing around in the cold, dark night waiting for the lights to appear can be a bore. It's way more fun when you're in a group and have got an experienced guide with you who knows what to look out for.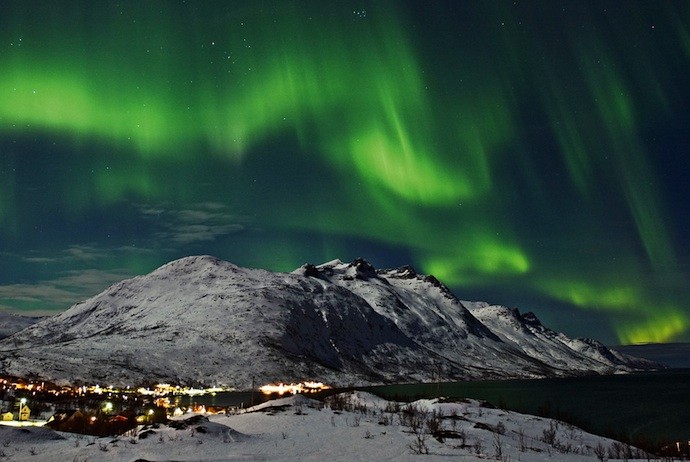 In Tromsø you can do anything from a simple chasing the northern lights tour, to a northern lights photography tour – or even a northern lights and husky ride trip.
But, if you want to view the phenomenon in more comfort, head further north to Alta, and the Sorrisniva Igloo Hotel. The hotel runs a northern lights tour, or you can simply settle yourself into the outdoor hot tub and wait for the show to begin in the dark skies above.
Of course, there's no guarantee that you'll see that you'll see the lights wherever you go – unless you're on one of the Hurtigruten boat cruises.
You can take a cruise any time between October and March on these iconic boats which ply the Norwegian coastline. They are so certain the lights will appear that they'll give you a free 6 or 7-day trip if they don't!
See our guide to the Hurtigruten boats for all you need to know about seeing the northern lights in style. There are more tips for seeing the northern lights in Norway in this guide.
Sweden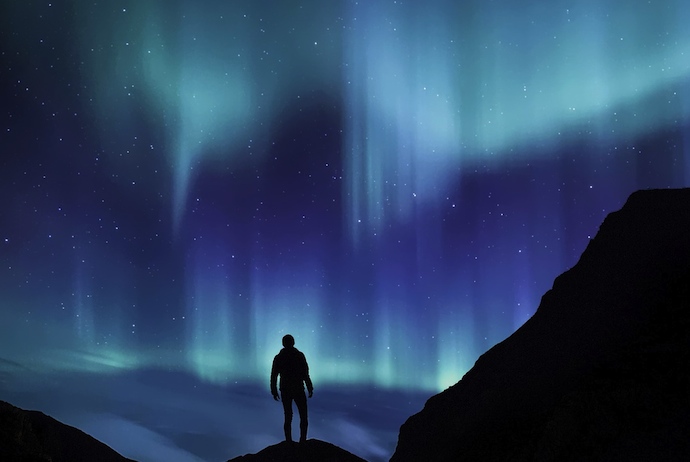 Just like in Norway, you have to head a long way north to get the best views of the light shows in Sweden.
The scenery in Sweden doesn't always compete with the beauty of Norway's fjords, but that's not to say it's ugly – Sweden's rivers, forests and frozen mountains are also extremely photogenic. Sweden is also much cheaper than Norway, so it's a better option if you want to see the northern lights on a budget.
Anywhere north of Jokkmokk is a good bet, with the lights appearing regularly throughout the winter.
Abisko is easily the best base for spotting the northern lights, since it lies in a rain shadow so the skies are often cloud-free. It's around 90km from the nearest city and is surrounded by a protected nature reserve, so there's very little light pollution.
Abisko's Aurora Sky Station claims to be the best place in the world to watch the lights.
With an outdoor terrace, full-length windows, look-out tower and expert guides and equipment on site, some form of nocturnal light activity can be seen here most nights. There's good, affordable accommodation at the nearby STF hostel and there are some fantastic guided tours on offer in both Kiruna and Abisko.
Finland
Finnish Lapland is also an incredible place to head for some good norther lights spotting. In clear skies, light activity can be seen here more-or-less every other night between late September and early March.
Just on the edge of the Arctic Circle, Rovaniemi makes for a natural base, with plenty of light-spotting tours available. How about combining viewing the lights with those most Finnish of activities – a forest sauna and some ice-fishing?
But, probably the best way to watch the northern lights is from the comfort of your own bed. In recent years, hotels with glass igloos have become popular around Finland.
Up in the north of Finland, near Saariselkä, the Northern Lights Village has glass-roofed cabins where you can stay warm and cosy while viewing the lights from your bed – so lie back and watch the show.
Which is the best Scandinavian country for seeing the northern lights?
Norway is undoubtedly the best place for seeing the northern lights in Scandinavia, especially if you want to capture the aurora dancing above spectacular fjords and waterfalls. However, Sweden and Finland are both great options if you want to see the northern lights on a smaller budget.
See also:
Seeing the northern lights in Norway
Seeing the northern lights in Sweden
Like what you've been reading? Get our best tips by email!