The gluten-free trend is catching on everywhere, and Copenhagen is no exception. Known for their good taste and healthy leanings, many Danes have been following the gluten-free diet, making it possible for more quirky, gluten-free outlets to pop up all over the city.
While occasionally pricey and often hidden away, these gluten-free bakeries, restaurants and street-food stalls will certainly not disappoint you.
Where to eat breakfast
Grød
Nordre Frihavnsgade 55, Jægersborggade 50 & the Torvehallerne food halls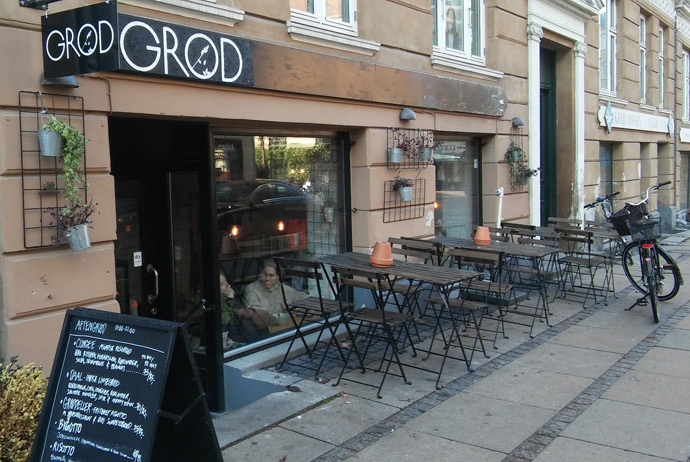 With three branches across town, Grød is a hyggelig place to sit down in the morning and grab a nice bowl of porridge. You can get a three-grain gluten-free oat porridge with chia and quinoa (plus three toppings of your choice) for just 50 DKK. Or, you can go all-in and add all of the available toppings for 75 DKK.
Grød also has a great selection at lunchtime with risotto (65 DKK) and dal (70 DKK) the two firm favourites. Despite that, breakfast is definitely their speciality – it's served until 5pm.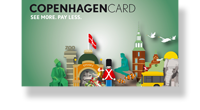 Is the Copenhagen Card worth buying?
Read this guide to see how much you could save during your trip!
Naturbageriet
Frederiksborggade 29
A great little place to grab a gluten-free pastry, the bakery known as Naturbageriet has detailed labelling and is fairly central, located between the Torvehallerne food halls and the lakes.
The sheer variety of food on offer makes Naturbageriet stand out; you can find anything from typical Danish treats like romkugler (rum balls) and hindbærsnitter (raspberry slices) to gluten-free focaccia. Head to Dronning Louises Bro afterwards and experience the bike madness during rush hour in the morning – it's just around the corner.
No website
Where to eat lunch and dinner
Hotdog stands
All around the city
The famous Danish hotdog stands might look like a tourist trap when you first walk past one, but they are definitely worth a try if you want to get a real feel for what the locals eat.
Unlike in other countries, most hot dog sausages in Denmark are gluten-free – just ask for one without bread. For a true taste of Denmark, try the white medisterpølse with remoulade for about 30 DKK. Once it gets to around 6pm, most hotdog stands close and the owners pull them along the busy streets of Copenhagen.
No website
Hija de Sanchez
Torvehallerne food halls
Between the two main market halls at Torvehallerne, Hija de Sanchez is a great little Mexican stand where everything is homemade.
On a summer's day it's the perfect place to enjoy good food in the sun while taking in the busy atmosphere. Both the tacos and the tortillas can be made without gluten, and if you eat here you're in very good hands – a former sous-chef from the famous top-end restaurant Noma works on the stand. Each taco costs around 40 DKK.
Palæo
Pilestræde 32 & the Torvehallerne food hall
Palæo only serves food that follows the paleo diet, so you can be sure that it avoids gluten and any processed ingredients. They serve curries, salads and healthy wraps plus a variety of juices and smoothies. If you're really hungry, you can double up the fillings for only 20 DKK, or get a cookie made from fruit and nuts as a dessert.
The main location is on Pilestræde, right in the centre of the city, but the chain also has several smaller restaurants. The paleo movement has become so popular that a range of the chain's products is even sold in 7-Eleven convenience stores around the city.
Joe & The Juice
Købmagergade 30, Landemærket 3 & various other locations
It's hard not to run into a branch of Joe & The Juice while walking around Copenhagen's city centre. This often-bustling juice bar and café serves plenty of health-conscious drinks and snacks, including natural juices, iced coffees and shots (the healthy kind).
The chain's paninis can be made using gluten-free bread, and you can add protein to your smoothies to make them more filling. Grab a gluten-free serrano panini with a power shake for just 100 DKK.
42 Raw
Pilestræde 32
Right next to Palæo on Pilestræde, 42 Raw offers a more laid-back atmosphere with raw, vegan, organic and vegetarian options in addition to the usual gluten-free ones. Grab a sandwich on the go, sit down for a salad, or indulge yourself and get a burger – they're decent value at around 130 DKK.
O Tempo
Åboulevard 11d
This small, authentic, Afro-Brazilian restaurant serves mostly gluten-free dishes, using cassava flour instead of wheat flour. Options that do contain gluten are marked clearly on the menu.
All dishes are well presented, and they're a fair bit cheaper than most other restaurants in Copenhagen. The Brazilian bean casserole is just 95 DKK, while a traditional caipirinha will set you back 60 DKK. They also serve gluten-free beer for 45 DKK.
Vita Boost
Torvehallerne food halls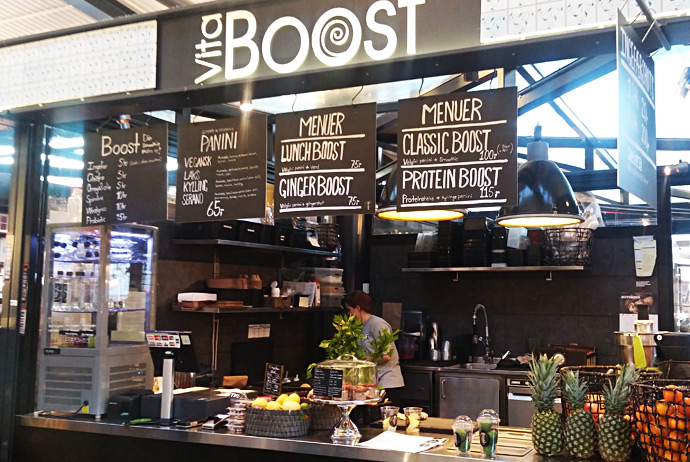 Located inside Torvehallerne, Vita Boost offers a limited selection of gluten-free paninis, juices and smoothies, all for the reasonable price of around 100 DKK. While they don't have much indoor seating space, Vita Boost's panini and smoothie combo is perfect for lunch on the run, and their gluten-free muffin is sure to have you coming back for more.
Cock's & Cows
Gammel Strand 34
Cock's & Cows is a burger place that, from the outside, may not look like anything special. However, it offers filling, gluten-free dinners at budget-friendly prices. Their gluten-free burger bun is homemade, the lettuce is organic and the meat comes from free-range farms. The cocktails are highly recommended, too.
Copenhagen Street Food, Papirøen
Trangravsvej 14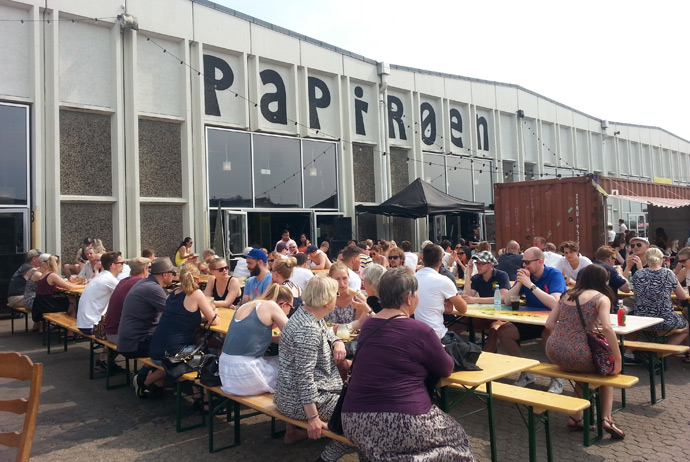 This famous paper-factory-turned-street-food-hotspot offers plenty of gluten-free choices, which you can enjoy indoors or outside, sitting at the edge of the canal watching boats float by.
From chips fried in duck fat to delicate Indian curries, you'll be able to get a decent gluten-free meal here for less than 80 DKK. Brass is a great example of a food stand that avoids gluten entirely, selling that all come with vegetables, fresh herbs and a yogurt tahini dressing.
Like what you've been reading? Get our best tips by email!