Fjords, mountains, Munch and murder – in a very stylish Scandi Noir way, of course. All these may well come to mind when you think about Norway. But scratch the surface of this long, thin, jagged Nordic country and there's plenty more to it than you might imagine.
National parks We love Sweden, Finland and Denmark, but they just can't compete with Norway when it comes to sheer natural beauty. Norway is blessed with so many jaw-dropping views that after a couple of weeks' of exploration, you can feel yourself taking them for granted. Some of the best beauty spots can be found with Norway's national parks (here's a guide to some of our favourites).
Fjords No where else can match Norway on the fjord front – there are more than a thousand of them dotting the country's coastline. Most people visit at least one, but it's worth trying to visit classics like Lysefjord and Hardangerfjord (home to the Trolltunga rock formation). You can see our top 10 Norwegian fjords here.
Glaciers You don't have to travel far from Norway's big cities to discover massive glaciers, some of which can be visited on guided tours. At some of the best ones, you can explore frozen crevasses and spectacular ice caves.
Winter sports Well, the Norwegians did invent skiing and have won more medals at the Winter Olympics than any other country … ever. So, it's not surprising that skiing, tobogganing, ice-skating and husky sledging and pretty much any other form of cold weather activity are all hugely popular here.
The northern lights No trip to northern Norway would be complete without spotting the northern lights. You can see the aurora pretty much anywhere in the central or northern parts of the country, as long as the weather is good, but there are a few main places to head for if you want to mix aurora-spotting with cosy accommodation and other outdoor activities.
TOURS AND ACTIVITIES IN NORWAYMORE TOURS
Cuisine With the resurgence of interest in using local, seasonal, sustainable and organic ingredients, Norwegian cuisine has become very fashionable in recent years. With six Michelin-starred restaurants – and one, Maaemo, boasting three stars – Norway's foodie credentials can compete with the best.
But even if your budget doesn't stretch to these heights, don't miss out on trying traditional delicacies such as smoked reindeer, the freshest fish and seafood – from sea urchins to salmon – plus cloudberries and cream, or even brunost (brown cheese). This guide has some tips on finding cheap eats in Oslo.
Islands Famous might not be the best word, but Norway has some amazing islands worth visiting. If you're looking for total isolation and the chance to see whales in the wild, check out some of the islands in the far north of the country, including Svalbard and the Vesterålen Islands.
Amazing rail journeys Norway's beautiful terrain means that even the shortest train journeys can quickly transform into magical adventures. Try one or two specific routes, like the train ride from Bergen to Flåm, or grab a Scandinavian rail pass to explore the entire country.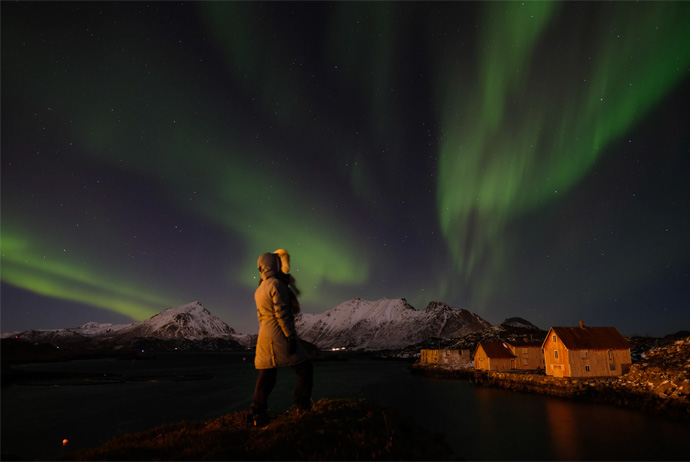 Eco-friendly energy Despite much of Norway's wealth being based on the oil and gas industries, some 98% of its domestic power comes from hydroelectric sources. Oslo was named Europe's Green Capital for 2019, and the entire country aims to be carbon neutral within a decade or so. And Norway is currently Europe's biggest market for electric cars, with almost 50% of new cars sold here being electric or hybrid.
Kos Forget the Danish hygge, Norway's kos (literally cosiness) is a state of mind that can include anything from warmth, comfort, kindness and safety to laughter and good times. So, light a candle, grab some good friends, hole up in front of a roaring wood-burner and tuck into some tasty heart-shaped waffles topped with cream and jam.
Road trips They may not be as iconic as Route 66, but Norway's 18 legendary scenic drives follow some of Europe's most heart-stopping roads over narrow mountain passes and along vertiginous steep-sided valleys. And if you tire of driving, you can stop at a series of architect-designed viewpoints to admire the dramatic scenery and awe-inspiring vistas. Our guide has tips on renting a car in Norway.
Design and architecture It's not all tiny turf cottages and ancient wooden churches. Oslo, in particular, boasts some impressive contemporary buildings such as the Opera House, with its walk-on roof, and Renzo Piano's Astrup Fearnley Museum of Modern Art. And in the countryside, buildings such as the Juvet Landscape Hotel use modern architectural techniques and cutting-edge design to blend into the surrounding nature.
Like what you've been reading? Get our best tips by email!