Copenhagen is a lot of fun to explore by bike, but if you want to get a different perspective you're going to need some altitude. Thanks to the city's flat-as-a-pancake terrain, it's easy to climb a few stairs and suddenly be able to see for miles, soaking up views of the crooked streets and colourful skyline from above.
The sheer number of church spires and Danish flags can leave you utterly confused as to what's what in Copenhagen, so visiting these viewpoints and landmarks is a great way to get your bearings and enjoy spectacular photo opportunities at the same time. On a clear day you can see all the way to Sweden from some of the city's best vantage points. These are some of our favourites.
Vor Frelsers Kirke
Christianshavn
Just a short walk from the arty commune of Freetown Christiania and with canals on all sides, the 17th-century 'Church of Our Saviour' offers one of the best views in Copenhagen.
The twisting, black-and-gold spire here doubles as an epic lookout post, but climbing the 400 steps to the top is not for the unfit – or the faint of heart. The climb starts with a maze of narrow wooden staircases that take you past the church bells and clock. Later, the final 150 steps snake around the outside of the spire until they become so narrow that you just can't climb anymore (but don't worry, there's an iron grille to keep everyone safe).
At the very top, 90 metres above the ground, you'll find a statue of Christ standing on a golden globe, looking out across the city. It's not just the charming canals of Christianshavn you can see from here – there are uninterrupted 360-degree views extending towards the Øresund Bridge, which connects Denmark with Sweden. This viewpoint very nearly didn't make it; apparently, during the 1807 Battle of Copenhagen, British forces used the spire for target practice.
If you decide to visit, avoid wet and windy days, when the tower tends to close. It's also closed for winter from mid-December to February.
Vor Frelsers Kirke
Sankt Annæ Gade 29
Entry: around 35–50 DKK
vorfrelserskirke.dk/taarnet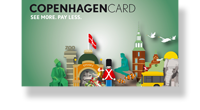 Is the Copenhagen Card worth buying?
Read this guide to see how much you could save during your trip!
Kulturtårnet
Københavns Havn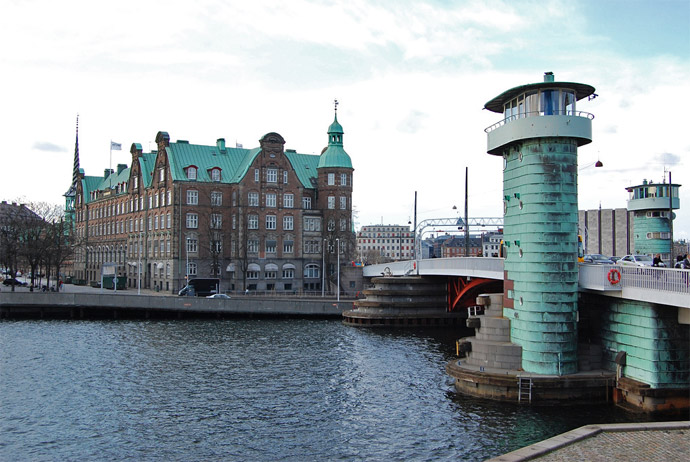 Once voted 'Place of the Year' by Danish newspaper Politiken, Kulturtårnet is the perfect spot for checking out local art exhibitions, having a drink on the balcony and watching the sun set over Copenhagen.
With a name that means 'the Culture Tower', this is one of two iconic copper control towers on the moveable bridge that connects Slotsholmen with Christianshavn. In 2017 it was repurposed as a cultural hub focusing on talks, music, exhibitions and gastronomic events, including a popular 'Friday Food' hangout.
You can grab a beer from the small but well-stocked cafe and head up to the top floor for a unique view of Copenhagen harbour. If you're into Danish cinema you might recognise Knippelsbro from two of the Olsen Gang films.
Kulturtårnet
Knippelsbro
Entry: around 20 DKK
kulturtaarnet.dk
Christiansborg Palace
Christiansborg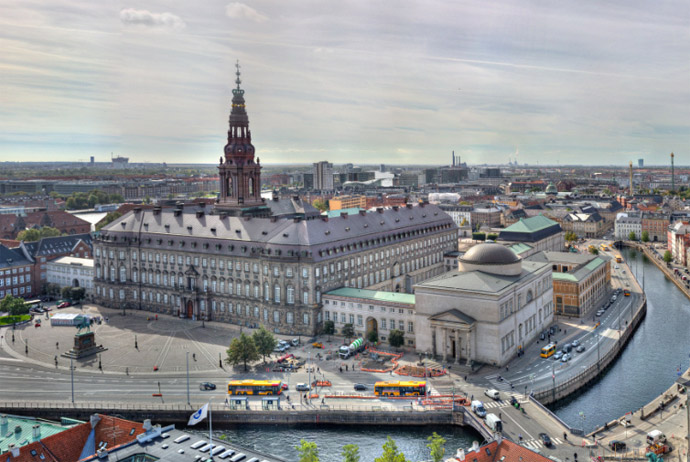 Want to visit Copenhagen's tallest lookout point and enjoy a nice view of the city without spending a single krone? Then head to Christiansborg Palace, home to the Danish parliament.
Construction of the current palace began in the early 1900s after a massive fire tore through the old building. It took more than a century for the viewing platform at the top of the tower to open the public. From the top, you'll see green copper spires poking out above a mostly uniform skyline of red and black rooftops.
Two elevators will take you up to the tower room used to store old plaster statues, some of which are on display today. Enter via the King's Gate, directly below the tower.
Christiansborg Palace
Prins Jørgens Gård 1
Entry: free
taarnet.dk
Konditaget Lüders
Nordhavn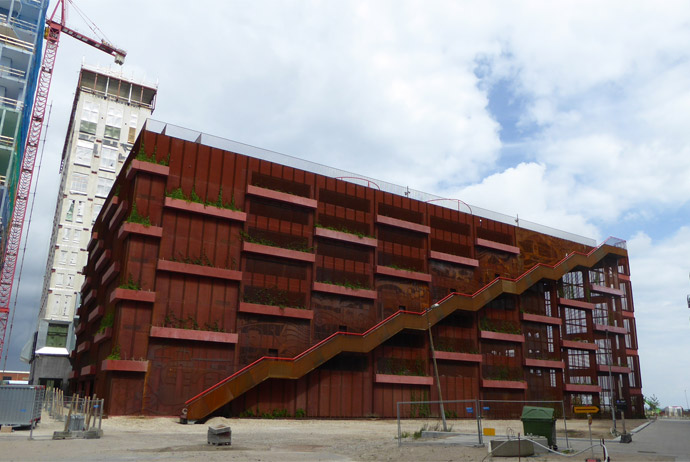 For something completely different, head around 5km north of the city centre to Konditaget Lüders. Covering some 2,400 sq m, this unusual rooftop playground sits atop a multi-storey car park in the blossoming Nordhavn area.
The fun starts with the external staircase – you might just see a line of people taking turns to run up to the top as fast as possible (a huge timer tells you how long it took). You'll also find trampolines, swings, a climbing spiral, monkey bars and even a 60-metre-long sprint track.
The equipment is all shades of red, which contrasts beautifully with the blue of the ocean views you can enjoy from the top. To get there from the centre, either cycle or take a northbound S-tog from Norreport.
Konditaget Lüders
Helsinkigade 30, Nordhavn
Entry: free
nordhavnen.dk
Rundetårn
Indre By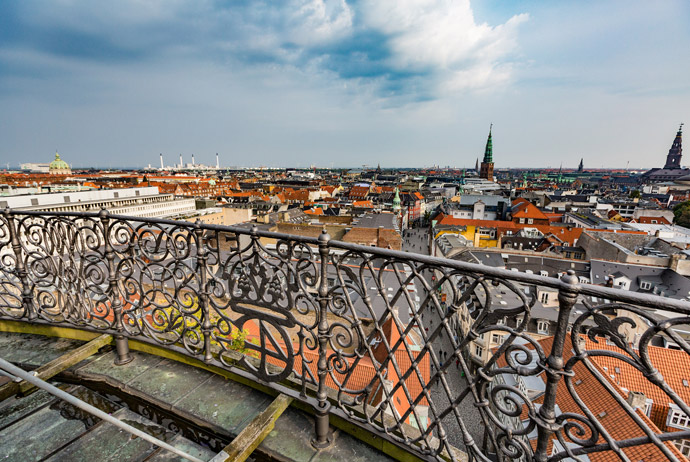 Kings, astronomers and horses have all made their way up the spiral-shaped ramp at Rundetårn (the Round Tower).
Right in the city centre beside Trinitatis Kirke (Trinity Church), this 35-metre-high tower once served as an observatory for Danish astronomer Tycho Brahe. It dates back all the way to 1642 and is still used today, making it Europe's oldest functioning observatory.
This viewpoint is a nice option for those who don't like to be too high up, but still want a good view of Copenhagen. Halfway up the ramp white-walled tower is the old university library hall that now hosts art exhibitions and is home to a small souvenir shop. The climb up is pretty easy, too – so much so that Peter the Great of Russia is said to have ridden the entire 209-metre-long ramp on his horse in 1716.
Rundetårn
Købmagergade 52A
Entry: around 25 DKK
rundetaarn.dk/en
Map of Copenhagen's best viewpoints and lookouts
See also:
Free and cheap things to do in Copenhagen
Stockholm's best viewpoints