When travel websites publish round-ups of Europe's best ski resorts, Sweden usually gets left out in the cold. And let's face it: for sheer drama, the Nordic nation can't really compete with the Alps. The mountains in Sweden aren't jaw-droppingly tall, and the runs are much shorter than anything you'll find at Chamonix or St Moritz.
But don't cross Sweden off your wishlist just yet. The skiing and snowboarding scene here is one of the most relaxed in Europe, and few Swedish resorts have the pretence or attitude you find at flashy resorts in the Alps. Even at the best resorts there are rarely ever big crowds, and the long Swedish winters mean that you can find good snow for at least six months of the year.
Isn't skiing in Sweden expensive?
Not necessarily – and lift passes can actually work out a fair bit cheaper than at destinations in the Alps. So while a five-day lift pass at Chamonix costs around €270 in high season, a similar pass at Åre in Sweden costs just 1910 SEK (that's around €205 at the time of writing).
Accommodation prices are fairly similar too, but you may find that things like food and beer cost slightly more in Sweden. Even if you choose self-catering accommodation and decide to make your meals at home, you'll be subject to Swedish prices (our guide to the cost of living in Sweden will give you an idea of what things cost). Also bear in mind that supermarkets near ski resorts tend to charge more for everyday items, so it's worth stocking up with supplies elsewhere in Sweden before reaching the slopes.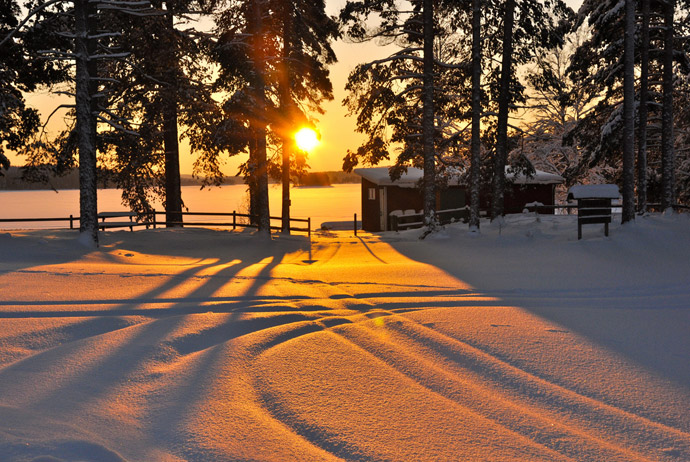 When is the best time to go?
Generally speaking, there's a very good chance of snow at ski resorts in central Sweden between late November and late April. The further north you travel, the longer this wintry season extends.
But do remember that good snow is only one part of the equation. Daylight (or the distinct lack of it) should be a major consideration when planning your ski trip to Sweden. In December and early January, the sun barely rises at all in northern Sweden, and there are just a few hours of sunlight per day in central areas. It is still possible to ski or snowboard (pistes are often lit by floodlights) but the extremely low temperatures between December and February mean that you'll need to wrap up extremely well. Warm, windproof clothes are essential.
In terms of getting a good deal on lift passes and accommodation, it's worth avoiding the main Easter holiday and the break that Swedes call Sportlov, which usually falls in late February. Prices at these times tend to shoot up, making the whole trip considerably more expensive.
If you avoid Easter then the best time to go skiing in Sweden is probably early April – there's still plenty of snow and the air temperature is fresh, rather than bone-chillingly cold. The days are also much longer, meaning you can spend more time out on the slopes before heading to the bar.
Where are the slopes?
You can ski or snowboard pretty much everywhere in Sweden. One area to avoid is the southernmost region called Skåne, which is as flat as a pancake, but otherwise you'll find small slopes dotted right around the country. Usually these places feature one or two very short runs, and will charge a small daily fee for lift passes.
For proper purpose-built ski resorts with a good mix of different runs, you'll need to head around 400–500km north of Gothenburg, close to the border with Norway. Heading even further north, you'll find resorts dotting central and western parts of the country all the way north to Riksgränsen – a whopping 1300km north of Stockholm by road – where it's possible to ski at midnight during Midsummer (which falls at the end of June).
What's the accommodation like?
Accommodation at Swedish ski resorts runs from basic, self-catering apartments that you have to clean yourself, all the way to cosy cabins and swanky hotel rooms with saunas. Generally speaking, you'll get what you pay for; simple lodgings are relatively cheap, while the more luxurious options are extremely pricey. One good thing is that, as with the rest of Sweden's accommodation scene, even the most basic options are generally clean and tidy, if a little uninspiring.
Can I rent gear?
If you don't fancy flying with your own gear or are still just starting out, then a good option is to rent what you need from the resort you're staying at. Skis, snowboards, boots, helmets and ski poles are all easy to borrow by the day, but if you want to be sure that you'll be comfortable, there's some stuff you should definitely buy before you arrive – at the very least you'll need a good thermal base layer, a fleece-like mid-layer and a ski jacket, plus salopettes and good gloves. Renting gear can work out to be expensive, especially if you're staying for a week or more, so it's a good idea to do a quick calculation – if you're planning to do more skiing or snowboarding in the future, it might be worth buying all the gear you need and flying it out to Sweden.
Five great places to go skiing in Sweden
Four of the country's biggest resorts are run by a company called Skistar, which offers everything from lift passes, ski lessons and equipment hire to accommodation, and does a good job of marketing Swedish skiing abroad. We've included a couple of Skistar's resorts here, but have also included a few others that aren't as well known.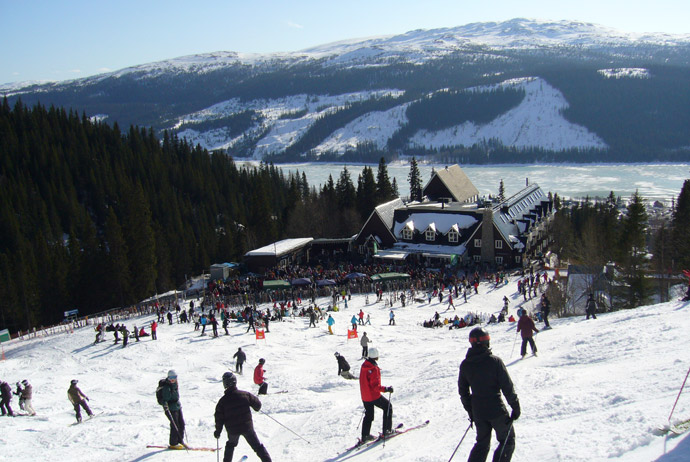 Åre
Åre (pronounced 'aura') is Sweden's best and most glitzy ski resort. Located around 800km north of Gothenburg near the Norwegian border, it has 89 slopes (including four black runs) and a vibrant 'village' that's home to dozens of shops, bars and restaurants. The longest run here is 6.5 km – big by Scandinavian standards. There's plenty of good accommodation here, from budget digs to exclusive hotels. You can check prices here.
Sälen
Easy to reach from Gothenburg, Sälen offers a good mix of red and black runs, but is primarily aimed at families. There are lots of flat, conveyor-belt-type lifts to help you get around the resort, and there's a popular 'troll forest' for kids to ski through featuring hundreds of wooden sculptures. The après ski scene here isn't as lively as Åre's, but you'll have no trouble finding somewhere cosy for a beer after a day on the slopes. There's also good accommodation.
Dundret
Perched above the mining town of Gällivare, high up in northern Sweden, Dundret offers 15 different runs and spectacular views of the surrounding forests. There's also a snowpark and a ski school, and equipment is available for rent. This is a small, relaxed resort with cabins set around a hotel (check rates on Booking.com here), but there is one nightclub – handy, given how long the nights are during winter.
Riksgränsen
If you fancy a real test, try skiing at Riksgränsen in the very far north of Sweden. The resort itself isn't particularly wow-inducing (most of the skiing here is off-piste) but the sheer amount of snow means fun is practically guaranteed. There's also another perk – the extremely long season means that it's possible to ski beneath the midnight sun in June. Who said Europe's ski season was over in early May?
Idre
Set in rural Dalarna and with views across to Norway, Idre is another family-friendly pick. There are slopes suitable for total beginners, but more experienced skiers can also have some fun (Dalarna's steepest slope is here). There's also a ski school for kids.
After ski
English speakers call it après ski but for some reason Swedes call it 'after ski' (in English). Whatever you want to call it, this is the time of the day when people head indoors, unzip their jackets and let their snowy boots drip dry by a crackling fire. This being Sweden, booze is usually involved too – be it a bottle of wine with dinner, or a few shots in the resort's rowdy nightclub. Well-known Swedish bands and DJs often do a tour of ski resorts during the winter season, so there's a chance your trip will coincide with a decent show.
What about cross-country skiing?
We couldn't write an article about skiing in Sweden without mentioning cross-country. You'll find good cross-country skiing trails all over the country, including at the resorts mentioned above. If you're inexperienced it's wise to hook up with an instructor who can teach you the ins and outs and give you tips on finding the best local trails. At most resorts, you can mix in a bit of cross-country skiing with the usual downhill fun. Happy skiing!
Like what you've been reading? Get our best tips by email!