Getting around on two wheels isn't just for Stockholm's beardy hipsters. Sweden is a real cyclists' paradise, and pedalling from A to B is a practical and environmentally friendly option for anyone who wants to explore on the cheap. Trust us: you don't need to be in perfect shape or have top-notch gear to have fun cycling in Sweden.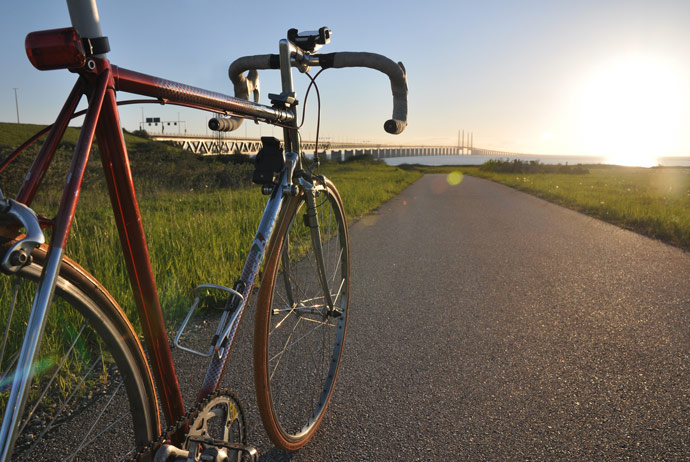 But isn't Sweden all snowy? Well, it can be. But by the time summer rolls around, conditions are pretty much perfect for donning your Lycra and exploring by bike. The long days of June, July and August are wonderfully bright, and there's none of the oppressive heat that you get in southern Europe. Even the shoulder months of May and September can be nice and mild.
There are other reasons for taking a cycling holiday in Sweden. There's the scenery, which ranges from 'oooh, that's pretty' to 'wait, I gotta take a picture'. Then there's the bike-friendly infrastructure, which sees safe inner-city cycle lanes leading to well-signposted countryside routes.
Right across the country you'll find options for touring, city riding and mountain biking. And thanks to a glut of cyclist-friendly lodgings – not to mention allemansrätten, the 'right to roam' that lets everyone camp wild – you'll never be short of somewhere cheap to sleep. Keen to get going? Hit the road with our guide to cycling in Sweden.
Getting a bike
Option 1: bring your own
If you're a keen cyclist back home you might want to bring your own wheels with you. The easiest option is to fly your bike to Sweden, but you'll probably have to pay a hefty fee – and most airlines also impose weight limits.
You may need to pack your bike in a bag or box. Check with your airline as they might have oversized plastic luggage bags available at the airport. Another money-saving tip is to call a few bike shops in your area – they'll often have empty shipping boxes lying around.
When you get to the airport, be sure to check your bike in before you hand over the rest of your luggage. It's handy to have wrenches and/or allen keys with you, just in case they ask you to make another adjustment or open things up for inspection.
If you'd rather not fly to Sweden you can always arrive by land or sea. Bikes can be brought onto the trains that travel across the bridge from Denmark, for example, and most of the ferry services into Sweden also allow you to board with a bike.
However you get your bike to Sweden, you'll need to make sure it's road-ready on arrival. Strict safety rules are enforced with big fines. All bikes must have working brakes and a functioning bell; if you're cycling when it's dark you'll also need lights, as well as side reflectors. Kids aged 15 and under must wear a helmet (and you should too!).
Option 2: rent a bike in Sweden
There are bike rental shops in most Swedish towns and cities. Borrowing a bike isn't the cheapest option, though; you can expect to pay between 200–350 SEK (around $25–45) per day, or even more for a decent touring bike.
When it comes to picking a rental bike, modern and sparkly doesn't necessarily mean better. If the brakes and gears work well, and if the saddle is comfy, it's probably decent enough for a day or two of kicking around the city, or even a day trip out into the countryside.
Another common test for whether the bike's in good shape: lift it about 5cm off the ground and then let it drop. If you hear anything rattle (other than the chain), it means something isn't well-adjusted or tightened.
A few Swedish cities have public cycle schemes, offering basic but sturdy bikes for inner-city journeys. See the city guides below for specific info on how each scheme works.
Stockholm
Gothenburg
Lund
Malmö (coming soon)
Option 3: buy a bike in Sweden
If you'll be in Sweden for a while, you might find that it's cheaper and easier to buy a second-hand bike through Blocket, the country's biggest classified ads site. You can always try to sell it again before you leave.
Fun guided bike tours in Stockholm
If you're visiting Stockholm, try this three-hour cycling tour, which takes you through some of Stockholm's most beautiful and historic neighbourhoods. You'll learn a lot along the way and can also soak up some great views as you cycle along the waterfront.
You could also try this fun, eco-friendly bike tour of the city, which gives you the chance to cycle through handsome parts of Stockholm while learning about local green initiatives, which have helped to reduce the city's carbon emissions by around 25% since the 1990s.
Ideas for self-guided cycling holidays around Sweden
Family-friendly biking
Off Sweden's east coast and connected to the mainland with a bridge, Öland is small enough to be easily navigable, and yet big enough to still be interesting.
The island is very flat and chock-full of bike paths, which makes it ideal for family biking trips. Detailed cycling maps are available from rental shops and tourist information offices. Buses from Kalmar to the island have bike racks, but there are also plenty of rental shops on the island. Our guide to Sweden's best islands has more info on what you can see and do when you arrive.
Another family friendly option is to cycle along the scenic Göta Canal, which connects Gothenburg with Sweden's east coast. There isn't any traffic to worry about and the flat gravel towpath makes for easy pedalling. You can download maps for the whole route here.
Long-distance tours
If you want to bike into Sweden from elsewhere in Europe and then cycle right across the country, check out the three Eurovelo routes. These long-distance trails have a mix of bike lanes, paths and roads, and will keep you away from traffic on major highways.
Make new friends… and get free sleeps
A free place to stay anywhere in the country, plus the chance to make new friends? Sounds good, eh?
Warmshowers is to touring cyclists what Couchsurfing is to backpackers. The website has a clickable map with hundreds of cycling-enthusiast hosts across Sweden, ready to lend a couch, a bed, or a backyard camping spot. They can usually provide you with bike tools, advice on routes, and, yes – a warm shower.
Hosts are often sympathetic to the last-minute changes of plans that sometimes accompany cycling trips. Another great thing is that, if you like bikes and cycling, you'll always have something in common with your hosts.
Mountain-biking holidays in Sweden
Around 600km northwest of Stockholm, the ski resort of Åre is a mecca for mountain bikers. There's a bike park with plenty of downhill and cross-country options, and the Åre bike festival takes place here each July. You're spoilt for choice when it comes to good accommodation options. Try this budget hostel or this swanky mountain lodge.
If you can't make it to Åre, don't worry; there are extensive mountain biking trails near Gothenburg and Stockholm. Start your research at Happyride.se, where you can view decent trail maps for free – the site is in Swedish but the map makes it pretty easy to understand what's going on.
Hill-free cycling in southern Sweden
The southern region of Skåne is Sweden's most bike friendly destination. It's as flat as a pancake and the area's biggest city, Malmö, has taken plenty of inspiration from bike-mad Copenhagen. Recently ranked at number six on the Copenhagenize Index of Bicycle-Friendly Cities, Malmö is temperate, modern and multicultural.
As a bonus there are great beaches and coastal routes nearby, and the cities of Landskrona and Lund are perfect for cycling day trips. Helsingborg and Ystad are also within a day's cycling. If you fancy a change of scenery, ferries in Ystad and Trelleborg will bring you to several ports in Germany and Poland.
Tips for a cycling holiday in Sweden
Planning a route
Google Maps is a good starting point when planning a bike route. If you're tackling longer distances and want to stick to scenic trails, then the maps published by the Swedish Cycling Society are also worth a look (try any good book shop in Sweden).
You can access free maps of the 6600km-long Sverigeleden trail at Open Street Map. Another good resource (in Swedish only) is the Sweden by Bike website.
Staying safe
A proper touring bike will help on longer trips, but loads of people happily cycle through Sweden with less-advanced bikes.
You'll find repair shops in most towns and cities, but if you're heading out into the countryside you'll want to pack a few tools – the distances between villages can be huge. It's also a good idea to take a mobile phone with you in case you get stuck. This guide has info on getting a Swedish sim card.
If you'd rather not go it alone there are a couple of companies offering cycle holidays in Sweden. Some provide tour guides and others will simply hook you up with gear and support. Try Utracks or BikeTours.com.
Using public transport
You can't usually take your bike on public transport in Sweden but there are exceptions – bikes are allowed on Öresundståg trains in southern Sweden, for instance, and on some rural bus routes.
Get clued up before you go
It sounds obvious but if you're thinking of taking a cycling trip through Sweden, make sure you're clued up on the basics first. This basic guide to cycling is a good place to start.
Don't forget insurance – even if your trip has already started!
It's no good visiting Sweden for an epic cycling adventure if you don't have adequate travel insurance. Even though Sweden is safe, we strongly recommend getting a decent policy in place for your trip. It really can make a world of difference when things go wrong. For lots of different reasons , including the fact that they will cover you even if your trip has started, we recommend World Nomads. You can get a quote below.
TOURS AND ACTIVITIES IN SWEDENMORE TOURS