If you're looking to combine skiing with city life in Scandinavia, Oslo is the place to go.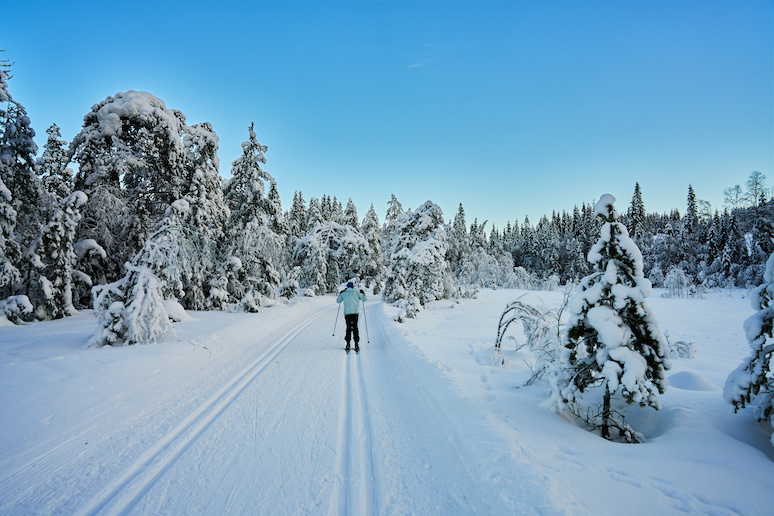 Surrounded by forested hills, the Norwegian capital offers surprisingly good downhill skiing opportunities and hundreds of kilometres of cross-country tracks.
There are also excellent public transportation options that whisk you from the city centre right to the start of the slopes and trails.
Whether you're looking for a family-friendly ski resort, intense downhill descents, or meandering trails that allow you to enjoy the solitude of the Norwegian woods in winter, Oslo has everything ski lovers could want.
Here are some of our favourite options.
Alpine skiing near Oslo
Skimore Oslo (Tryvann)
The best option for downhill skiing near Oslo is the Skimore complex.
Located at the top of Tryvann hill by the city's massive TV tower, the park sits of the edge of the great northern forest known as Nordmarka, and is easily the largest and most popular ski park in the capital.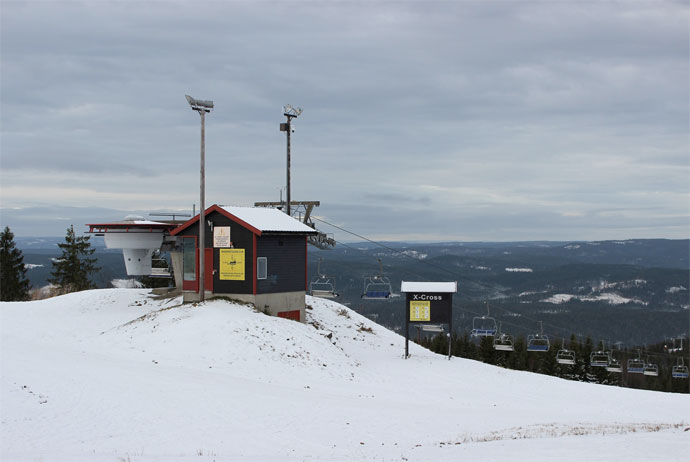 The park features 18 different runs, varying in difficulty from beginner to expert levels, along with ski classes and easy activities for youngsters.
Whether you decide to enjoy the bunny slopes or take the plunge down the entire 381m descent of the longest run, you'll be about to get up top again quickly thanks to the park's 11 chair lifts, including a six-seater express lift.
You can bring your own gear or rent some equipment at the park's headquarters, which also has a nice coffee shop to warm up in.
Since Oslo Skimore has the best slopes and most-developed facilities in town, it's also the most popular ski site in Oslo.
Weekends here can be hectic, and the large number of people heading down the slopes and or jostling for a place on the lifts can become tiresome if you're used to quieter ski resorts.
Our tip is to avoid the crowds by visiting on a weekday or arriving first thing in the morning.
Skimore usually has snow from late November to March: in summer there's mountain biking, hiking and a climbing park with zip wires, suspension bridges and high-wires.
Where is it?
Tryvannsveien 64, Oslo
How much does it cost?
Day passes are around 470 NOK, or 400 NOK for seniors and children aged 7–15 years. You can buy these passes online or when you arrive.
If you're renting skis here and have an Oslo Pass, you can get an extra 15 percent off the cost of ski rental. Read our guide to see if an Oslo Pass can save you money on your trip.
Getting there
Take subway line #1 towards Frognerseteren. Get off at Voksenkollen and follow the signs on foot for 10 minutes. A shuttle bus from the subway to the park is sometimes available as well, usually on the weekends.
Where to stay
The Lysebu Hotel is good option if you want to stay close to Skimore, and get on the slopes early to avoid the crowds.
It's got a lovely wellness centre, with a pool and sauna, to help you relax after a day's skiing, plus a well-regarded wine cellar for some apres-ski imbibing.
Is the Oslo Pass worth buying?
Read this guide to see how much you could save during your trip!
Oslo Ski Center (Grefsenkollen)
The Oslo Ski Center on Grefsenkollen, or Grefsen Hill, is situated about 4km north of the city. It overlooks the quiet surrounding suburbs and the picturesque valley of Maridalen to the west.
The views on the road up are spectacular and once you reach the top, the bustle and noise of the city seem a million miles away.
There are two main hills here, Trollkleiva and Grefsenkleiva, each with its own set of lifts. Trollkleiva is smaller and the best choice for kids and novice skiers.
Grefsenkleiva, the longer hill, includes several jumps of various sizes and is perfect for those seeking more of a thrill.
In total, the resort has five slopes, four lifts, cross-country trails and a sledding hill. It also offers ski and snowboard lessons and can rent out ski and snowboard gear.
The crowds here aren't as bad as at Skimore Oslo, though the centre is only open from 5pm–9pm on weekdays, so it's a good place to do some night skiing in winter.
The resort is open from 10am–5pm at the weekends and on holidays, so if you want to ski in the sunlight you'll need to come at the weekend.
Where is it?
Trollvannsveien 1, Oslo
How much does it cost?
Day passes are around 390 NOK, while two-day passes cost 590 NOK, and 7-day passes cost 1590 NOK.
If you just want to come for a few hours on a week-day, an evening pass costs 250 NOK. And on Friday evenings there's a bargain two-for-one deal, where you also get a free evening pass for a friend.
Getting there
Oslo Ski Center is most easily reached by car in about 20 minutes from the city centre. Coming by public transport is complicated and takes about an hour.
It involves taking tram #18 to Storo, then bus #56 to Trollveiskrysset, then an 18-minute walk.
Where to stay
Oslo Hostel Rønningen is a clean and comfortable option close to the Trollkleiva ski lifts.
It's got family rooms, some with mountains views, plus board games, table tennis and a laundry, so is ideal for families.
Kirkerudbakken Skisenter
The Kirkerudbakken Skisenter is about ten miles outside of Oslo with four runs, two lifts plus a T-bar lift.
It's the largest ski resort in the Bærum district (west of Oslo) and its main slope is 550 metres long, with a drop in elevation of 120 metres.
It's usually open from mid-December to mid-March from 5–9pm on weekdays and 10am–4pm at weekends.
Kirkerudbakken has ski rental and a ski school on site, and is popular with snowboarders and skiers alike.
Where is it?
Borkenveien 4, 1339 Vøyenenga
How much does it cost?
A day pass for the lifts costs a bargain 340 NOK, or 3700 NOK for the full season.
Getting there
It's a 30-minute drive from Oslo, west along the E18 to Sandvika, then north along the E16, and there's plenty of free parking at the ski resort.
By public transport, you can get bus #160 to Sandvika, then bus #240 to Kirkerud – a journey of about 50 minutes in total.
Where to stay
The clean and spacious Emma Gjestehus is just a kilometre from the ski slopes. It's good value with a large light communal living room and kitchen and leafy gardens.
Cross-country skiing near Oslo
More than 2,000km of cross-country skiing trails crisscross the vast tracts of forest surrounding Oslo. Some 90 km of the trails are illuminated by streetlights, which means you can ski safely even when the sun sets early.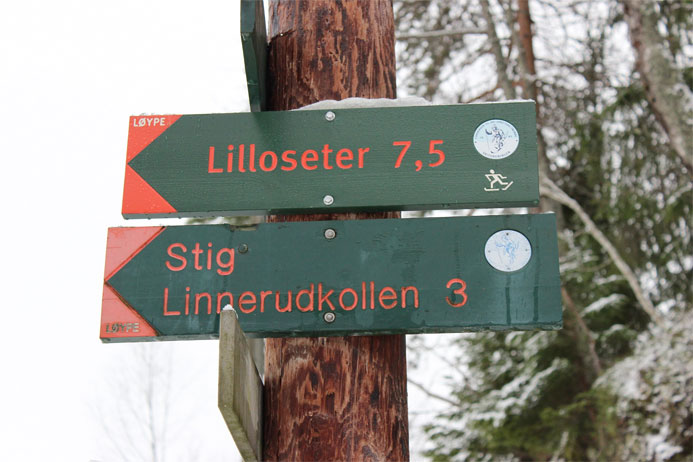 There's nothing Norwegians love more than jumping on the skis right after work, so the trails are well-used, even in the evenings.
The cross-country trails can be accessed from most points where the forest and the city meet in the north and eastern edges of Oslo.
All cross-country tracks are clearly marked with signs featuring red arrows and the symbol of the Norwegian Ski Association, as well as red lines on trees along the routes.
Hiking trails, marked with blue signs and blue marks on trees, can also double as cross-country trails in the winter.
Around Sognsvann
If you're looking for a short but enjoyable cross-country route to try out, consider the well-marked loop around Sognsvann, a small lake in the hills above Oslo.
You can reach Sognsvann on subway line #5, heading west from the centre. Get off at the last stop, Sognsvann station, and follow the signs towards the lake.
Unfortunately, part of the loop still lacks lighting, so if you'll be skiing after sundown you may want to bring a headlamp.
Where to stay
You can't beat the Olympiatoppen Sportshotel for location: it's right by the lake with ski-in/ski-out cross-country tracks starting just outside the hotel.
Clean and functional, it's good value with a gym and sauna for post-ski relaxation.
Skjennungstua
Another fun cross-country trip is a visit to Skjennungstua, one of the many small cabins in Nordmarka serving warm food and drinks to passing skiers during the winter.
The journey there and back covers around 9km – the trail weaves between snow-capped pines trees and offers amazing views of the surrounding landscape.
It's a fairly easy trip for skiers of all skill levels, and gives you a little slice of the rustic Norwegian mountain lifestyle.
Start your journey at Tryvann, using the same directions shown above, and then follow the trail signs towards Skjennungstua. Adventurous skiers can also use Skjennungstua as a convenient base to venture further out into the northern woods.
Some tips before setting out
Even though most trails are well signposted, we still recommend planning your route carefully before heading out into the woods.
Sunset can come quickly in winter, and the majority of trails are not lit, so you'll want to have a good idea of where you're going and how you're getting back.
This online map from the Norwegian Ski Association, which shows you all the ski trails in the Oslo area, is a good place to start.
Since phone service in the woods is unreliable, it's not a bad idea to purchase paper maps for the areas you're planning to explore. It doesn't hurt to carry a phone with a Norwegian sim card, either.
Also note that, unlike the alpine ski areas, most cross-country trails don't receive any artificial snow. The conditions here are entirely dependent on the weather, so if you'll be visiting in early or late winter, enquire about the current snow situation before you go.
Spectator skiing
If you prefer to enjoy your skiing from the sidelines with a warm cup of coffee, Oslo still has you covered.
The city plays host to a wide variety of ski competitions every winter. Check out our events section to see what will be happening in Oslo this season.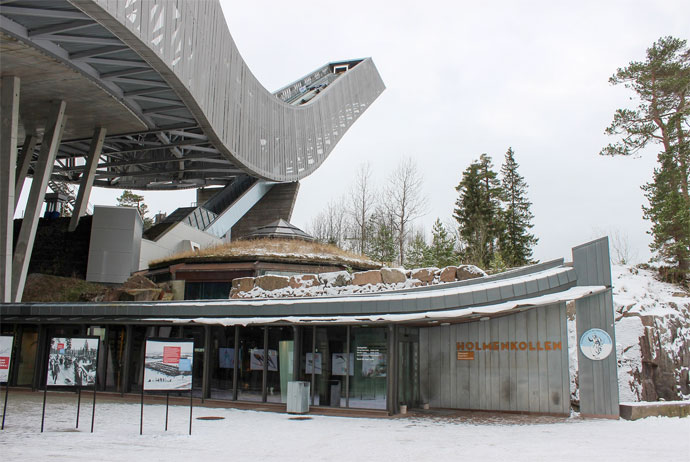 You can learn more about the history and proud legacy of Norwegian skiing at the Norwegian Ski Museum beneath Holmenkollen Ski Jump.
Although the museum itself is closed until the end of 2023, you can still go up to the top of jump tower to get the best views of Oslo and the Oslofjord.
And you'll get to experience what it feels like to be a skier standing at the top of slope waiting to jump!
Once the museum re-opens, you can be a true armchair skier at the ski simulator.
The five-minute ride gives you a first-person view of a ski jump from the 2010 World Championships, as you race down from the very top of Holmenkollen and sail through the air at over 100km/h.
Entrance to ski museum and jump tower costs 160 NOK, but is completely free if you've got an Oslo Pass.
Where to stay
And if you want to stay close by, we suggest the gothic-style wooden Scandic Holmenkollen Park hotel at the base of the jump. It's got great views over Oslo, comfortable rooms and an indoor pool.
Year-round skiing at the SNØ Dome
Even if the snow conditions aren't right while you're in Oslo that needn't stop you skiing.
Norway's only indoor ski resort, the SNØ Ski Dome is just a half-hour drive east from the city centre.
It's got three Alpine slopes, a beginners slope and a cross-country track that hangs from the roof!
And it's the world's only snow dome with downhill and cross-country skiing, snowboarding, freestyle skiing and ice climbing in the same building.
A day-pass costs 370 NOK on a week-day and 470 NOK at weekends.
FAQ
Where can I get skiing lessons near Oslo?
Skimore, the Oslo Ski Center, the Kirkerudbakken skisenter and the SNØ Dome all have ski schools where you can get group or private lessons for both adults and children.
In fact, Skimore Oslo is home to the world's oldest ski school!
Although lessons may not specifically be available in other languages, most Norwegians speak good English, so English-speakers should have no problems understanding the instructor.
Where can I rent ski gear?
All the downhill resorts above rent out skis, boots, helmets, snowboards and any other gear you'll need to get on the slopes.
Of course, if you have your own equipment you'll save yourself a load of cash.
Most resorts have a good range of gear for children, but if you need any specialised equipment for people with disabilities, it's best to phone or email the resort in advance to check.
What apres-ski activities are available?
All the downhill resorts we suggest above have a bar/café/restaurant for apres-ski food and drinks.
And if you're staying at our recommended hotels near the resorts, several of them have spas and fitness centres with a pool or sauna where you can unwind after a day on the slopes.
Can I get a discount on ski passes?
We've given the prices of a day pass above, but if you're staying longer than just a day or two, you can certainly save money by buying a season pass.
At the Kirkerudbakken Skisenter, for example, a day pass costs 340 NOK, while a pass for the full season will set you back just 3700 NOK.
So, you'll only need go skiing for 11 days over the whole season to make it worth buying the season ticket.
Buying a family ticket can also save you money, though they are usually only available as a season ticket rather than a day pass.
And note that because Norwegian children all ski from a very early age, discounts for children are generally very small if at all!
Look out too, for deals such as the Oslo Ski Center's two-for-one Mondays for women. On Mondays girls and women who buy a pass can get a second one free for a friend, daughter, sister or mum!
Can I go night skiing near Oslo?
Night skiing is popular in Olso, with many Norwegians heading off after work for a session on the slopes.
In fact, some resorts such as the Oslo Ski Center and the Kirkerudbakken Skisenter only open in the evenings during the week.
And because, nights are long in Norway in winter, that means skiing after dark.
But all the downhill runs are well floodlit, so there's no problem with night skiing and it can be a very atmospheric way to experience the Norwegian ski scene.
Where can I get snow reports?
Generally, the Oslo area gets snow from December to March, but it's always worth checking the conditions before setting out.
The Skimore app has up-to-date information on trail status, how busy the slopes are and how many lifts are open – and it links to a live webcam of the resort.
The resort also has snow cannons, so they can top up the snow if needed.
Map of ski spots in Oslo
See also:
Cross-country skiing in Norway: the ultimate guide
Where to go skiing in Stockholm (and nearby)
The 9 best ski areas in Sweden