When you look at a piece of John Bauer's art, you fall into his mythical world of deep northern forests. You carefully pick your way through a labyrinth of mossy boulders and notice how quiet it is. You develop a gut feeling that someone or something is watching you. You connect with the very atmosphere of the place.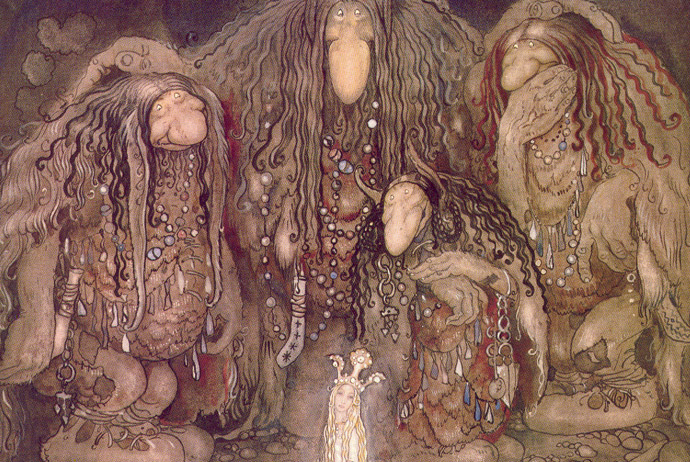 Born in Jönköping in 1882, Bauer was a curious child with a brilliant imagination, forever roving the forests around his home on the search for inspiration in the rocks and roots.
His eyes would seek out a troll, whereas anyone one else would see nothing but a boulder. Nature was Bauer's greatest teacher. Unlike school, nature never discouraged his daydreaming.

Bauer's artistic talent was evident from a young age, and he was studying at the Royal Swedish Academy of Arts while still a teenager. The commission that turned Bauer into a household name in Sweden was a 1907 annual of fairy tales called Bland Tomtar och Troll (Among Gnomes and Trolls). The gorgeously illustrated book was a phenomenal success and still continues to sell copies today.
In 1918 Bauer and his family – wife Ester Ellqvist and three-year-old son Bengt – died when a canal boat they were sailing on sank in Lake Vättern. Bauer was 36 years old. Following his death, newspapers led the public to believe the accident was caused by mythical creatures of the forest claiming Bauer for their own.
The John Bauer exhibition in Jönköping
If you want to delve deeper into Bauer's story and his mythical world of little people, head to Jönköping Läns Museum, around 150km east of Gothenburg. It's home to the world's largest collection of Bauer's art (over 1,000 paintings, drawings and sketches) and it offers a unique opportunity to get up close and personal with his work. The staggering volume of paintings that Bauer left behind has deepened the world's understanding of Swedish folklore, fairy tales and landscapes.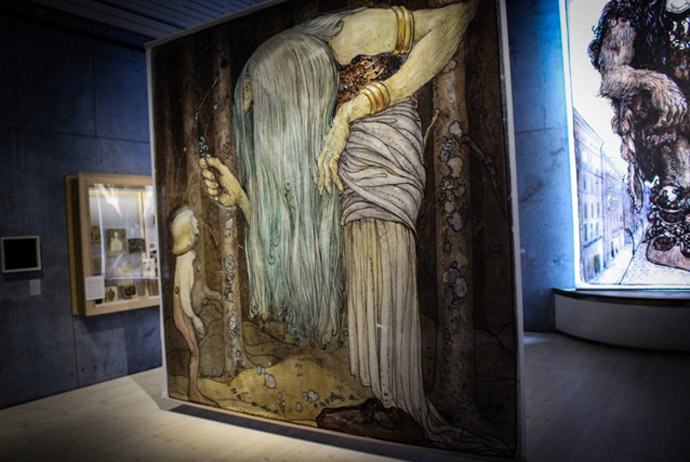 Recently, the Bauer exhibition has been overhauled by internationally acclaimed art duo Christer Lundahl and Martina Seitl. Their goal was to create a new outlook for the museum's visitors. The usual gallery ritual, which can often leave people feeling unenthusiastic, has been abandoned. With the re-vamped exhibit, you have a role to play.
Being located in Jönköping, rather than one of Sweden's usual tourist host spots, the museum tends to be quiet. Go during the week and you'll probably find you have the place more or less to yourself.
Before going inside the exhibit, we recommend leaving your bag in the locker room, along with your phone. You're going to abandon the world as you know it for a while, and a Facebook notification could bring you back to reality with an unwanted bang. Although you're provided with an illustrated guide to the exhibit, there's an open invitation for you to find your own way.
Lundahl and Seitl, renowned for their works involving visitor participation (and who grew up with Bauer's art) wanted to provide an experience of the Swedish forests Bauer once walked through. They achieved this with a woodland soundtrack and special lighting.
Bauer's art is magically illuminated as you approach, and when you move away from the image, the light fades away. Here you will find trolls. Here you will find another world.
The lighting and forest sounds make you forget you're in a museum. Hidden among a maze of iceberg-like structures are examples of Bauer's work. After this section, you're led into a room where you'll find cabinet after cabinet of sketches, photographs, letters… even the paintbrushes Bauer once held. To mark the hundredth year since Bauer's death, there's a new addition to the collection – a letter telling of his final hours.
For the kids (three to eight years old), there's a fairytale closet that holds costumes inspired by Bauer's paintings. We'd also recommend checking out the gift shop, which sells everything from postcards to tea-light holders. Have your budget worked out before you step inside; there's a lot to buy.
It can be tricky to leave the museum, but when you finally do, you'll be seeing eyes in the rocks – or stumps that contort into strange bodies. The Swedish forest will never be the same again.
Entry
Free
Getting there
The museum is located in the centre of Jönköping, and is a short walk from Jönköping central station.
Jönköping County Museum
Dag Hammarskjolds plats 2
553 22 Jönköping
+46 363 018 00
jkpglm.se
Mon–Fri 10am–5pm, Sat & Sun 11am–3pm
Like what you've been reading? Get our best tips by email!