Whether you're a seasoned skier or completely new to the sport, Norway is a great place to do some cross-country skiing. As both the national sport of the country as well as a favourite winter pastime for the locals, cross-country skiing is deeply embedded in Norwegian culture.
From groomed slopes for newbies to untouched nature for experts, there's plenty for skiers of all skill levels to discover. We've picked some our favourite places to try the sport, so check out our ultimate guide to all you need to know about cross-country skiing.
Why is cross-country skiing such a big deal in Norway?
Cross-country skiing has been an integral part of life in Norway since before the Middle Ages. In fact, the word ski comes from the Old Norse word skíð, meaning stick of wood.
Some experts even date skis back as far as 6000 years, although skiing for sport only really gained popularity in the 1850s.
Today, Norway sees cross-country skiing as a means of transportation, a family-friendly recreational activity and a competitive winter sport.
What is the difference between cross-country and Nordic skiing?
While the terms 'cross-country skiing' and 'Nordic skiing' are often used interchangeably, there are some slight differences between the two. Simply put, Nordic skiing refers to a variety of styles which includes cross-country, telemark and alpine touring.
That said, classic cross-country skiing is the most popular form of Nordic skiing, which is why people tend to speak about them as one and the same.
Is cross-country more difficult than downhill?
In cross-country skiing only the toe of the boot is attached to the ski, while for downhill skiing the entire boot is attached by the binding.
Additionally, cross-country takes place on relatively flat terrain and skiers can go both up and down hills, whereas downhill skiing is restricted to slopes that run from the top of the mountain to the bottom, and needs a lift to get you up to the start of the piste.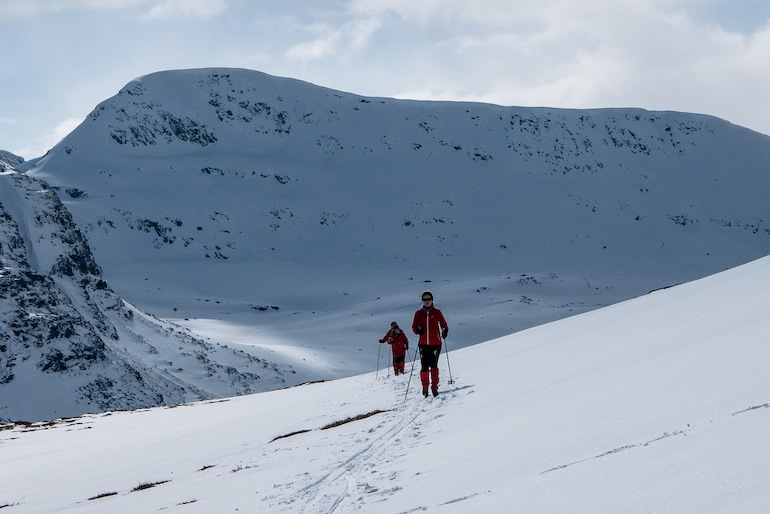 In terms of difficulty, cross-country has less of a learning curve since you use your natural movement, making it a great choice for beginners. It's also less scary for novices than hurtling down a mountainside at top speed!
The best places for cross-country skiing in Norway
Generally speaking, the country's best ski resorts are found in the mountains in the central, eastern and southern regions of Norway. Each one offers several kilometres of groomed cross-country trails through picturesque landscapes and no shortage of accommodation options.
So read on to find out which are Norway's best resorts for cross-country skiing – and check out some of our favourite places to stay too.
Gausta Skisenter
The largest ski resort in the Telemark region, Gausta Skisenter sits at the foot of Gaustatoppen, southern Norway's highest mountain at 1883m.
With 85km of well-prepared trails, at an altitude of 900–1000m, this resort offers reliable snow and promising conditions throughout the season.
Gaustablikk Høyfjellshotell is a great place to stay for ski-in ski-out access, or try Tuddal Høifjeldshotel, 15km south of Gausta, with a garden, terrace and sauna for some après-ski relaxation.
Sjusjøen cross-country arena
Made up of two ski arenas, namely Sjusjøen Langrennsarena and Sjusjøen-Natrudstilen Langrennsarena, Sjusjøen's trails stretch over 2,500km within the Hedmark region.
Artificial snow is used when conditions are poor, guaranteeing tracks for ski enthusiasts, and a bus runs from Lillehammer Skysstasjon to Sjusjøen Langrennsarena, making the resort accessible to those without a car.
If you want trails on your doorstep, Lillehammer Fjellstue is a great accommodation option, with an on-site café, shop and ski school that's open year-round.
Oppdal Skisenter
Located in the snowy Trøndelag region, Oppdal's network of cross-country trails spans 180km and runs through five main geographical areas – Storlidalen, Gjevilvassdalen, Skaret, Nerskogen and Stølen/Fagerhaug.
In addition, the new Oppdal Skistadion in town uses manufactured snow to provide outstanding conditions all season long.
For good-value accommodation, Vekve Hyttetun has cosy cabins where you can wake up to mountain views. Alternatively, Quality Hotel Skifer, at the foot of the Dovrefjell mountains, has a more modern vibe, complete with an on-site spa and wellness centre.
Hovden Cross-Country Ski Area
With 170km of daytime trails and 10km of floodlit trails, Hovden offers a network of both open-country and sheltered forest tracks for both day and night skiing.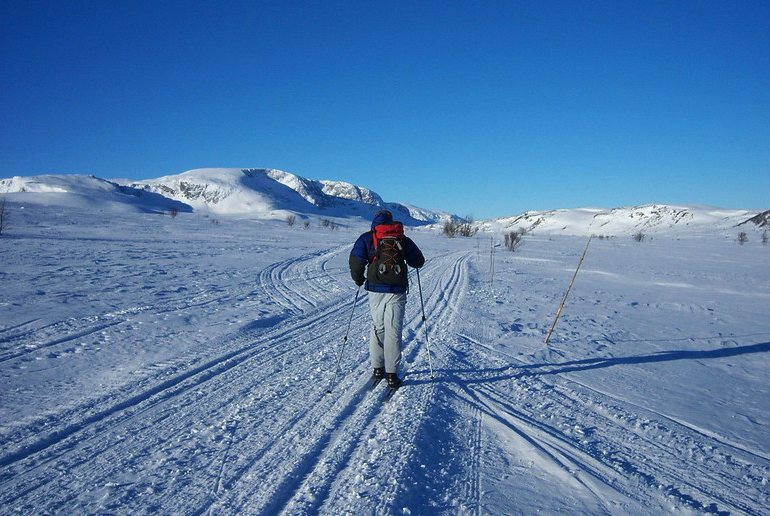 The trails are groomed daily during the winter season and the lights stay on until 11pm every night, which provides lots of flexibility to explore the Setesdal valley.
Book a traditional guest room at Hovden Resort for ski-in ski-out access, or try a self-catering cottage at Hovden Fjellstoge, which runs a free ski bus to Hovden Ski Centre.
Gear and insurance
Cross-country skiing requires skis with bindings, plus boots and poles. You may also need wax, depending on whether you have waxless or waxable skis. Suitable clothing is also essential and should consist of multiple lightweight layers for warmth and versatility.
Lastly, insurance is an important consideration when travelling, and it's even more vital if you're doing some winter sports while abroad.
We recommend World Nomads, specifically the 'cross-country skiing on marked trails' plan, to cover you on your ski adventures. Get your quote below!
See also:
What is Norway famous for?
Extreme sports in Norway: everything you need to know
The 30 best things to do in Norway