With its many rivers, lakes, archipelagos and long coastline, Sweden is a kayaker's paradise. Paddling about in a kayak or canoe is a great way to see the local landscape, spot wildlife and explore uninhabited islands and otherwise-inaccessible areas.
And you don't have to be superfit either – or set a gruelling pace. Many kayakers chose to just drift along slowly, watching the world go by and enjoying the peace and quiet.
Kayaking in Sweden is the ideal activity for families too, as kids love the independence of having their own boat and being able to go at their own speed.
So where is best for kayaking in Sweden?
Sweden has loads of different options for kayaking from hardcore canoe and camping in the Arctic Circle, to canoeing along wild rivers in Lapland or gentle paddling around the watery cities of Stockholm and Gothenburg.
In the south, the province of Skåne is relatively flat with plenty of rivers and lakes, and a long gentle coastline. The rivers here wend through wooded landscapes and marshlands, ideal landscapes for birdwatching.
Sea kayaking is very popular along Sweden's west coast, home to the Gothenburg Archipelago and the Bohuslän coast. With some 8000 islands and inlets to explore (many uninhabited), plus pretty fishing villages and sandy beaches and jettys to swim from, this region is excellent for kayaking.
In Swedish Lapland, right up in the Arctic Circle, you can head out into the wilderness by canoe on huge lakes and wild rivers surrounded miles of pristine forests.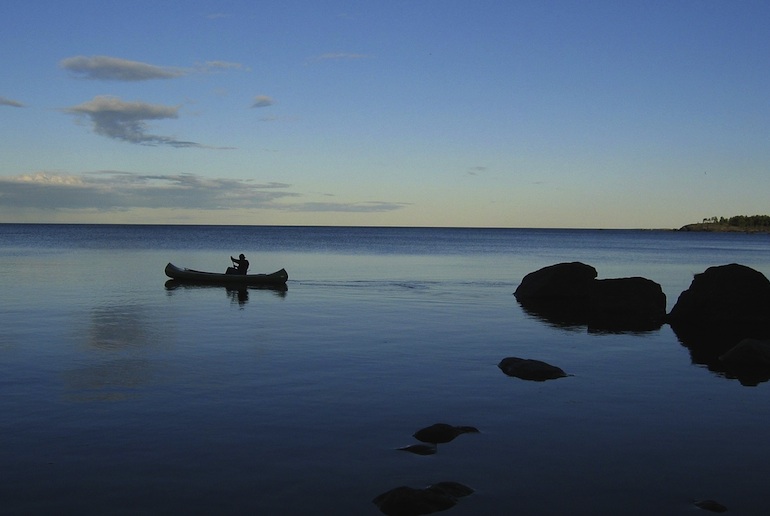 And even in the capital Stockholm, you can take to the water. It's a great way to see the city's sights on a gentle paddle round the urban waterways, or head out into the archipelago and explore some of the 30,000 islands that make up the Stockholm archipelago.
Which is the best type of canoe tour in Sweden?
There are loads of different types of canoe and kayak tour in Sweden – it's a popular sport! Options range from an afternoon pootling about on a city river, to a full-scale week-long expedition camping overnight on deserted islands in a remote archipelago. So, you can pretty much choose whichever type you fancy.
If you want to explore a more remote area, you can opt for a fully organized expedition, which involves several days of travelling by kayak and camping under the stars at night. These tend to be in small groups, with an experienced guide who shows you the best route and helps set up camp and cook at each overnight stop.
Alternatively, if you're a confident kayaker in a less remote area, you may want to go for a self-guided kayak tour, where all the equipment is provided and you set off on your own with a map and your gear.
When is the best time to go kayaking in Sweden?
Well, summer is the obvious time to go, when the weather is better, the water warmer and the days are long. In the north of the country, you can still be paddling in daylight at midnight in June and July. The downside is that the waterways tend to be busier and the midges and mosquitos can be worse in summer.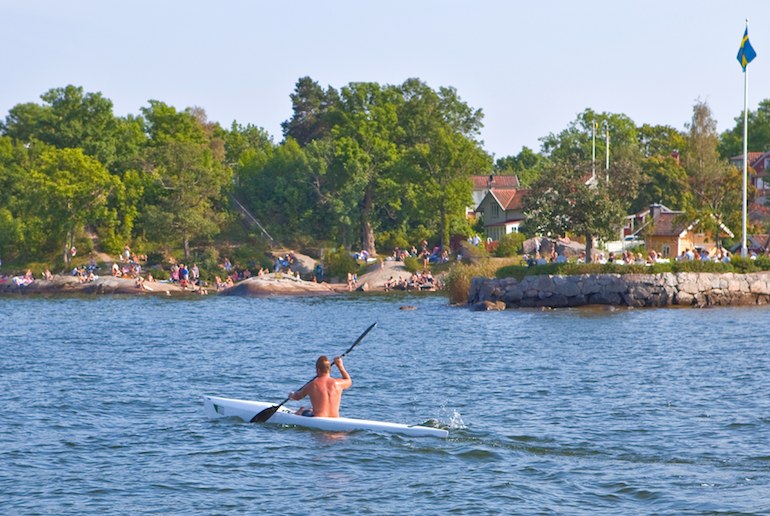 If you're heading to the south of Sweden, autumn and spring can be lovely times to go kayaking – provided you've got the right equipment. You may well have the waterways to yourself and the colours of the leaves in autumn are stunning.
Kayaking in winter is possible, particularly along the more sheltered west coast, but this is usually for experienced paddlers only, and will involve staying in a B&B, rather than camping. You'll also need to have the full kit, including cold weather drysuits.
Five of the best kayak and canoe tours in Sweden
Stockholm city by kayak
Get a unique perspective of Stockholm's main sights, including the city hall and old town, by seeing it from the water. Suitable for everyone from complete beginners upwards, this two-hour guided tour takes you round the city's canals and central islands.
You can either go it alone in your own kayak, or paddle with a friend in a two-man canoe – all equipment is provided.
Explore the Stockholm archipelago by kayak
And if you've got a weekend to spare, you'd be mad not to head out out the city and explore the archipelago by kayak. This overnight camping kayak trip starts from the village of Dalarö, just 45 minutes from the centre of Stockholm – but feels like it's a million miles from the urban bustle.
You'll paddle through the waters of the Baltic Sea, cooking lunch and dinner on a campfire then bed down for the night on a remote island.
The best of Bohuslän by kayak
This four-day (three-night) self-guided kayak tour heads out along the Bohuslän coast to explore the Fjällbacka archipelago, with its pretty islands, sandy beaches and quaint fishing communities.
You'll be picked up from Gothenburg, then kitted out with everything you need to explore this beautiful corner of the west coast, including maps, tent, sleeping bags, cooking equipment, food and, of course, a kayak. You can choose where you set up camp each night, so simply head out on the water and get paddling.
Wilderness kayaking in Swedish Lapland
This amazing guided five-day kayak tour starts in Jokkmokk in the Arctic Circle, and explores the pristine wilderness of the Pearl River Nature Reserve. You'll camp on the shores of Lake Karats each night (and may well catch your dinner in its waters), surrounded by vast uninhabited forests with no road access.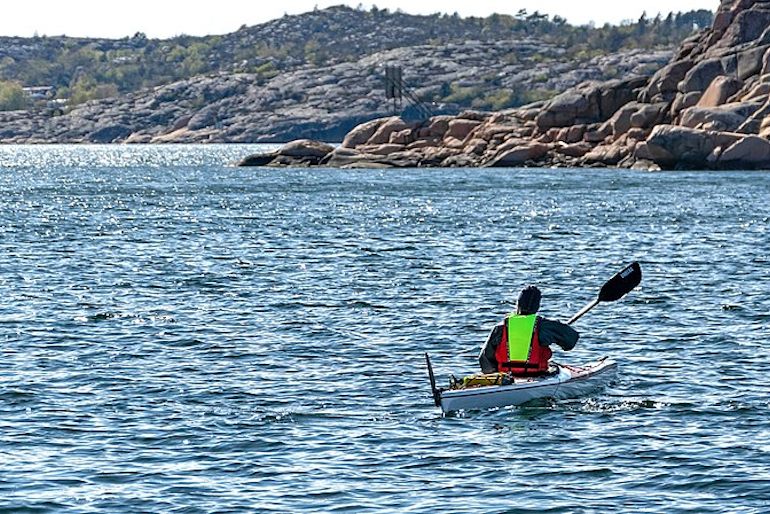 Do-it-yourself kayak tours in Skåne
Lake Ivösjön, Skåne's largest lake, is home to Wetlandi, which rents out canoes and all the kit you need to head out onto the water and camp on a deserted island like Robinson Crusoe. Canoes, life jackets and maps are provided, and they also rent out camping and cooking equipment and barbecue packages – or you can bring your own gear and food.
This lush, peaceful landscape is perfect for paddling around with more than 40 islands (many uninhabited) and plenty of secluded beaches and inlets, where you can escape the crowds and set up camp.
See also:
The best Swedish islands: our top 12
The best places to visit on Sweden's west coast
The best lakes in Sweden