Of all the places you might associate with snorkeling, Iceland isn't one of them. However, you may be surprised to discover that Iceland has some pretty amazing diving spots and some otherworldly underwater landscapes.
The Nordic country's unique location in the North Atlantic means that, on some of the most popular snorkeling tours, you can even swim between the North American and Eurasian tectonic plates. How cool is that?
This guide will answer all of your questions about snorkeling in Iceland – and we'll reveal six amazing tours you can join for the best-possible under-sea experience!
Hold up: isn't it too cold for snorkeling in Iceland?
Yes, it's true: non-geothermal bodies of water in Iceland are very cold indeed. The water in Lake Thingvellir, where many of the country's best snorkeling spots are, hovers at a bone-numbing 2–4ºC.
The lake known as Kleifarvatn is also a popular snorkeling spot. It's a bit further south and west on the Reykjanes Peninsula but it isn't much warmer, with water temperatures ranging from 2–6ºC.
Of course you'll experience warmer water temperatures if you visit in the summer, but you'll still need to wear a good quality wetsuit whatever the time of year.
What about that nice warm geothermal water?
And now for the flip side.
Water temperatures in geothermal areas, such as the volcanic lake Myvatn, can exceed 100ºC!
But unless you like the idea of a molten face mask, these spots are far too hot for snorkeling. You can, however, bathe and snorkel in hot springs that are around a comfortable 37ºC, but in these really warm areas the water can be too cloudy to see much below the surface.
For more on these great swimming spots, see our guide to Iceland's best hot springs.
What makes snorkeling in Iceland unique?
The most unique thing about snorkeling in Iceland is that it's the only place on earth where you can swim between tectonic plates. You can do this at Silfra, in the Thingvellir National Park. 
When snorkeling in Iceland, you'll also be struck by how clear the water is. Iceland is known for having some of the world's cleanest water, and you can even drink directly from many rivers in the country.
Where are Iceland's best snorkeling spots?
Silfra and Davíðsgjá are both in the same lake and are two of Iceland's most popular places to snorkel. At Davíðsgjá, you'll see a darker underwater landscape than at Silfra – and you can swim between numerous fissures.
Another excellent place to snorkel is Kleifarvatn, around 35 minutes from Reykjavík. The main selling point is that it has several geothermal springs beneath the water's surface.
What to expect on a snorkeling tour in Iceland
Wetsuits are typically provided on snorkeling tours in Iceland, and most include a professional guide.
However, you should still consider wearing warm base layers to provide additional insulation – and it's worth checking to see if you need to bring extra items, such as towels.
Note that some of Iceland's sites require you to pay a fee to enter; the money is used to ensure the landscape remains unspoiled. Check whether you'll need to pay this in addition to the tour fee, or whether it's included in the price.
Before you start swimming, your guide will provide a briefing. Some tours offer free photos, whilst others charge extra for these.
6 of the best snorkeling tours in Iceland
Snorkel between tectonic plates
Swim underwater between the North American and Eurasian tectonic plates at Silfra, one of world's most dramatic snorkeling sites. Snorkeling through this narrow rift filled with glacial meltwater is an other-worldly experience.
The tour includes hot drinks and cookies, plus the 1500 ISK (around $10.50) admission fee to enter Silfra.
From around $110 per person.
Go snorkeling with photos included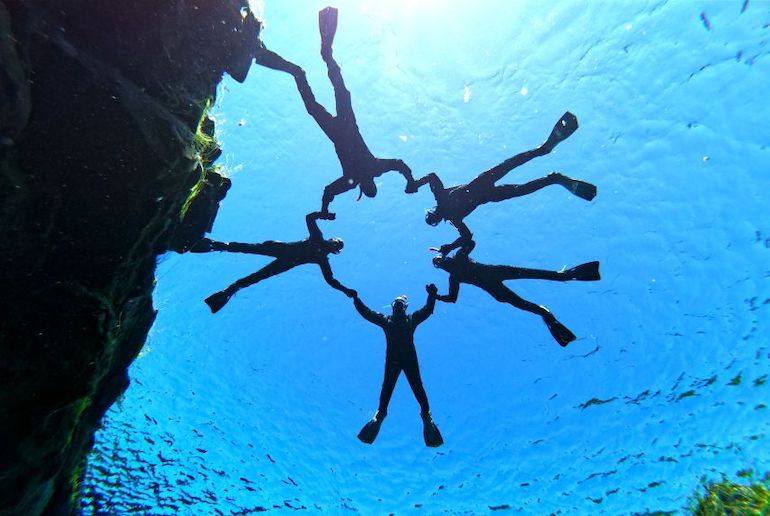 Taking decent photos while swimming underwater in freezing temperatures is pretty tricky. So this memorable experience includes free images that you can share on your Instagram page.
Alternatively, you can rent a GoPro camera for an extra 6900 ISK (c. $50). The tour has a maximum of five other people, making it an intimate and exhilarating experience.
From around $140 per person.
Take a snorkeling and lava cave adventure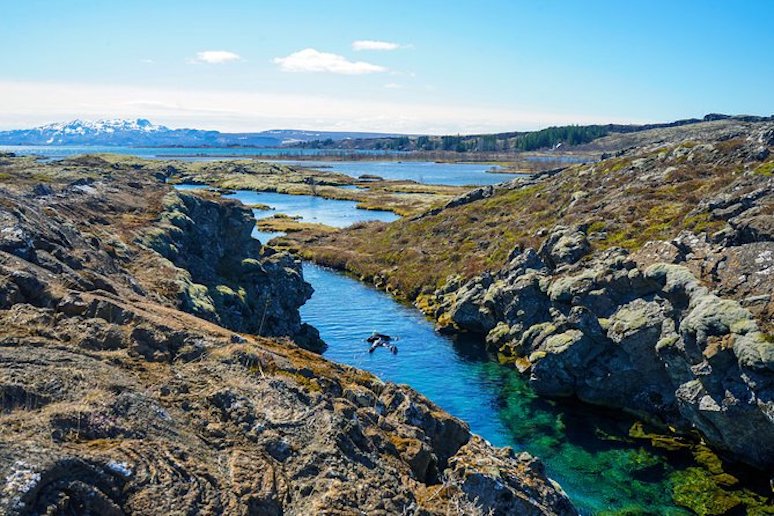 Iceland is known as the Land of Fire and Ice, so why not combine your snorkeling experience with a lava cave tour?
This tour leaves from Reykjavík then heads to the Raufarhólshellir lava cave, which is more than 5000 years old and only accessible with a guide.
You'll then head to Thingvellir to snorkel in the Silfra fissure, between the North American and Eurasian tectonic plates.
From around $260 per person.
See the Golden Circle and go snorkeling
Silfra is in the Golden Circle, so combining a tour of this beautiful region with your dive makes good sense.
The tour takes you to Geysir, to see the famous erupting hot water spouts, plus the dramatic and spectacular Gullfoss waterfall.
On this trip, you'll get to see the Eurasian and North American tectonic plates from both land and water.
From around $230 per person, including the admission fee for Silfra.
Combine snorkeling with a virtual flyover experience
If you don't have time to join a real-life helicopter tour over Iceland, why not combine a virtual flyover with your snorkeling trip? 
The flyover includes special effects such as wind, mist and smells to make your ride seem even more realistic, and the fee for entering both Thingvellir National Park and Silfra is included in the tour price.
From around $160 per person.
Chill out on a spa and snorkeling trip
Icelanders love hot springs, and this tour immerses you in both the warmer and colder waters in the country.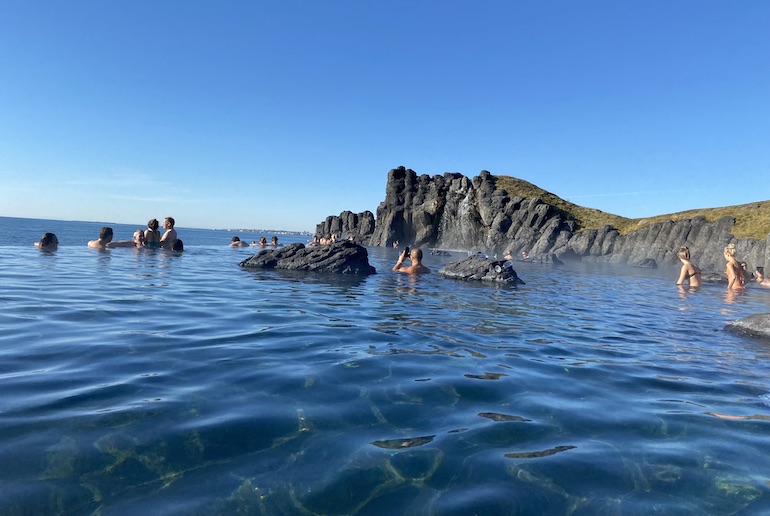 The tour includes access to the luxurious Sky Lagoon thermal spa, just outside Reykjavík, plus a snorkeling trip at Silfra.
Considering that this tour includes the Sky Lagoon, a snorkeling trip, admission fees for Thingvellir National Park and Silfra plus photos, this excursion is probably the best value for money.
Transport is not included, however, so you'll need your own car to get to Thingvellir and the Sky Lagoon, and you'll also need to pay for parking at Silfra.
From around $180 per person.
FAQ
Do snorkeling tours run all year?
Tours run year-round, but bad weather might force your operator to cancel. If that happens, you can usually either get a full refund or reschedule.
Can you see any marine life?
It's not guaranteed, but you might see fish like Arctic Char. Other species live in the lakes you'll visit, but you usually won't cross paths with these.
Is snorkeling in Iceland dangerous?
Snorkeling in Iceland is safe if you listen to your guide and dress appropriately. You should also ensure that you feel comfortable in water before booking one of these tours. It goes without saying but avoid consuming drugs and alcohol, too.
Can you really snorkel between tectonic plates?
Yes! At Silfra, you can snorkel between the North American and Eurasian tectonic plates.
Can you combine snorkeling with other activities?
Yes – you can combine snorkeling with trips around the Golden Circle, spa trips and more.
Is it safe to snorkel alone in Iceland?
We recommend snorkeling with an experienced local guide who knows the water, and can provide you with all the gear you need. It's more fun going with a group, too!
See also:
The best snowmobile tours in Iceland
Ice climbing in Iceland
The hottest volcano tours in Iceland