The trip from Kiruna to Narvik, just across the Norwegian border, is one of northern Sweden's most beautiful journeys. The route offers top-class views of Lapland's wild scenery and gives you fleeting glimpses of some of the country's highest peaks.
This journey also passes through the northernmost border crossing between Norway and Sweden – really just a sign at the side of the road. The next official crossing is around 200km to the south, near Merkenes.
How you decide to make the journey from Kiruna to Narvik will depend on your budget, the amount of time you have, and whether or not you like the idea of driving on reindeer-infested roads. Here are three of the best options.
Option one: ride the 'Arctic Circle' train
There are a few different options for getting from Kiruna to Narvik but we reckon the most relaxing choice is to take the train. You'll follow part of the scenic, 500km-long Malmbanan railway, which was constructed more than 110 years ago to help move iron ore from inland Sweden to the ports at Narvik and Luleå.
The section between Kiruna and Narvik takes about three hours to cover, and you'll be kept toasty-warm aboard a comfortable, electric-powered train. These 'Arctic Circle' trains are operated by the state railway company SJ, and allow you to enjoy views from the dining car while drinking a coffee or a beer.
Getting tickets
There are two trains per day from Kiruna to Narvik – one in the morning and one in the afternoon. Tickets are available online at SJ.se, and a one-way trip will usually cost you around 200 SEK (less if you book ahead).
Another option is to get your hands on an Arctic Circle Pass (364 SEK). This ticket is aimed at tourists who want to hop on and off the train at various points along the way. It allows you to travel as much as you like for a total of three days.
If you have an Interrail or Eurrail pass, it will be valid for the whole journey and you don't have to worry about seat reservations. Our guide to Interrailing in Sweden has more advice on how to use your pass.
Where to stop
The Arctic Circle Pass is an especially good option if you want to break up the journey at Abisko, which is one of the best places on Earth for watching the northern lights (or indeed the midnight sun, if you're visiting in summer).
Our guide has more details on where to stay in Abisko. There are loads of activities to get involved with when you arrive, from snowshoeing and dog-sledding to walking the Kungsleden trail.
The next worthwhile stop along the Arctic Circle line is Björkliden. Several hikes begin and end here – or you could walk back to Abisko along a section of the Rallarvägen trail. This path edges the train line and was originally used by the men who built the railway, but is now a popular route for hikers and cyclists.
After Riksgränsen, the northernmost ski resort in Sweden, the train continues through a fairytale landscape of steep mountains, past the greenish waters of Ofotfjorden, one of Norway's many fjords. Here the best views begin and you can't help but want to keep travelling west towards the wild Lofoten Islands.
Narvik itself is another good stop for skiers. Outside the winter season you can take a cable car to the viewpoint at Narvikfjellet and enjoy a meal at the mountain restaurant. If the weather holds up you'll also be treated to amazing views of the fjord.
Option two: go by bus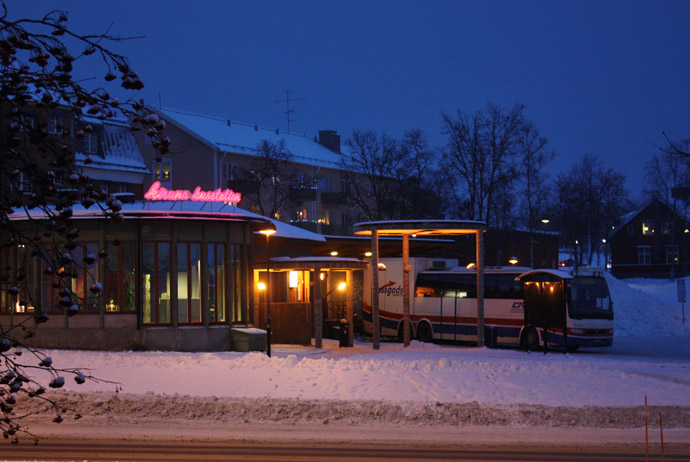 The electric trains do a remarkable job, especially considering how far north they are, but they can and do get cancelled. During the summer (mid-June–September) local buses act as a useful backup.
Using the bus isn't nearly as comfy as taking the train but prices are fairly similar – expect to pay around 300 SEK for a single adult ticket. Bus #91 leaves from Kiruna's bus station once or twice per day and travels all the way to Narvik (there's no need to change). See the Länstrafiken Norrbotten website for the latest times.
Option three: drive it yourself
If you prefer solitude and a little flexibility, consider renting a car for the trip between Kiruna and Narvik. Most of the main international brands have a desk at Kiruna's airport, where local firm Gruvbilar also rents out hardy 4x4s. Avis also has an office in the middle of Kiruna at Bergmästaregatan 11.
Whichever company you go for, be aware that you risk clocking up unexpected charges: often there's an additional fee of around 250 SEK if the vehicle is taken outside of Sweden. Leaving the car at a different location to the one where you picked it up can double the price of a rental. Also bear in mind that there can be hefty charges for dropping off the keys outside of the usual office hours.
Once you hit the road, the drive between Kiruna and Narvik will take you around three hours, allowing time for a quick stop en route. The road is in very good shape but you need to be extremely careful when driving in heavy snow – whiteouts, black ice and stray reindeer can all pose a risk.
Find a cheap rental car in Kiruna or Narvik
To book a rental car, use the form below. It'll search loads of local providers to help you find the best deal.