Driving in rural Norway is a pleasure compared with some of the more densely populated parts of Europe. There's comparatively little traffic, the roads are good, and finding your way around isn't difficult. There are a few famously scary mountain roads and high passes, we're not going to lie, but that's all part of the experience.
First, though, do you actually need a car for your trip? On a city break, having a car might actually be more of a hindrance than a help, and you can do many of the fjords by rail and boat.
Having a car starts to pay off, however, if you plan to visit some of the less touristy, out-of-the-way destinations, or have your heart set on driving one of Norway's 18 legendary Scenic Routes, with their Instagram-worthy viewpoints and architect-designed rest areas. So if this is what you've got in mind, where should you rent from, and what should you expect?
Where to rent a car in Norway
Car rental is expensive by international standards and it pays to pre-book online as far ahead as possible. Shop around offers you can cancel without penalty at short notice so you can take advantage of any better last-minute deal you find.
Rent-a-wreck specialises in cheap used hire cars, with a head office in Oslo and 30 branches across Norway. Prices vary depending on how far you're driving, so check the rules before setting off.
International hire companies such as Sixt, Avis, Hertz and Thrifty have good coverage across Norway – you can find prices for those companies using the form below. Expect to pay from 240 NOK–340 NOK per day for the smallest car, based on a 7-day hire period.
Find a rental car in Norway
To book a rental car before your trip starts and to pick it up when you arrive in Norway, use the form below. It'll search hundreds of local providers for you to find you the best deal.
What licence do you need?
You need to be at least 21 years old to rent a car and must have held your driving licence for at least 12 months.
You can use a driving licence issued in an EU or European Economic Area (EAA), country for as long as it's valid. Non EU/EAA licences can generally be used in Norway for up to three months.
You'll need an international driving permit as well as your national licence if it doesn't have a picture of you on it, or if the text is in a non-Latin alphabet.
Money-saving tips
The favourite way for rental companies to ratchet up the charges is to have a high 'excess' – the amount you have to pay in the event of any damage to the car – to persuade you to buy their expensive insurance policy.
Instead, buy an independent excess policy before you fly. In the event of a claim, the rental agent will charge for repairs up to the value of the excess amount, which you then simply claim against your policy.
Other charges that can add up when driving in Norway are road tolls, charged on a non-cash basis using number-plate recognition and toll tags. To avoid hefty admin fees, ask the rental agent for a pre-paid toll pass (for a fee), or register at autopass.no and pay direct.
Other ways to keep costs down include saying 'no' to optional extras. It's invariably cheaper to take your own child seats or GPS, for example, and to have just one named driver on your rental agreement – unless adding a second driver is free.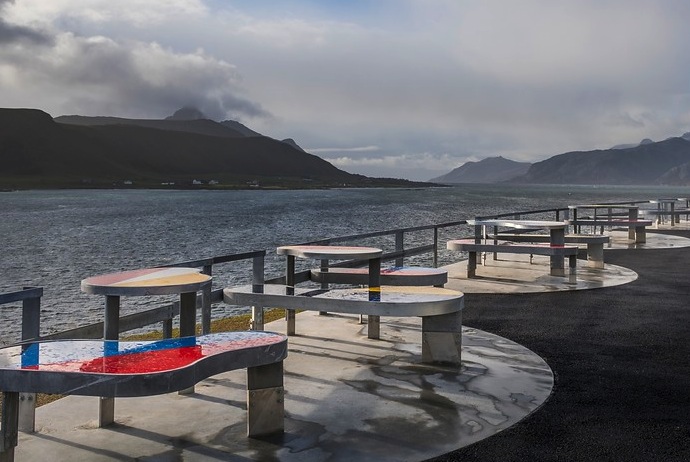 The rules of the road
• Drive on the right.
• It's compulsory to carry a hi-vis vest and warning triangle in your car. You can get an on-the-spot fine for not carrying them, so check your rental car has one before setting off.
• Keep headlights on (dipped) at all times in winter and summer, in towns as well as rural areas.
• Speed limits are low: 30km/h to 50km/h (19–30mph) in built-up areas; elsewhere 80km/h (50mph) unless otherwise indicated. On motorways and some trunk roads you can get up to a heady 90km/h or 100km/h (55–62mph).
• The Give Way rule means that on roads without the 'yellow diamond' sign, all traffic from your right-hand side has right of way, unless it's coming from an obviously minor road onto a major one. The distinction is not always clear, though, so go slow and be ready to brake!
• Norway has some of the strictest drink-driving laws in Europe, so don't risk it. And anyway, the booze is extraordinarily expensive.
Tips for winter driving in Norway
An army of snowploughs keeps city roads clear of snow in winter (defined by the weather rather than the date), but high passes and some Norwegian Scenic Routes close in winter – check here for the latest. Even in urban areas, you should drive on winter tyres – and these must have a minimum tread of 3mm.
Winter isn't the best time for a long road trip. There are only 4–5 hours of daylight, so you won't see much scenery. Journeys also take longer in the dark and bad weather, as you'll need to drive slower, leaving a safe distance between you and the car in front so you can brake gently.
You'll also need regular stops to clear snow from headlights and number plates. Unless you're experienced at driving in conditions that could include black ice and white outs, the local advice is 'Don't do it.'
If you do end up driving in winter, use common sense and take an ice scraper, charge up mobiles, and take warm clothes, water, hot drinks and some snacks. It goes without saying that you will need to make sure you have antifreeze in your car's washer bottle.
Finding the right rental car
If you're ready to rent a car, we recommend our rental partner RentalCars.com. They search hundreds of deals to help you find the best prices on car hire. Click here to see their best deals in Norway.
Like what you've been reading? Get our best tips by email!