Halfway between the Norwegian mainland and the North Pole, Svalbard is like another world. And it's not just the wild landscapes that make this frozen archipelago so special; it's very remote and very expensive to visit.
But despite the significant costs involved and the time it takes to get there, Svalbard is 100% worth a visit. The scenery is spellbinding, and the islands offer you the chance to enjoy experiences that few other destinations can offer. Now how about watching the northern lights at noon, or trying to photograph wild polar bears? Get started with our guide.
When to visit
Getting there
Where to stay
What to see and do
Recommended tours
Budgeting for a trip to Svalbard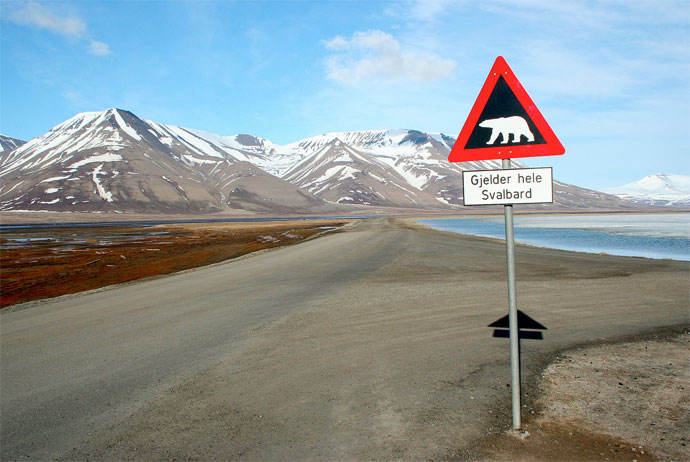 When to visit
If you want to see as much of Svalbard as possible, you should visit between May and August. Thanks to the midnight sun you'll have 24 hours of daylight, making it the ideal time to visit if you've only got two or three days. Obviously, you'll need to pick a hotel with good blackout blinds.
If you're brave enough to face frigid temperatures that regularly sink below -20C, and it's your dream to see the northern lights, you consider visiting between October and March, when darkness rules and the islands take on an even wilder and more mysterious aura.

Getting there
Svalbard looks isolated on the map, but it's actually served by direct flights from Oslo and Tromsø (try airlines SAS or Norwegian). Svalbard Airport – the world's northernmost to be served by commercial flights – is located on the main island of Spitsbergen.
Airport buses (around 75 NOK) wait for planes to land and shuttle people into Longyearbyen once they've had a chance to grab their bags. Just tell the driver where you're staying and they'll usually be able to stop there for you.
Note that there are no direct international flights to Svalbard. Depending on where you're coming from, you might need a Schengen transit visa for the stopover; even though Svalbard itself is a visa-free zone, Oslo and Tromsø aren't.
If you don't like the idea of flying, another (expensive) option is to join one of the Hurtigruten cruises that visit Svalbard (details here).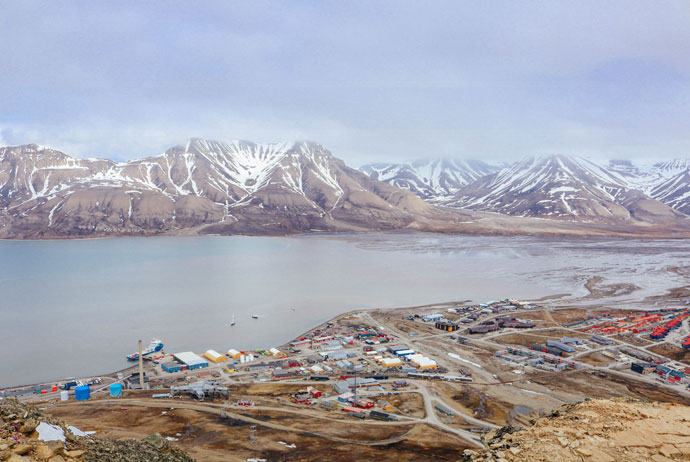 Where to stay
While there are other small villages in the archipelago like Barentsburg and Ny-Ålesund, Longyearbyen is really the main hub on Svalbard the best place to bed down – it's home to the archipelago's airport and most of its hotels.
Among the cheapest places to stay in Longyearbyen are Gjestehuset 102 and the Coal Miner's Cabins – both of these hostels are situated towards the south town in so-called Nybyen. From here it's a 30-minute walk north to the centre of town, however transfers for any excursions you're going on can usually be arranged. What's more, the bus from the airport also stops here so the location isn't too much of an inconvenience.
More central hotels include Mary Ann's Polarrigg. This rustic place is the quirkiest option in town, occupying a converted barracks that used to house miners. Nearby is the more exclusive (read: pricey) Radisson Blu, while slightly further south is Basecamp Hotel, a traditional trapper's hotel.

What to see and do
The town of Longyearbyen has a few museums and pubs to offer, but the real joy of visiting Svalbard is to experience some nice outdoorsy adventures, away from built-up areas. There are plenty of organised excursions to choose from – keep in mind that you should not venture outside of Longyearbyen on your own (polar bears roam the area).
Guided tours and activities will almost certainly use up a significant portion of your budget for Svalbard. Unfortunately these are the only way to safely experience the wilderness of Svalbard – shop around for the best deals, or ask at your accommodation. Here are some of the highlights:
Visit Pyramiden and Barentsburg
North of Longyearbyen, the old Soviet-era mining settlement known as Pyramiden is long-since abandoned, but you're still allowed to visit and even have a look inside the old buildings – or take a selfie with the world's northernmost Lenin statue, if you fancy it.
Barentsburg, another Russian mining town, is still inhabited by ca. 500 people, and you can wander around town to admire its pretty street art. During the summer, both places can be visited by boat from Longyearbyen in summer.
Explore the mountains (and glaciers) around Longyearbyen
If you're fit enough and the weather is warm enough (summer only), you can go on a guided hike in the mountains close to Longyearbyen. Even if it's mild, the chances are that there will still be plenty of snow around and you might even get to visit an ice cave. There are several operators and tours to choose from, and each hike guarantees you stunning views back over Longyearbyen.
Be a musher for a day
In Svalbard, unlike most other places in mainland Norway, you can try dog sledding in winter and summer. Whether you'd like to cruise around on snow or gravel, dog sledding is a real must-do when visiting Svalbard.
Go on a snowmobile adventure
If you do visit during the long and cold winter, you'll quickly notice that the locals have one preferred way of getting around: the snowmobile. There are dozens of tours for visitors to choose from, and some of them even lead you to Barentsburg. Ask at your hotel or hostel.
Recommended tours in Svalbard
If you're visiting Svalbard you'll want to take at least one guided tour. Travelling with an experienced local opens up parts of the archipelago that are too dangerous to explore alone, or otherwise off limits.
This two-day tour gives you a great introduction to the islands. It begins with a beautiful boat ride and takes you to some of Svalbard's main tourist sights (including Pyramiden) and gives you the chance to brush up on your landscape photography skills.
If you're visiting Svalbard for the nature, this one-day hiking and birdwatching tour is another good option. It departs from Longyearbyen, stopping at areas known for their Arctic foxes, nesting birds and wild reindeer.
Keen snappers might prefer this one-day photography trip, which takes you to some spectacular lookouts with views over Longyearbyen and the glaciers.
Budgeting for a trip to Svalbard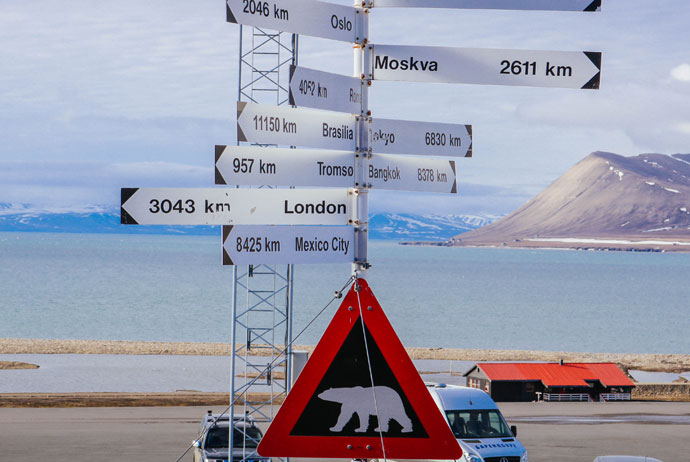 As you can imagine, visiting Svalbard is not a cheap undertaking. It's tricky for us to suggest a daily budget, as so much depends on what you want to see when you arrive.
A simple but clean hostel will cost you around 1200 NOK a night – that's as much as a fairly decent hotel on the mainland. Hotels on Svalbard are significantly more expensive.
Due to the danger of polar bear encounters and the lack of public transport (or car rentals), the only way to really experience Svalbard is by booking a guided tour – which can cost anything between 500 to 3000 NOK or more per day, depending on what kind of adventure you're looking for.
One sure-fire way to save a few kroner is by preparing meals yourself. Booze is tax-free in Svalbard, which makes for relatively cheap drinking (compared with the rest of Norway, anyway). All hostels have a communal kitchen for you to cook in, and there are also some decent listings on Airbnb providing kitchen access (you can get money off your first stay with this link). Don't expect Airbnb to be a bargain, though – rentals are limited and prices seem to change with demand.
One final tip: if you've accrued a few SAS bonus points on your travels around Scandinavia, you can use them to get to Svalbard quite cheaply – a return flight from Oslo is still considered a domestic journey and comes in at 10,000 points. Otherwise, look out for sales over at Norwegian.
Like what you've been reading? Get our best tips by email!