Set on an island midway between Lofoten and the North Cape, right at the top of Norway, Tromsø is a very long way from Oslo – around 1600km, depending on which road you take.
Despite its remote location, this city of 70,000-odd people is a surprisingly lively place. Add in the fact that there's some great nature nearby – and that Tromsø is one of the world's best places for watching the northern lights – and it's easy to see why tourists flock there. See here for one of the most popular northern lights tours in Tromso!
Unlike other popular spots for watching the aurora (such as Alta, further north in Norway, or Abisko in Swedish Lapland) Tromsø has lots of cultural sights and indoor activities to help fill your days.
In fact, we reckon Tromsø is the ideal pit stop if you're looking to combine eating, drinking, culture and a taste of the great outdoors.
Getting to Tromsø
By plane
Tromsø is pretty remote, so the quickest and easiest way to get there is usually by plane. It takes around two hours to fly to Tromsø from Oslo – SAS and Norwegian both have direct flights. Be warned, though: they're not especially cheap. You can expect to pay around 1700 NOK for a return trip, but better deals are available if you book a long way in advance.
Tromsø can also be reached by plane from other towns in northern Norway, including Bodø, Narvik, Alta, Svolvær, Kirkenes and Hammerfest. Try SAS, Widerøe and FlyViking, which all run domestic services.
Getting from the airport to the city centre is easy: use local bus #40 or #42 (around 50 NOK), or use the dedicated airport shuttle, which costs around 80 NOK. Going by taxi is significantly more expensive, with fares starting at around 200 NOK. You should also factor in 10–30 minutes of waiting in the taxi queue if you're arriving in the evening or on a bank holiday.
By train and bus
Since there are no direct services connecting southern and northern Norway, going by train and bus would end up taking you a lot longer than flying – and wouldn't save you much cash, either.
If you're already in northern Norway, public transport becomes a more realistic option. There are direct bus services from Narvik (bus #100; 4hr 30min) and Alta (bus #150; 6hr 30min). Narvik is in turn served by buses from the Lofoten Islands, Fauske and Bodø, while Alta has connections from Hammerfest.
You can plan journeys to Tromsø online (and in English) at tromskortet.no. Be aware that buses are few and far between, and that journey times are very long. Plan ahead.
Public transport from Swedish Lapland
If you're combining a trip to northern Norway with a stay in Swedish Lapland, the easiest option is to take the train to Narvik from Kiruna or Abisko, and then ride the bus the rest of the way. Note that there are only two trains going two and from Narvik per day – you'll need to time it carefully to catch one of the onward buses.
By road
You could of course drive to Tromsø, though if you're coming from anywhere south of Lillehammer it's likely your GPS will take you through Sweden along the way. Distance-wise there's not much in it but the roads there are a little faster.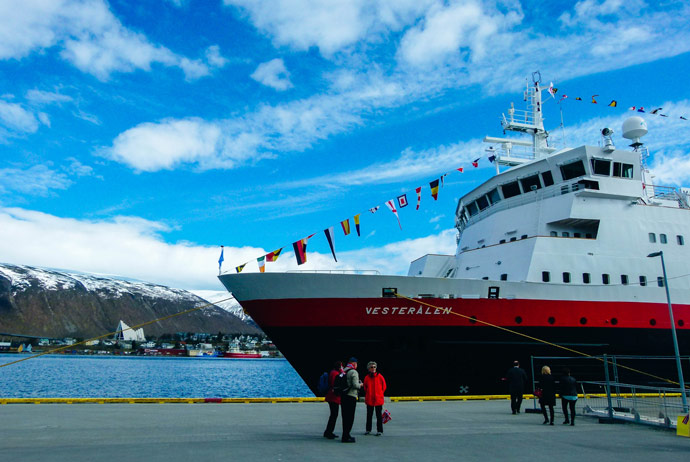 Getting around
Tromsø is quite a compact city and you can easily reach most sights and attractions on foot, or by using the city's bus service. A single ticket purchased on board costs around 50 NOK and a 7-day ticket giving you access to the whole bus network costs around 240 NOK.
If you're planning on going hiking in the mountains or if you'd just like to explore the Arctic nature and landscapes, you should consider renting a car. The local buses are great for getting around on Tromsø Island itself but regional buses to the best hiking and northern lights observation spots are a lot less common.
So, if time is short and money isn't too much of an object, a car might be a better option. Fares for rental cars rise with demand, so book as soon as you know your travel dates.
What to see and do in Tromsø
Visit the Arctic Cathedral
The Arctic Cathedral is a Tromsø landmark and although it's not an actual cathedral (it's really just a parish church) a quick visit should definitely be on your itinerary.
A real architectural masterpiece, the church takes inspiration from Arctic landscapes and has been likened to everything from an iceberg (fairly easy to see) to a typical northern Norwegian fish drying racks (you'll need a bit more imagination for that one). The colourful glass façade is magnificent – cloudy days are best if you want to catch it at its best!
Go on a pretend cruise
Tromsø is a port of call for the famous Hurtigruten steamers which travel the Norwegian coast from Bergen to Kirkenes.
What many people don't know is that even if your pockets aren't deep enough to actually go on a Hurtigruten cruise, you can still go onboard the ships while they're docked at harbour and imagine what it would be like to actually cruise the Arctic. You don't even have to pay an entrance fee to get on board – just remember to leave the ship before it departs again!
Ride the cable car
The cable car Fjellheisen (170 NOK) is a great option if you want to scale the mountain ledge called Storsteinen, which towers above the city. The cable car station at 421 metres above sea level offers a spectacular view over Tromsø and is also a great place for spotting the northern lights in winter.
Feed bearded seals
Polaria is an Arctic aquarium and science centre where you can learn more about the Arctic flora and fauna, see the feeding and training of bearded seals, and watch movies about Svalbard and the northern lights in the panoramic cinema. At around 130 NOK the entrance fee is pretty reasonable and will give you a good introduction to the natural environment in this part of Norway.
Learn about Arctic expeditions
Tromsø Museum has all you need to know about northern Norway and Tromsø, with exhibitions covering everything from Sami culture to the Vikings. You can learn about the Arctic expeditions of Amundsen and co at its partner institution, the Polar Museum. A botanical garden presenting typical Arctic-Alpine landscapes is also part of Tromsø Museum and makes for a nice stroll in the summer.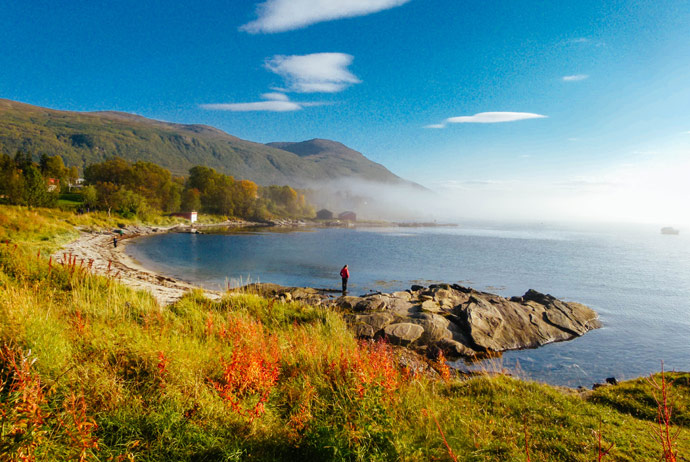 Spend a sunny day at Telegrafbukta
If you're visiting Tromsø in the summer and you're lucky enough to experience a sunny day, you should head straight for where all the locals will be hanging out: Telegrafbukta. This Arctic beach offers some stunning views of the mountains that crown the neighbouring island of Kvaløya, and is popular among locals for sunbathing, swimming, playing volleyball or just having a barbecue. This is also a great place for enjoying the midnight sun.
Go skiing on Lysløypa
Lysløypa is a ski slope and hiking trail that crosses the entire length of Tromsø Island. It's where locals tend to unwind during the long winter months so if you're into skiing, you should definitely join them here. Don't miss the ski jumping tower that's situated close to the trail – it offers great views over the city and the mainland from above (it's also completely free!).
You can even visit Tromsø's reindeer and marvelous ice domes in this popular guided tour! Alternatively, there is also a night reindeer sledding and northern lights chasing tour for those who wish to experience Sami culture.
Where to stay
If you're looking for budget accommodation, try the central Smarthotel Tromsø, which has compact modern doubles and singles. Another good option is the Bed and Waffles guesthouse, where you'll find private rooms (some with shared bathrooms) and – yes – free waffles.
For cabins and riverside nights under canvas, try Tromsø Camping, on the eastern side of the Bruvegen bridge. The Edge hotel is a good upscale option if you can afford the rather hefty per-night rates.
What to eat and drink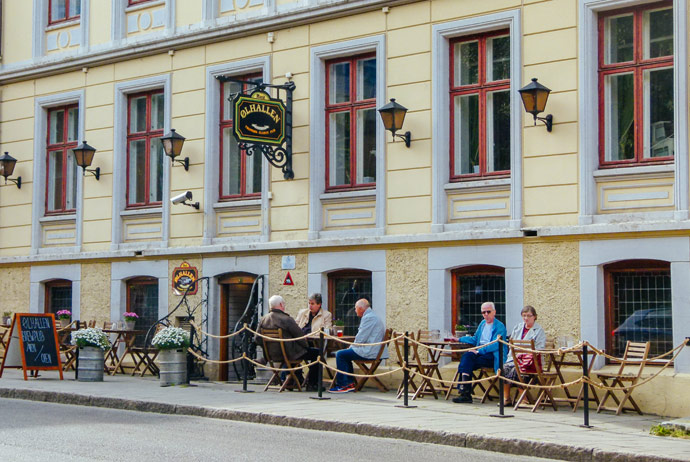 When visiting Tromsø, you have to try the local beer at Ølhallen, Tromsø's oldest pub. Located at Storgata 4 it's owned by Mack, which was once the world's northernmost brewery and is still a major player in the local culinary scene. The local speciality in these parts is seagull eggs with Mack beer – and we're still not really sure why.
If seagull eggs don't sound very appetising, you could also try tørrfisk (dried cod) to go along with your beer. Fish in general is a very essential part of Norwegian cuisine and you can't leave town without having at least tried king crabs. Reindeer meat is also worth trying if you want to experience something traditionally northern.
The best restaurants for reindeer and fish are Bardus (at Cora Sandels gate 4), Mathallen (Grønnegata 60) and Hildr Gastro Bar (Skippergata 11), although naturally, they're all a bit on the pricey side.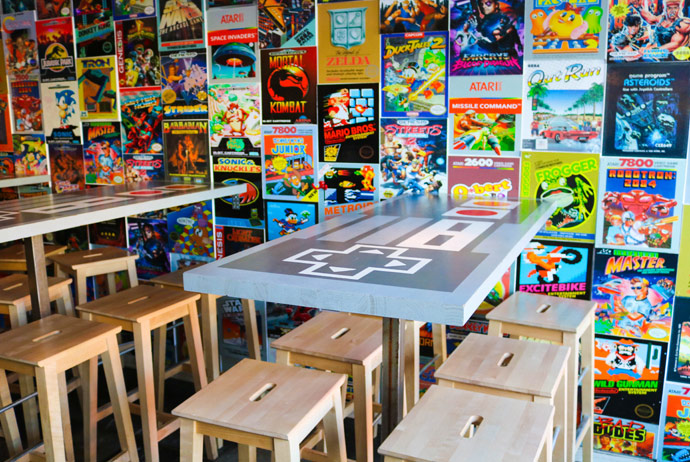 If you're looking for a cheap place to have a great meal, Burgr (Skippergata 6a) and Huken Pub (Strandgata 22) are both great bars. Both places are popular with locals and while Huken offers a cosy living room atmosphere and the best pancakes in town, Burgr has a fantastically retro interior inspired by old video games. It also happens to serve the best burgers in Tromsø.
Also worth a visit is Raketten, a tiny kiosk that doubles as Norway's smallest bar. At only 4 sqm, it's situated on the market square called Stortorget, and is a popular spot for beer and hot dogs on Friday nights.
When it comes to more sophisticated drinks, the Sky Bar on the rooftop of The Edge hotel is an absolute must if you like cocktails and want great views over the fjord. Definitely not for the budget traveller, but a nice treat for sure!
For a more adventurous experience, you can also try out this Snowmobile Safari Tour in the Lyngen Alps.
Map of places to eat, drink and sightsee in Tromsø