Kiruna, way up high in Sweden's north, is a great destination for winter sports activities, with snowmobiling being one of the most popular options.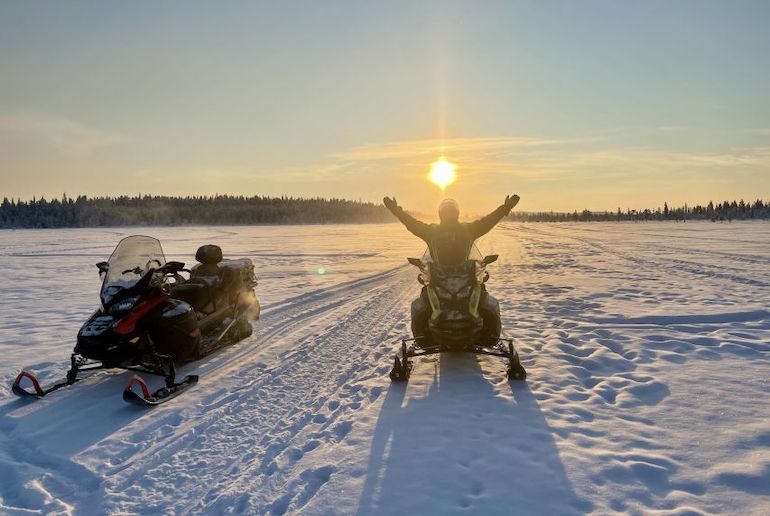 With an abundance of snow in winter – plus some idyllic scenery – Kiruna makes a great snowmobiling destination. So, let's discover more about Kiruna and why it is such a perfect place for a snowmobile adventure.
Where is Kiruna?
Kiruna is located in the very northern part of Swedish Lapland. In fact, it's one of Sweden's northernmost cities. It lies 200 km (125 miles) north of the Arctic Circle in the county of Norrbotten.
Kiruna is an outdoor enthusiast's dream destination. You'll find vast expanses of untouched nature, including pine forests, lakes, rivers and dramatic mountains. In fact, Kiruna is one of the closest cities to Kebnekaise, Sweden's highest mountain.
What makes Kiruna such a good place for snowmobiling?
There are tons of companies in and around Kiruna that offer snowmobiling tours, each having its own unique spin on things.
Also in Kiruna you will find good accommodation, and the city itself is near to popular attractions like the Icehotel. There's an airport and the train station is served by trains from Stockholm!
Not to mention, of course, the beautiful landscapes that will surround you during your tour.
Our favourite snowmobile trips near Kiruna
Classic guided snowmobile tour in Kiruna
On this guided snowmobile tour you will spend approximately four hours in the Swedish wilderness, visiting secluded and unique locations around Kiruna.
With a bit of luck, you'll also get the chance to see the wildlife that roams the area. 
For lunch, groups on this tour set up camp and cook together over an open fire. Bliss!
Snowmobile trip with fika
A snowmobile tour with Swedish fika thrown in for good measure? It's a combination you didn't know you needed, but you'll be grateful for some snacks and hot drinks after a few hours on the snow.
Snowmobiling in sub-zero temperatures can make you feel chilly fast, so having a coffee break like a local makes perfect sense.
Go aurora hunting by snowmobile
Is seeing the northern lights on your bucket list?
Then this guided snowmobile tour and northern lights hunt is the perfect opportunity to cross it off.
On this tour, you will ride outside of the city where there is hardly any light pollution. This will give you the best views of the dramatic light show in the skies above.
Have a Lapland snowmobile adventure
If you're super adventurous and want to explore the Lapland wilderness, then this two-day snowmobile adventure to the village of Övre-Soppero may appeal.
On this trip, you will explore a 130km-long slither of the Arctic staying overnight in Övre Soppero, where you can try a traditional Sami meal including reindeer meat, and enjoy a wood-fired sauna. 
Take a snowmobile day trip
This snowmobile exclusive tour offers an intimate glimpse of the frozen landscapes over the span of a day. This one is recommended for more experienced riders, as the tour drives for long distances.
Also included is an outdoor lunch with the finest local delicacies while warming up by a fire.
An afternoon ride by snowmobile
If two days sounds a little too intense for you, perhaps a nice relaxing afternoon snowmobile tour will be more up your alley.
This tour is shorter than the others on our list, but still provides a chance to see what the area has to offer. A great option for beginners as well! This is a perfect excursion for those who want a taste of the tundra.
Whizz over frozen rivers and lakes by snowmobile
On this snowmobile Arctic adventure you will explore the beauty of the Torne River and the countless frozen lakes around Kiruna.
Around 30–40 km (18–24 miles) long, this tour is a unique way to discover the frozen waterways of Lapland up close.

FAQ
When is the best time to go snowmobiling near Kiruna?
The best time to go snowmobiling near Kiruna is between December and March. This time of year will ensure lots of snow and perfect conditions.
How much is a typical snowmobile tour from Kiruna?
The average 3-4 hour tour ranges from around US$100–200. These tours are typically all-inclusive, with the snowmobile, winter clothes/equipment, and lunch included in the price.
The day trips are a bit more expensive, ranging around US$300. Two-day trips will cost around US$500–600, with accommodation and meals (breakfast, lunch, and dinner) included.
How old do you have to be to drive a snowmobile in Sweden?
You must be at least 16 years old to drive a snowmobile in Sweden, though most tour companies will only allow over 18s to drive: check with the tour company beforehand.
You'll also need a full driving licence that meets the Swedish requirements for driving a snowmobile.
What's the Swedish word for snowmobile?
The Swedish word for snowmobile is snöskoter, while snöskotertur means snowmobile tour.
Can you see the northern lights on a snowmobile tour from Kiruna?
It is very possible to see the northern lights while on a snowmobile tour near Kiruna.
Kiruna is touted as one of the best locations for viewing the auroras – just bear in mind that it's always smart to leave the lights of the city behind you when trying to see the northern lights, as light pollution can make them near-impossible to see.
Do you need special insurance?
Insurance is always recommended when participating in any winter/extreme sports and most polices can provide add-on cover for snowmobiling.
What is the Kiruna Snowfestival and when is it?
The Kiruna Snowfestival, or Snöfestival, is a big celebration held during the last weekend of January, in the centre of Kiruna.
The festival began in 1986, and has become an annual tradition for the locals, as well as tourists.
There are plenty of games and contests to take part in, as well as music, food and shows! There's something to offer for people of all ages, so make sure to bring the whole family.
What's a snowbike, and can you rent one in Kiruna?
Essentially, a snowbike is a cross between a snowmobile and a dirt bike.
It can go most places a snowmobile can, and looks similar to a snowmobile. However, it is smaller and has a single ski at the front.
Currently, these vehicles are not widely available and are still hard to find. However, because of the growing buzz about trying them, they will surely become readily available in the near future.
Can you snowmobile from Kiruna to the Icehotel?
The Icehotel lies about 15km (9.5 miles) east of Kiruna in Jukkasjärvi. And it is definitely possible to snowmobile there from Kiruna! Just make sure to bundle up before you head out!
See also:
Snowmobile tours in Iceland
Things to do in Kiruna in winter
Swedish Lapland on a budget