It's no surprise that tourists who visit Scandinavia are attracted to the big cities and blissful countryside.
Although cities such as Stockholm and Copenhagen are magnificent and Norway's scenic fjords draw people in from all over the world, many Scandinavians choose to holiday on the region's beautiful islands, of which there are many.
Sweden alone has more islands than any other country in the world, and the vast majority are completely uninhabited!
We'll discover some of the most beautiful islands in Scandinavia and highlight the key factors that make each one unique.
Gotland, Sweden
Gotland is Sweden's largest island, and it is particularly popular among Swedes as a holiday destination. Full of natural beauty, it's known for its rugged coastline, white sandy beaches and unique rock formations.
Gotland's main settlement is the medieval town of Visby, which is a UNESCO World Heritage site.
Its known for its well-preserved 13th-century city walls, picturesque cobblestone streets and many historical buildings.
If you choose Gotland as your holiday getaway, Visby Gustavsvik may be the perfect play to stay. It's a short drive from the centre of Visby, and located right on the beach!
Ærø, Denmark
Danes love visiting the island of Ærø, in the southern region of Denmark, for its relaxed and laid-back atmosphere.
With lush green fields, cobbled streets and cosy cottages, Ærø is a great place to get away from the hustle and bustle of everyday life.
If you're looking for somewhere to stay, the Nostalgi Marstal is a cute little holiday home nestled in an excellent part of the island, just a few steps from the Marstal harbour.
Lofoten Islands, Norway
The island chain of Lofoten lies way up in the very north of Norway above the Arctic Circle. So a visit here will allow you to experience the midnight sun in summer and the polar night in the winter.
For an authentic Norwegian experience, book a night (or several!) at the Eliassen Rorbuer, a collection of renovated fisherman's cottages surrounded by dramatic fjords.
The Lofoten archipelago is surprisingly big, so taking a tour might be the best way to see it all.
We recommend this 2-day photography tour around the Lofoten islands, which will also help you get the best shots of this scenic spot.
Öland, Sweden
Sweden's second-largest island, Öland was the summer getaway for the Swedish Royal Family for over 100 years.
The island has a full calendar of events, such as concerts and food festivals during the summer, while the coastal village of Böda has a popular campsite.
Off the southeastern side of Sweden, Öland is easily accessible from the mainland via the Öland bridge, making it a convenient destination for a short holiday or weekend getaway.
Want to feel like royalty? Stay at Drottning Victorias Hotell & Vilohem, just a 10-minute stroll from Borgholm Castle with beautiful garden views from the windows.
Samsø, Denmark
WIth its quaint villages and plethora of outdoor activities, the island of Samsø is located in the Kattegat sea, between the provinces of Jutland and Zealand.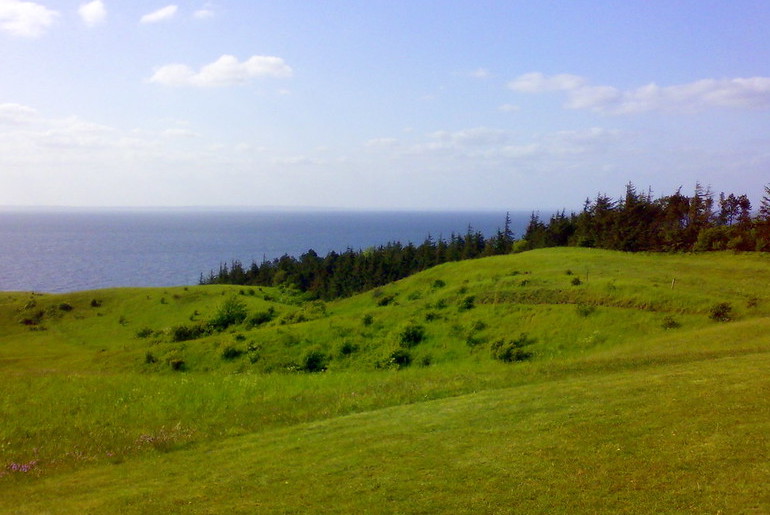 Samsø is known for its focus on sustainable tourism, and is the world's first renewable energy-positive island.
That means that it produces more energy than it uses, with a combination of wind turbines, biomass and solar power.
This makes it a popular destination for those who are interested in sustainable living and environmental conservation.
If you want to stay, this stunning apartment is a cosy space with sea views, just a few steps away from Ballen Strand.
Svalbard, Norway
For those who want a real adventure, the Svalbard archipelago is the ideal location for world explorers.
Located 1,985 km (1,233 miles) north of mainland Norway, Svalbard is known for its unique Arctic landscapes and wildlife such as polar bears and reindeer.
The island is remote with limited tourist facilities, but that is part of the appeal for those interested in nature and adventure tourism.
If you're lucky enough to make the trek up to Svalbard, Mary-Ann's Polarrigg is centrally located so makes a good base for exploring the island.
Väderöarna, Sweden
Väderöarna, whose name aptly means "The weather islands" in Swedish, is a small archipelago located off the west coast of Sweden.
The islands have plenty of hiking trails, boat trips and pristine beaches, as well as being home to a variety of wildlife, including seals, sea eagles and various bird species. Those who enjoy birdwatching will have a blast here!
This little outpost is the perfect place for a quiet retreat, and offers classic west coast crayfish too.
Bornholm, Denmark
Bornholm is located off the southern coast of Sweden but is a province of Denmark. The island is home to several unique landmarks, such as the Hammershus castle ruins and several impressive churches.
It's also known for the local cuisine, particularly smoked fish. Not only will you discover the beauty of the island, but also eat all of the delicious food it has to offer!
If you want to stay, try the Strandhotel Balka Søbad, which is close to bright sandy beaches, with a lovely heated pool and beautiful surroundings.
Bragdøya, Norway
Bragdøya is a small island located in the Helgeland region of Norway. It is not the most well-known tourist destination, but it offers a peaceful and unspoiled natural setting for those wanting to escape reality.
One of the island's main attractions is the Thaulow house, which was the first lighthouse on the island. Although the lighthouse is no longer active, it now houses a museum and cultural centre.
Although not actually on the island, this modern waterfront apartment in Amalienborg Brygge is just a short 20-minute ferry ride away, with beautiful sea views.
Marstrand, Sweden
Marstrand, also known as the sailing capital of Sweden, is a small island town located on the west coast of Sweden, just a 40-minute drive from Gothenburg.
Popular for its charming historical architecture, beautiful nature and lively atmosphere, it's also home to the 17th-century Carlsten fortress.
Marstrand also hosts several festivals during the summer months and has a variety of restaurants and cafes, ranging from traditional seafood restaurants to trendy cafés and bars.
The Grand Hotel Marstrand certainly is grand: this 1800s hotel is set in a former royal summer residence and is beautifully renovated. It's also centrally located to all of the shops and restaurants.
Anholt, Denmark
Anholt is a small Danish island located in the Kattegat Sea, between Denmark and Sweden. It is sometimes referred to as "the Gran Canaria of the North" with its white dunes and crystal clear waters.
Because of its remote location, Anholt makes an excellent place to do some stargazing. So if you fancy swimming in the sea or observing the constellations, it's a good destination.
At the Pakhuset Anholt guest house, you can fall asleep to the sound of the sea. It's next to the harbour in the village of Flakket, with cosy rooms and terraces where you can cook a barbecue with views of the sea.
Skjervøy, Norway
Skjervøy is a small island community located way up in the Troms county of Norway. One of the most popular activities here is whale watching and this tour provides the perfect chance to see various whale species such as orcas and humpbacks.
If you want to stay, this cosy apartment in the centre of town is a good choice.
Top 10 Scandinavian islands by area
And if you want to know which are the biggest Scandinavian islands, here are the top ten largest islands in Scandinavia by area.
The two largest islands in Scandinavia are both part of Norway's Svalbard archipelago, while Finland's largest island, Fasta Åland (685 km²), doesn't reach the top ten! 
| | | |
| --- | --- | --- |
| 1 | Spitsbergen, Svalbard, Norway | 37,673 km² |
| 2 | Nordaustlandet, Svalbard, Norway | 14,467 km2 |
| 3 | Zealand, Denmark | 7,031 km² |
| 4 | Edgeøya, Svalbard, Norway | 5,073 km2 |
| 5 | North Jutlandic Island, Denmark | 4,685 km² |
| 6 | Gotland, Sweden | 3,183 km² |
| 7 | Funen, Denmark | 2,985 km² |
| 8 | Hinnøya, Norway | 2,205 km2 |
| 9 | Senja, Norway | 1,586 km2 |
| 10 | Öland, Sweden | 1,342 km² |
See also:
9 amazing islands in northern Norway
5 of the best islands in the Stockholm archipelago
The top 12 Swedish islands
5 of the best islands in Gothenburg archipelago
Like what you've been reading? Get our best tips by email!