Let the untouched nature and Arctic fresh air lull you into a wonderful feeling of wellbeing! In Swedish Lapland you'll find not only traditional saunas, but exclusive spas that nurture your body and soul. With a back-to-nature focus, you can experience the Arctic lifestyle the way it's meant to be.
Why do we love these hidden spas in Swedish Lapland so much? Well… sitting in an outdoor hot tub surrounded by snow watching auroras dance in the sky above you is just magical. Trust us on this.
So, we've done some research and come up with some amazing spa experiences in the north. All of these places offer overnight accommodation.
Loggers Lodge
Near Harads, Sweden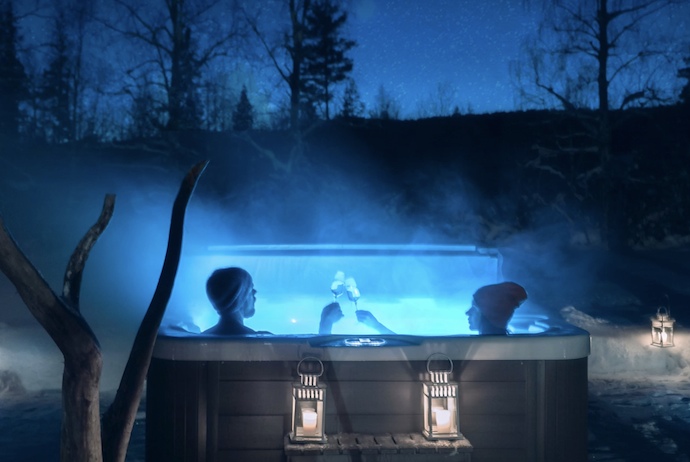 If you're on the hunt for an exclusive wilderness lodge in the Arctic forest with a real wow factor, look no further. Surrounded by wonderful landscapes, Loggers Lodge has private eco-friendly accommodation, an outdoor jacuzzi, and the best part: pretty much zero light pollution.
Needless to say, this is a great place to be outside and enjoy the colourful displays in the Arctic night sky. The wood-fired sauna and outdoor hot tub are available for private use at any time, day or night. And the clean air and total silence of the surrounding area make it an ideal place for deep relaxation.
Logger's Lodge lies around 15 kilometres north of the small village of Harads in Swedish Lapland, which is also the home of the world-famous Treehotel.
Arctic Retreat
Near Gunnarsbyn, around 75km north of Luleå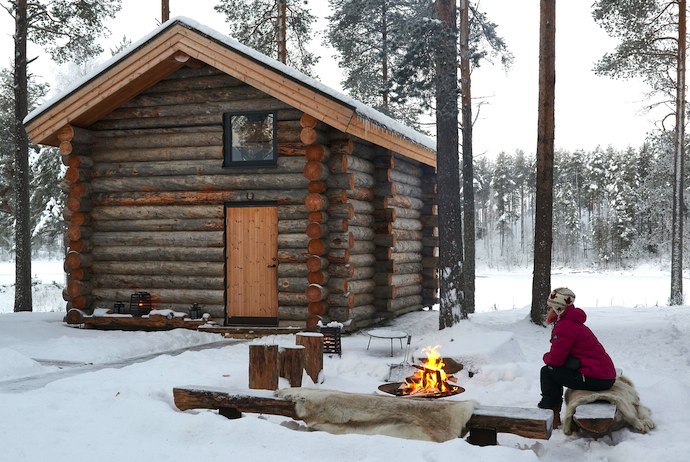 Arctic Retreat is run by a local family who invite you to share their Arctic lifestyle. Imagine a traditional Swedish log cabin, decorated with local handicrafts. The deep forest, magical river, luxurious accommodation and spa facilities will make you want to visit this place again and again.
With an outdoor jacuzzi, wood-fired sauna, natural bathing in the nearby river, and massage treatments, this place is truly the definition of an Arctic retreat.
In addition to the spa and some thrilling outdoor excursions, you can treat yourself to a unique culinary journey. If you can afford to splash out, we'd recommend booking one of the culinary activities, such as the Flavours of the Eight Sami Seasons, where you can learn all about and sample dishes made from traditional local, wild ingredients. This Arctic retreat is spot on for relaxation and a stress-free holiday.
Aurora spa at Camp Ripan
Kiruna
With the famous Icehotel in the neighbouring village of Jukkasjärvi, the amazing spa at Camp Ripan is a good reason to travel to the city of Kiruna, in the far north of Swedish Lapland. Camp Ripan offers accommodation, a restaurant serving local produce, and the lovely Aurora spa.
Locals are regular visitors here and it's easy to see why. With indoor and outdoor pools, the spa is inspired by natural materials such as stone, wood and water – and the treatments are based on old Swedish, Sami and Torne Valley traditional medicines. Best of all, every product contains only natural raw ingredients and is completely free of preservatives.
Lapland Guesthouse
Kangos, 130km northeast of Gällivare
A home away from home, Lapland Guesthouse is so cosy you'll want to stay here forever. It's hidden away in a picturesque village called Kangos – it's so small that only about 200 people live there. Nevertheless, it's a place we love for its beautiful nature and peaceful vibe.
Book an evening at the Arctic spa, and for a few hours you can chill out in the wood-fired sauna and outdoor hot tub by the river. Local culture and handicrafts, with good hospitality mixed in, is what makes this place stand out from the crowd.
If you're up for trying something really local, why not order sausages and dried reindeer meat to complete your Arctic experience?
Kukkolaforsen
Kukkola, 145km northeast of Luleå
The village of Kukkola lies on the border with Finland, and is known for its local sauna culture. With no less than 15 different saunas, it's a true paradise for anyone into sizzling hot heat.
Check out the 'sauna, spa and yoga' session for some gentle stretching exercises in the sauna, followed by a refreshing footbath and face mask. It's perfect after a day outside in the freezing Arctic weather.
Stay in one of the newly built hotel rooms with river-view terraces and revel in the various sauna experiences and massage treatments. Or try one of the other activities such as bread baking or a snowmobile safari. Treat yourself, too, to at least one evening in the outdoor jacuzzi, listening to the lively river below. It's magnificent.
Arctic Yoga
Byske, 45km north of Skelleftea
Calling all yogis out there! Be at one with nature and find a deep connection to your inner self. How about a yoga class on snow-covered ice, followed by a sauna and time for personal reflection while enjoying traditional Swedish fika?
There's space to camp here in the summer, and you can also rent basic cabins for overnight stays.
Map of spas in Swedish Lapland