Snowy mountain peaks, gushing rivers, tranquil forests, Arctic landscapes, wild moorland and herds of reindeer – just some of the many reasons to tempt you onto Kungsleden (the King's Trail) this summer. Here's all you need to know about tackling Sweden's longest hiking trail!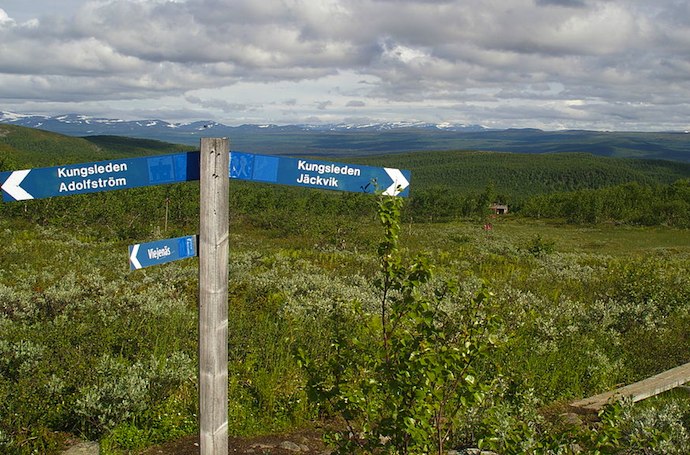 What – and where – is Kungsleden?
Kungsleden is a long-distance hiking trail that runs from Abisko in Sweden's far north to Hemavan, about 325km southeast as the crow flies.
Crossing three national parks on its way, the trial passes through a variety of stunning landscapes from beech and pine forests via Arctic wilderness, glaciers, Alpine valleys and rocky mountain passes.
How long is the Kungsleden trail?
The trail twists and turns, so Kungsleden is actually more like 430 km long. If you add in the popular detour to the summit of the Kebnekaise, Sweden's highest mountain, it's nearer 500 km in length. Needless to say, you won't be hiking it in one day.
So how long does it take to hike Kungsleden?
If you're planning to walk the entire Kungsleden trail, you should allow about a month. However, the route can be broken down into five more manageable stages.
These can be easily tackled on shorter trips – the most popular of which is the first stage, from Abisko to Kebnekaise.
The five Kungsleden 'stages'
Abisko to Kebnekaise (105km; six days)
Kebnekaise to Saltoluokta (51km; three days)
Saltoluokta to Kvikkjokk (73km; four days)
Kvikkjokk to Ammarnäs (166km; eight days)
Ammarnäs to Hemavan (78km; four days)

Map of the Kungsleden route
How easy is it to hike Kungsleden?
Although the trail passes through some of Sweden's most dramatic scenery, much of it is along well-trodden paths, with boardwalks and wooden bridges laid over boggy ground and mountain streams (though these are not always very well-maintained).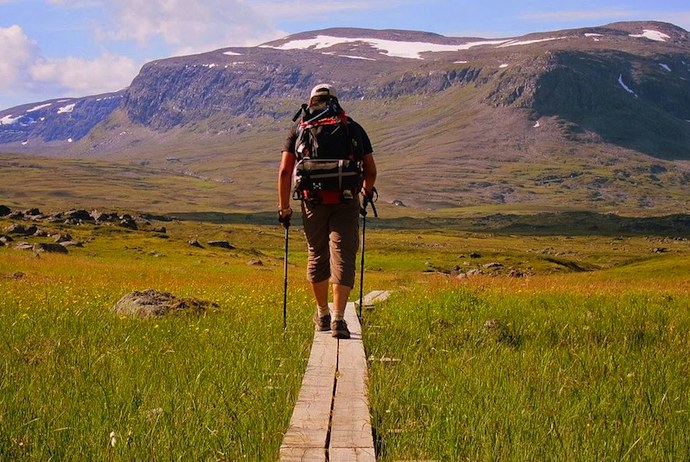 There are steep sections where you'll need to scramble, particularly in the north, but, for the most part, the trail runs along gentle valleys, over open moorland and follows streams and rivers.
Where to stay in Abisko
If you're starting or ending your hike in Abisko, you might want to reward yourself with a hot shower, a comfy bed and some good food. Abisko is probably the best place to treat yourself, as it has a good range of hotels and hostels which are all geared up to cater to hikers.
The handiest option for access to the trail is Abisko Turiststation, which has cosy, simple rooms and a great restaurant with panoramic views.
Smaller but equally welcoming options include Abisko Guesthouse and Abisko Mountain Lodge, both of which are within walking distance of the Abisko Östra train station.
Abisko is also a great base for tours of the Abisko National Park, whether you want to take a guided hike or head out in search of wildlife.
Other than going over the Tjäktja Pass (at 1105 m, it's the highest point of the trail), most of the path is not too demanding and can be tackled by anyone in good health with a decent level of fitness.
Which direction should I choose?
Most people walk the Kungleden trail from north to south, since the northern section boasts the most dramatic scenery. However, doing it from south to north means that you'll be walking against the crowds, and that you're saving the best for last!
How do I access the trail?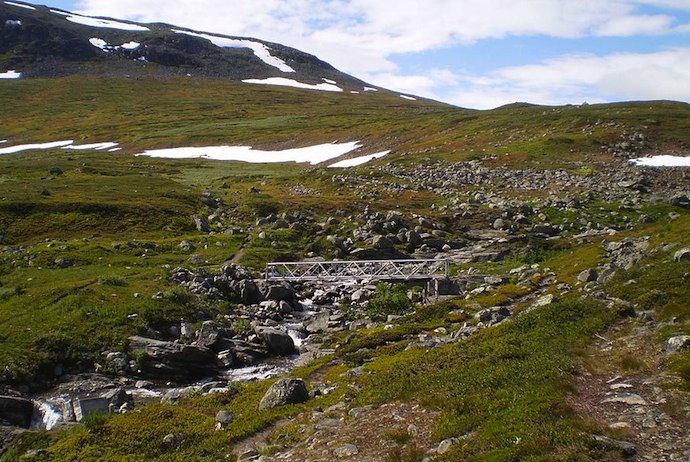 There are several entry points along the trail, which can all be accessed by road. Usually they have accommodation, parking and somewhere to buy supplies.
From north to south, the main entry points are at Abisko, Nikkaluokta, Vakkotavare, Saltoluotka, Kvikkjokk, Jäkkvik, Ammarnäs and Hemavan. Note that Nikkaluokta isn't actually on the trail, but it's the nearest access point to the trail, with a spur path running from there to Singi via Kebnekaise.
Accommodation: camping or mountain huts?
There are a series of basic mountain cabins spread along the Kungsleden trail, approximately one every 12–20km. Run by the Swedish Tourist Association (STF), they have bunk bed accommodation in dorms. They usually have basic supplies to buy and a self-catering kitchen with gas stoves, so that you can cook your own food.
The cabins have no running water or electricity (you can get your water from nearby streams), though some have wood-fired saunas.
In addition, there are five larger well-equipped, more expensive fjällstationer, or mountain lodges, at the main access points, some with en-suite double rooms and proper licensed restaurants.
You can pitch a tent outside most of the mountain huts and use their facilities for a small fee. Alternatively, just look out for a suitable flat, clear spot along the route to set up camp – there are tips on wild camping in Sweden in this guide.
How much will it cost?
Once you're at the entry point, you can do the trail on the cheap by camping wild and carrying all your supplies with you.
Staying in a mountain hut costs from 400 SEK a night if booked in advance (more if you pay at the hut), and buying food and equipment from the hut shops is far more expensive than buying it in a supermarket in advance.
Booking ahead is recommended if you're going in peak season, as the huts can get very busy.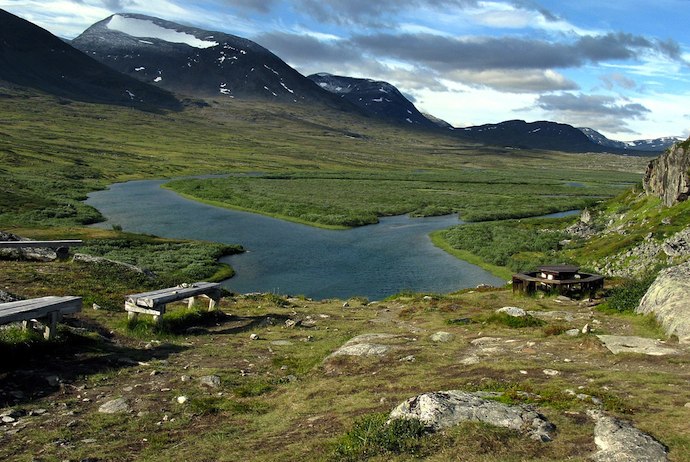 The trail crosses several lakes and rivers en route, which can only be traversed by boat. Some have free rowing boats that you can use, but others have manned motor boats that you'll have to pay for: check the boat timetables and fees here.
Don't forget, too, to factor in the bus fare, which covers the 19km of road between Vakkotavare and Kebnats.
When is the best time to hike Kungsleden?
The hiking season on the Kungsleden trail runs from late June to late September, which is when the mountain huts are open and transport to the access points is running. Within this season, there are pros and cons to when you set out.
Late June to mid-July has the advantage of 24 hours of daylight, so you can keep on trekking throughout the night, though you may find sleeping in a tent tricky during the eerie midnight sun.
There are also fewer flies and biting bugs around at this time. However, you can still get snow on the higher passes.
Mid-July to the end of August is peak season on the trail. The weather is at its best and the snow has melted. However, it's also the busiest time, especially on the popular northern section, for both fellow trekkers and blood-thirsty mosquitoes. The midges and mosquitoes in Sweden aren't dangerous, but they are very annoying and bites can get itchy– take some repellent with you, and a good net.
In September, the weather is less reliable, and the nights longer and colder. If you're lucky you can still get some warm sunshine, though you can equally have fresh snow. On the plus, side, the autumn colours of the trees are stunning, the insects are beginning to abate and you may even get to see the northern lights.
See more:
Camping wild in Sweden
Our experience: hiking the Kungsleden trail
Tours in Swedish Lapland
Like what you've been reading? Get our best tips by email!