Safe, clean and surprisingly compact, Oslo is a city that seems made for walking. Most of the main tourist attractions are easy to reach on foot, and you'll find loads to keep you busy in the central part of town.
However, there are still lots of things to see beyond the city centre. So if you want to make a couple of quick day trips, or would just prefer not to walk everywhere, you'll need to get used to Oslo's public transport system. Luckily, the network is comfortable, reliable and relatively simple to use. And – compared with taxis, at least – public transport in Oslo is fairly cheap.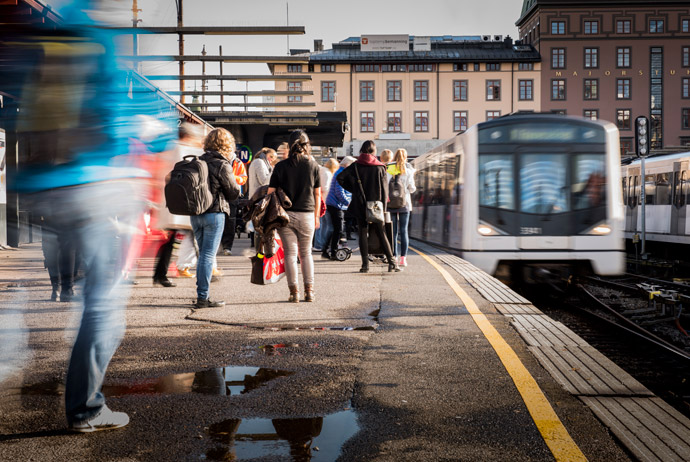 How does Oslo's public transport system work?
The entire network is organised under one name – Ruter – and that gives you the option to use the same ticket on buses, trams, local trains, ferries and metro trains.
So if you want to take the tram from central Oslo to Aker Brygge and then jump on a ferry, you can do so using the same ticket. In fact, you can get pretty much anywhere in Oslo using public transport. Here are the different options available for getting around Oslo:
Metro trains
Trams
Buses
Ferries
Trains
Bikes
Taxis
Metro trains
The metro system (also known as T-banen) is made up of five separate lines which extend away from the city centre in different directions. A sixth line is currently being planned.
Oslo's metro isn't a true underground system, as less than 20 percent of the stations are actually below ground, but it is very fast and very handy nonetheless, especially if you're staying outside the centre and need a quick way to get downtown.
Train lines are numbered one to five and each one has a different colour, making it easy to find your way around. It's important to know that all five lines cover every stop from Majorstuen to Tøyen in central Oslo, so you can pick any of those stations and always find the right train.
There are at least four services an hour on every line (more during rush hour) and the trains run from around 5am–1am seven days a week.
Oslo metro map (click to enlarge)
Is the Oslo Pass worth buying?
Read this guide to see how much you could save during your trip!
Trams
There are six different tram lines in Oslo, but confusingly, some of them share the same colours. For this reason, it's important to make sure you check the line number before jumping aboard.
Oslo's tram system (known locally as trikken) serves some areas of the city that are not on the metro system. Most visitors won't need to use the tram, but it can be a handy option if your legs get tired and you see one heading in the same direction.
Depending on your journey, you may also find that using the tram is quicker than getting on the metro – check on the Ruter website (see below) before setting off. You can use the same ticket on the metro system and the trams, so there's no problem with making part of your journey by metro and then continuing by tram.
Buses
Oslo has a sprawling network of buses – there are dozens of them snaking out from the city centre.
While we wouldn't recommend trying to get to grips with the buses for short inner-city journeys, they can be extremely useful for day trips further afield. Route #30 is handy for trips to the Bygdøy Peninsular, for example, while bus #500 runs south to the pretty town of Drøbak where you'll find picturesque wooden houses and a year-round Christmas exhibition (yes, really).
If you're staying out late at night, buses are your best option. There's no additional fare and night buses cover most of the city. If you get stuck or lost, ask the driver – most speak good English.
Ferries
One of the great things about travelling around Oslo is the ability to just jump on a boat and head out onto the water, without needing to pay for a special tour.
Oslo's public ferries connect Rådhusbrygge in the city centre with the islands of the Oslofjord. Five different islands can be reached all year round (Hovedøya, Bleikøya, Gressholmen, Lindøya and Nakkholmen) but there are far fewer services during the winter – make sure you check when the last trip back is!
The same Ruter tickets can be used on ferries too, but you can't buy tickets on the islands (so it's best to pay for the return leg in advance).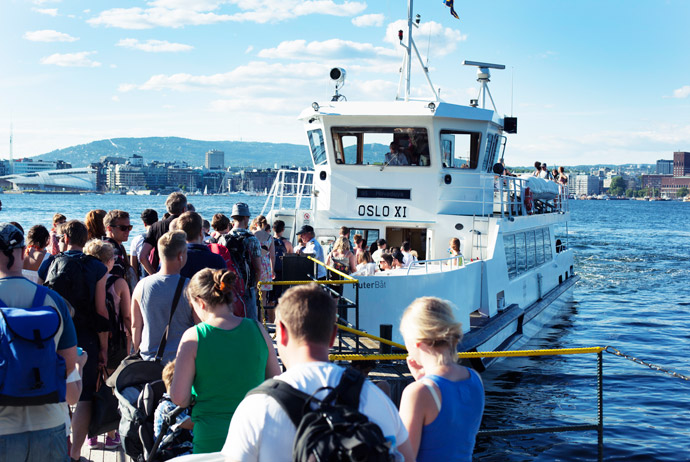 Trains
It's unlikely that you'd need to use local trains to get around Oslo, but there are a few situations where it makes sense to do so.
For example, the journey from Nationaltheatret to Oslo Sentralstasjon takes just three minutes with a local train, compared with more than 10 minutes by tram or bus.
For longer train journeys outside of Oslo (and for other destinations in Scandinavia like Copenhagen and G0thenburg) check the ACP Rail website.

Bikes
Oslo has a good infrastructure for cyclists, and it's a nice city to explore on two wheels.
From April to the end of November each year, the city's bike hire system swings into action, with public bikes left at around 200 stations across the city. You'll need to pay around 49 NOK for a day pass and then use a bike for 45 minutes at a time (after which you'll need to swap it for another). There's more info on the Oslo Bysykkel website.

Taxis
Given that Oslo's public transport system is so efficient, we wouldn't really recommend taking taxis, unless you really have to.
Fares can be extremely high – for example, you can expect to pay upwards of 1500 NOK (around $190) for a one-way trip from the airport to the city centre. Uber exists in Oslo, but fares aren't a huge amount cheaper than regular cab firms.
Buying tickets
There are a few different options when it comes to buying tickets for Oslo's public transport network.
1. Get the Oslo Pass
Travel add-ons as sold as part of the Oslo Pass, which are valid for 24 hours, 48 hours or 72 hours. If you buy the Oslo Pass with the transport add on, you'll be able to jump on public transportation without paying an additional cost or worrying about buying tickets every time you make a journey.
2. Buy a time-limited pass
You can buy Ruter tickets that are valid for one hour, 24 hours, seven days, one month or even 365 days. A single 24-hour pass will cost you around 105 NOK.
3. Stick to single tickets
If you're only making a couple of journeys each day, it makes sense to stick to single tickets. A quick one-way journey within zone one (which covers all of Oslo) will cost you around 35 NOK.
If you're staying in Oslo for more than a day, it's best to buy tickets for zone one and then just add a supplementary tickets for any longer trips you make. The airport, for example, is in zone four.
Paying for your journeys
Most visitors from Europe will be able to download the Ruter app and buy tickets there (note that not all overseas credit cards can be processed). If you get stuck, you can purchase tickets from branches of Narvesen, Deli de Luca and 7- Eleven. There are also red ticket machines at Oslo's metro stations.
It's always best to buy tickets before you board; if you buy onboard the price us always higher thanks to Ruter's 'onboard surcharge'. Another thing to bear in mind is that you may meet ticket inspectors instead, who can issue hefty fines to anyone travelling without a ticket.
Children below the age of four travel for free. Children aged 16 and under pay half the usual price, as do seniors.
Tips for getting around Oslo
If you want to see the famous ski jump in Holmenkollen, take metro line #1 to Frognerseteren.
If you want to see the city as you travel, the tram is a good choice. Some of the lines travel through the most vibrant streets which are home to lots of restaurants, bars and boutiques. Trams #11, #12 and #13 go though the cool district of Grünerløkka. Tram #12 also stops right outside the Vigelands park, Akershus Fortress and the City Hall.
To get to the museums on Bygdøy, you can either take a ferry or bus #30.
See also: 
40 free things to do in Oslo
Guided tours in Oslo
Like what you've been reading? Get our best tips by email!