Norway is one Europe's top destinations for white water rafting – and rightly so. Some of the country's dramatic rivers and gorges have glacial meltwater gushing down them at top speeds, make Norway an exhilarating place for adrenaline junkies to go rafting.
But if you're a beginner and prefer a more gentle trip, don't worry: Norway's waterways also have some calmer stretches, where you have time to take in the stunning scenery and enjoy the ride.
When is rafting season in Norway?
The rafting season in Norway is from around mid-May until the end of September.
Experienced rafters generally consider May and June to be the most exciting time as the meltwater run-off from the mountains is at its strongest, though water temperatures are lower.
The rivers also tend to be less busy early in the season as the conditions are more challenging.
Later in the season the water flow is calmer and the temperatures warmer, so beginners may prefer to go in late August or September.
How tricky is the rafting in Norway?
White water rapids are categorised according to the International Scale of River Difficulty, which grades rivers from Class I to VI.
| Class | Description |
| --- | --- |
| Class I | Easiest |
| Class II | Suitable for novices |
| Class III | Intermediate |
| Class IV | Advanced |
| Class V | Expert |
| Class VI | Extreme or exploratory |
Class I and II rapids have water that can be swum in if you capsize, while Classes III–V have more powerful currents that are not suitable for swimming in.
Class VI is traditionally considered unnavigable, and although expert kayakers and rafters may attempt them, they are generally considered too dangerous to tackle.
Of course, rivers vary with some stretches categorised as Grade II, while other stretches are Grade IV, while the conditions and power of the water depends on the weather conditions and time of the year too.
Norway has a good range of rivers where you can go rafting, with rapids varying from Class I–V.
The best places for rafting in Norway
Here are some of our favourite spots for rafting in Norway, with tips on what to expect at each one.
The Sjoa River
Scandinavia's best rafting river, the Sjoa is Norway's most famous white water destination, with rapids from Class II–V depending on the water level.
The 60-mile long river flows into Lake Gjende in the Jutenheimen National Park through pristine Norwegian wilderness, canyons and gorges, with the Åsengjuvet canyon being the most extreme, challenging section.
This full-day rafting trip tackles a 15–18km stretch of the Heidal section, rushing through foaming rapids such as 'The Gulf Stream', 'The Haystack' and the 'Bye-Bye Baby'.
If the conditions are right, you may even run the stomach-churning 'Washing Machine' rapid!
Beginners may prefer this shorter half-day trip that runs a 9km stretch of the river through calm open landscapes plus a few narrow gorges with rushing rapids.
Where to stay
A few white river rafting outfits are based in around the village of Sjoa, which is a good place to base yourself.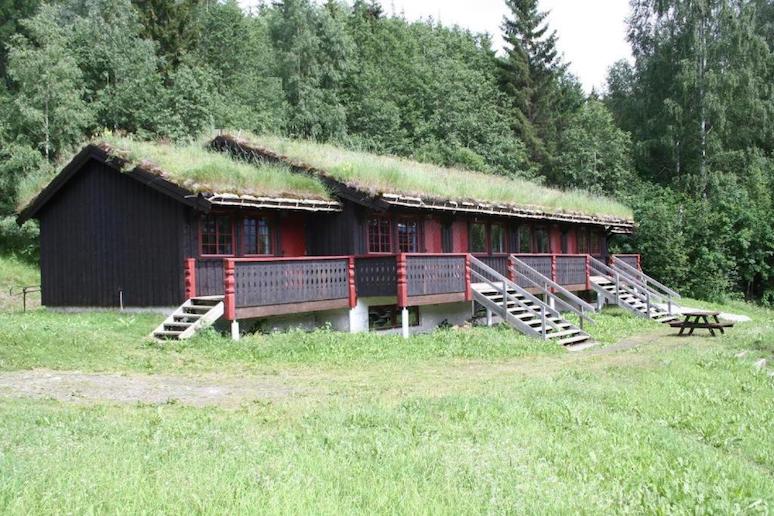 The pretty Sjoa Gjestehus & Vandrerhjem has double rooms and bunk rooms, and can arrange rafting trips on the river.
The Numedalslågen River
Norway's third longest river, the Numedalslågen runs from the Hardangervidda National Park for around 352 km down to the sea south of Oslo.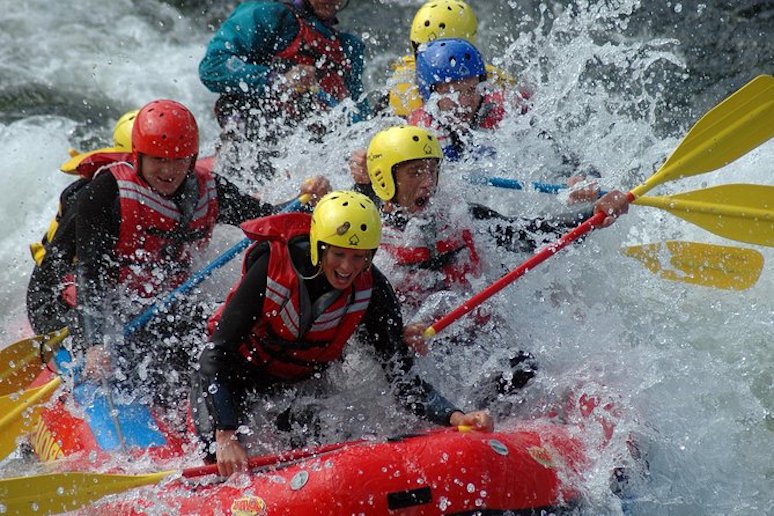 It has some exciting and challenging sections for experienced rafters, but is also a good place for family rafting adventures, with trips suitable for beginners and children aged eight and above.
This three-hour rafting trip from the village of Dagali takes you out onto the Numedalslågen River tackling rapids and paddling past pristine scenery. It's suitable for families and children over 12.
Where to stay
The small village of Dagali is home to three rafting companies. Just outside the village, the Active Group Apartment at Dagali Fjellpark makes a great place to stay for families and large groups, with five-bedded apartments and outdoor hot tubs.
Voss: the Raundel and Stranda rivers
Surrounded by magnificent fjords, the picturesque town of Voss is an adventure sports hub, which offers access to white water rafting on two rivers, both with Class IV rapids.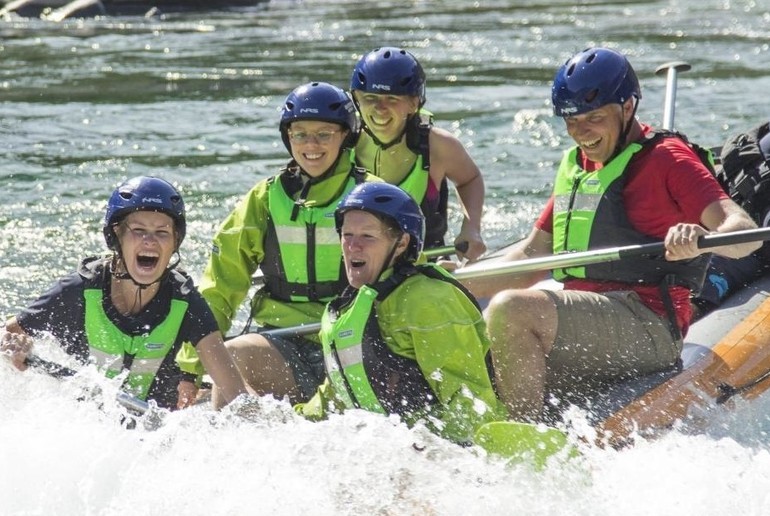 The Stranda river (Strandaelva) has nine exciting rapids over an 8km run of churning water.
Running through a beautiful canyon, the Raundel River (Raundalselva) is technically more challenging, but is a better bet for rafting in August and September when the water levels on the Stranda are low.
This fun rafting trip takes you along the 'Play Section' of the Raundal, where you'll raft over loads of Grade III rapids. It's suitable for beginners and children over 10.
Known as Norway's adrenaline capital, Voss is a hub for all kinds of adventure sports (see our guide to extreme sports in Norway), including paragliding, skydiving, mountain biking and skiing.
So why not combine your rafting trip with a mountain bike adventure? On this rafting and MTB trip, you'll ride the rapids of the Raundel river then explore the trails and trails around Voss by mountain bike.
Where to stay
The Voss Vandrarheim Hostel is on the outskirts of Voss, right by Lake Vangsvatnet. It has double rooms with lake views, plus family bunk rooms sleeping up to five people.
The Otra River
The village of Evje in southern Norway offers rafting on the Otra River, one of Norway's warmest rivers that flows for 245km into the sea at Kristiansand.
TrollAktiv runs fun family-friendly rafting adventures for children aged six and above, which start out training on flat water then progress to a quieter part of the river to ride some gentle rapids and fun waves.
They also run more challenging trips for experienced rafters over the Syrtveitsfossen, with an overall gradient drop of 8.5 metres.
Where to stay
The Hotel Dølen in Evje sits right by the river Otra and makes a good base for a rafting, mountain-biking or hiking trip.
The River Driva
The Driva river in the Trøndelag region has a variety of rapids, from a gentle family-friendly 4km trip through the Driva Valley to a challenging ride down a dramatic canyon between Ishoel and Liahjell.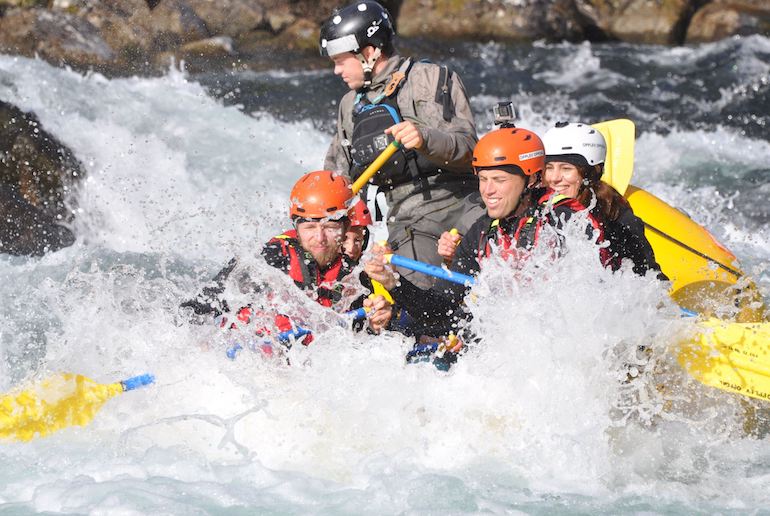 This six-hour trip for experienced rafters is physically demanding and tackles the exhilarating Gråura Gorge (Class IV–V). Its first major rapid is called 'The Sphincter' – you have been warned!
Where to stay
There's camping right by the river at Granmo Camping, which has spaces for tents, camper vans and caravans, as well as cabins and cottages to rent.
Trofors: the Svenningelva and Austervefsna River
The village of Trofors in Norway's Nordland region offers rafting on the Austervefsna river and the Svenningelva, with Class III–IV rapids.
On this full-day trip, you'll raft up to 15km through canyons and over foaming white water, though you can also do easier family-friendly trips that are suitable for beginners and children aged from six upwards.
Where to stay
Just outside Trofors, right at the river's edge, this comfortable four-bedroomed self-catering house makes a great base for rafting, cycling and hiking.
Staying safe on the water
Rafting is generally a very safe activity provided you go with a reputable company. Most companies in Norway employ highly trained and experienced guides who know the local rivers well.
Reputable rafting companies will provide safety training for beginners as well as life jackets, helmets, waterproof footwear if needed, wetsuits and paddles.
It's a good idea to book in advance through websites such as Fareharbor or Viator.
Some companies offer free cancellation up to 24 hours before the trip, though for others the cancellation period is longer, so always check the terms and conditions before you book.
Tips for white water rafting in Norway
Wear swimwear beneath your wetsuit, or thermals if it's cold
Bring dry clothes to change into after the tour
Wear waterproof suncream (yes, it can get sunny in Norway!)
Follow your guide's instructions – they are experienced and know what they're talking about!
Don't bring any personal belongings with you – your guides will tell you where to leave them.
Is rafting bad for the environment in Norway?
As tourists activities go, white water rafting has a relatively low environmental impact. Since the rafts are powered by paddles and water, they are a clean and sustainable form of transport.
There are things you can do to minimise your impact, however, such as never throwing any litter into the river and being mindful of the local wildlife.
How much do rafting tours typically cost?
Prices vary depending on the length of the trip and the level of difficulty. Rafting trips in Norway start from around 880 NOK (US $85) for an easy family-friendly trip of around three hours.
For a full-day trip on more challenging waters, you can expect to pay up to 1900 NOK (US $180).
Since you can't usually take a phone or camera with you, some companies charge an extra 100 NOK (US $9.60) for photos.
So, should I go white water rafting in Norway?
Norway is one of the world's most beautiful places to go white water rafting and has rivers suitable for complete beginners as well as adrenaline junkies who are searching for the ultimate rapids.
Add to that stunning scenery and a safe, well-regulated rafting industry, and it's a no-brainer! Norway is a great destination for other outdoor activities too, such as cross-country skiing, snowmobile tours and dog-sledding.
See also:
10 tours you have to try in Norway
8 of the best whale watching tours in Tromsø, Norway
8 great hiking tours in Norway