Mountains, fjords, stunning landscapes and snow are what spring to mind when you think about Norway, and yes, it has these in abundance. But there's so much more as well!
From world-class art and museums to whale-watching and dog-sledding, plus one of the planet's most spectacular train journeys, Norway has plenty of awe-inspiring, insta-worthy experiences.
So, here's our guide to the 30 best things to do in Norway.
1. Explore the fjords
No trip to Norway is complete without seeing the fjords. And Norway's stunning, glacial ragged coastline – indented with dramatic narrow sea lakes and valleys – really does surpass all expectations.
Some fjords are remote, others are easier to get to from the main cities, but with more than 1000 fjords to choose from you'll certainly be spoilt for choice. Need help deciding? Check out our guide to the 10 best fjords in Norway.
2. Go hiking
Norway has so many great hikes on offer, with options to suit all abilities and inclinations. Whether you're looking for steep, isolated, long-distance treks or a pretty lakeside stroll through meandering meadows, you can find a hike to suit.
A trek up the Trolltunga, one of Norway's most spectacular rock formations, is a must-do. This full-day tour takes you to the summit, with some cycling and climbing thrown into the mix too.
3. Stay in a lighthouse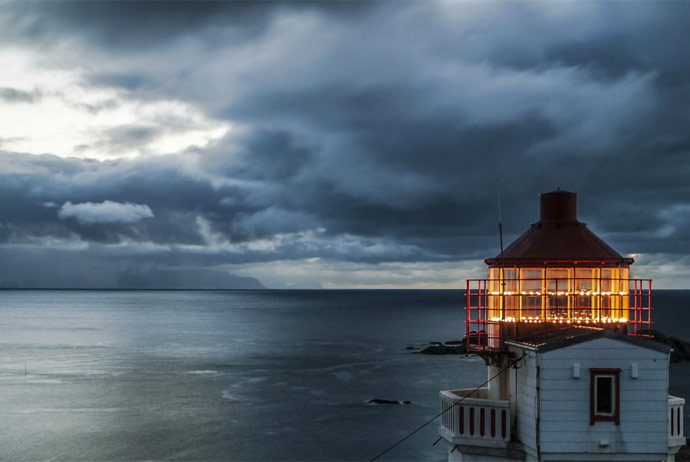 Around 60 lighthouses along Norway's coast have been renovated and converted to provide spectacular one-of-a-kind accommodation for visitors.
Some are on remote outcrops that you can only reach by boat, with very basic facilities. Others are more upmarket holiday homes with fancy home comforts (like this spectacular lighthouse in Norway's far north).
They all offer fantastic views, an unbeatable sense of connection with the sea, and an unforgettable experience.
4. Strike a pose on the Kjerag boulder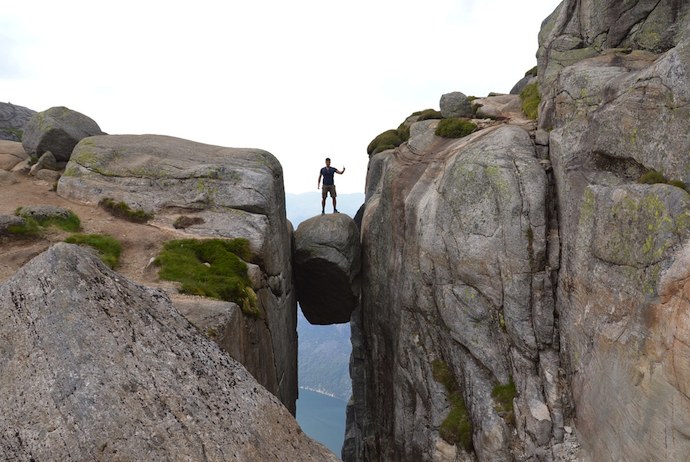 The ultimate selfie spot, the Kjerag boulder is wedged between two sheer cliffs some 1000 metres up a mountainside above the Lysefjord.
There's only room for one person at a time to stand on the boulder, with vertiginous views all around.
The hike up through mountainous terrain is beautiful with amazing views on the way (you can join a guided tour), but it's the boulder shot everyone is looking for – take it, if you dare!
5. Go whale watching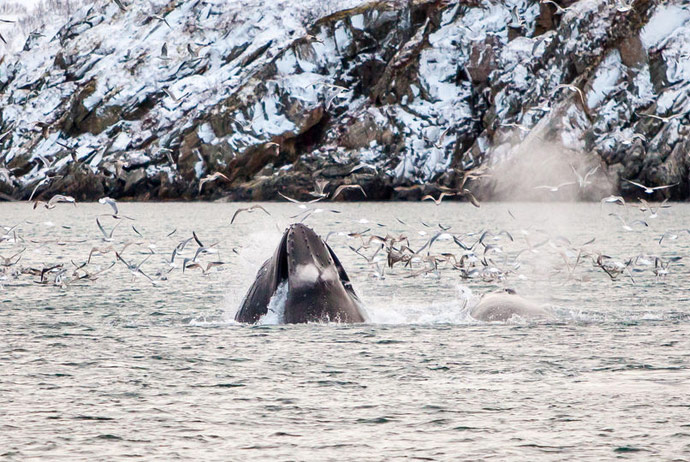 The waters around Norway's Vesterålen archipelago are a prime destination for whale-watching.
A huge variety of these majestic mammals feed and swim here, so look out for pilots, minkes, humpbacks and sperm whales, plus orcas, dolphins and harbour porpoises.
Whale-watching safaris head out from Andenes and Tromsø, and are great way to spot these huge sea mammals and learn about their natural environment.
6. See The Scream
Norway's best-known painting, the unnerving but compulsive The Scream by Edvard Munch, is one of the world's most iconic depictions of man's angst.
There are several originals of the artwork in existence. Oslo's National Gallery has two, but it's closed until 2020, so you can currently see one at Oslo's Munch Museet, while Bergen's Kode Museum also has a version.
7. Ride the Flåmsbana
One of the world's steepest railways, this iconic train journey can also claim to be one of the most scenic.
Spiralling down mountainsides, through tunnels and along river valleys, it ends up at the pretty village of Flåm on the beautiful Aurlandsfjord.
Check out our guide to riding the Flåmsbana then book your tickets here.
8. Stay in an igloo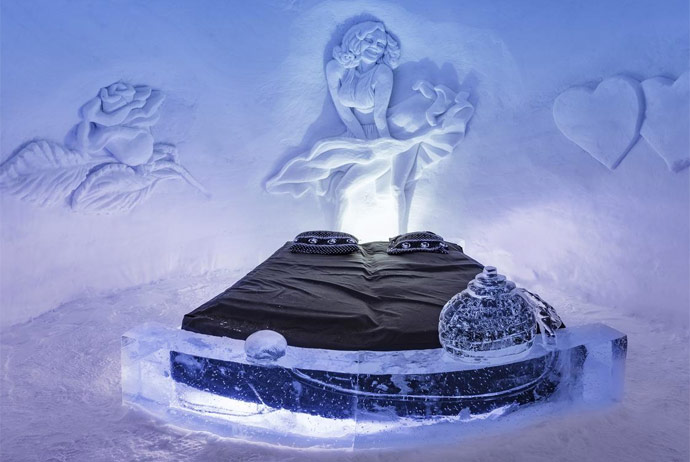 The Snowhotel in Kirkenes is the ultimate igloo stay, where you can sleep in rooms built from ice.
Even the beds are made of ice, but don't worry, you're provided with cosy reindeer skins and thermal sleeping bags to keep warm.
The ice rooms are rebuilt each year and can be stayed in from mid-December to mid-April, though wooden cabins are also available year-round. Check in, then sign up for activities including husky-sledging, ice-fishing and snowmobiling!
9. Enjoy Extreme Sports Week
Get your adrenaline pumping at the Extreme Sports Week Festival in Voss. This annual event takes place in June and involves all the scariest sports you can think of, from base-jumping and skydiving to white-river rapid riding and cliff-diving.
Some events are open to all, while others are best left to the professionals. You'll get enough heart-in-mouth moments just watching them plummet down at high-speed.
Bit of an adrenaline junkie? Check out our guide to extreme sports in Norway!
10. Go island hopping in Lofoten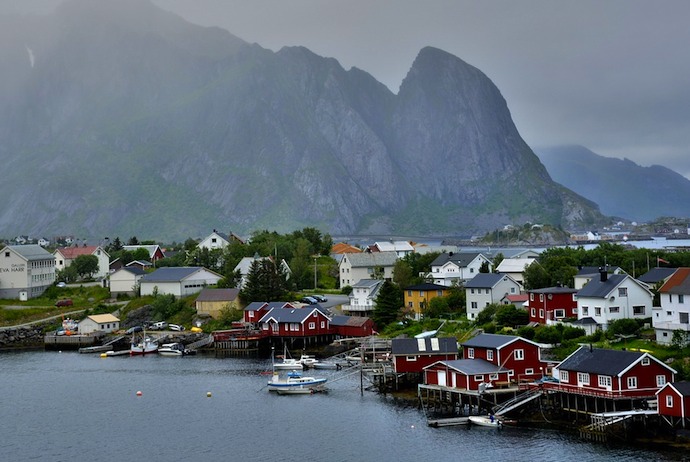 With a beautifully rugged coastline that's edged by white-sand beaches, the picturesque Lofoten Islands are home to a succession of former fishing villages, whose red-painted wooden buildings line the waterfront.
A great way to make the most of the islands is to stay in a classic rorbu cottage like this one.
These former fishing cabins are dotted around the islands and have been renovated to provide comfortable, atmospheric accommodation.
11. Sample some Norwegian specialities
The traditional Norwegian dishes of brown cheese, fish balls and hot dogs may not seem so appealing, but plenty of places also serve top-quality local seasonal produce, such as cloudberries, fresh fish, reindeer and salmon.
They may not be cheap, but Oslo has a great choice of restaurants where you can enjoy authentic Norwegian food – check out this guide for tips on where to try classic Norwegian food without breaking the bank.
12. Take a Hurtigruten cruise
Part cruise-liner, part supply ship, the Hurtigruten routes have been running daily up and down the Norwegian coast from Bergen to Kirkenes for over a century, providing a vital lifeline to remote and hard-to-access communities.
A cruise on one of these iconic ships is a great way to explore the splendour and drama of Norway's rugged coastline in comfort. Our Hurtigruten guide has all the info you need to plan a trip!
13. Check out the Arctic Cathedral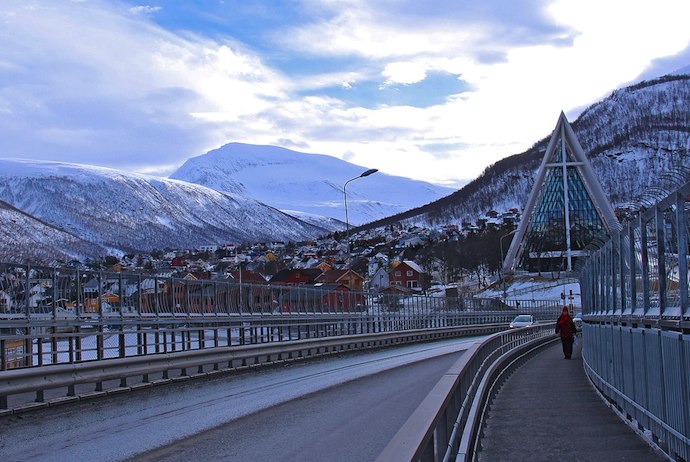 If you make it up to Tromsø, you shouldn't miss the striking Arctic Cathedral, a modernist masterpiece built in 1965.
This triangular-shaped building has one of Europe's largest stained-glass windows at its eastern end and is the world's most northerly cathedral.
14. Take the Fløibanen
Ride this quirky mountain railway up Mount Fløyen for the best views of Bergen. The 10-minute journey saves you a long uphill hike – and riding the funicular is half the fun.
Once at the top, you can chill out and enjoy the views or take a stroll through the woods along well-marked paths.
15. Stay in a tree house
These are no ordinary tree houses, but architect-designed triangular cabins suspended some eight metres above the ground amongst the foliage.
The cabins are built in a forest where wolves, bears, moose and lynx live, so you may want to go on a bit of a wildlife-spotting expedition – or simply sit in your cabin with a glass of wine admiring the views over the woodland and nearby lake.
16. See the northern lights (and the midnight sun)
Northern Norway lies within the Arctic Circle, a great destination from which to view the northern lights and the midnight sun.
Tromsø is a good place to base yourself, with an excellent chance of seeing a spectacular northern lights display from mid-September to mid-April, and the midnight sun lasting for two months from 20th May to 22nd July.
Already planning a trip? Check our guide to where and when to get the best views of the northern lights.
17. Visit the Viking Ship Museum
Get in touch with your inner Viking at Oslo's fantastic Viking Ship Museum where you can see the some of the world's best-preserved Viking long boats and ancient artefacts.
At this purpose-built museum on the Bygdøy Peninsula, you can learn all the gory details about Viking habits and traditions and marvel at the jewels and treasure that were buried with their owners.
There are more cheap things to do in and around Oslo in this guide!
18. Stay in a hiking hut
They may not be luxurious but Norway's network of basic huts along popular hiking and skiing routes are a welcome sight after a long day out in the mountains.
Run by the Norwegian Trekking Association (DNT), the 550 or so huts and cabins are well-located on hiking and skiing routes to give hungry hikers a warm bed for the night: some even provide a local meal too.
19. Go dog sledding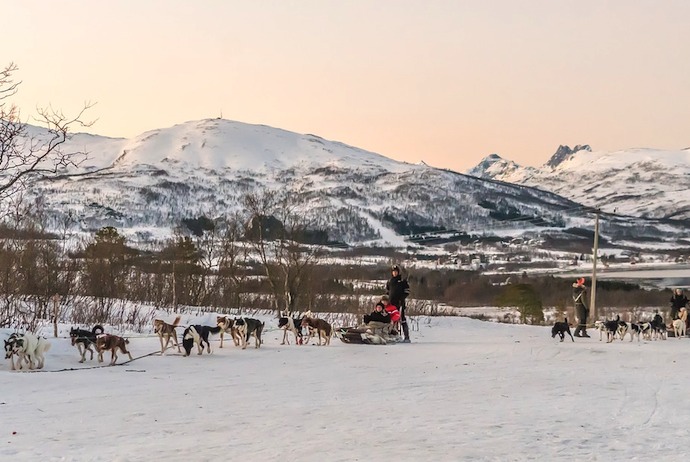 What better way to explore the wilderness than to head out onto the snow with a team of huskies pulling you across the ice on a sledge. Make friends with the dogs, learn how to mush, then lead your huskies on an Arctic adventure.
This tour from Tromsø includes all the kit you need for a trip out with the dogs, then ends up with home-made chocolate cake and a hot drink around the fire to warm up – you may even get to see the northern lights overhead!
20. Walk on a glacier
A walk on the creaking blue ice of Europe's largest glacier, the Jostedalsbreen, is a must-do. With snow crunching underfoot, you can clamber up the icy flanks for breath-taking views over the frozen landscape – and even venture into a blue ice cave.
Experienced guides will kit you out with the equipment you need, including crampons, and take you out to explore the glacier.

Not sure which glacier is right for you? Here's a round-up of some of the country's best.
21. Stay at the Juvet
Astonishing scenery, nature and cutting-edge design meet in the super-glamorous Juvet Landscape Hotel in the middle of the woods.
Glass-walled rooms hang suspended over a gorge – even the sauna has views of a gushing river.
It may be a forest hideaway, but its futuristic architecture played a starring role in the sci-fi film Ex Machina, and it comes with all the luxuries you want, including an outdoor hot tub by the river.
Here are some more amazing places to stay in Norway.
22. See Norway in a Nutshell
Norway in a Nutshell is a whistle-stop trip round the best of Norway, including a fjord cruise, a ride on the iconic Flåmsbana and views of gushing waterfalls, snow-topped hills and stomach-churning mountain roads.
If you're short of time, it's a great way to see the country's highlights in one trip. Everything is booked for you on one easy-to-follow itinerary, but it's not cheap. This guide has info on how to book the trip yourself for just over half the price.
23. Marvel at Mundal
Often cited as one of Norway's prettiest villages, this unspoilt gem sits on the shores of the Sognefjord, its picturesque painted houses backed by steep wooded hillsides.
It's also known as Norway's book village, with 4km of shelving lined with second-hand books filling abandoned buildings around the village!
24 Zip-wire down a ski jump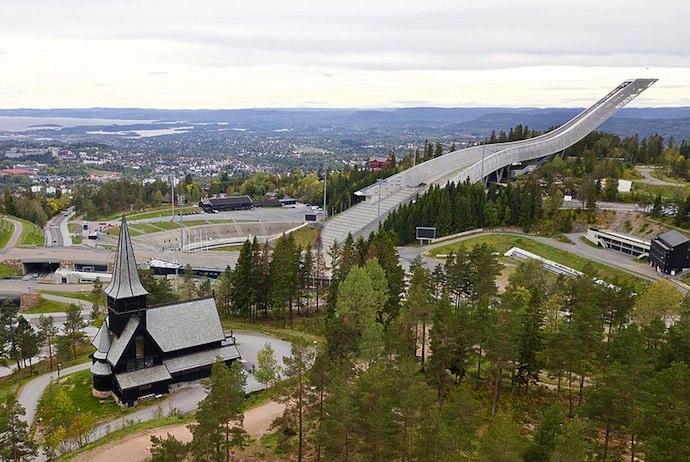 You may not be able to descend the iconic Holmenkollen ski jump, just outside Oslo, like the professionals do, but you can get some idea of how it feels by zip-wiring down.
Start by admiring the great views of Oslo from the viewing platform at the top of the ski jump, then launch yourself off and whizz down the 360-metre line – if you dare!
25. Get on your bike
Cycling is popular in Norway, and the country has a good network of bike routes allowing you to see some of its most stunning scenery from dedicated cycle paths or quiet country roads.
Many Norwegians cycle around the cities too, particularly in summer, and Oslo is a great place to explore by bike. An easy flat route runs for 9km along Oslo's waterfront, or you can take a guided bike tour around the city's main sights.
26. Take a jacuzzi cruise in Svalbard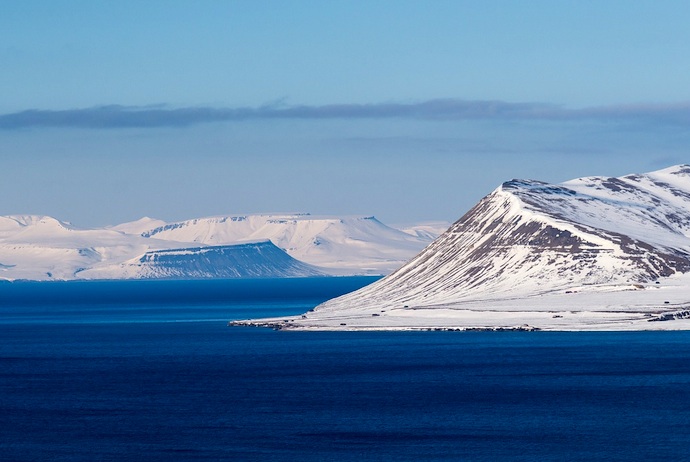 Marvel at the icy fjords, glaciers and coastline of this Norwegian archipelago, some 8000km north of the mainland, from the warmth of the on-deck hot tub.
This awe-inspiring boat trip stops to explore an abandoned Soviet ghost town, with plenty of chances for wildlife-spotting too – look out for seals, walruses and whales in the water, and reindeer, arctic foxes and even polar bears on land.
27. Stay on an island in the Oslofjord
There aren't many places where you can chill out on a beautiful rural island, but still be less than thirty minutes from the sights and bustle of the capital city.
Check out this cabin on the pretty, car-free island of Brønnøya, with apple orchards and deer wandering freely. It's a stone's throw from the beach with sea views, a cosy wood-burner and a leafy garden.
Need advice on how to get out into the fjord? Here's a quick guide.
28. Take a road-trip
Driving along Norway's mountain roads can be hairy, but your reward will be amazing views and stunning scenery.
The Norwegian government has designated 18 Scenic Routes, which all pass fantastic landscapes or amazing coastlines.
And many have architect-designed rest stops and viewpoints, so you can stop off and make the most of the scenery. To get you started, we put together this quick guide to renting a car in Norway.
29. Visit Vigelandsparken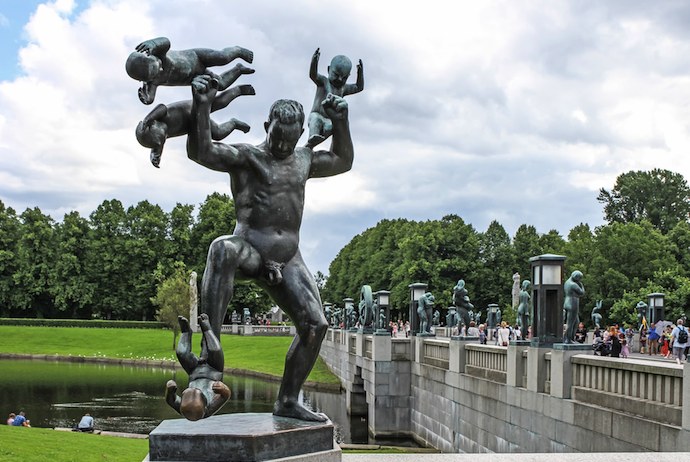 Check out the weird and wonderful sculptures by Gustav Vigeland, Norway's foremost sculptor.
Some 200 statues carved in bronze and granite dot this beautiful open-air sculpture park in Oslo – they may be thought-provoking, and even disturbing, but they're never dull.
30. Let it go on a Frozen cruise
Kids will love this Disney-themed cruise to Norway, which calls in at Stavanger and Alesund and explores the picturesque scenery of the fjords and coastline in between.
There's Frozen-themed entertainment on board, of course, including sing-along musicals and films. So, channel you inner Elsa and Let it go!
See also:
The best places to stay in Norway
Norway travel guide
10 tours you have to try in Norway

Like what you've been reading? Get our best tips by email!