As you might expect for such a rugged, outdoor country where dramatic landscapes lie around every corner, Norway is a paradise for extreme sports lovers.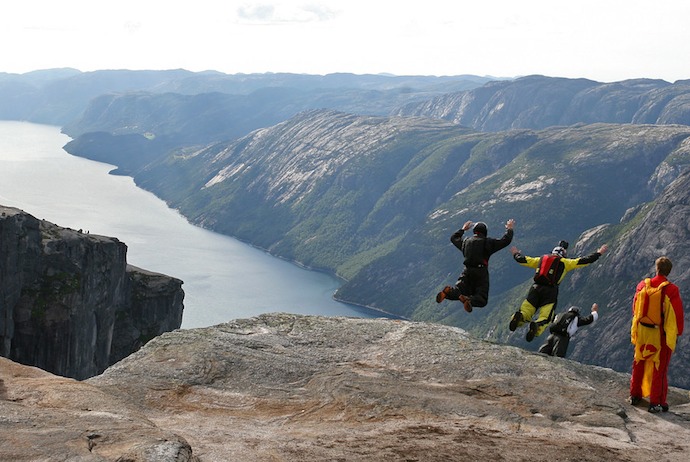 In fact, it's up there with New Zealand as one of the world's best places for seriously big thrills.
Adrenaline junkies can practise pretty much any extreme sport in Norway, from base jumping to parascending and wing-suiting to ice climbing.
Which extreme sports can you do in Norway?
Any way you want to get down a mountain, you can do it here – and the more scary the descent the better, it seems.
And it's not just aerial sports that you can try. You can white-water raft down fast-flowing rapids, or bouldering and canyon along rocky gorges and sheer crevices.
And, of course, in winter some of Europe's steepest mountain pistes and highest ski jumps can be tackled here in Norway – if you're brave enough, of course.
Where's a good base for adrenaline junkies?
It goes without saying, but Oslo isn't really the ideal base if you want to be getting big adrenaline kicks.
The pretty lakeside town of Vossevangen (in Voss Municipality) is one of the country's best extreme sports centres, and is a good place for daredevils to head for.
It's a great base for adrenaline junkies and Voss even has its own annual extreme sports festival, where music and spectacular sports and stunts combine.
Another good option is Heidal, around 300km to the northeast. This attractive village is a great base for canyoning and white-water rafting, and there are some affordable places to stay nearby.
9 of Norway's best extreme sports
With so many options for extreme sports in Norway, it can be tricky to know where to start. Here are some of the best options, along with tips on how to get involved.
Glacier skiing in Folgefonna National Park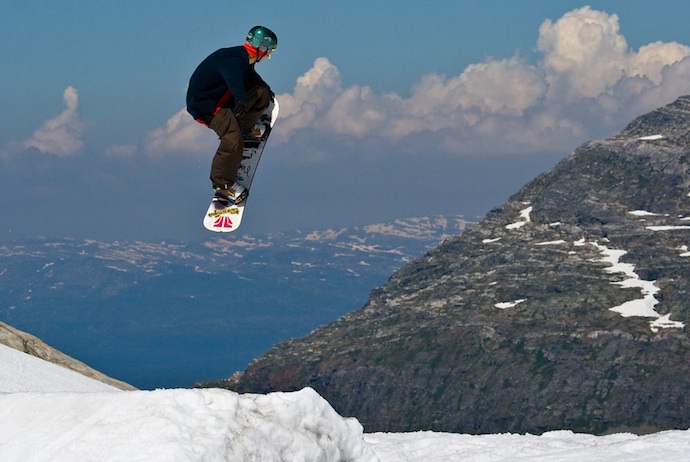 Skiing or snowboarding down a glacier in your shorts is for really hardcore types, but don't worry, the Folgefonna Glacier has plenty of slopes for all abilities.
There's year-round Alpine, cross-country and downhill skiing and snowboarding here – the cross-country trail is at the top of the glacier with fantastic views over the Hardangerfjord on a clear day.
The glacier is also home to one of the world's best freestyle parks – so grab your gear and get practising your corkscrews, backflips and spread eagles.
Recommended tour: Full-day trip to Hardangerfjord from Bergen
Ice-climbing in the Lofoten Islands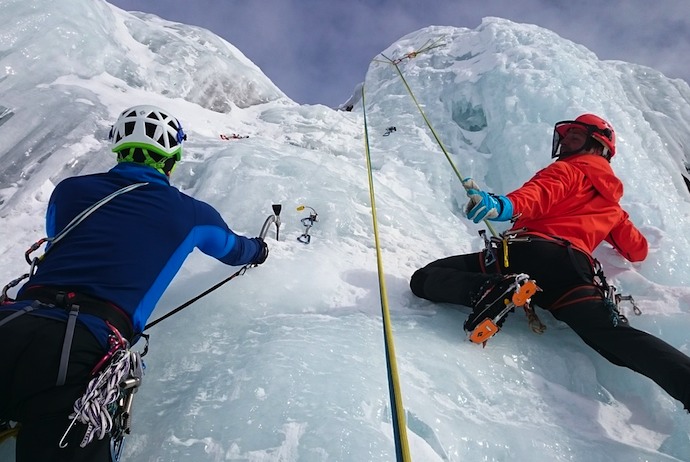 Norway is an ice-climber's dream and Lofoten has more than its fair share of icy routes and frozen waterfalls to clamber up. Hardcore climbers can even go out in winter (when it's mostly dark) and climb by headlamp.
Or you can combine climbing up the serrated ridges and sharp summits with skiing back down again to the coast – what's not to like?
Zip-lining at Trolltunga
Explore the dramatic scenery around Trolltunga with a full-on excursion that involves a trek, a bike ride and an exhilarating zip-wire descent.
The trip starts with a hike to the Ringedalen Dam, then it's a 7km cycle along the shores of Lake Ringedalen.
More hiking next – this time uphill – to Tyssebotn, from where you make a heart-in-mouth descent down three zip-wires. It's a thrilling drop of 600m, with views over waterfalls, gorges and the lake below.
Recommended tour: Trolltunga zipline adventure
White river rafting in Heidal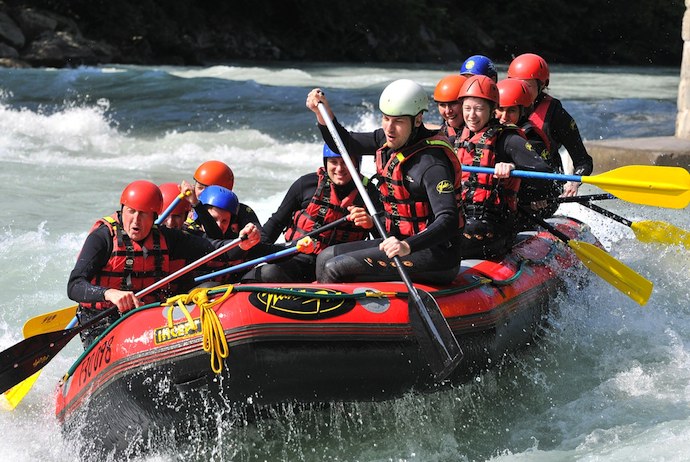 One of Europe's best rafting rivers, the Sjoa is a great place to tackle some white water rapids. Based in Heidal, Sjoa Rafting runs trips for everyone from novices to experienced rafters.
Those looking for a more adrenaline-fuelled outing can head upstream on the full-day trip, which twists and turns through the deep Aaseng Canyon, where the rapids are larger and more technical than downstream.
So, grab hold of your paddle and prepare to get wet!
Via ferrata at Trolltunga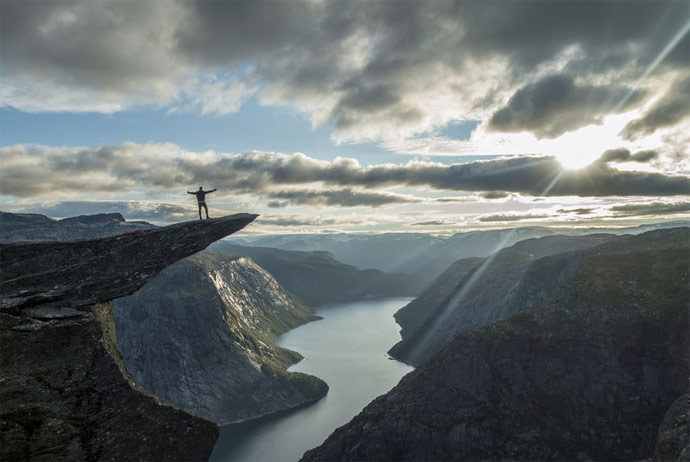 If clinging onto some tiny metal pegs and hanging half-way off a mountain is your thing, the Trolltunga via ferrata trip is unmissable.
It starts with a cycle round Lake Ringedalen, then a precipitous climb up the Via Ferrata, whose metal rungs lead 250m up a steep cliff-face.
Once at the top, you can admire the stunning views and watch the sunset over the Trolltunga before settling into your tent for the night at the Trolltunga Sunset Dome campsite.
Recommended tour: Trolltunga via ferrata sunset and sunrise
Paragliding in Voss
The adventure sports centre of Voss has plenty of opportunities for running off a mountainside with a large sail above your head. The views over the Aurlandfjord are awesome as you drift gently up and down, riding the thermals as you go.
And you don't even need any experience – Outdoor Norway has professional pilots who jump with you and steer you down on a tandem paraglider.
All that's left for you to do is relax and enjoy the ride!
Canyoning in Heidal
Fancy climbing up a steep-sided gorge dressed in nothing but a wetsuit, then leaping into the churning waters below? Then canyoning will almost certainly float your boat.
You'll be well-equipped with helmets, ropes and crampons so that you can clamber up the slippery rock-face, and your wetsuit will help reduce the shock of hitting the freezing mountain streams and pools.
Sjoa Rafting runs trips of different levels of difficulty, but whether you're a beginner or after a more challenging outing, you'll need a head for heights and a fondness for cold water!
Base jumping and wing-suiting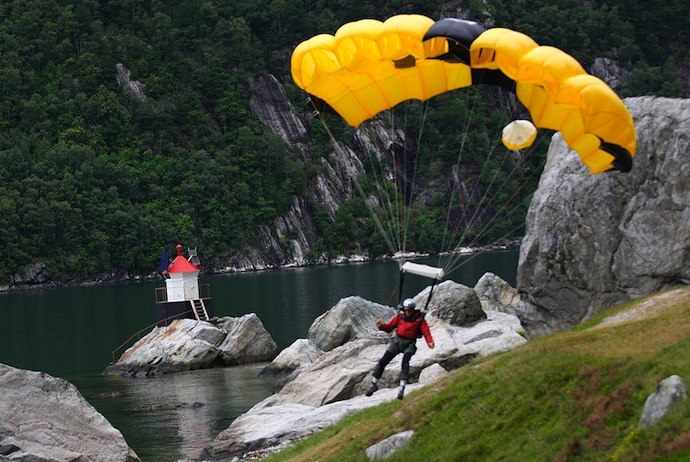 The ultimate extreme sport, base jumping is not for the faint-hearted. And seriously, it's not something to be undertaken lightly.
The Kjerag cliff, near Stavanger, is one of Europe's most popular base jumping destinations and an exhilarating place to take the leap.
SBK Base regulates the site, can organize transport up to the launch site, runs boats to pick you up from the landing site below and has an equipment shop in the tiny village of Lysebotn (population six!).
In order to jump here, you must have completed at least 250 skydives and 15 base jumps. So, unless you're very experienced, you'll have to content yourself with watching others jump – an awe-inspiring experience in itself.
Insurance for extreme sports
Norway is normally a safe place to visit but if you're engaging in any kind of extreme sports, getting insurance is even more important than usual!
Not all of the sports we've mentioned here are covered by insurance companies, but many are, so it pays to check ahead and make sure you've got comprehensive cover in place in case something goes wrong. Trust us: you don't want to be paying for an emergency helicopter evacuation in one of the world's most expensive countries!

For lots of different reasons we recommend getting insurance with World Nomads. They are recommended by lots of big travel publishers all around the world, and it's the one company we'd use for a trip anywhere in Scandinavia. They offer a good level of cover for a reasonable price, and they make it easy to book and amend your policy online.
NB: We'll get a small commission if you book with World Nomads through one of the links here (don't worry, the price you pay remains the same).
See also:
Norway's best glaciers and how to reach them
Eight great hiking tours in Norway
Ten best fjords in Norway