Some of the world's train journeys are more than just a form of transport. With these beauties, the actual ride is half the fun. And guess what? The train ride from Oslo to Bergen is one of those great journeys.
Often described as Europe's most beautiful train journey, this epic trip takes you through some of Scandinavia's most beautiful landscapes and is a must-do for anyone making the trip from Oslo to Bergen.
Really, why bother flying when the train ride is this pretty – not to mention environmentally friendly?
The ride from Oslo to Bergen: what to expect
Known as Bergensbanen, or the Bergen Line in English, the train route stretches across southern Norway for a total of 496km (308 miles).
The line was built at the end of the 19th century and is still Northern Europe's highest mainline railway line – it crosses the craggy Hardangervidda plateau at a height of 1,237 m (4,058 ft) above sea level.
The Bergensbanen leaves Oslo Central Station four times a day (at 8.25am, 12.03pm, 3.43pm and 11.25pm), pulling into Bergen station some seven hours later. That might seem like a long ride, compared with the 55-minute flight between the two cities, but the scenery makes it worth your while.
Like all trains in Norway, services covering the Oslo–Bergen route have everything you need to stay comfy onboard, including decent seating, plenty of toilets, a café/restaurant and free onboard wifi.
Is the Oslo Pass worth buying?
Read this guide to see how much you could save during your trip!
What about the scenery?
As the train pulls out of Oslo, the first beautiful views begin to emerge over the Drammensfjord. The railway then follows the picturesque Drammenselva river upstream along Tyrifjorden and on to Hønefoss.
From Hønefoss onwards the buildings begin to thin out, offering untouched landscapes with only the occasional traditional red cabin visible in the distance.
The tracks continue up and down mountainsides and through numerous tunnels – more than 180 of them in total.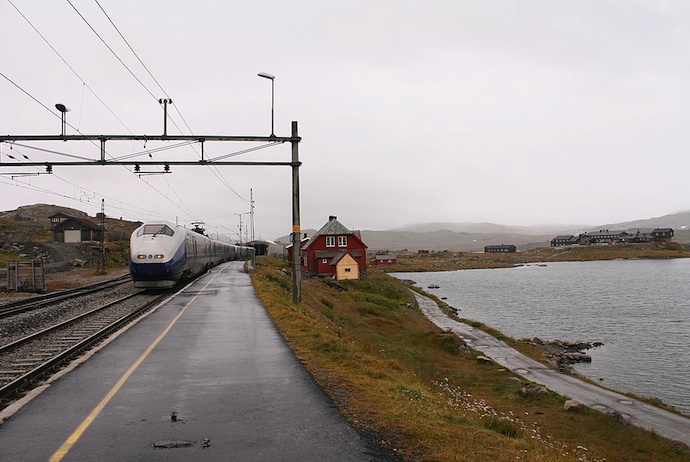 Every twist and turn of the journey offers breathtaking panoramas as the train glides past national parks, waterfalls and beautiful lakes, rivers and fjords.
The highest point above sea level is Finse station, a town so remote that no public roads connect it to the rest of Norway, making it only accessible via train.
There are a total of 22 stops along the way, with the journey eventually coming to an end at Bergen Station, right in the heart of the city. Within walking distance of the station, you'll find the iconic Bryggen, Bergen's wharf, as well as a fish market and other famous historic sites within the city.
For more ideas on what to see and do when you get to Bergen, have a look at our guide of 25 free things to do there.
What's the best time of year to take the train to Bergen?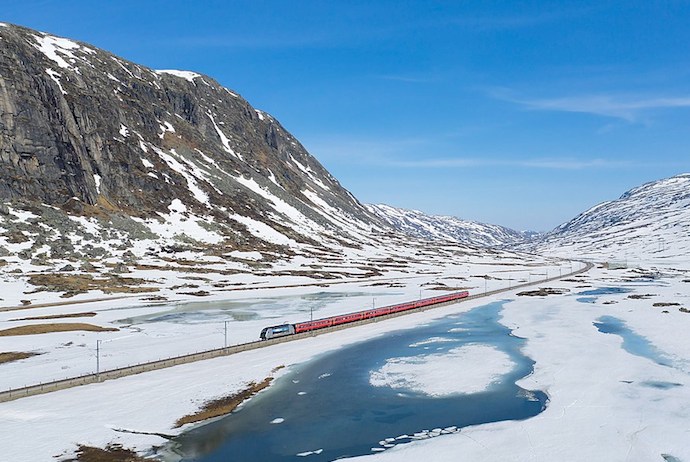 Good news: the train journey between Oslo and Bergen runs all year. And each season in Norway has its own pros and cons, so it's hard to determine which is 'best'.
The spring and summer months bring colourful landscapes with fields of flowers and rolling green hills and mountains. In autumn, you get the beautiful hues of yellow and orange that light up the fjords.
And in winter the snowy mountain peaks make for dramatic white wonderland views. We guarantee that whatever time of year you embark on this train journey you'll be in for a scenic ride.
How much is the train fare from Oslo to Bergen?
Fares fluctuate depending on the demand for any given time or day. If you're lucky you can get a one-way ticket for around 389 NOK (40 USD) – we normally recommend the ACP Rail website, where you can reserve tickets in advance and book space for bikes, if you need to.
Be aware though that prices for the Oslo–Bergen trip can go up to around 964 NOK (100 USD) if you're travelling at weekends or on public holidays. Check the timetable for your dates here, and be flexible with your departure time if you want the best chance of a good deal.
Tickets are available 90 days before departure, and generally the further in advance you book the cheaper the fare and the better the availability.
Alternatives to taking the train to Bergen
If the train is sold out or you're looking for an alternative way from Oslo to Bergen, there are other options.
By bus
Travelling by bus from Oslo to Bergen also allows you to take in the beautiful scenery, though there are no direct buses. The Nor-Way express bus runs the full route, but you'll need to change buses in Seljestad. The full journey takes around 10 hours and tickets start at 579 NOK.
By plane
There are several daily direct flights between Oslo Gardemoen Airport and Bergen Airport on SAS and Norwegian. Fares cost around 860 NOK with a flight time of approximately 1 hour.
By car
If you'd prefer to take the scenic journey at your own pace, stopping off along the many fjords on the way, then it's a good idea to rent a car.
Scandinavian company rent-a-wreck specialises in cheap used hire cars, or try one of the international rental companies such as Sixt, Avis, Hertz and Thrifty. You can compare prices and find a good deal on rental cars here.
For more on car rental in Norway, take a look at our guide to renting a car in Norway.
See also:
The spectacular train ride from Bergen to Flam
Visiting Bergen on a budget
50 free things to do in Oslo
Like what you've been reading? Get our best tips by email!