At the edge of the North Sea and ringed by seven mountains, the port city of Bergen is packed with exciting sightseeing, shopping and dining opportunities. It also makes a great base from which to explore Norway's natural attractions.
And while you might think that Norway is expensive, we've come up with a bunch of fun activities in Bergen that won't break the bank. All except one come in at less than 200 NOK (around $23)  – and some won't even cost you a penny.
So, here's our comprehensive guide to how to eat, drink, explore and have fun in Bergen on a budget. Use the menu below to hop straight to a section.
Historic sights and attractions
Fun and entertainment
Museums and galleries
Excursions and day trips
Viewpoints and lookouts
Window-shopping
Just chilling
Eating and drinking

Historic sights and attractions
1. Stroll around Bryggen. This Unesco-listed city quarter was once home to Hanseatic merchants, who were part of a trade network stretching across Europe. Soak up the area's history while exploring its twisting alleyways and crooked wooden houses.
2. Take in the sights and smells of Bergen's fish market. The building is home to stalls selling all kinds of sea creatures from king crabs to giant tuna fish.
3. Visit the Bergenhus Fortress. This imposing fort complex was originally built to watch over the city's harbour, with some parts of it dating back to the 13th century. Entry to the grounds is free, while getting into the fort buildings costs 80 NOK.

Fun and entertainment
4. Hop on a bike. Thanks to Bergen's recently established bike hire scheme, it's now pretty easy to get around the city on two wheels. Renting a bike for 24 hours costs around 49 NOK.
5. Go bouldering. Bergen's first dedicated bouldering hall, Bryggeriet has indoor climbing walls for novices and experts alike. Drop-in sessions cost around 180 NOK, including rental of climbing shoes.
6. See a film. Every October, the Bergen International Film Festival rolls into town, showing a programme of more than 150 films from across the world. Single tickets will set you back around 95 NOK.
7. Jump around. Bergen's two trampoline parks – FlipZone and Rush – will have you bouncing off the walls. An hourly session costs 140–160 NOK.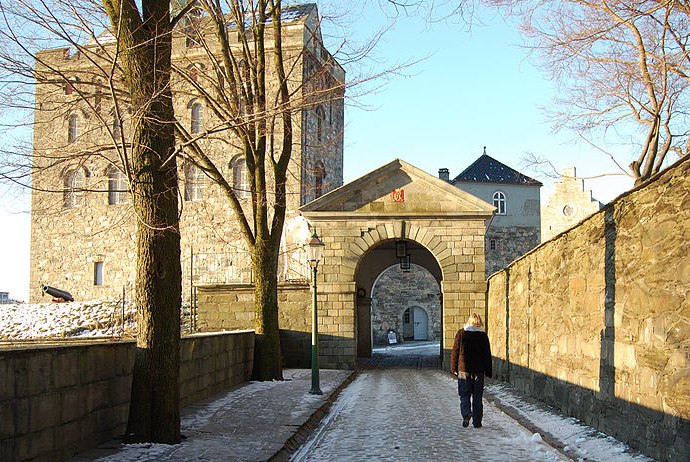 Museums and galleries
8. Have an art attack. The KODE art museum spreads over four separate buildings. Its varied collection includes everything from traditional Norwegian painters to cutting-edge contemporary art, via Edvard Munch. You can see it all for just 120 NOK.
9. Cast out to sea. Discover a real-life Viking ship, and other treasures from Norway's seafaring history, at Bergen Maritime Museum. Adults pay 90 NOK, kids go free.
10. Meet the Resistance. Many of Norway's citizens fought against their Nazi occupiers during World War II. Learn all about these daring wartime escapades at the museum in the Bergenhus Fortress. Entrance is 80 NOK.
TOURS AND ACTIVITIES IN BERGENMORE TOURS
Excursions and day trips
11. Visit an island paradise. The isle of Herdla has beautiful beaches, a bird sanctuary and even a small museum (open Sundays only in winter). Get there by catching bus #499 from central Bergen; a 24-hour bus ticket costs around 95 NOK.
12. Visit a virtuoso's villa. Head to Lysøen island to look round the beautiful summerhouse of Norwegian violinist Ole Bull. Concerts are held here every Sunday in July and August. Boats to the island leave from Buena Quay, which is accessible by public bus from Bergen. Entry to the villa costs 100 NOK, while the return boat trip costs 60 NOK.
Viewpoints and lookouts
13. Have fun on the funicular. Whizz up the side of Mt Fløyen on the Fløibanen funicular railway, for scenic views of Bergen and its surrounding peaks. At the top, there's a restaurant and extensive walking trails. A round trip costs 95 NOK.
14. Conquer Bergen's highest summit. Follow one of the popular hiking trails up Mt Ulriken, the tallest of Bergen's seven mountains. When you're done, ride back down on the Ulriken643 cable car. A single ticket is 115 NOK.

Window-shopping
15. Go boho. The area around Skostredet and Bergen's Holy Cross Church is home to hip independent shops, trendy cafés and some excellent street art.
16. Shop to the top. If you're after something a bit more refined, try the Galleriet shopping centre. Spread over six floors, it's a great place to pick up some typical Norwegian clothes or homeware.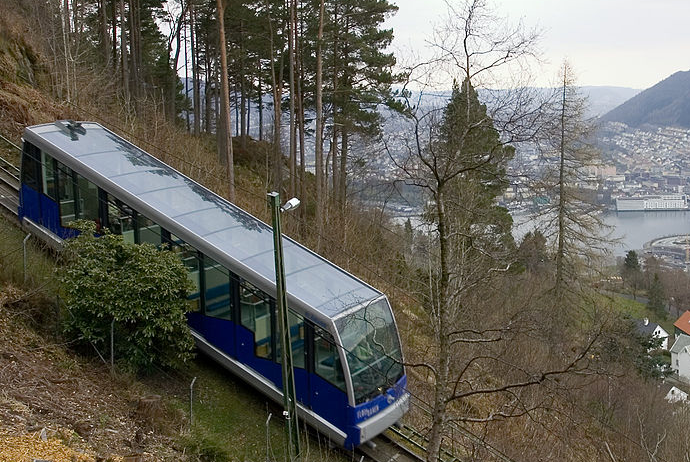 Just chilling
17. Catch some rays. If you want to cool down in the summertime, head to the beach in the city's Marineholmen district for a swim.
18. Take a walk in the park. Bergen's sprawling Nygård Park is a calm and leafy oasis in the city centre, and a great place for a picnic.
19. Go for a wander. Stroll through city centre's cobbled streets, which wind their way between colourful clapperboard houses. Who knows what you'll discover around the next corner?
Eating and drinking
20. Get a caffeine hit. When Bergen's famously drizzly weather strikes, it's time to retreat to the nearest coffee house. The Godt Brød or Baker Brun cafés both serve tasty treats in a cosy atmosphere. Expect to pay around 40 NOK for a coffee, and 50 NOK for a slice of cake.
21. Go dancing. From the upmarket bars around the National Theatre, to the packed discos in the city's university quarter, Bergen's nightlife will keep you up until the early hours. Regular club nights usually have free admission, though live events can cost up to 250 NOK.
22. Enjoy a fish dinner. Head to Pink Fish, a fast-food joint where you can dine on freshly cooked salmon from the Norwegian fjords. A meal here will set you back 110–120 NOK.
Fun for kids
23. Put on your lab coat. VilVite is a science museum where kids can take part in a range of fun (and educational) experiments. Tickets are 185 NOK for adults, 155 NOK for children.
24. Take a dive. Bergen Aquarium is sure to make a splash with its sharks, penguins and even a pair of performing sea lions. At 270 NOK for an adult ticket, and 185 NOK for a child, this is slightly above our maximum price – but well worth it if you fancy a splurge.
25. Get creative. The KODE museum is home to an art gallery especially for children. Kids will love the special exhibitions and artistic workshops here. Entry is included within the KODE ticket price of 120 NOK.
BONUS TIP: If you're looking to save money during your visit, the Bergen Card gives reduced prices, or even free entry, to a bunch of attractions, plus free transport on the Bergen Light Rail system.
Like what you've been reading? Get our best tips by email!